It's a little bit confusing at times the word "automatic" when it comes to the espresso makers' world. Except for the manual coffee machines, people call other coffee brewing machines like semi-automatic, super-automatic, and even the automatic espresso machines just as "automatic." Anyway, allow us to dig deep into the matter and provide you with the 10 best automatic espresso machines to clear this debate.
What is the Espresso Machine?
Espresso machines brew coffee by forcing or expressing near the boiling and pressurized water through finely-ground coffee beans. It is thick and concentrated delivers an only small amount of output.
Why You Should Trust Us!
CIMBAD is started with a group of experts who have experienced in the food and beverages industry; therefore, we have a thorough understanding of consumer products and its features. When it comes to the espresso machine, we had different test types of espresso makers to identify the ten best products, which include 48 of coffee machines over 12 manufacturers. After more than 95 hours of comprehensive research and testing, we concluded by selecting the Breville BES870BSXL as the best espresso machine 2023. During the research of espresso machine, we had to get more expertise knowledge from "Mellissa May" founder of "Café 94" about the temperature control and heating technology. We are delivering this comprehensive espresso machine buying guide after taking all these high level of efforts, testing and researches to make your life easier.
What is the Difference Between Automatic and Super-Automatic Espresso Coffee Maker?
Actually, this is an interesting comparison. First of all, both these machines require minimal input from you, and there are more similarities than the differences. If you want us to be more specific about two types, see the below narration.
Super automatic espresso machine: from grinding and tamping the beans to cleaning the unit, these machines can do everything for you with just one button press. No experience or expertise is required for you to handle these types of machines. We always recommend going for a best super automatic espresso machine makes more beneficial to the person who has very busy life style.
Automatic espresso machine: on the flip side, automatic machines demand a little work from your side to steam the milk and cleaning the machine. Still, it's super convenient to handle the espresso machine.
Types of Different Grinders
The "grinder" is another such word you might have heard regularly associated with coffee brewing machines. It's because grinders play a considerable role in the best automatic espresso machines as the coffee ground's size really matters for a quality cup of coffee. Basically, there are two types of grinders, and they are,
These grinders perform as a conventional home-used blender. The bottom-attached blades chop everything that is in its way. As these blades are incapable of covering the whole area, it's difficult to grind all the beans consistently, and there will be merely ground beans escaped from the blades. If you are planning to make coffee for family, use these types of best espresso machine for home use.
Burr grinders
On the other hand, these grinders are more efficient because of the device's funneled nature. It leaves no room for coffee beans to escape, and you will receive evenly and finely chopped coffee beans as the final result. We always recommend to go with the coffee maker with built in grinder to save money and cost.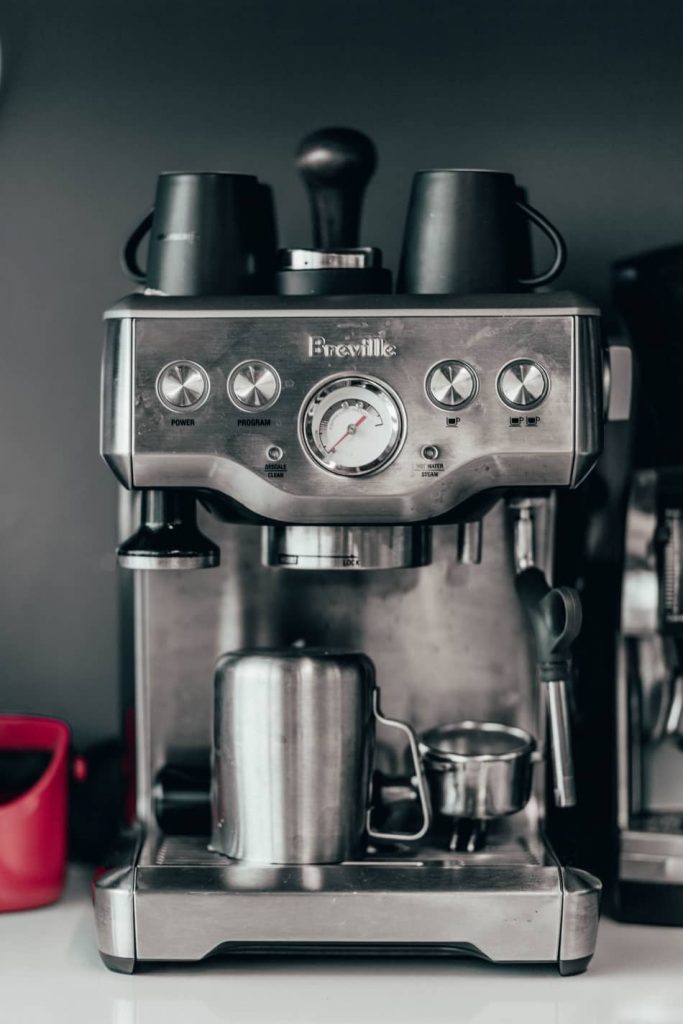 Factors to Consider for the Best Automatic Espresso Machine
As humans, we always want the maximum out of the money when we are buying something, and let us help you select the best automatic espresso machine which can score 10 out of 10. Consider the following factors. 
Frothing Capability
We know you like most of the coffee drinks, such as Latte, cappuccino. If so, make sure you buy a machine with a frother to provide pressurized milk; otherwise, you will have to satisfy only with espresso. 
Durability
Of course, there are many cheap and budget-friendly machines. But, the capacity to handle constant brews is also debatable, as most of them are prone to get overheated quickly. The best espresso makers or the top graded automatic coffee makers should work fine throughout the day without any malfunctions for years.
Water Storage
The standard coffee machines have water capacity to cater up to 8 cups of espresso at a time. There are also machines with spouts to fill water with a funnel; not only that, there are even machines you can connect to the water sources. This feature can be seen in commercial espresso machines.  
Easy Cleaning
As you know, automatic machines do require cleaning. Make sure your device is easily detachable so that you can clean the machine without much of a problem. Moreover, you must use appropriate soap or liquid to clean the machine and make sure you rinse it properly. If not, your coffee will taste awful. 
Top 10 Best Automatic Espresso Machines 2023
In this complete best automatic espresso machine buying guide, we will be discussing the top 10 espresso makers for sale out there in the market. Listed accordingly these include:
Breville BES870BSXL The Barista Express Coffee Machine
De'Longhi ESAM3300 Magnifica Super-Automatic Espresso & Coffee Machine
Saeco PicoBaristo Super Automatic Espresso Machine
Breville BES880BSS Barista Touch Espresso Maker
De'Longhi La Specialista Espresso Machine
Jura ENA 1 Automatic Coffee Machine
Gaggia Anima Prestige Automatic Coffee Machine
Mr. Coffee Espresso and Cappuccino Maker
KRUPS EA8250 Fully Auto Espresso Machine
Saeco Incanto Carafe Super Automatic Espresso Machine
Before we move in to the reviews here you can find a table of comparison for the best three products.
| | | | |
| --- | --- | --- | --- |
| | Breville BES870BSXL | De'Longhi ESAM3300 | Saeco PicoBaristo |
|  Material  | Stainless Steel | Stainless Steel | Stainless Steel |
|  Weight  | 23 Pounds | 23.12 Pounds | 20.6 Pounds |
|  Water Tank  | 2 Liter  | 1.8 Liter | 1.8 Liter |
|  Dimensions  | 13.25 x 12.50 x 15.75 inches | 11 x 15.3 x 14.4 inches | 16.80 x 8.40 x 12.90 inches |
|  Color  | Black Sesame | Silver | Stainless Steel |
|  Voice Command  | Buttons | Buttons | Buttons |
Breville BES870BSXL The Barista Express Coffee Machine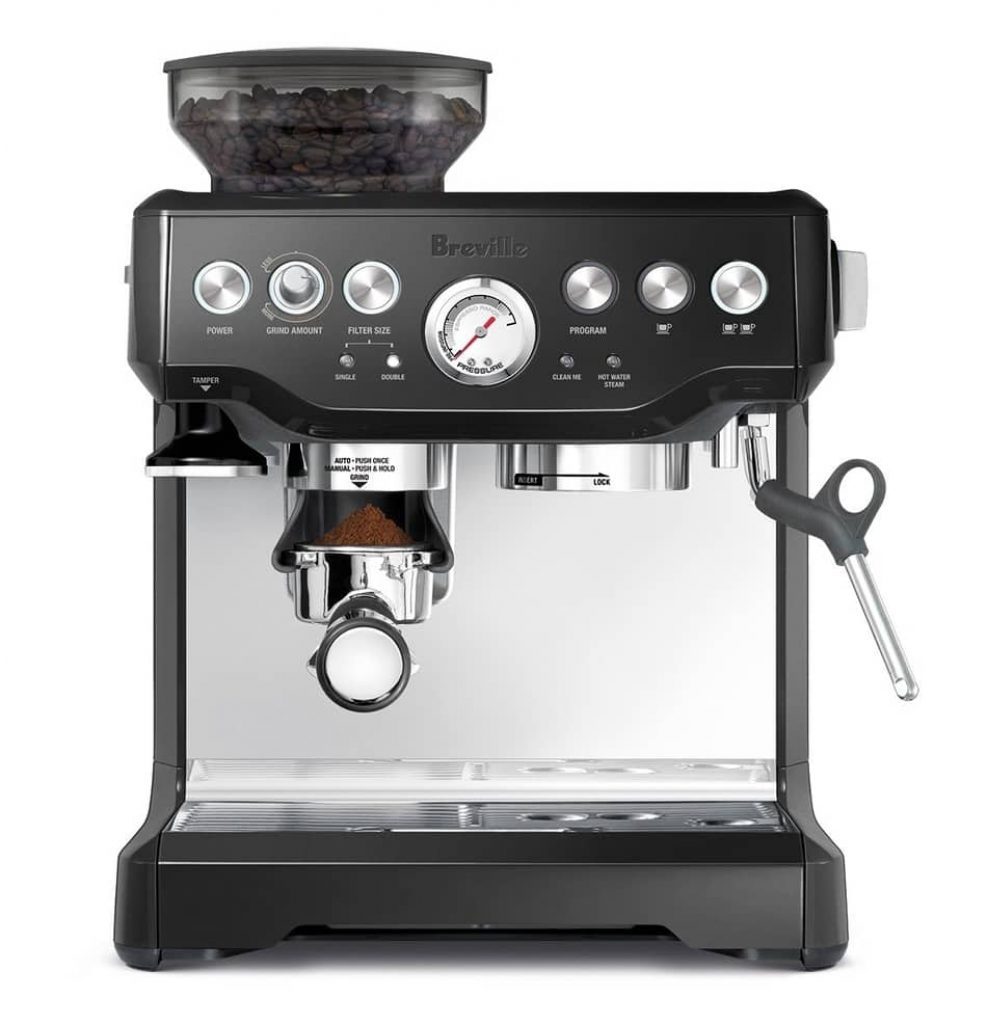 Let us start our list of top 10 best espresso machines with Breville's BES870BSXL machine. This is one of the famous deals out there in the market, and we say it has all the features you anticipate from a latte/cappuccino maker. Any earnest espresso drinker would say that this bean-to-cup device produces a fresh and aromatic drink every time they brew. 
That mere Celsius can decide the taste of a coffee cup, and you don't have to worry about this as the product has the PID temperature control to minimize the fluctuations during the process. 
The automatic steam wand of the Breville bes870xl barista express espresso machine will provide the necessary steam pressure to generate thousands of tiny milk bubbles, which will blend that essential smooth and silky texture to your Latte.
The conical burr grinder always produces the best possible right-before-extraction ground allowing you the Barista type taste at your household without any experience. And, the 2-liter water tank of the Breville espresso machines will provide you the luxury to have more servings than an ordinary coffee machine. 
Features of the Espresso Machine
Material: Stainless Steel
23 Pounds Of Weight
15 Bar Italian Pump
Purge Function
1600 Watt Heating System
2 Liter Removable Water Tank
In-Built Conical Grinder
Positive
15-Bar Italian pump
Automatic water temperature adjusting function
Stainless steel conical burr grinder
Micro-foam milk texturing
Volumetric controls
De'Longhi ESAM3300 Magnifica Super-Automatic Espresso & Coffee Machine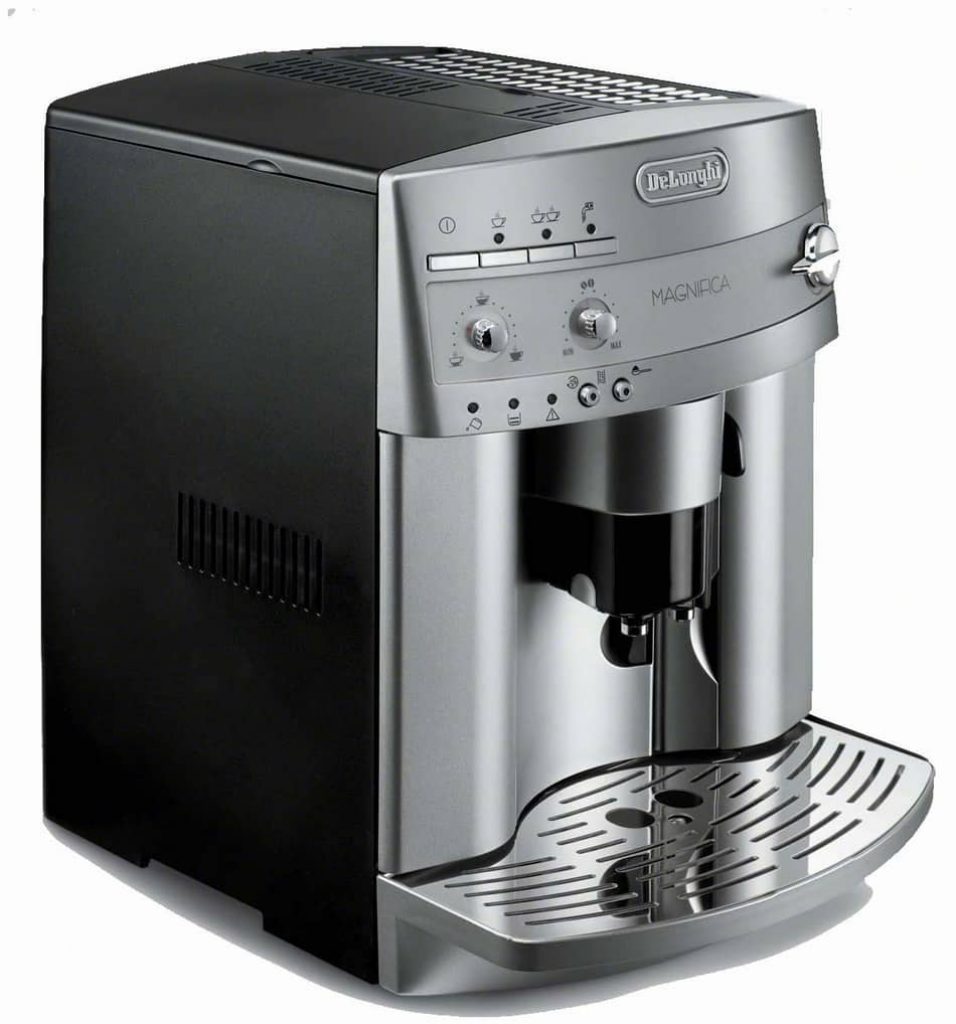 This state of the art machine from De'Longhi has a patented "Direct-to-Brew" system to grind coffee beans instantly and creating your flawless espresso. Also, the built-in grinder is so convenient to clean, and it takes half of the time you spend over other competing brands available in the market. And, the energy-saving feature of Delonghi nespresso machine designed to turn off the unit automatically after three hours. 
The Delonghi magnifica grinder has 13 adjustable settings so that you have the opportunity to receive maximum freshness out of the beans as per your liking. If not, you can use pre-grounded coffee too. The Delonghi espresso machine's manual frother blends steam and milk magnificently to create evenly textured lattes, cappuccino, and other drinks. 
You can program the machine to remember your desired taste in the settings so that you can test with different customized drinks whenever you want. The easy-to-use control panel has all these options, and you are just one button press away from playing with the machine.
Features of the Espresso Machine
Material: Stainless Steel
23.12 Pounds of Weight
Patented "Cappuccino System" Frother
Programmable Menu Settings
1150 Watt Heating System
1.8 Liter Water Tank
Positive
User-friendly control panel
Customized coffee drinks
Easy to clean handle
1.8L water capacity
Perfect temperature control
Negatives
Machine prone to get jammed occasionally 
Saeco PicoBaristo Super Automatic Espresso Machine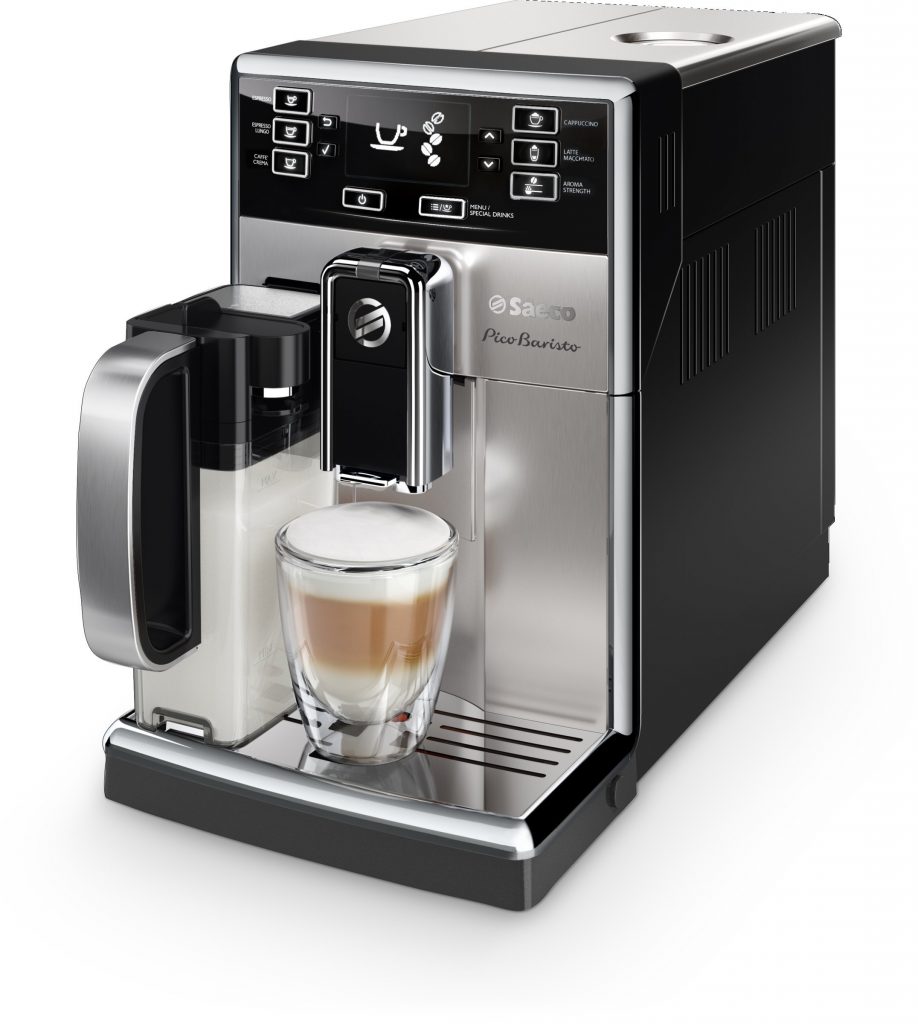 The best automatic espresso machine should act like the "best," isn't it? The longevity is one of the most important qualities the best coffee machine should have. With this product, you are guaranteed to brew up to 20,000 superior tasting cups with ceramic grinders' help. Unlike most other grinders, the ceramic material of the Saeco espresso machine eliminates the consequences such as burnt-taste and roasted smell due to overheating while you brew. 
There are ten adjustable settings available to control the grind's intensity, so you can always try out new tastes and see which one matches your desire perfectly. The Saeco coffee machines' heating boiler technology works super-fast and brews you drinks one after one in quick succession without leaving you frustrated in front of the machine.
The user-friendly interface and control panel of the Saeco coffee maker facilitates you with the brewing process's control, and mouth-watering, creamy cappuccino is just an easy game you always win. The unit looks spectacular and compact. Importantly, with the aqua clean filter, you can relish up to 5,000 cups without descaling. 
Features of the Espresso Machine
Material: Stainless Steel
20.6 Pounds of Weight
Patented Aqua clean Water Filter
Advanced Touch Screen Display
Hygiesteam Function
1.8 Liter Water Tank
Positive
Quick heating, no time wasting
Aqua clean filter
User-friendly interface and control panel
Wide range of customization options
Long-lasting ceramic grinders
Breville BES880BSS Barista Touch Espresso Maker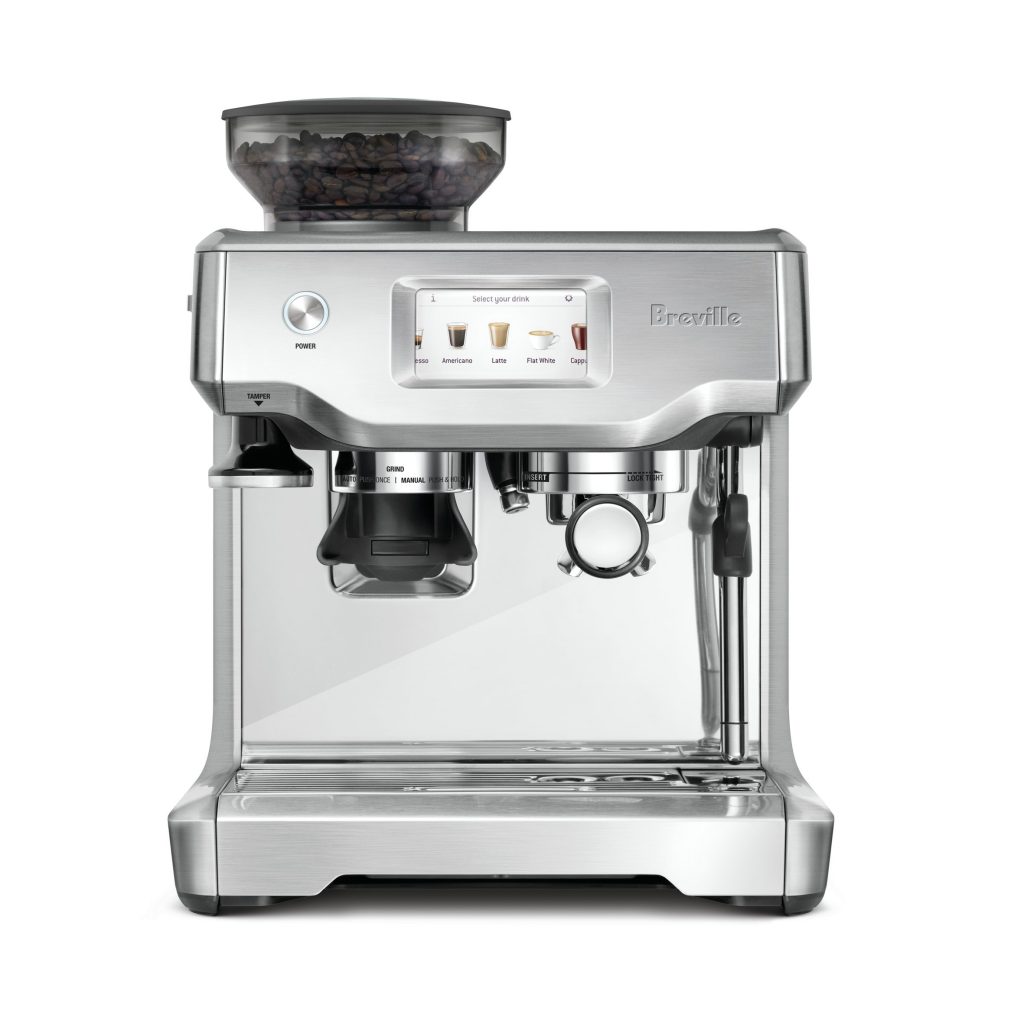 You don't have to visit a restaurant for Barista-quality brewing anymore if you select this monster. The water temperature always has a say in the brewing process, and you must have that cushion to control the temperature. But, what if you are new to these things or don't know how to make espresso? The Breville espresso machine got you covered with its digital temperature control (PID) system, which delivers precisely heated water to extract optimal taste out of coffee. 
You can also get control over the temperature of the milk with an auto steam wand, which also helps to get the necessary texture to latte and cappuccinos according to your taste. The Breville's innovative ThermoJet heating method means water gets to the optimum extraction temperature as little as three seconds so that you can consume your valuable time for other important stuff. 
The intuitive touch screen of Breville coffee maker always simplifies the work, and it facilitates you with eight personalized coffees to try. The output is always rich and full of flavor, and you will receive perfectly-balanced delicious coffee every time you use the machine. Hope this Breville barista express review helps you to select the best product.
Features of the Espresso Machine
Material: Stainless Steel
20.8 Pounds of Weight
Digital Temperature Control
Innovative Thermojet Heating System
Auto Steam Wand
Intuitive Touch Screen Display
2 Liter Water Tank
Positive
Automatic micro-foam milk texturing
Hands-free operation
Three-second water heating
Personalized coffee setting
Silky and velvety mouthfeel
Negatives
Durability is questionable 
De'Longhi La Specialista Espresso Machine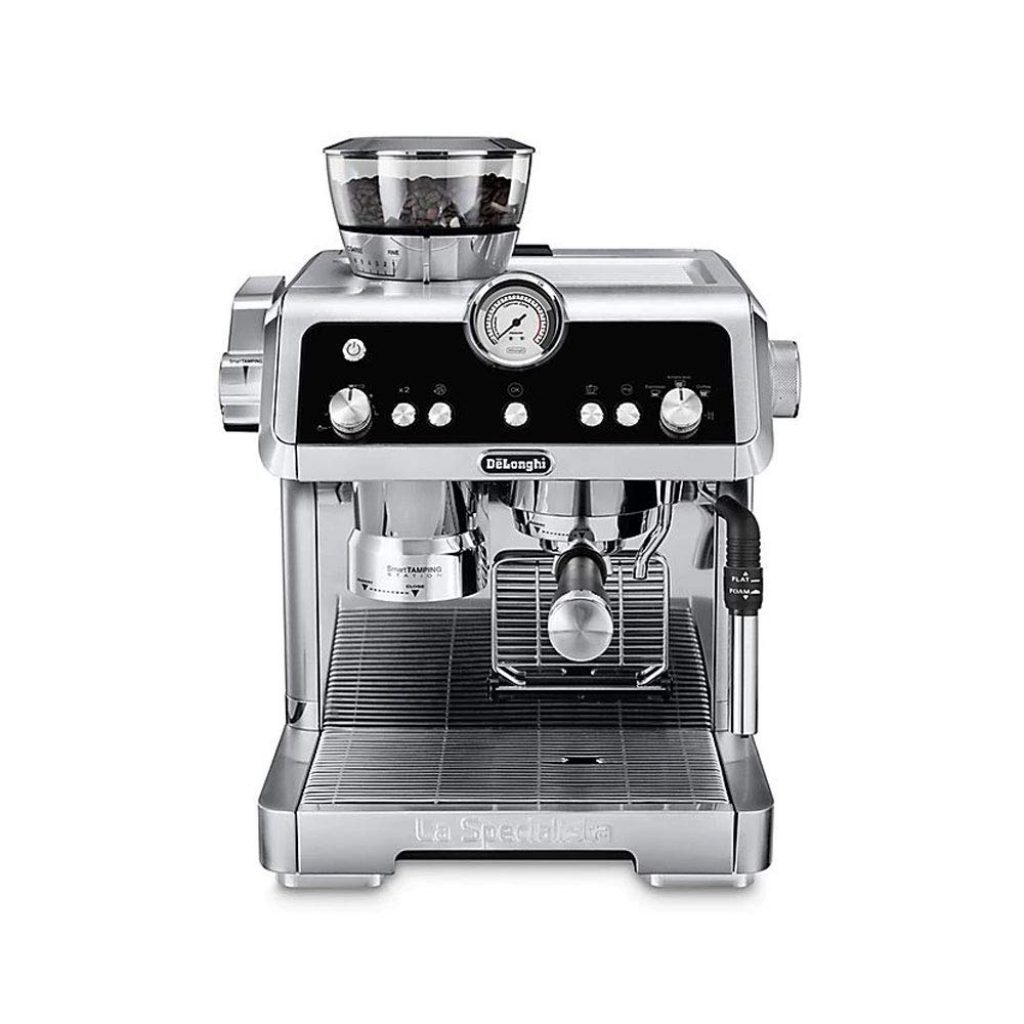 It is 2023, folks, so the machine you buy should be the best espresso machine in 2023 not for 2010. It's obvious that you wander around a couple of espresso machine reviews before you get your hands onto the best coffee maker. We bet this one would feature in almost every list of "best automatic coffee machines." Let's see why?
The Delonghi espresso maker consists of a sensor grinder, dual heating method, hot water spout for tea and coffee, an advanced latte system, and many more up to date functions. The exclusive sensor grinding system provides the best ground for optimal flavor extraction. Then, there is a bean sensor in the machine to notify you when to reload the beans. The unit comes with two heating systems; one is for extract coffee and another to steam milk for your Latte and cappuccino. 
Importantly, you will receive a two-year warranty with each Delonghi coffee maker, and you will get a milk pitcher, cleaning brush, and descaling solutions to help your journey with the unit. 
Features of the Espresso Machine
Material: Stainless Steel
29.7 Pounds of Weight
Sensor grinding technology
Innovative Thermojet Heating System
The smart tamping station
Advanced latte system
A separate hot water spout
Positive
Advanced latte system
Two independent heating systems
Consistent grinding with sensor grinding technology
Two-year warranty
The separate hot water spout
Negatives
Not ideal for constant usages 
Jura ENA 1 Automatic Coffee Machine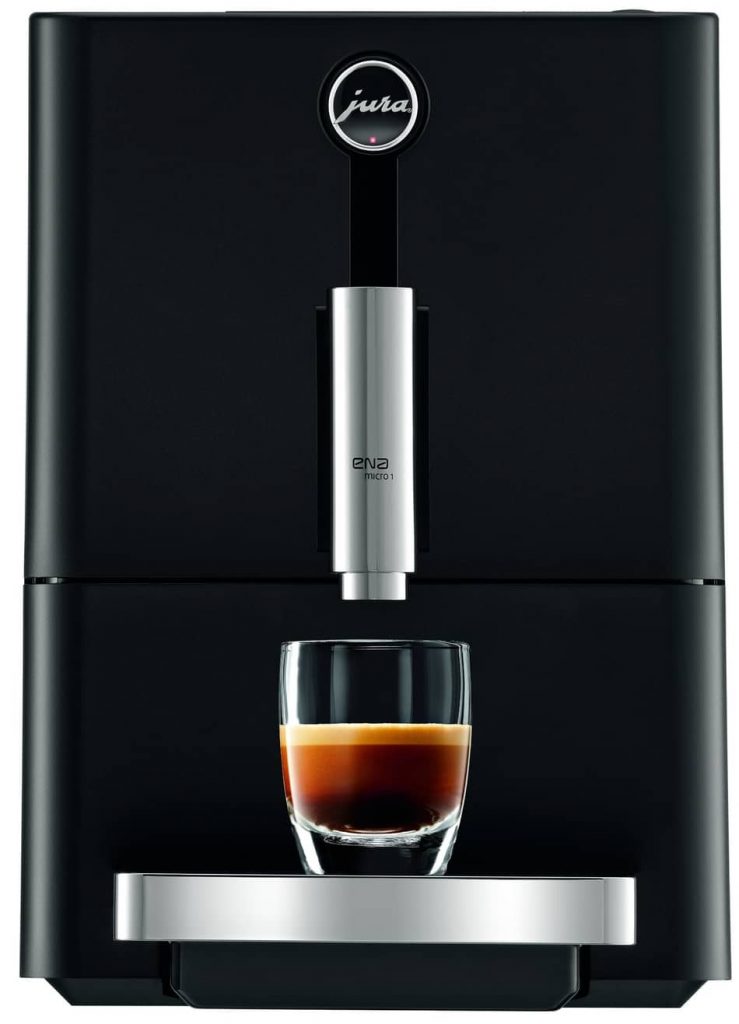 This is a slim-designed, compact, and small espresso machine that is ideal for small space places; nevertheless, it has a 37 Oz water tank and a 7 Oz bean container and has the capability to produce Barista type coffee or espresso with just a button press. The Jura coffee machines conical burr grinder can perfectly grind the coffee beans to extract the beans' maximum taste. 
The patented Zero-energy switch, automated energy-saving mode, and programmed switch-off time are other valuable features you get with the Jura espresso machines. This is a very reliable product that runs in the market since 2012, and 75% of five-star customer ratings in e-commerce stores confirm that the product is capable enough to live up to the expectations.
You don't have to have years of experience to handle this coffee and espresso maker because of its simple operation touch panels. There are three user-defined sizes of cups and two levels of aroma selection to ease your handling. It's the best budget espresso machine we suggest, and the best coffee and espresso maker combo for you. 
Features of the Espresso Machine
Material: Stainless Steel
19.4 Pounds of Weight
Multi-Level Grinder 
7 Ounce Bean Container
Touch Panel with Three User-Defined Cup Sizes
Patented Zero-Energy Switch 
37 Ounce Water Tank
Positive
Compact and ideal for limited-spaced places
Simple to operate
Conical burr coffee grinder
Energy-saving features
Intelligent preheating system
Gaggia Anima Prestige Automatic Coffee Machine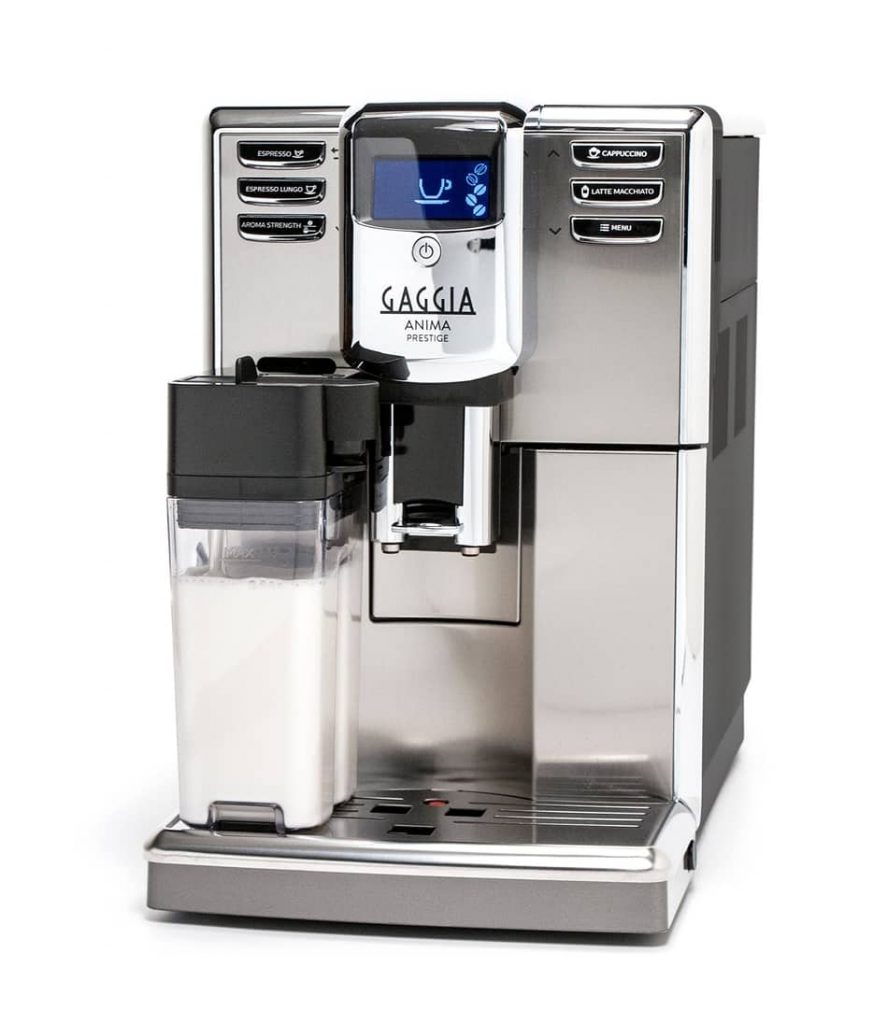 We don't think that you'll mind including a super-automatic machine on our list. Boy, we really wanted this to recommend you as one of the best home espresso machines you can ever think of. It is also a renowned latte maker among the coffee lovers and one of the best cappuccino machines going around these days. 
Gaggia Anima super-automatic espresso machine's simple interface has six buttons and a screen available you to select from both primary and customized drinks as per your need. Most parts, including the milk carafe and brew group, are removable so that cleaning the product is never a problem. The best Gaggia espresso machine's water reservoir can hold 60Oz of water, and you can access it from the top quite easily. 
There are three temperature settings for you to make it just right and perfect. Besides the above and many other features it has, you can receive a hassle-free two-year warranty too. So, you can purchase and use the Gaggia super automatic espresso machine with utter confidence. Give it a try!
Features of the Espresso Machine
Material: Plastic
16 Pounds of Weight
Programmable Brewing Options
3 Different Temperature Settings
Pannarello Wand Frother Type
Hopper Capacity: 10.58 Oz
60 Ounce Water Tank
Positive
One-touch brewing and frothing
Easy to access removable water tank
Three temperature controls
Programmable brewing options
Two-year warranty
Negatives
There are cases of leakages
Mr. Coffee Espresso and Cappuccino Maker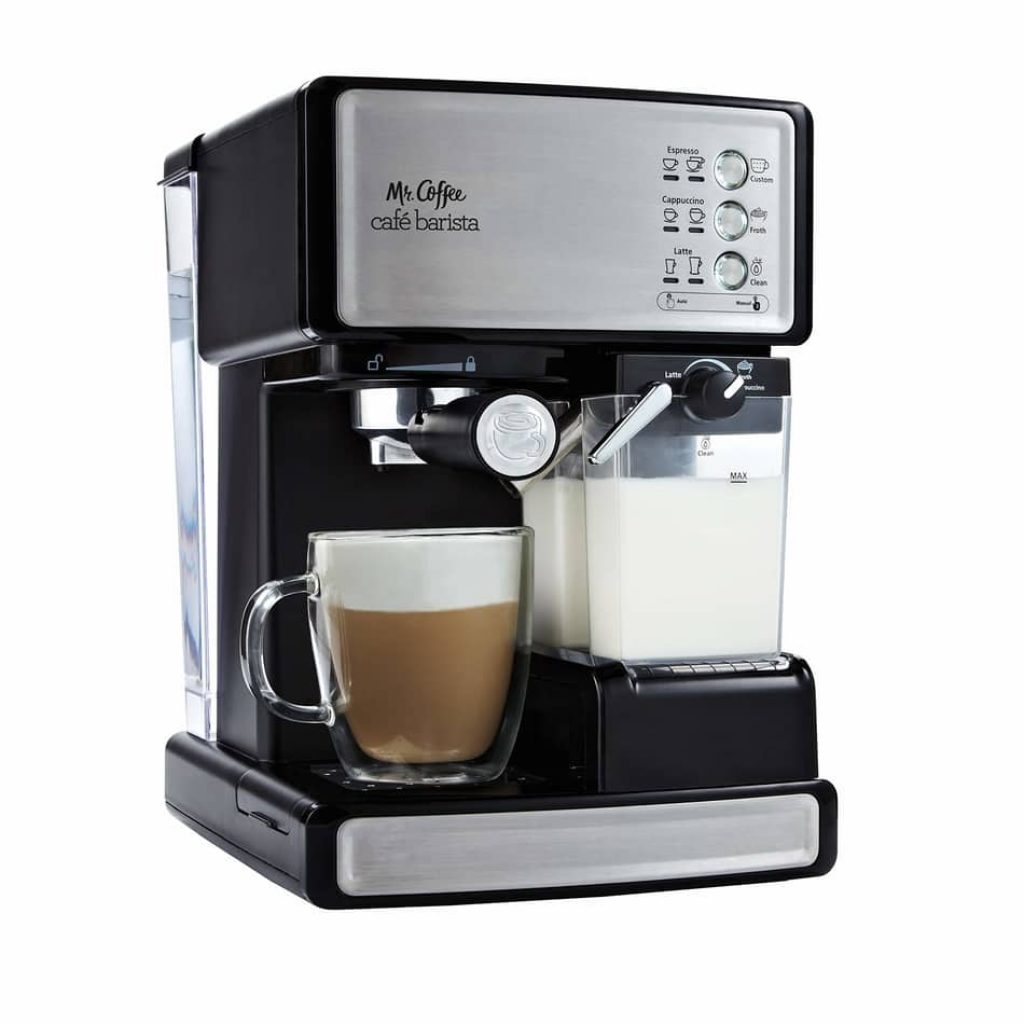 Mr. Coffee always produces the best automatic espresso machines for their customers, and if you are a coffee lover, you will accept it without a doubt. Not only that reputation, but this is also the best cheap espresso machine we recommend for you as well. This particular one is more of a semi-automated built in coffee machine that can perform duties as 3 in one Latte, espresso, and cappuccino maker. 
The Mr coffee espresso machine automatically froths milk. There is a user-friendly control panel to choose a single or double shot for your preferred drink. You can select the best coffee for espresso (ground you buy) and simply fill the reservoir with milk and select the brew you want. The water reservoir is removable, and you can easily clean it at the sink.
Even there is a recipe book included in the box you to play around. If you are looking for a espresso machine under $200 or best latte machine for a lesser budget, then check this Mr coffee latte maker.
Features of the Espresso Machine
Material: Stainless Steel
10.37 Pounds of Weight
15 Bar Pump System
One-touch control panel
1040 Watts Power
Removable Water Reservoir
Positive
Automatic milk frothing
Removable water and milk reservoirs
One-touch control panel for drink selection
Easy to use and clean
Less expensive
Negatives
Some units have been found with durability issues
KRUPS EA8250 Fully Auto Espresso Machine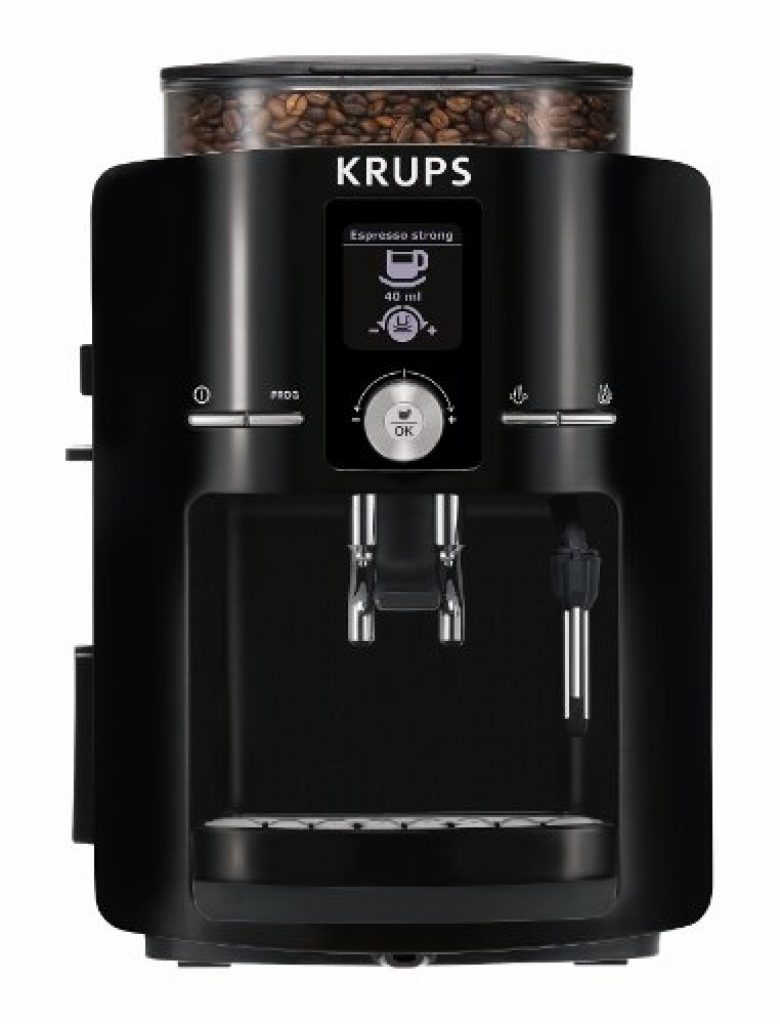 This gorgeous looking, Krups fully automatic espresso machine with grinder (built-in metal conical burr grinder) captures full flavor from the coffee beans, and you can adjust the settings of the grinding process to get the intended coffee ground sizes for your recipe.
No knowledge is required to operate the unit as you can control the entire brewing process with the help of the user-friendly control panel and LCD screen. Though the water tank has the capacity to hold 1.8L, the unit looks very compact, and it brings a stunning look to the atmosphere regardless of where it's standing.
The Krups super automatic espresso machine's leftover retaining parts, such as the water tank, drip tray, are removable and easy to clean. And, due to its unique patented Thermo block system, the machine heats up rapidly, and because of the capabilities of the same system, you will never have to wash the heart of the machine. 
Also, a large bean hopper, high-pressure pump (15-bar), and hydraulic tamping system are all available to produce and enjoy a delicious cup of espresso.
Features of the Espresso Machine
Material: Aluminum
10.4 Pounds of Weight
Built-In Metal Conical Burr Grinder
User-Friendly Control Panel
1450 Watts Power
Thermoblock Heating Technology
60 Oz Removable Water Tank
Positive
Consistent grinding with conical burr grind
LCD screen and user-friendly control panel
Easy to clean
Compact and beautiful
Two-year warranty
Negatives
There are complaints of leakages from the undercarriage 
Saeco Incanto Carafe Super Automatic Espresso Machine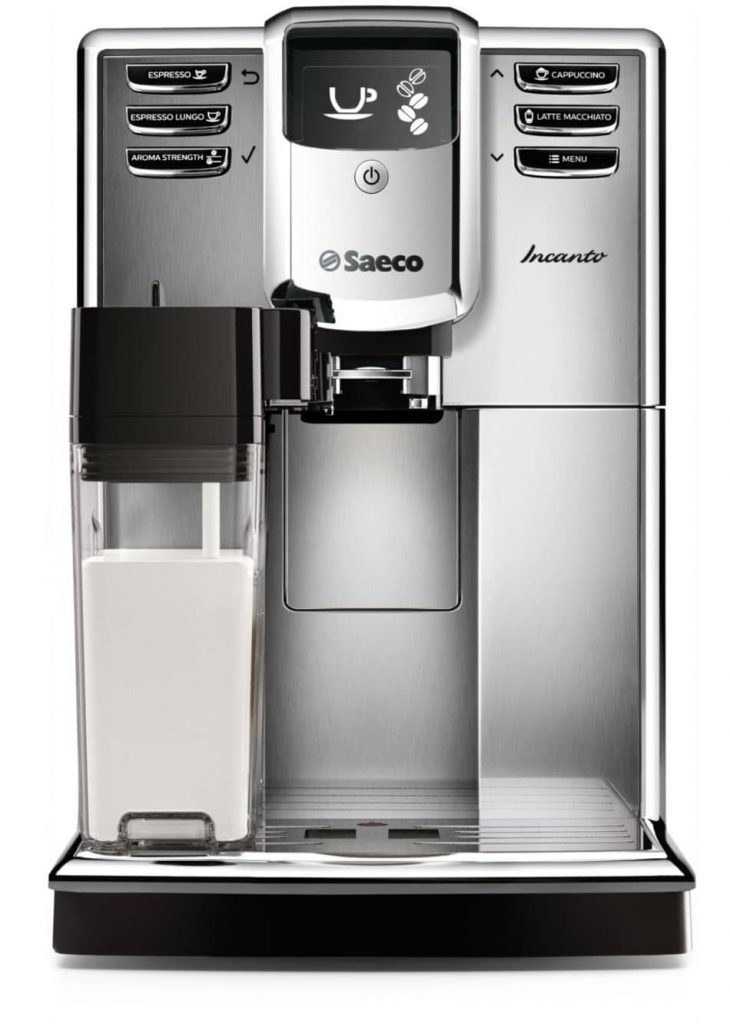 The last of our list of best automatic espresso machines comes to you from Italy. Saeco Incanto sets new standards in coffee brewing with its unique Italian technology. With the removable brewing group, the machine does everything you expect it to do. You can have full-bodied, decaffeinated, delicious coffee thanks to the machines' powder option. 
The ceramic grinders always provide you the actual and natural taste of cappuccino coffee, preventing over-burnt flavors. The stainless steel body of the Saeco aroma espresso machines and the magnificent looking display are directly from the Italian craftsmanship.
The cappuccinos, Latte are so convenient with integrated technology that is there to froth perfect and creamy milk every time you use the Saeco espresso machines. Water tank can contain 60.9 Oz of water, and the heating boiler technology is fast enough to brew your drinks way faster than you imagine
Features of the Espresso Machine
Material: Stainless Steel
21.75 Pounds of Weight
8.8 Ounce Bean Container
15x Waste Container
5,000 Cups of Coffee without Descaling
Patented Water Flow and Micro-Porous Filter
Ion Exchange Technology
Positive
Removable brewing group
Powder option
Premium materials and craftsmanship
Long-lasting ceramic grinders
Super-fast brewing
Negatives
The pressure might be not sufficient for cappuccinos 
How does an Espresso Machine Works?
The process of producing espresso depends on the brand you use. But, basically, the concept of the brewing is more or less the same. An espresso machine typically brews coffee with boiled and pressurized water letting go through the coffee ground and through a filter to create thick and a concentrated coffee type called espresso. 
The state of the art machines available nowadays would add more functions to the above process and produce various coffee-based drinks such as Latte and cappuccino. But, most of the ordinary expresso machines consist of a water tank, filter, boiler, spouts, and grinder or a place to hold coffee ground. 
Maintenance Requirements of an Espresso Machine
As you saw in some of the products, there are machines that have the capability to self-clean. Nevertheless, you will have to take care of your expresso machine. Most of the machines require cleaning at least once in two months, but if you are a heavy coffee drinker or use the machine repeatedly, then the units' up keeping also must be frequent.
You must wash off the leftover coffee grounds, clear out the liquids from the wands, and backflush the machine regularly. Be vigilant to use appropriate cleaners to wash the parts of the machine, and we recommend going through the manufacturer's safety instructions before you jump into descaling and cleaning.
Descaling Your Machine
First of all, you can easily eliminate scaling if you use clean or distilled water. If you happen to use tap water to the machine, then scales are inevitable as you use the machine for months. Once you notice these scales on your device, it's a must to clean correctly. 
When it comes to descaling, never use home remedies or the stuff you find on the internet. Use specifically manufactured descaling liquid for this as you don't want to shorten your machine's lifespan.
Three Tips for Brewing Espresso at Your Household
We assume you have picked one from our best automatic espresso machines mentioned in the article. Now it's time to master it, and we are sure that these three tips are going to help you in the long run. 
It's super important to let the machine preheat before you use it for brewing. The preheating time would depend on one machine to another. This is important to extract 100% out of the beans and to keep the taste intact. 
We urge you to avoid tap water into your water reservoirs. Not only best water helps for a perfect brew, but the filtered water is also vital if you want to prevent your machine from scaling. Use these water filters to get pure water.
Turn on the Steamer before You add Milk.
This will kill potential leftovers from the steamer. And. The suitable temperature for milk frothing is between 139F to 149F. 
Wrapping up..
According to our perspective, coffee brewing is an art one needs to master. However, day to day life circumstances won't provide that luxury for many of us. But, it's not a worry anymore with the products we brought to you. Roll your eyeballs through our list of best automatic espresso machines and become a Barista instantly!