We, moms, and dads love our babies immensely, right? We want the best for them. When it comes to their nutrition, it is a real struggle for parents to feed their babies right. We worry too much when our baby is not eating their food and falling behind their growth chart milestones. There can be several reasons for this. The top reason behind this is that babies get tired of eating the same meals every day. To save our time in the busy schedule, we buy 'healthy' labeled baby food and try to feed our babies, hoping they will enjoy it. But, will we enjoy similar meals every day? No, right? The same goes for the baby's appetite. To add versatility to baby food, making them at home is an excellent choice. Here, is a list of best baby food maker 2023, to keep your baby happy and healthy.
Before buying Baby Food Makers 2023 …
Before deciding to buy the best baby food makers 2023, there are few things for us to discuss. Why make baby food at home? Is it a must to make them at home? Do I really need a baby food maker to make baby food? What are things to consider before buying one? It is wise to check answers for these questions and be aware before buying a baby food maker.
Why Make your Own Baby Food at Home?
There are many advantages to making your own baby food at home. Store-bought baby food comes with preservatives. And, we 100% do not know what goes inside those baby food packages unless we read all the labels behind the package.
Do we always do that? Not really. When making baby food at home, you surely know what you are feeding the baby's body. It is a real relief, right?
Also, healthy, organic, baby food is quite expensive. You know that an American baby will need around 600 jars of their baby food. Yes, that shows how much you have to spend when you have a much inexpensive healthy choice at home. The other advantage is versatility.
Store-bought baby food has a very common typical taste. But, when you make baby food using your best blender for baby food, the tastes are limitless. That will grow your baby's appetite. Baby food makers are saviors to give a healthy and balanced diet to your precious baby.
We cannot forget that the baby food makers are capable of keeping more nutritional values of your food. The vegetable steamers will save the vitamins and minerals in the veggies, essential for the healthy growth of the babies. And the food is all fresh! You can make fresh food for your little one in a matter of minutes.
Many store-bought foods have preservatives in them to keep them edible for a more extended time period. Don't we all love to have a fresh meal? Babies do, too. And making baby food at home also makes your babies adapt to the usual food that the rest of the family is taking. That is a big help to avoid them from becoming picky eaters, too.
Do I really need a baby food maker to make baby food?
We would say, not necessarily as the answer to this question. You do not need a baby food maker to make baby food if you have a good food processor for baby food at home. Or else, you can manually make it using available kitchen utensils. However, a good baby food maker makes your life easier and convenient than a blender or a baby food processor.
Blender suits well only for making liquids, while a food processor will offer a few different food processing options. A baby food maker will add more versatility when it comes to making baby food. It will blend, grind, defrost, sterilize, reheat, steam, and some even work as a bottle warmer too.
Therefore, a baby food maker is a worthy purchase because it really is a savior at home with a baby. Therefore, if you have some extra cash to spend, select baby blender and steamer from our list of best baby food makers 2023. You surely will not regret it!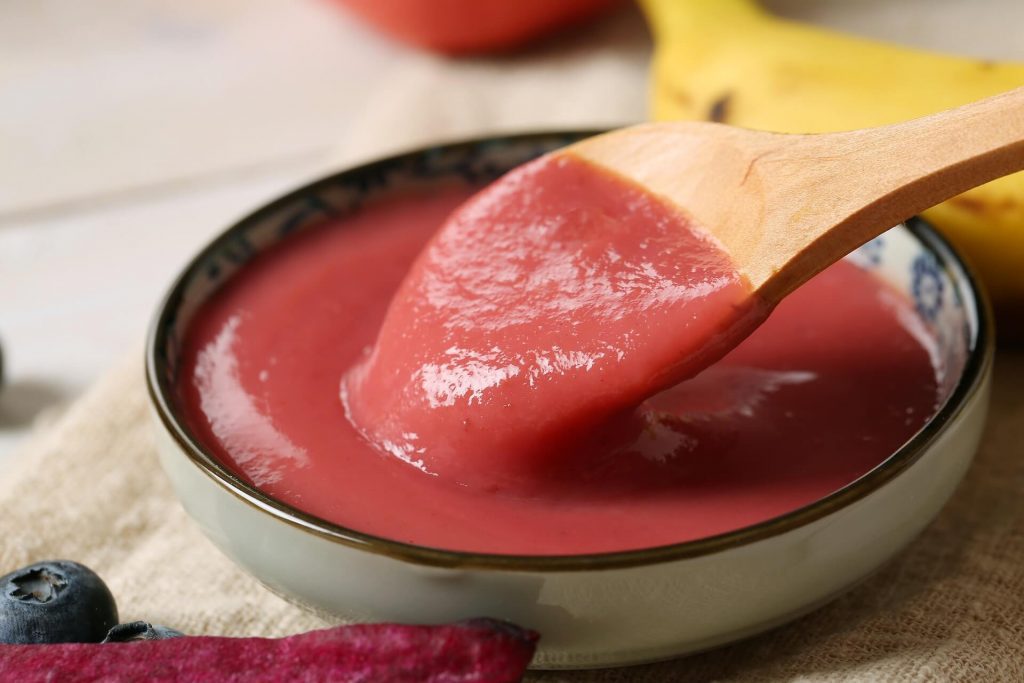 What are Things to Consider Before Buying One?
By now, you must have already decided to get one, I guess. Before buying a baby food maker, make sure to become aware of the must-know-facts. As it is to make food for your baby, buying the best and safest one is crucial. Below mentioned are the primary concerns.
Must be Safe to Make Baby Food
This comes as the major concern when it comes to food makers. Each and every materials used in the production of the baby food makers must be safe to cook food. It should be free from lead, phthalate, and BPA (Bisphenol A) containing parts. Though it is not 100% proven that BPA is harmful to human health, there is still a lot of controversy around the substance. Therefore, it is wiser to stay away from plastics having BPA.
The construction also needs to be solid or shatterproof. This is to ensure that there will be no metal or plastic particles in the baby food you make.
Electric or Manual
You will find both electric and manual baby food makers in the market. There, you need to make a choice. Obviously, electric baby food makers are more efficient and quick in food preparation. On the other hand, they are higher in price than manual food makers that need manual effort. In accoradance with our point of view, paying a little bit more money for an electric baby food maker is more worthy.
Efficiency
The baby food maker should save you time and make your life easier. So the efficiency of the device matters. Look for a device that has multi-functional properties. Many baby food makers have options to steam, sterilize, defrost, blend, and also to warm bottles. All these features together will surely make it easy to feed your baby a happy meal.
Easy to Use
The device must be easy to assemble, easy to use, and easy to clean. Usually, it is busy parents who use baby food makers; the operating process needs to be simple. Adding more complexity is the least you need when you are a baby's parent.
If you can afford to buy a dishwasher safe baby food maker, it will be really helpful. Even if not, a food maker made with easy-to-clean safe material should be the choice. Chrome and Stainless steel will give those hard to remove smudges.
Portable
Making a baby food is important to every parent. Purchase a baby food maker, which is easy to handle, to carry, and to store. It should not take much space in your kitchen. There are many handy, lightweight baby food makers in our list of best baby food makers 2023.
Price and Durability
As baby food makers are not very cheap, you must buy a food maker that will have a long life. It should be able to withstand years of use and therefore, purchase one with a good warranty. When considering the price, think about your budget and select one accordingly. You do not need that fanciest, most expensive baby food maker to give a healthy homemade meal to your little one.
Above is the list of considerations when buying a best baby food processor to make homemade baby meals. However, if you have no choice than buying baby food from the store, we understand. It does not make you a careless parent. Or ells you can use your home juicer or rice cooker to make your baby food. Baby food from the best baby food brands is not unhealthy for your baby. And, don't worry, your baby will grow just fine.
Also, our busy parents can give store-bought baby food occasionally while you are giving them homemade baby food puree. It is true and accepted that homemade baby food has many advantages, yet, giving store-bought is not a parenting failure. So, for the parents who have enough budget, time, and space, we have the best baby food makers 2023.
The list is thoughtfully made to give you a quick guide on what is best in the competitive marketplace. We know you are too busy with your baby right now. So, we made this list for you. Let's check it out!
Best Baby Food Makers 2023 – Top 10 Choices
BEABA Babycook Pro 4 in 1 Steam Cooker and Blender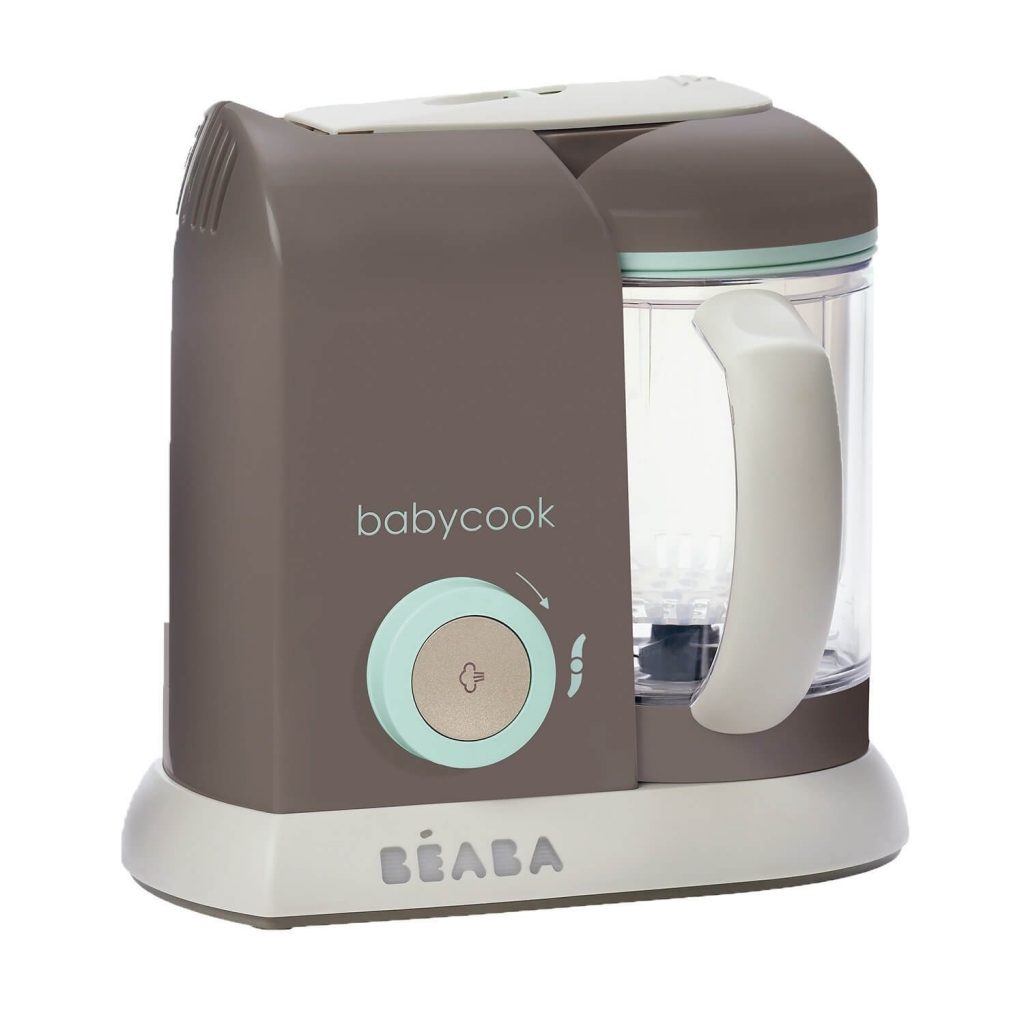 This BEABA food maker is pretty amazing with its 4-in-1 features; steaming, blending, defrosting, and reheating food. It takes only 15 minutes to prepare a quick fruit, fish, veggie, or meat meal for the baby. What is more amazing about this beaba babycook pro is that you can operate it one-handed.
As you oms and dads are holding and cuddling your babies most of the time, that feature is a huge help, we know. This device is popular among the parents because of its efficiency, easy to clean, safety, and reliability.
The device form and aesthetics are very appealing too. It does not take much space. The capacity of the device is 4.7 cups making it easy to make a few servings in one go. The steamer is stainless steel, so it is much safer than plastic.
This convenient little's all appliances sold as one package. It includes the spatula, recipe book, mixing lid, and steamer basket; no more extra expense on those. The device is easy to clean and can be washed in the dishwasher too. You get a one year warranty when you purchase this best food processor for baby food.
All the material used in constructing the device is very safe and also phthalate-free, BPA -free. That means the food you make has no reactions with the device's inner surfaces touching food ingredients. Though baby cook is pricey, we guarantee that it is worth the price.
Features of the Machine
This Baby steamer function only with a 120V earthed socket
You can make your favorite baby food within 15 minutes with Babycook baby food steamer and blender
BPA free machine
You can make 6 -14 portion at a time with 407 cup
It's automatically shut off when done
Positive
Quick-cooking
Multi-functional
Do not take much space
Easy to operate
Strong blending function
Good capacity
Negatives
It will be a bit difficult to clean some parts
Steaming and blending takes two processes<br>
Babybrezza One Step Glass Baby Food Maker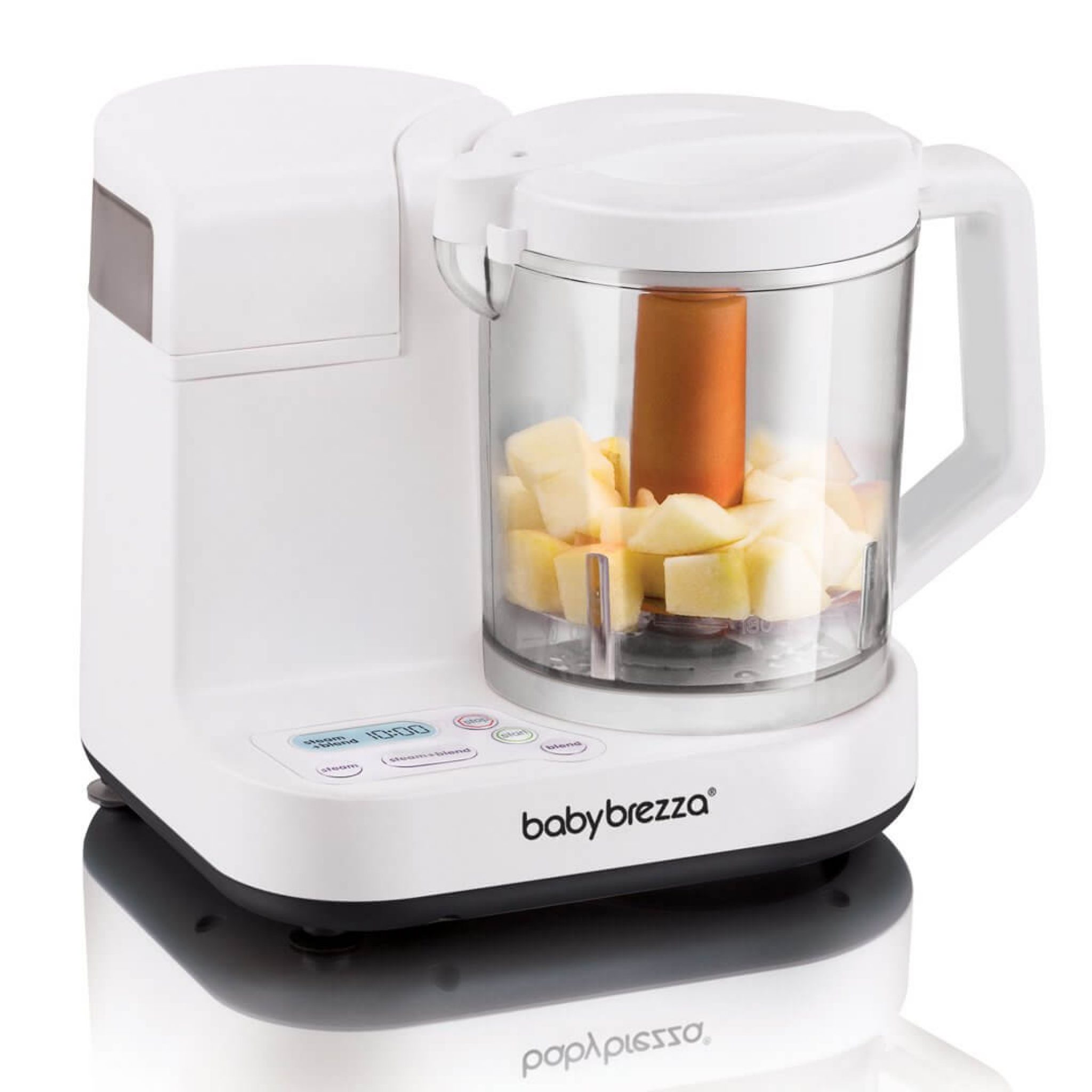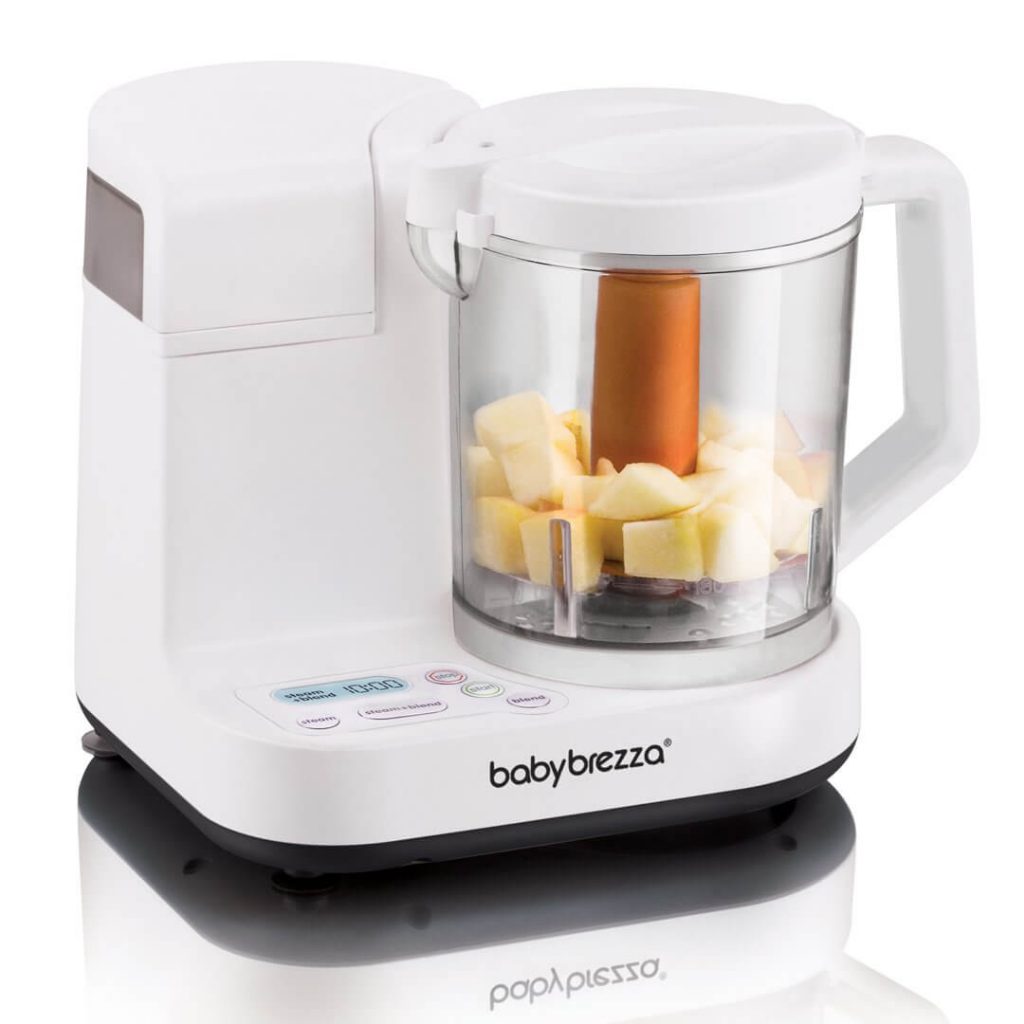 As an overall best baby food maker 2023, this is an excellent choice to make. It has the cooker, blender, and steamer all together in one device. There are 03 different settings as steam-only, bled-only, and blending automatically after steaming. This third feature makes this Baby Brezza baby food maker more popular.
1-step automatic steam and blend with a single button click needs no transfer after cooking. It can make food just in a matter of 10 minutes. Large 4-cup capacity, LCD control panel, BPA-Free material confirming food safety makes this the right choice.
Baby Brezza glass food maker is very easy to clean. You can open the steamer tank completely easy-to-clean. The blade and the glass bowl can be washed in the dishwasher.
The device comes with a one year warranty when purchasing it. The price of the Baby Brezza food maker is an affordable choice. The device is unlikely to give you any trouble at all. Yet, if a situation occurs, the Baby Brezza troubleshooting team will help you.
Features of the Machine
It automatically starts to blend after steaming baby food, no transfer required
You can make baby food within 10 minutes
Come up with LCD controlling panel
BPA Free puree maker
Large 4 cup capacity glass bowl for enough food making
Removable water tank easy to filling and clean
Positive
All -in-1 baby food maker
Easy LCD screen
1-step automatic steam and blend function
Easy to clean
Very efficient
Glass bowl instead of plastic
Negatives
Need to empty the water that accumulates at steamer bottom
EVLA's Baby Food Maker / Baby Food Processor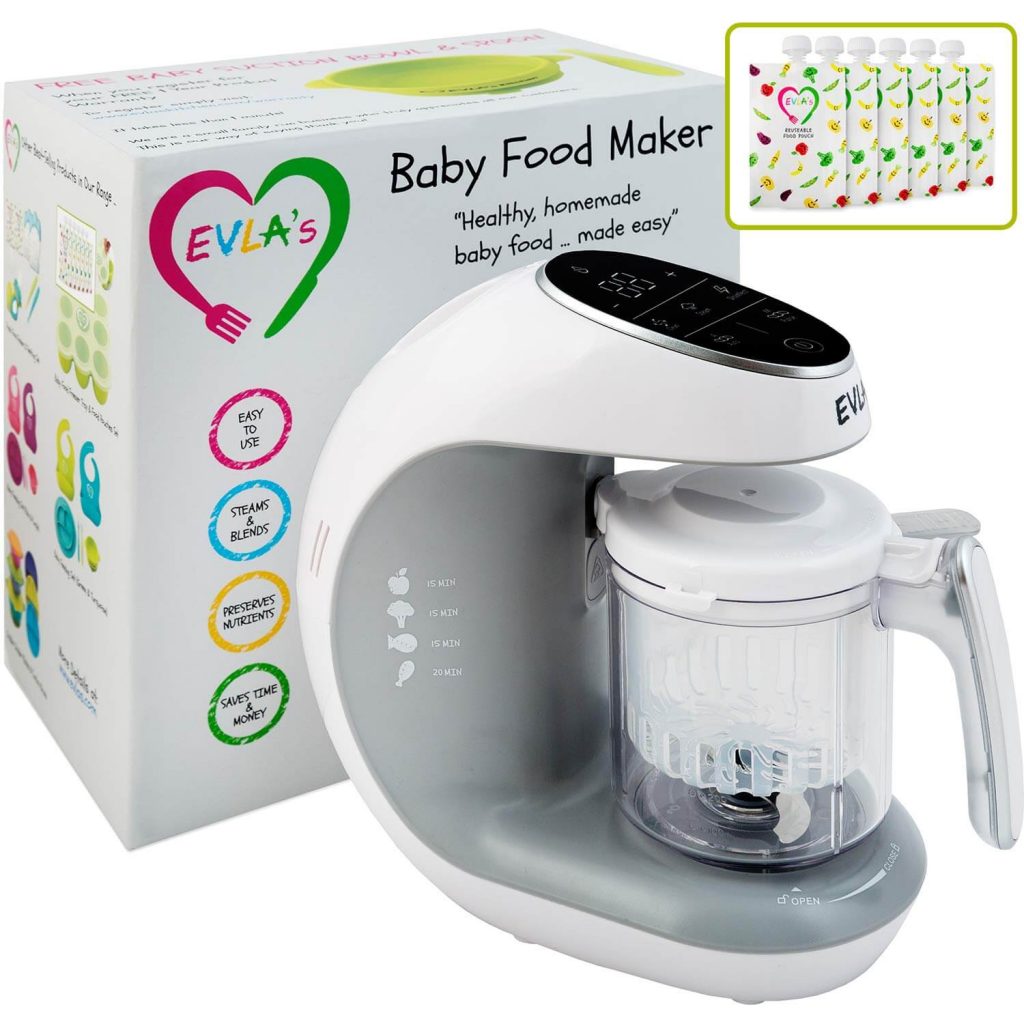 This compact baby food maker is super amazing because it can self clean itself! You have to add a little bit of clean water and run the machine, and it will do the cleaning for you.
When you are using the water to make baby foods, always use purified water from your countertop water filter. Hard water also directly affects the quality of the food. Therefore using of water softener helps to destroy all the harmful minerals from the water.
The steaming cycle is designed in a way to preserve all the vitamins and flavors in steaming veggies and fruits.
The touch control system gives an easy guide to select needed meal consistency to make different purees and solid food. The design itself is modern and will perfectly fit in a modern or minimal kitchen setup.
You can give this as a very useful gift to your soon to be mom friend. She will surely love it. EVLA's is a trusted brand with quality products, so you have nothing to worry about the quality of this device.
Though this device looks small, you can steam, reheat, defrost, blend, and sterilize. That is a whole lot of work! EVLA's Baby Food Maker is a patented™ and award-winning product and loved by moms all over the world. You can buy this best blender to make baby food at any online store now.
Features of the Machine
Multi-award-winning baby food masher
It's a multifunctional puree machine, allow you to Steam, Blend, Reheat and Defrost. And also it even Sterilizes and Self Clean
This baby food maker is dishwasher safe and easy to clean with a self-clean option for busy moms.
Modern touch screen control panel making it easier on selecting the precise meal for baby
It's stylish and suitable for any home
Positive
Compact size
Multi-functional
Self-cleaning feature
Babymoov Duo Meal Station Food Maker 6-in-1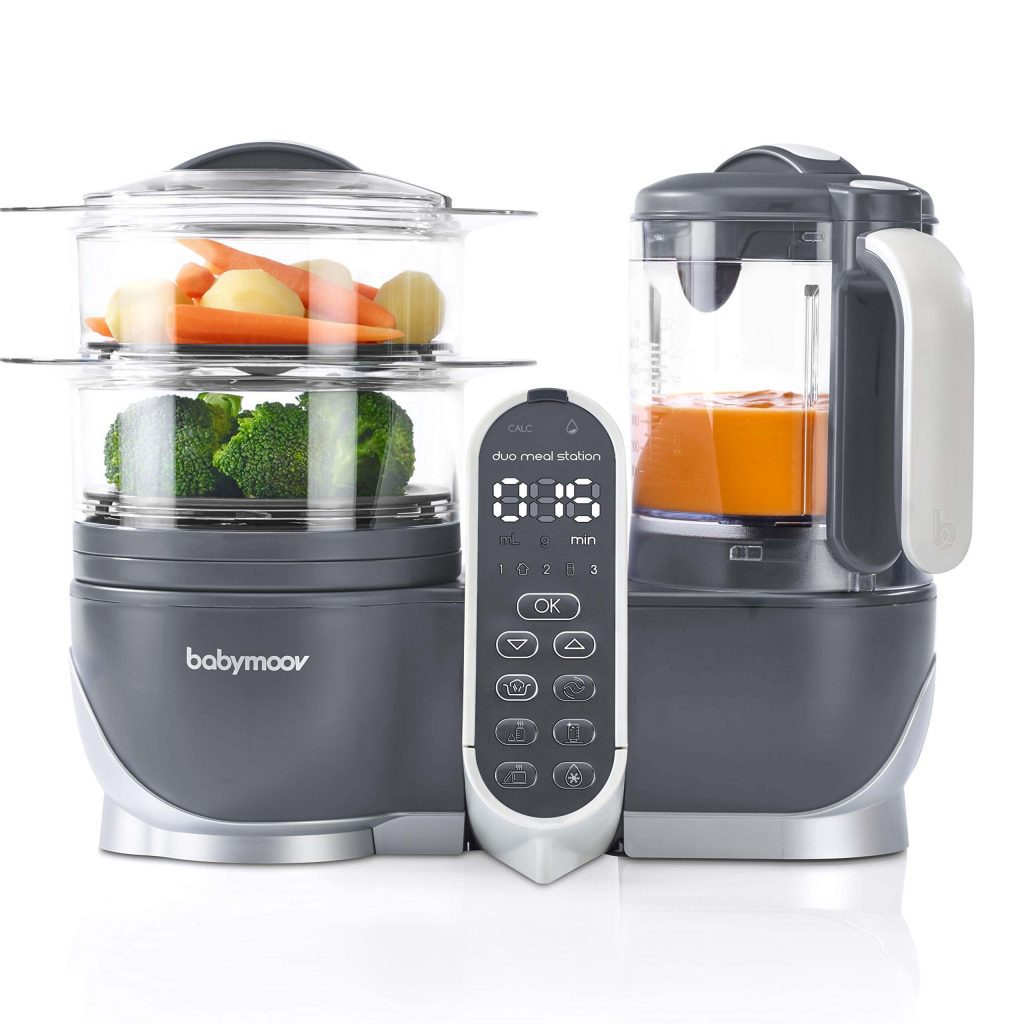 This multi-tasking baby food maker comes with a large capacity. It has two steamer baskets, and the blender works at three speeds. These features allow our moms and dads to save nutrients in the baby food, making ingredients, preventing over steaming, or blending.
If you are a busy parent, you can make a bulk of baby food, which will be enough for a whole week. Though the babymoov duo meal station will take a bit more space in the kitchen, it will serve you well. It will cook, warm, blend, steam, sterilize, defrost, and warm the baby bottles. The LCD control panel and the alerts in audio make the work easier.
The detachable parts make it really easy to clean in the dishwasher, and all are made with safe material. You can use the device as a stand-alone steamer when the kitchen is too crowded with other appliances. This 11 cup capacity baby food blender can be recognize as the best baby food steamer 2023.
Features of the Machine
It is easily programmable for various cook times and allows for the preservation of nutrients
Larger capacity for good content of foods
LCD and audio alerts making easier baby food processing, it's fully programmable
It's an all in one product therefor no need separate products for the cook, blend, and steam
Positive
Can make 03 different meals at once
Easy to clean 
Multi-functional
Negatives
Large counter device
A bit longer cooking period than 15 min<br>
Homia Dansa 8-in-1 Baby Food Maker Chopper Grinder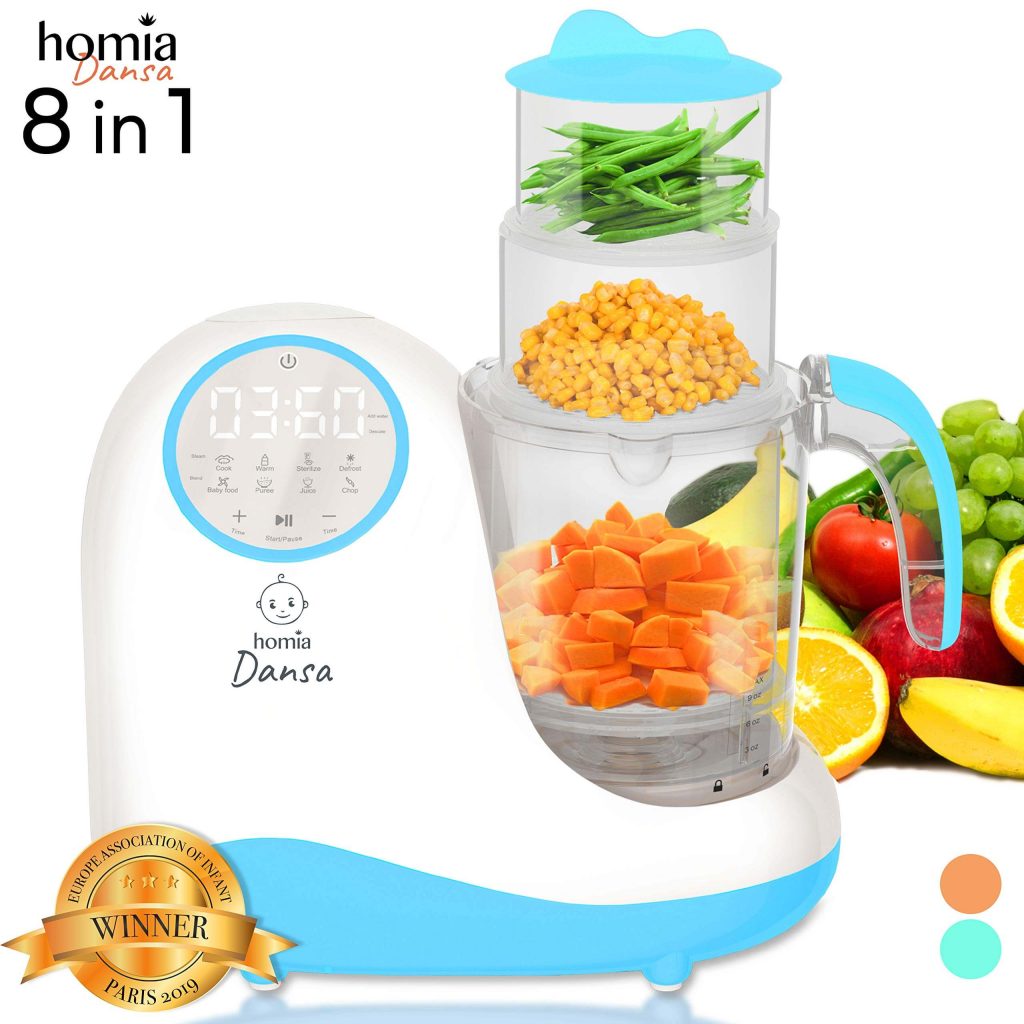 This winning toddler baby puree maker is amazing to feed your little one at home. It is an 8-in-1 chopper, grinder, mills, steamer, blender device. Buy this when you start to feed solid food to your baby and use it till he grows into a big kid.
The whole family can use the device! The best part about this baby food maker is that you can make three different meals in one go! Isn't that amazing? It has a 3-tier basket design to make that happen. The touch control pad makes it very easy to operate the device. The design is stylish yet easy to clean. It comes with the Tritan™ stirring cup, which is dishwasher safe.
The pyramid-shaped 3 tier design also allows you to take out the upper tiers when the cooking is done while the others are in the process. Package includes; 3 steaming baskets, splash cover, heat insulation cover, baby bottle tongs, recipe book, user manual, and also a gift box! What else do you need? With all these fantastic features, you can buy this baby food processor on Amazon.
Features of the Machine
You can 3 separate meals at once with 3 tire basket
8 in one Multifunctional baby food processor. You can Steam, Sterilize, Chop, Cook, Warm, Juice, , Defrost and Puree
Simply press one button for processing
Intuitive Touch Control Panel Interface for better quality control
The stirring cup is made with BPA free Tritan plastic
Dishwasher safe food maker easy to clean
Positive
Easy to clean
Multi-functional
Touch control pad
Cooks 3 meals at once
Negatives
Only compatible with 110 V (have to use a power converter if needed)
BEABA Babycook Plus 4 in 1 Steam Cooker and Blender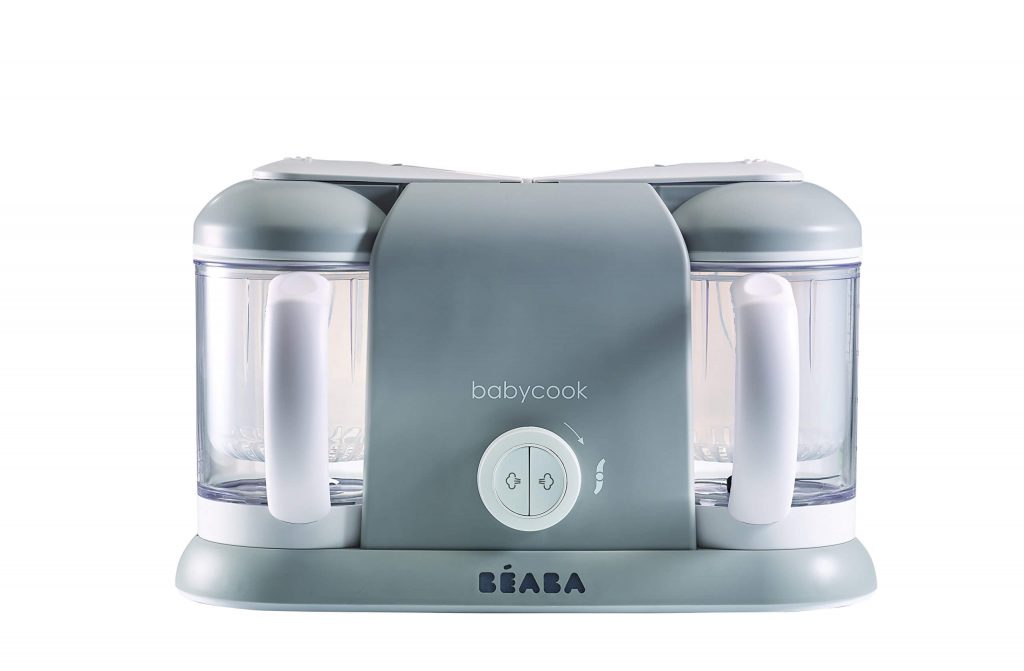 This BEABA Babycook 4-in-1 baby food maker is very easy to operate as it comes with a single dial operation. It will make a baby food meal in less than 15 minutes, and it blends, steams, reheats, and defrosts.
All the parts are made with phthalate-free, lead-free, and BPA-free materials. So, it is very safe to make your favorite baby food recipe.
This device is dishwasher safe too. So you can clean it without a hassle. There is a timer that allows you to set the preferred time to let the meal cook. Let it be veggies, fish, or meat; it will be ready in time.
This Beaba Babycook plus is a durable device, and it comes with the spatula, cooking basket, and the mixing lid. It also gives a recipe book that will guide you on how to make baby food in various new ways.
The prep blade is quite fast and makes it easy to prepare puree and chop ingredients. This is a compact device at a reasonable price with all major food maker features in one handy device. The motor of the service is very quiet, so it will not disturb when your baby is asleep.
The capacity of this baby food grinder is 800ml/ 3.7 cups. The price of this BEABA Babycook food maker is competitive to the other best baby food storage containers.
Features of the Machine
You can make your favorite baby food including vegetables, fruits, fish, or meat within 15 minutes
It has the patent for an innovative steam heating system
This puree maker id BPA, Lead and Phthalate free
Two Large 4.7 cup bowl making enough food for baby
It's come up with stainless steel water reservoir
Positive
Easy to clean
Multi-functional
Quick meal preparation
Easy to operate
Compact
Negatives
Less capacity for batch cooking
QOOC 4-in-1 Baby Food Maker Pro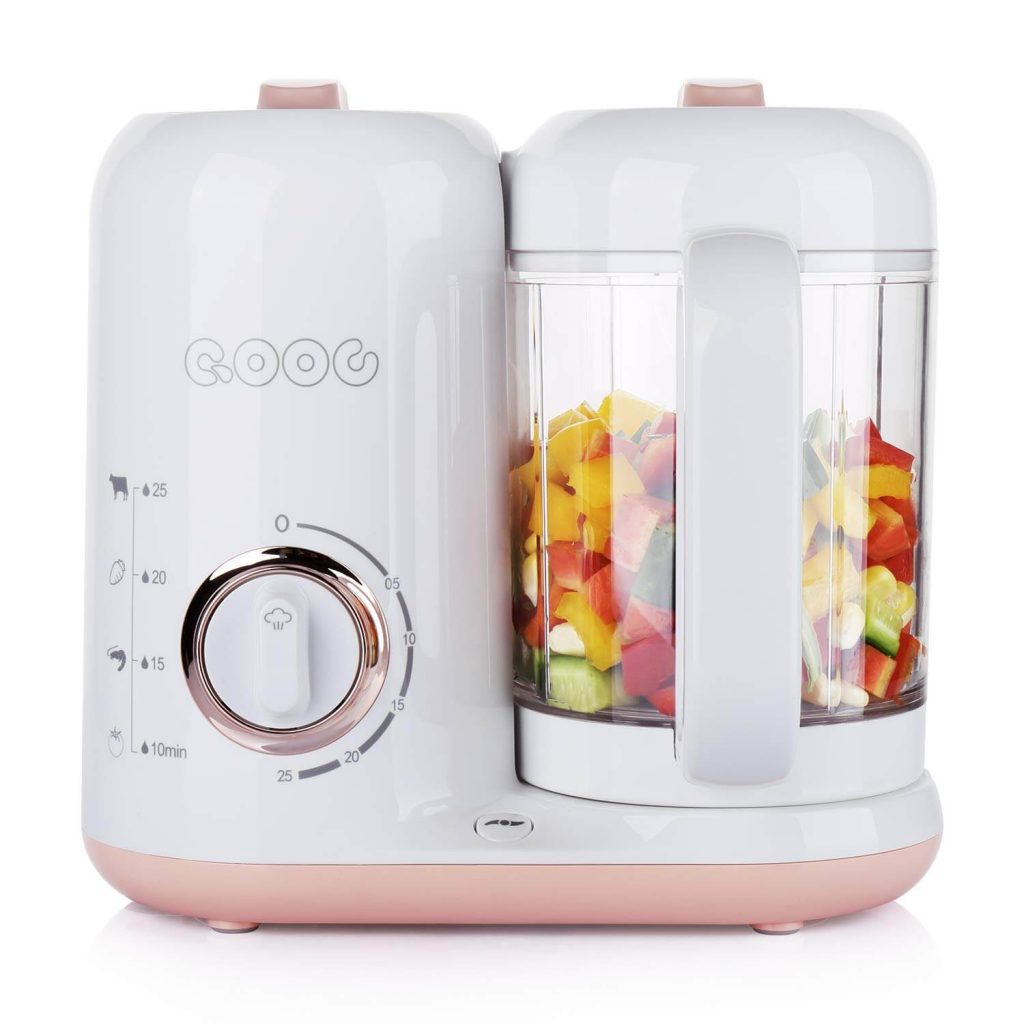 It takes only 25 minutes for our buddy moms and dads to make baby food using this professional baby food maker. The device is made using food-safe material, and you can wash it in the dishwasher. The timer is a huge helper in guiding you to make properly cooked baby food. You can turn the dial to preferred preset cooking time.
They give timing for steaming meat, fish, and different veggies. No hassle or food waste due to wrong timing if you have this little guy with you. You have to Press the control button of this food puree machine for a quick puree or a chop.
You get a precise measuring cup when buying this baby steamer and blender. The design itself is simple, and you can operate it easily with one hand. Parents love the wide detachable lid of the steamer compartment. Cleaning is made easy by detachable parts. This baby food feeder will be a perfect gift for a new mommy friend of yours too.
Features of the Machine
This baby food maker is perfect for busy moms and dads, its steam, blend, reheat and defrost within 25 minutes or less
Dishwasher safe and BPA free food maker ensure the quality
You can preset the cooking time for your favorite fruits, vegetables, fish, and meat
Its stylish and single button control
Positive
The wide opening water reservoir
Easy to clean
Intuitive timing
Detachable blade
Cuisinart BFM-1000 Baby Food Maker and Bottle Warmer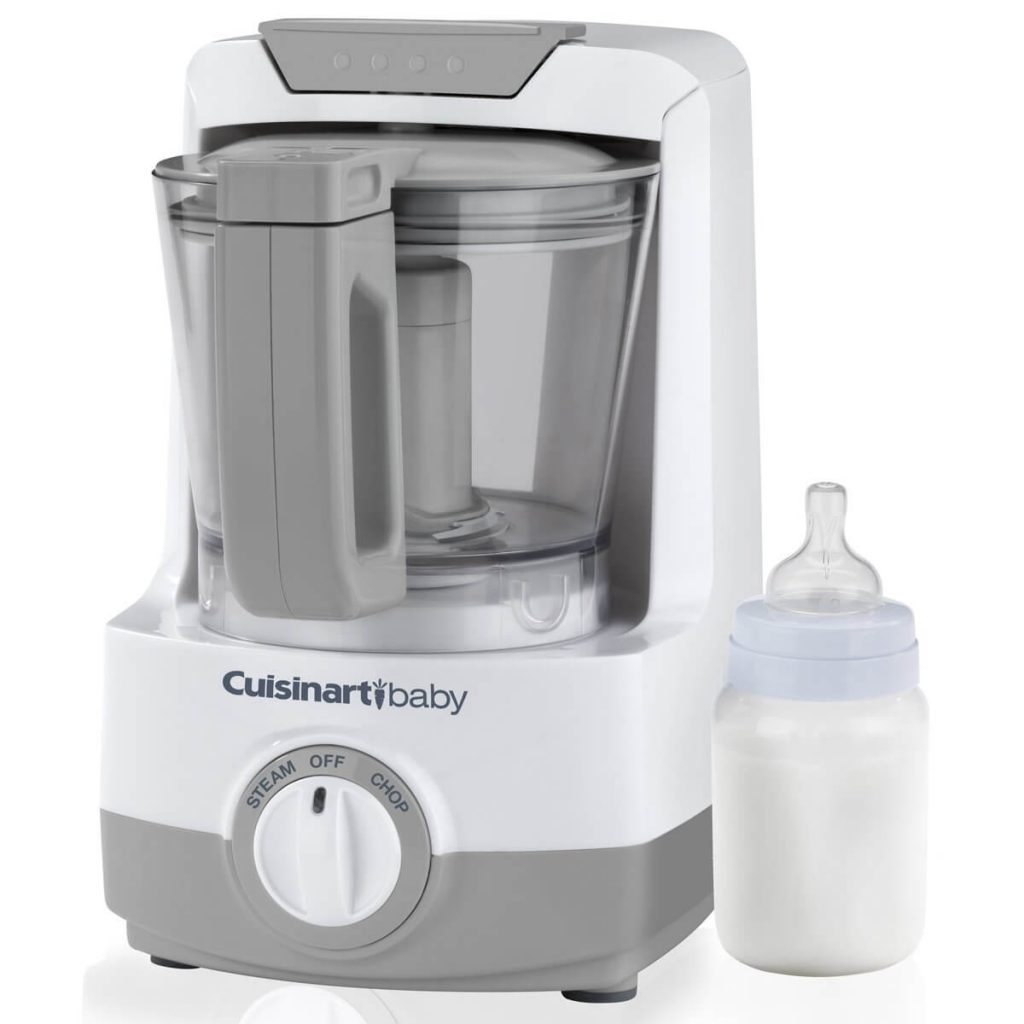 This sleek and nice baby food maker is quite pricey but comes with a great set of features. The form of the device does not take much space on your countertop. This is a multi-functional baby food maker! It chops, blends, warms, defrosts, and also works as a bottle warmer. There is more.
It has no separate steamer basket to steam veggies making it easier to make a puree in one go. The bowl can make up to four cups of fresh food at its maximum capacity.
All these fantastic features make it a worthy purchase. The Cuisinart baby food maker and bottle warmer is easy to clean and dishwasher-safe too. The device will still be useful as your baby grows.
You can always blend fruits such as papaya, mango, pineapple etc. and steam veggies such as potato, beans etc. Though this best blender for puree is a bit expensive, it is not complex at all. It makes your life much more comfortable to raise the baby happy and healthy.
Features of the Machine
It's come up with 4 cup work bowl and bottle warmer functions
The blade lock system holds the blade in place while pouring and they request Patent for this innovative technology
Quick and Even Steam distribution with the Steam blade
Bowl can be sealed to improve steaming and prevent spitting
Dial control and LED indicator light
Positive
Time saver
Multiple blades
Quick cutting, slicing, and dicing
Easy to operate
1-step puree making
Negatives
Less capacity
The steam tank can be difficult to clean<br>
OXO Tot Mash Maker Baby Food Mill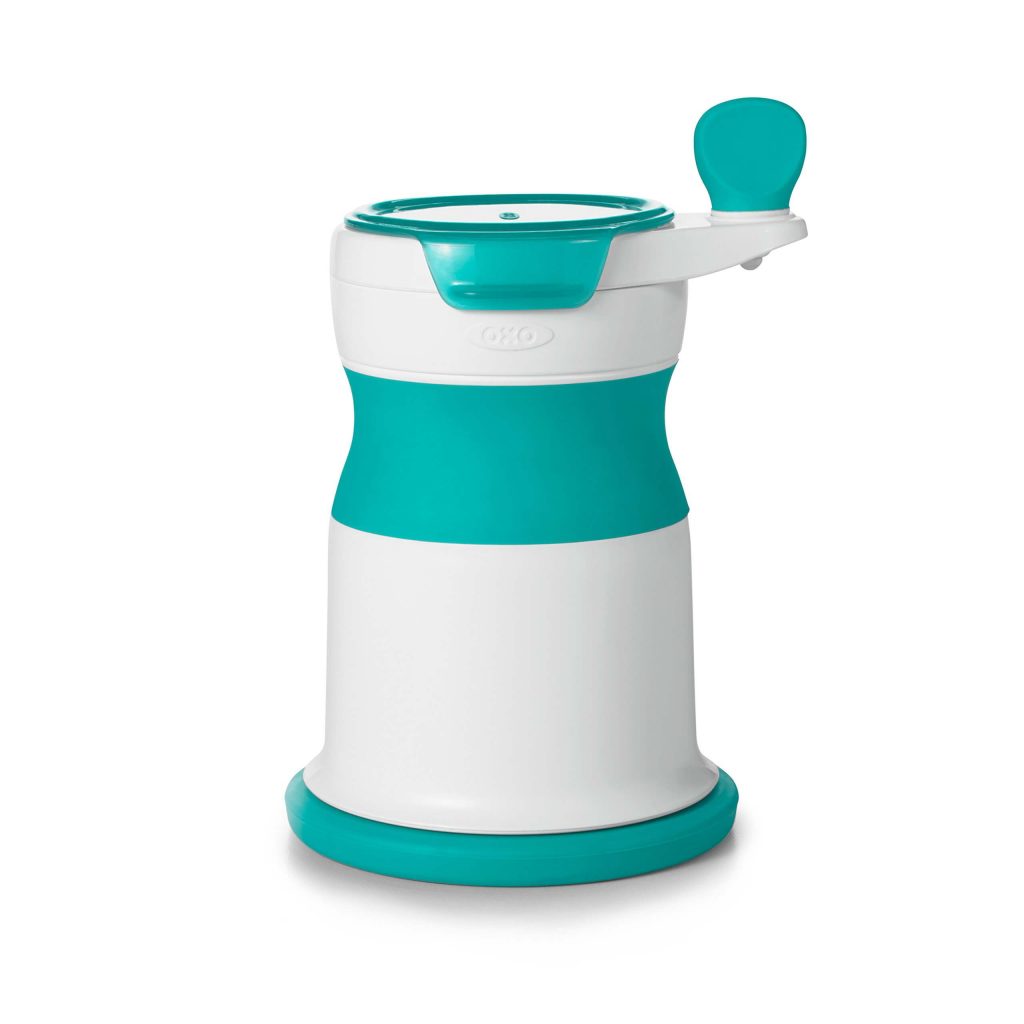 OXO baby food mill will quickly prepare a fresh and nutritious puree for your baby. This baby food grinder machine comes with a very simple design. Yet, it has all the essential features needed in any baby food blender/ grinder. It can make puree from cooked fruits and veggies very easily. Isn't that amazing?
No many pots and pans to clean. It is super easy and simple. It is very easy to pour or scoop puree from the top. The non-slip grid helps hold the device well while the non-skid base keeps the device stable while milling. It will perfectly sit even on the airplane tray table! Add cooked veggies, meat, or fruits to the base and attach the crank. Then turn the crank down till it reaches the bottom of the grinder. You can control the puree thickness by adding liquid too during the process.
Any baby safe grown-up food can be turned into baby food within seconds if you have this with you. You can take it with your baby to the restaurant, the baby's favorite aunt's house. It is only a bit bigger than your coffee cup. The device is BPA-free and dishwasher safe. You have to send only few dollars to own this best portable blender.
Features of the Machine
It is easy to scoop
Non-slip grip and contoured body for comfortable use
You can add liquid to control the thickness of the puree
It's come up with stainless steel blade
Positive
Compact and portable
No electricity needed
Easy to operate
Negatives
Difficult to mash a bit harder food
Can spill sometimes<br>
Green Sprouts Baby Food Mill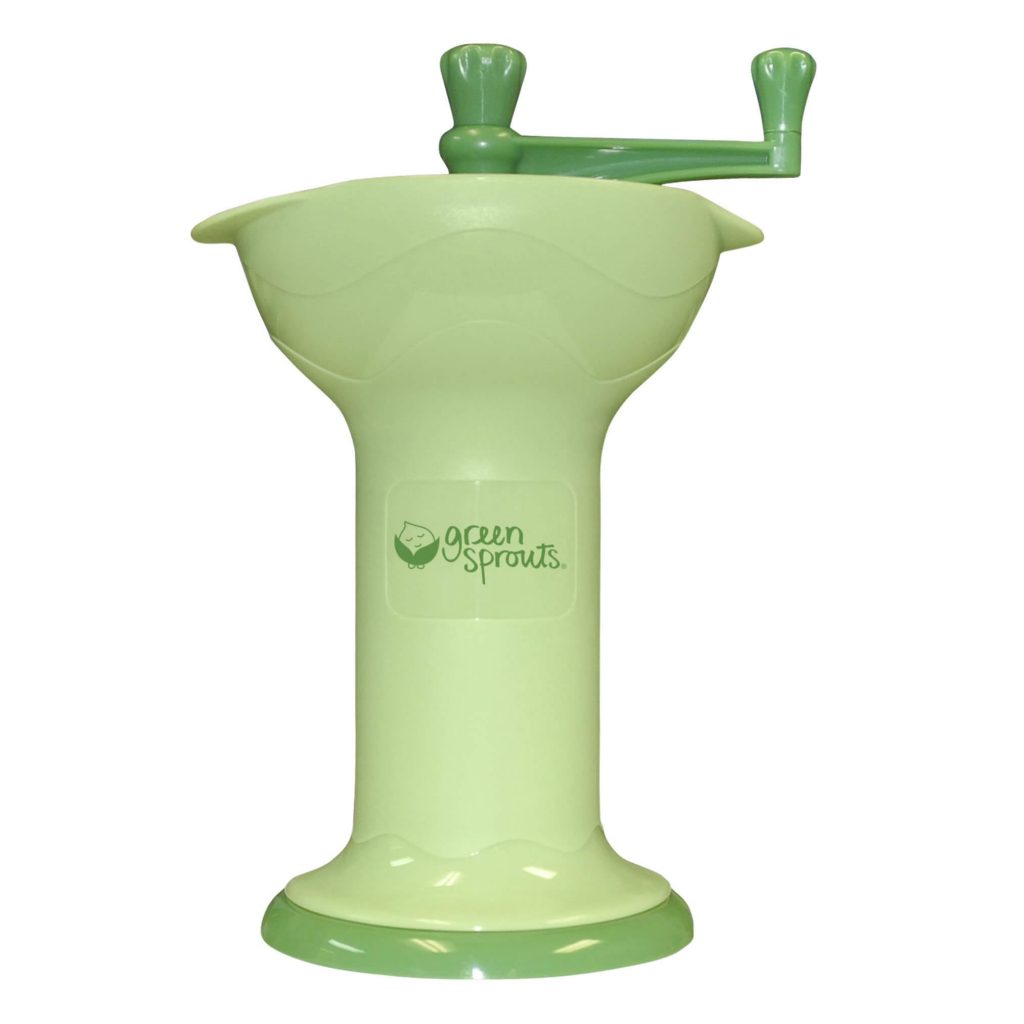 This can be considered as the best baby food maker 2023 for purees using fruits and steamed veggies. As it is fantastic for on-the-go baby food making, it is not quite expensive. The green sprouts baby food mill makes it extremely easy to feed your baby homemade food whenever wherever you go.
The process is quick and does not need any batteries or electricity. It works with a simple manual operation. You can easily carry this baby food grinder with you when you are traveling with the baby. This handy device can separate skins and seeds of veggies and fruits from puree. Isn't it amazing?
Green sprouts best baby food mill comes with a built-in serving bowl too. Moms and dads can make healthy purees in small batches, all fresh and delicious. It is made using stainless steel and food-safe polypropylene. This is very easy to clean and also dishwasher safe. Allocation of just little amount from your budget to buy this little puree machine, will make your baby gear set complete.
Features of the Machine
It is easy to purees food for baby
It's small in size and built-in serving bowl
This is ideal for small batches
No electricity needed
You can add liquid to control the thickness of the puree
Positive
Fits perfectly inside the diaper bag
Perfect when traveling with the baby
Easy to use as no electricity or batteries are needed
Easy to clean
Lightweight
Negatives
Small capacity
Will not be easy to blend harder food
Puree can spill sometimes
Cheap Baby Food Maker Available in the Market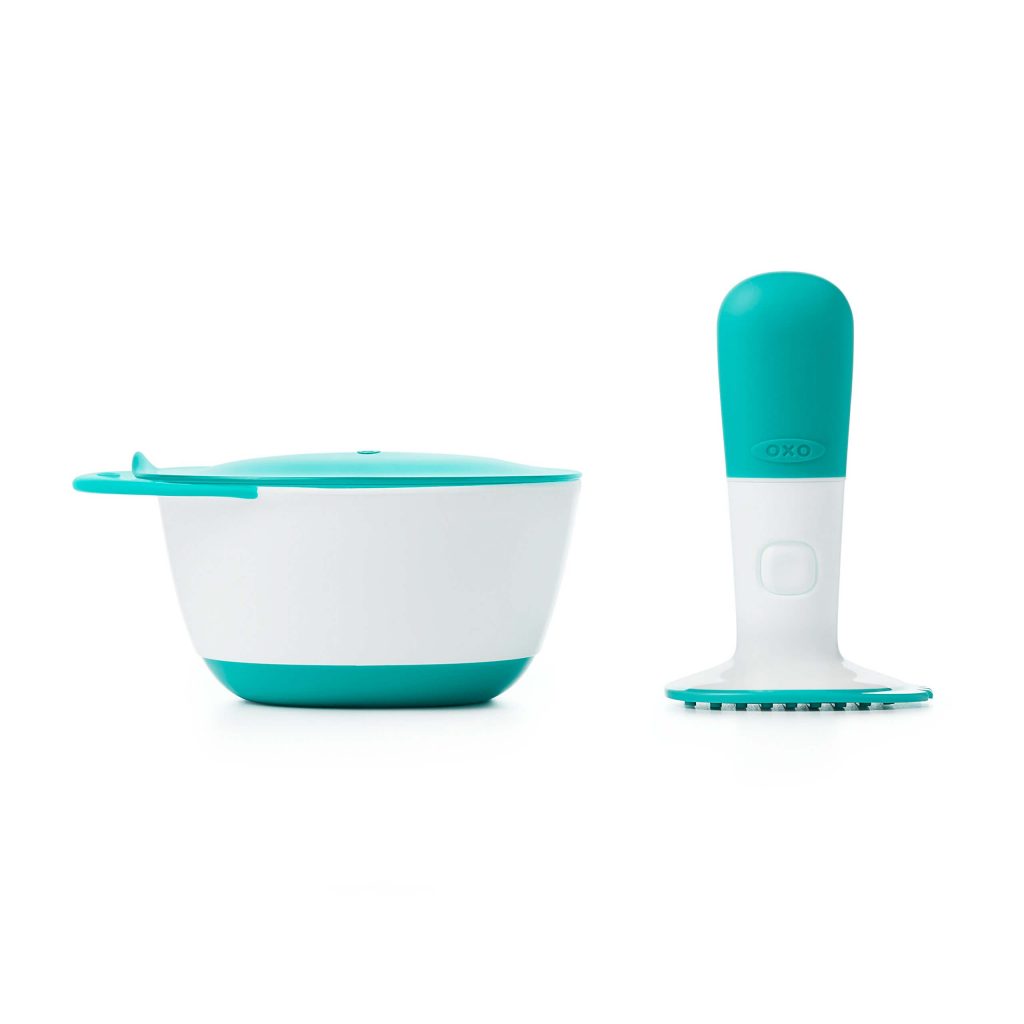 The little OXO Tot food masher is also a great addition to your baby gear set. It is ideal for mashing fresh fruits and veggies to make it easy to feed the baby. It efficiently mashes food with its masher with ridges.
The ridges inside the bowl, too, help to quicken the process. Masher teeth and the ridges in the bowl are made to fit perfectly to scrape out every bit of mashed food.
The bowl is steep, making it easy to keep the food inside without jumping out while mashing. Masher head does not have any drains or holes which will capture food particles. Therefore, this budget baby food maker is not difficult to clean the device after work. Mashing will be very easy with soft food types like ripped avocados and bananas.
This portable and compact OXO Tot food masher is made with BPA-free material. No PVC used in construction as well. It has a very soft yet non-slip grip, which makes it easy to handle. It is very easy to clean manually or using the dishwasher as it is dishwasher safe. This best puree machine comes at just cheap price. It perfectly fits inside your diaper bag too. Let's jump in to the pros and cons of this hand blender for baby food.
Features of the Machine
Ridges ensure efficient mashing
Masher teeth fit between ridges in the bowl to crap the food
Steel bowl walls keep food without splitting
This is ideal for small batches
Positive
Travel friendly
Easy to operate
Color choice
Negatives
Can be challenging to mash a bit harder food
Can be a bit annoying to clean sometimes
Wrapping Up
Those are our top picks for best baby food makers 2023. We hope that the above list of products will be helpful to our moms and dads in selecting the best baby food maker. Though it can be a new addition to your baby requirement list, it is a worthwhile investment. Most importantly, you will be feeding your baby health, nutritious, and safe meals to your little one. These best baby food processors will make your life with the new baby much more relaxed and convenient for sure. So, if you can allocate some money for a baby food maker, choose one from our list above. You will not regret your purchase decision if you do so.