If you are into baking, you might have an idea of how important the selection of right utensils is. No matter how fantastic cook you are, if you don't have suitable dishes to cook and serve, you won't get appreciated by others. If you want everything to go perfect, you should use the right type of pots and pans. The trend of using Casserole dishes is rapidly increasing. Specifically, if you are making some Casserole recipe, you must use the appropriate pan. The best casserole dish bake smoothly and there should be no cold or hot spots that leave part of the dish less or more done than the rest.
Most popular casserole dishes are manufactured of stoneware, porcelain or glass. These materials tend to be affordable, lightweight. They bake evenly because they transfer heat more slowly and ineffectively than metal. (Thin metal pans move heat much more fast, which can lead to overdone bottoms and sides of long-cooking casseroles. Stoneware and porcelain are more versatile than glass because you can usually use it under the broiler.
There are plenty of enameled cast-iron and stainless steel lasagna pans, which are much more long-lasting than glass or ceramic casseroles, which can be utilized for high-heat roasting (500°F) or on the stovetop. That is an advantage if you need the dish for cooking a bird or other meats, then make a pan sauce on the stovetop.
Overall, though, best ceramic bakeware or glass casserole dishes work best. Even Barbara Kafka, the master of high-heat roasting, recommends that oven-safe glass or porcelain is best for roasting smaller amounts of food.
Factors to Consider Before Buying a Casserole Dish
Before buying a casserole, you have to know that it can have an essential role in how your meal turns out. The best Casserole dishes come in a variety of sizes and shapes such as square, round, oval or rectangular.
The optimum capacity ranges from 1-Quart to 6-Quart. Another thing to keep in mind is the material the dish is made from and whether it is dishwasher safe or not. We have listed several features to look for when you are sorting through the different casserole dishes available.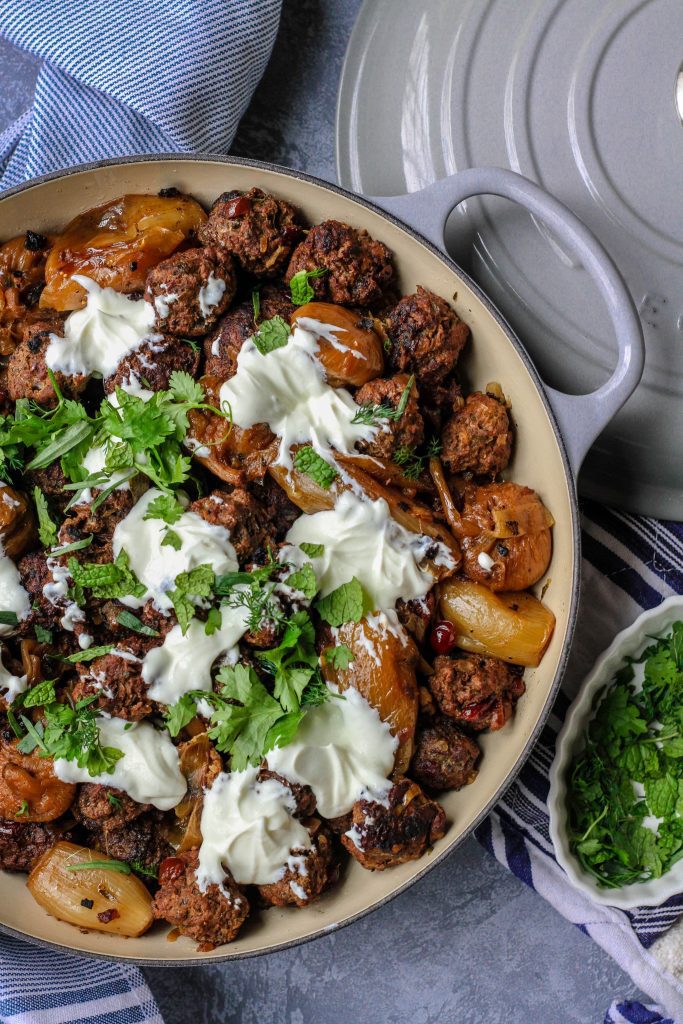 Materials
Casserole dishes are made of various materials. These include stoneware, ceramic, glass, enamel-coated stoneware, and enamel-coated cast iron. Some of these materials are more resistant and longer-lasting than others. You might need different sizes and shapes for cooking all kind of foods. Make sure that you pick a casserole that heats evenly and is oven safe at high temperatures.
Shapes and Sizes
The type of casserole differs from recipe to recipe. The best approach to this would be to choose various kinds in a variety of shapes and sizes. This way you`re going to be prepared for every dish you want. The most common casserole dish sizes are 2-Quart square and round, a 3-Quart rectangular. Some people also like to include some ramekins for sauces, but this is up to you.
Lids
The lid can be either made of glass or plastic. Sometimes, you can get both of them in the package. The ceramic baking dish or pottery casserole dishes usually have matching lids that are also oven safe. On the other hand, plastic lids are not oven safe and should not be used during the cooking process.
Handles
Handle make lifting much easier. For this one, you may want to look for handles that are integrated in to the design of the casserole. It's better to go for larger handles that are still comfortable while you have oven mitts on. Bear in mind that you should always use them with pot holders or oven mitts.
Weight
The weight of the casserole dishes will vary from product to product. An enamel-coated cast iron casserole will weigh much more than a glass dish. The larger the casserole dish is, the heavier it will be. To this weight, you have to add the weight of the food you put in it.
Design and Style
Casserole dishes are available in a variety of bright colors and patterns. Sometimes you might see unique shapes as well. The color and shape of the dish can add a sense of style and admiration to your table. In this review, we picked up for you dishes that suit any kitchen design or style.
2023's Best Casserole Dishes
There is a wide variety of these available out there in the market. To choose the best casserole dish from such a vast variety can be really challenging. For assisting you in making the best buying decision, we have come up with a list of Best casserole dishes.
Take a look and find out which one best serves your needs.
Le Creuset Signature Enameled Round 5-1/2 Qt French (Dutch) Oven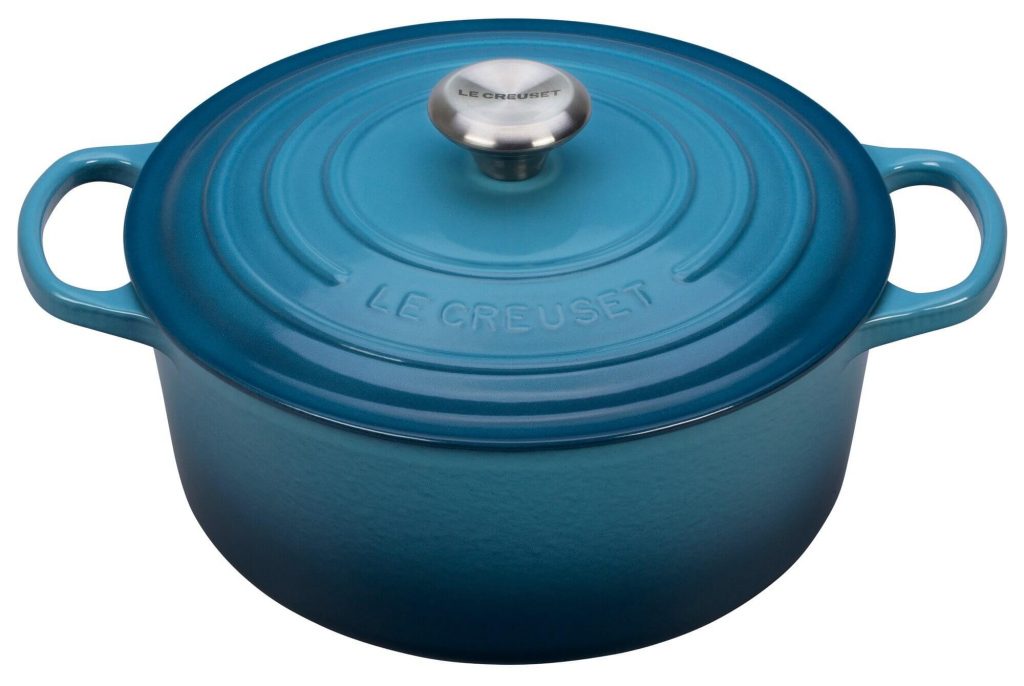 The feature that makes this stand out from the rest is the large, spacious handles the dish packs that can be easily and securely gripped with oven mitts.
The cast iron material helps retention and even distribution of heat, making the dish eco-friendly in its lower energy consumption required to prepare meals. The enamel coating on both interior and exterior makes the dish resistant to wearing, sticking, and stains and suitable for stovetop and oven use while complementing your kitchen with its rich looks.
Heat Recommendations
These best baking pans manufactured by using cast iron, it can be used in any heating source reliably including induction.  It retains the heat for a long time. Ergonomic design enhances distribution of heat evenly and keeping the optimal amount of moisture. Ergonomic composite knobs are heat resistant up to 500 degrees. This best casserole dish with lid will keep food hot for a long time and second serving.
Handles
This best casserole pan designed with 45% larger handles. The size of the handles provides a sure grip, even with the oven mitts. Oversized handles distribute the weight of this best baking dish evenly. Ergonomically designed handles and advance interior enamel resist from chipping and cleans easily.
Cleaning and Care
This 5.5 QT best casserole dish with lid requires no seasoning before use and offers dishwasher-safe cleaning standards for your ease after use.
However, all these features that add up one by one to be designed for your convenience make the retail price climb up. The dish lies among the more expensive options available for purchase today.
Features of the Machine
45% larger handles
Made with enameled cast iron
No seasoning requires
Enamel resists cracking, staining, dulling, and chipping
Light-colored smooth interior
Tight-fitting lids
Ergonomic knobs
Lightest weight
Positive
Ergonomic design
Perfect for 5 members family
Durable construction
Easy to clean
Negatives
Expensive
Good for medium or low heat
Cuisinart CI670-30BG 7 Qt Round Casserole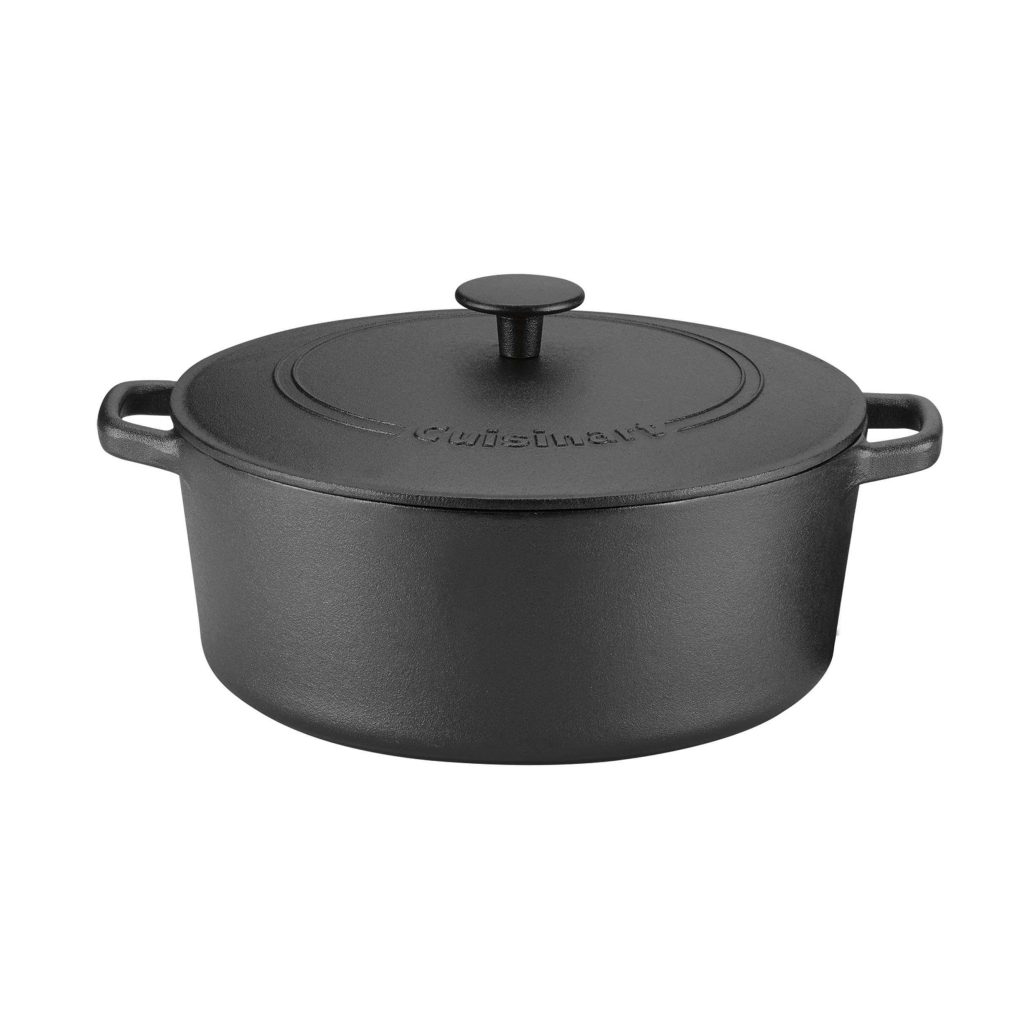 Made out of cast iron, this Cuisinart Casserole dish is capable of retaining and evenly distributing heat which makes it economical in terms of electricity usage while consuming less time for preparation.
The porcelain enamel interior and exterior make the dish immune to absorbing cooking odors while retaining the looks that would go with your kitchen décor. The dish can be safely used with stovetops, ovens, as well as broilers which makes it a versatile kitchen companion. The rich exterior makes it ideal for serving as well.
Cleaning and Care
Clean-up process that follows meal preparation or serving is also made easy with this dishwasher safe kitchenware. Stuck of food items are not a problem let it soak filled with hot water for about 10 minutes and clean it away. But don't use the hard items to clean this cast iron casserole dish because some of the users complaining about the chips.
Heat Recommendations
This large casserole dish heats up so quickly than other stainless steel pans and distribute heat evenly throughout the cooking process. It saves time and energy consumption and much suitable for sauces, Searing, pan frying, sourdough loaves, and much more.
However, being made out of cast iron makes the dish weigh more and a little challenging to handle when filled up to its capacity of 7 QT. For your ease in transporting when cooking or serving, the dish features two wide handles fashioned out of the same material to provide a comfortable and a secure grip. The dish retails around the more expensive end of the budget continuum.
Features of the Machine
7 Qt Covered Casserole
Cast Iron construction
Porcelain Enamel Interior and Exterior
Extreme Versatility
Dishwasher Safe
Weight: 1 pound
Induction oven, stovetop, and broiler safe
Positive
Easy to clean
Heat retention
Affordable
Le Creuset Signature Enameled 3-3/4 Qt Round Braiser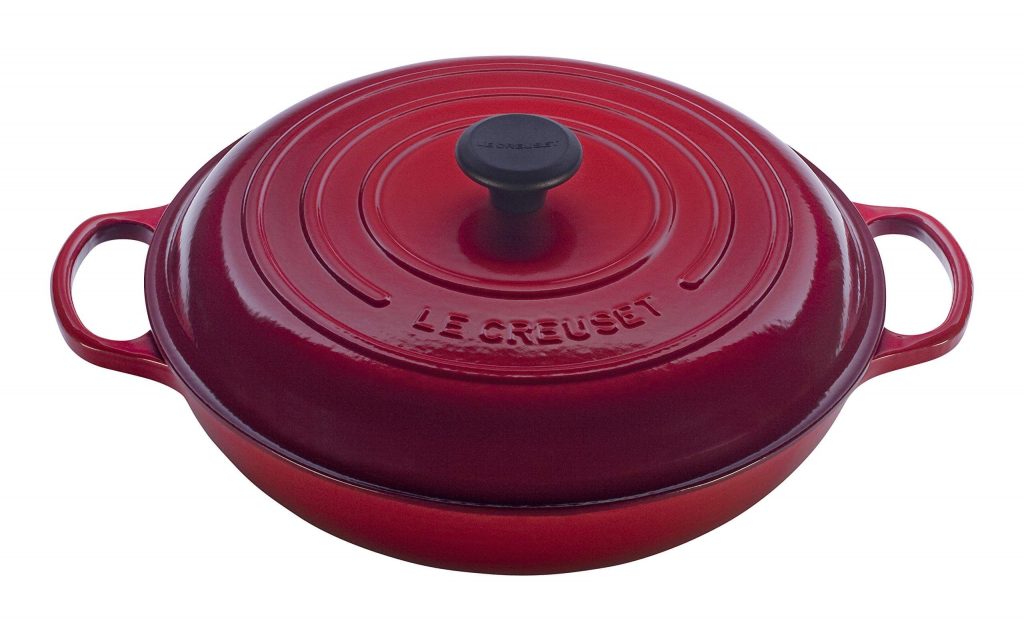 This cast iron round Le Creuset casserole dish is capable of holding up to 3¾ QT. Available in a wide variety of color choices; you can pick one that goes best with your existing kitchenware.
The interior and exterior enamels help the casserole dish withstand minor wear, chipping, and cracking.
Heat Recommendations
The design material is capable of superior retention and even heat distribution to transform chunks of meat and vegetables into tender, mouth-watering dishes. This dishwasher-safe casserole dish is capable of handling heat off of multiple sources ranging gas, electric solid plate or radiant ring, vitro-ceramic glass, induction, and ovens fired by gas, oil, coal or wood.
The larger composite knob that withstands temperature for this best casserole dish up to 500°F. Overheating might cause some damages to the casserole dish.
Cleaning and Care
Its highly recommending keeping cools the hot pan for a few minutes before washing it and does not plunge hot pan into cool water because it results in cracking or loss of enamel. Residuals can be removed by using warm, soapy water after soaking 10-20 minutes.
Bruch can be used to wash the food residuals between the ribs on grills. It's better to use Nylon or soft abrasive pads or brushes to clean the braiser.
The manufacturers guarantee the durability of this cast iron Le Creuset casserole dish, but it may be damaged if it dropped or knocked against a hard surface. These kinds of damages not covered in their lifetime warranty.
Handle and Lid
The dome-shape of the lid assists this process by continuous circulation of flavor and heat. The spacious loop handles offer a comfortable and secure grip for transporting the dish. Can also be doubled as a serving or entertaining dish as well. However, the price might keep you from getting one of these.
Features of the Machine
45% larger handles
Colorful exterior enamel is shock-resistant
Sand-colored interior
Dome-shaped lid locks
Wide loop handles
No seasoning required
Made with enameled cast iron
Temperatures up to 500ºF
Positive
Easy to clean
Heat retention
Lighter Weight
Higher Durability
Le Creuset Stoneware Covered Rectangular Casserole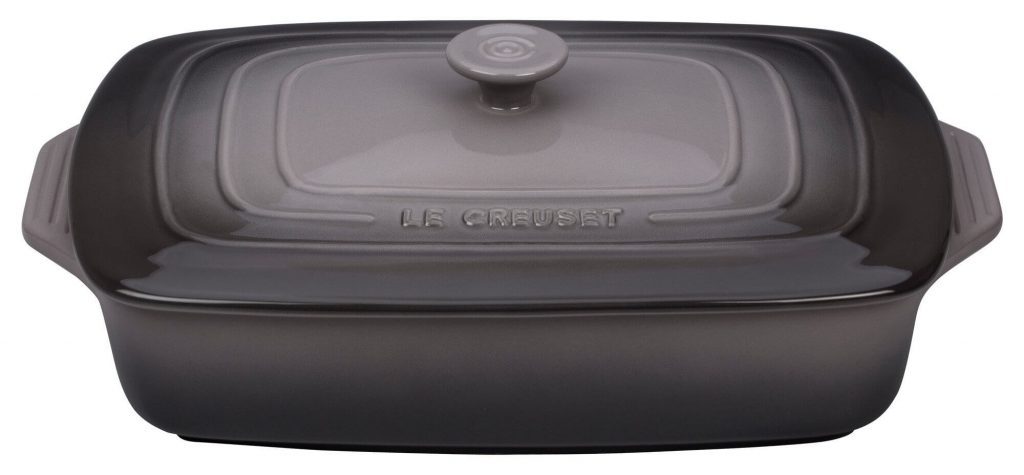 This Le Creuset bakeware is a part of the newest line of le Crueset casserole dishes. The stoneware casserole dish is hard to melt at high temperatures with the compromise being less energy efficient.
The material also blocks absorbing moisture while also stands against cracking, rippling, and crazing.
Heat Recommendations
It is suitable for use with freezers, microwaves, ovens, boilers, and dishwashers. This stoneware baking dish absorbs maximum oven safe temperature of 500°F / 260°C. When it comes to the broiler allow a gap of minimum 2 ½ inches between the rim of the dish and the heat source. It's recommending not to use stoneware pies on the stovetop or any other direct heat source.
Cleaning and Care
The nearly non-stick interior makes the cleaning process easier while the exterior enamel acts as a scratch and stains resistor. Make sure to clean this casserole pot in hot, soapy water before the first use. Thereafter in day to day cleaning can be carried out after keeping cool for few minutes before washing and drying or wash in the dishwasher. Residuals can be removed by using warm, soapy water after soaking 10-20 minutes.
The dish is capable of holding up to 2.75 QT of liquid and is available in a wide selection of colors, making it possible for you to choose the ones that match your kitchen and double it as a dish for serving as well. This best casserole dish is moderately priced and offers value for money.
Features of the Machine
Premium stoneware casserole
Unmatched thermal resistance
Impermeable exterior enamel resists scratches and strains
Nearly-nonstick glazed interior
Maximum oven-safe temperature is 500°F / 260°C
Enameled surface is easy to clean
Dishwasher safe
Positive
Dishwasher, microwave, oven, fridge, and freezer safe
Easily releases foods for quick cleanup
Safe for cutting on with knives
Perfect size
Negatives
Crack in the oven at the high heat
CorningWare 6002278 French White Oval 4 Qt.Casserole Dish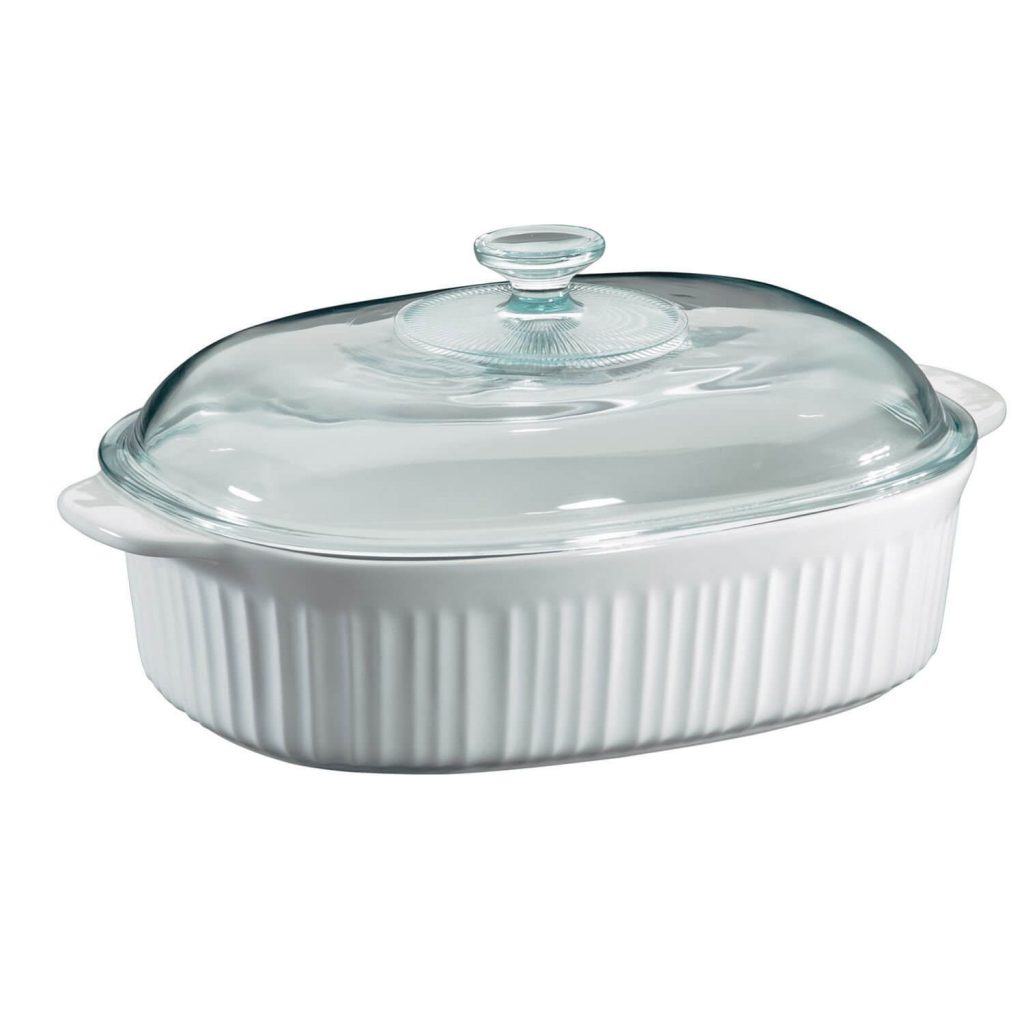 With the classic fluted design, the Corningware casserole dish brings elegance to any occasion. This casserole is made with durable stoneware material with a tempered glass cover and it measures approximately 5x9x15 inches.
Glass casserole dishes master of high-heat roasting, this best casserole dish suited for roasting smaller amounts of food.
Cleaning and Care
The cleaning of this glass bakeware is easy and painless.  The non-porous surface is easy to clean and won`t absorb odors, flavors or stains. If anything sticks, just fill it up with water and little dish wash liquid and let it soak for 15 minutes, then scrub sponge does the trick.  In addition to this, this model is safe in the dishwasher, oven, microwave, refrigerator, and freezer.
Handles & Lid
The ergonomic handles of this glass pan make it easy to carry from the kitchen to the table. Even though some complaints about not fitting the lid properly, it keeps heat for a long time.
FAQ
Is Corningware microwave safe?
One of the common questions relating to the Corningware is Corningware oven safe? Most of the Corningware glass casserole dish made up of ceramic and glass materials and it doesn't like more temperature changes. Uneven heating might cause some cracks, especially quick heating and cooling might leads to total breakage.
According to the users, earlier Corningware dish sets allow controlling the heat up to 300 degrees F. ` temperature differential but now it can stand for around 100 degrees. The label of the product gives you clear description on how to` change the heating and warnings of using the product.
This corningware dishes are a beautiful addition to your baking dishes and to any table setting. You can find pros and cons of this best glass baking dish.
Features of the Machine
4-quart oval roaster
Durable stoneware with a tempered glass cover
Classic, white, fluted styling
Resists chipping and cracking
Non-porous surface
Glass lid
Dishwasher safe
Safe in refrigerator, oven, microwave, and freezer
Positive
Classic ergonomic design
Durable construction
Affordable
Cuisinart CI670-30CR Chef's Classic 7 Qt Covered Casserole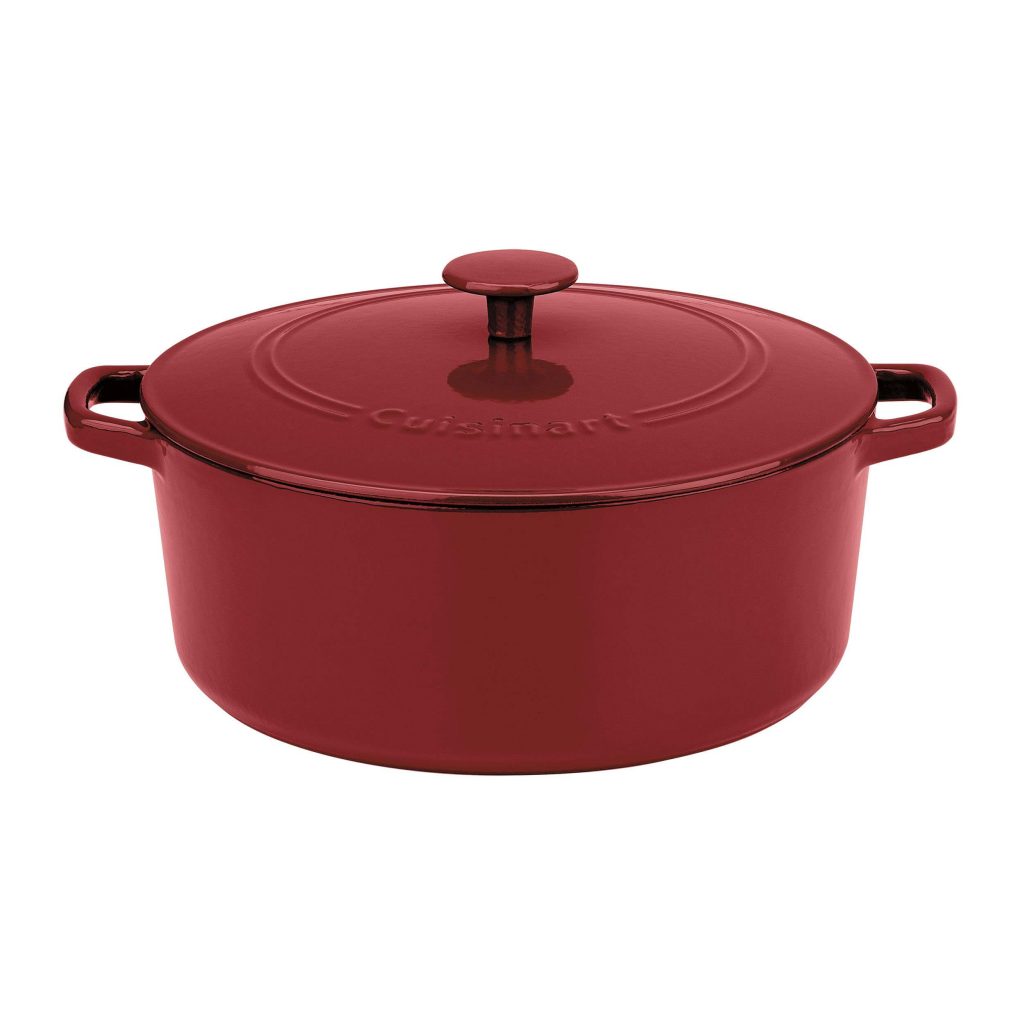 Carl Stettheimer founded one of the United States largest and renowned home appliance company in 1971 called Conair Corporation, Cuisinart a brand owned by the Conair Corporation, this manufacture and distribute world famous Cuisinart cookware sets and casserole dishes with lids to the global market.
Chef's Classic Casserole has been created from a cast iron which means that it retains the heat and it distributes it evenly. This model came with mainly two colors of Cardinal Red and Provencal Blue. Porcelain enamel exterior has a strong and durable finish that will resist for numerous years to come. Porcelain enamel interior does not impact on the flavor of the casserole and its ideal for the cooking.
Heat Recommendations
This casserole is suitable for any kind of cooking, including induction, oven and broiler. As well as, you will enjoy the fact that it doesn't have a negative impact on the taste of the food.
Cleaning and Care
This cassorole pot especially dishwasher friendly product. According to the users, they are commonly using soft cleansers to wash the casserole. Additionally, it will be impossible for the food to stick to.
Also, the wide cast iron handles will provide you with a comfortable and secure grip so you can rely on it regardless of how heavy it is. The limited lifetime warranty shows that the company stands strong with its product. Furthermore, you can also be covered in case of any damages.
Features of the Machine
7 Qt Covered Casserole
Cast Iron construction
Porcelain Enamel Interior and Exterior
Extreme Versatility
Dishwasher Safe
Weight: 1 pound
Induction oven, stovetop, and broiler safe
Positive
It's oven safe for up to 500-degrees
Compatible with an induction stovetop
Available in numerous colours
Suitable to be used for serving
It's dishwasher safe
Negatives
The enamel coating is prone to come apart
Suitable with wooden cooking utensils only
Customer service could be improved
Le Creuset Heritage Stoneware 2-1/2 Quart Covered Square Casserole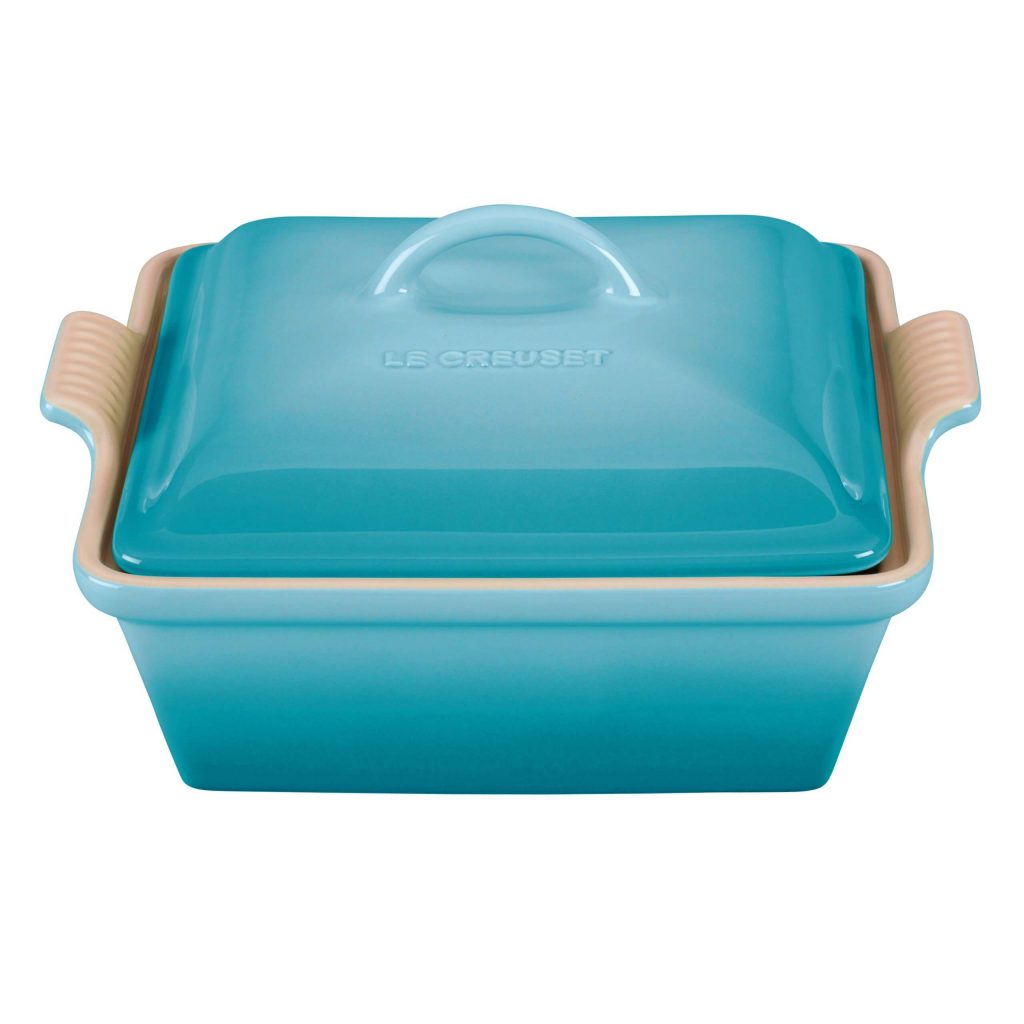 Le Creuset Heritage Stoneware is one of the famous casserole dishes among la creuset bakeware lovers. This food ware is ideal for the oven every time. It gives the perfect results for the sheet cake and lasagna to vegetables and roasts.
Heat Recommendations
This small 2 ½ QT Le Creuset baking dish is made out of stoneware and is capable of even distribution of heat and is resistant to extreme temperatures, making it less energy efficient when used for preparing or even heating up pre-cooked meals. Maximum oven safe temperature for this lasagna pan is 500°F / 260°C. This dish can be used in ovens, microwaves, broilers, freezers, and cleaned with a dishwasher.
The upward curved, fluted grips on each side make it easy to grip and transport. The lid made out of the same material is capable of containing heat and moisture which, makes it perfect for entertaining as well.
Cleaning and Care
The design of this baking dish with lids makes easier the cleaning process. You can clean this dish using Nylon or soft abrasive pads or brushes in soapy, hot water. Use of hard/metal equipment might damage the surface of the dish. Food residuals can remove by keeping 10-20 minutes in w       arm, soapy water.
It is also available in several colors to choose from to match your existing set of dishes. The enamel finish helps to keep it from chips, scratches, and cracks while offering safety for even cutting on with Japanese knives. The interior is nearly non-stick and easy to clean. The dish retails in the lower end among the ones featured here and is justifiable given its small size.
Features of the Machine
Caribbean stoneware
Odor and stain resistant
2 helper handles
Comes with a matching lid
High-quality exterior enamel coating
Nearly-nonstick glazed interior
Maximum oven-safe temperature is 500°F / 260°C
Dishwasher Safe
Positive
Ergonomic design
Durable construction
Easy to clean
Negatives
Good for medium or low heat
Cuisinart CI755-30BG Oval 5-1/2 Quart Covered Casserole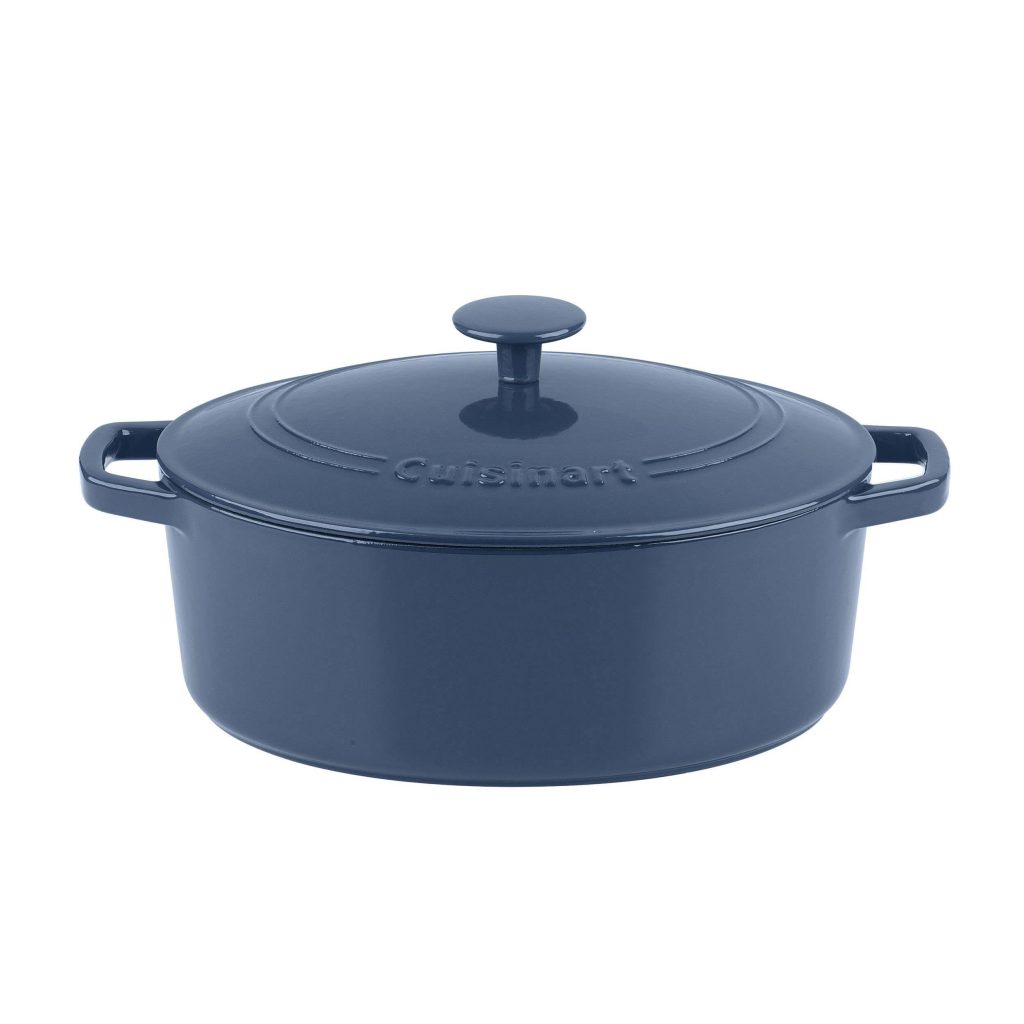 Cuisinart cook wares are one of the leading brands in the cookware industry from the establishment in 1971. Company always tries to produce more closely products to the market demand with modern lifestyles.
And they guarantee on the use of best quality materials and lifetime healthy cooking.
Heat Recommendations
This is another excellent caseroles. It has been made from cast iron which means that it retains the heat efficiently. In addition to this, it will distribute the heat accordingly so you can cook whatever you wish. The Casserole can be used in any kind of sources including induction, oven, broiler or stove. This casserole is safe at the oven up to 500 degrees Fahrenheit.
Porcelain enamel exterior strengthens the durability of the casseroles and the colors are available in different styles which mean that it's suitable for whatever décor you may have.
Cleaning and Care
As well as, the porcelain enamel exterior is strong and resistant for numerous years. Even though it has a coating, you don't have to worry about chipping and scratches. These best casseroles are compatible with the dishwasher as well.
Features of the Machine
5.5 Qt Covered Casserole
Cast Iron construction
Porcelain Enamel Interior and Exterior
Extreme Versatility
Dishwasher Safe
Weight: 1 pound
Induction oven, stovetop, and broiler safe
Positive
The model is broiler safe
The material is dishwasher safe and easy to use
It comes with a limited lifetime warranty
It's suitable for heat up to 500-degrees
The model is lightweight
Negatives
The material is prone to rust
The customer service could be improved
Its prone to change colour
Bruntmor Enameled Cast Iron Dutch Oven 6.5 quart Casserole Dish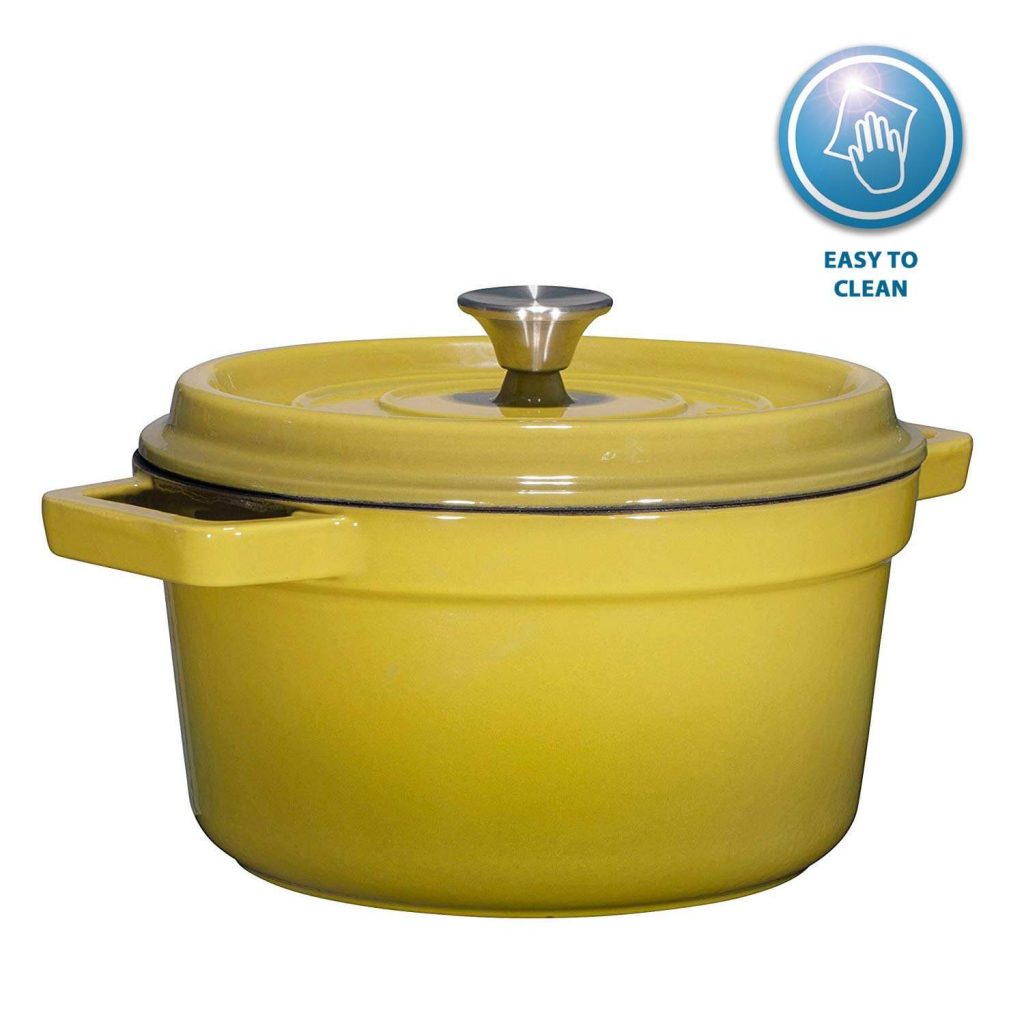 Check out this super stylish and high-quality model presented by Bruntmor which is a renowned name in cookware. The brand signifies quality and strength and here is one of their most recommended casserole dishes with high aesthetic appeal and enhanced heat retention.
Heat Recommendations
Mainly this best casserole dish is saves energy by cooking using a lower temperature. Use of solid cast iron keeps the food hot. Heat retention improves the flavor and texture of the meals, allowing you to make simple yet delicious foods like stews, braised meats, casserole and more. Besides, the exterior comprises porcelain enamel which adds to the visual appeal.
Lid
The tightly fitted lid in addition to a knob made of stainless steel prevents the heat from escaping out. Moreover, it features condensation ridges on the lid (self-basting) which assists the uniform collection of vapors that are directed to the food.
As a result, you get to keep the food moist, warm and fresh. Lastly, the dish is very easy to clean.  It is recommended to wash it with hands using some gentle soap and sponge.
Bruntmor Casserole Dish suitable for any kind cooking from roast to stews to bread and it's a perfect gift for the camper, home or newlyweds. So, if you are looking for a stylish and high-quality dish at a reasonable price, this large baking dish one is worth your investment.
Features of the Machine
Enameled solid cast-iron
PFOA- and PTFE-free
Secure fitted lid
Stainless steel knob
Enameled live green exterior color
Cream-colored interior
10.5 inches long without the handle
A perfect vessel for making artisan-style loaves
Positive
Classic ergonomic design
Durable construction
Affordable
Negatives
Enamel came off with high heat
Anchor Hocking 77889 Fire-King Casserole Baking Dish with Lid, 20-Ounce
This Casserole baking dish is presented by Anchor Hocking, who is a renowned manufacturer of quality glassware.  From its establishment in 1905 until now, the company has maintained its reputation as a quality manufacturer.
Here is one of their most selling Anchor Hocking baking dish that is indeed among the best ones currently available in the market.
Lid
It is made up of highly durable, crystal clear and heat-resistant glass. The dish has 20-ounces capacity, and it comes complete with a glass lid. The lid of this glass pan fits perfectly sufficient to avoid splatter but does not seal enough to completely prevent leakages/spills if thin slosh when moving it.
Whether you want to make some chicken recipes or casseroles, it is suitable for both. In addition to baking, you can also use the pot for reheating your food. It is easy to use, but you need to take great care as it may not withstand a fall. 
Heat Recommendations
This Anchor Hocking bakeware made up with thick, heat-resistant glass to retain the heat for a long time. The Glass material is perfect for even heating and makes right color for the food. You can use it in both the oven and microwave.  Those who want a suitable choice for storage and serving along with cooking, it is your go-to option. Last but not least, the casserole dish is easy to clean and dishwasher friendly. Lets jump in to the pros and cons of this best casserole dish.
Features of the Machine
20-ounce capacity
Glass lid
Clear, durable, heat-resistant glass
Oven, microwave, and dishwasher safe
Weight: 2.2 pounds
Ideal for baking, serving, or storage
Positive
Dishwasher, microwave, oven, fridge, and freezer safe
Easily releases foods for quick cleanup
Lighter Weight
Higher Durability
Negatives
Lid sometimes does not fit well
Pyrex Easy Grab 2 Quart Casserole Dish with Glass Lid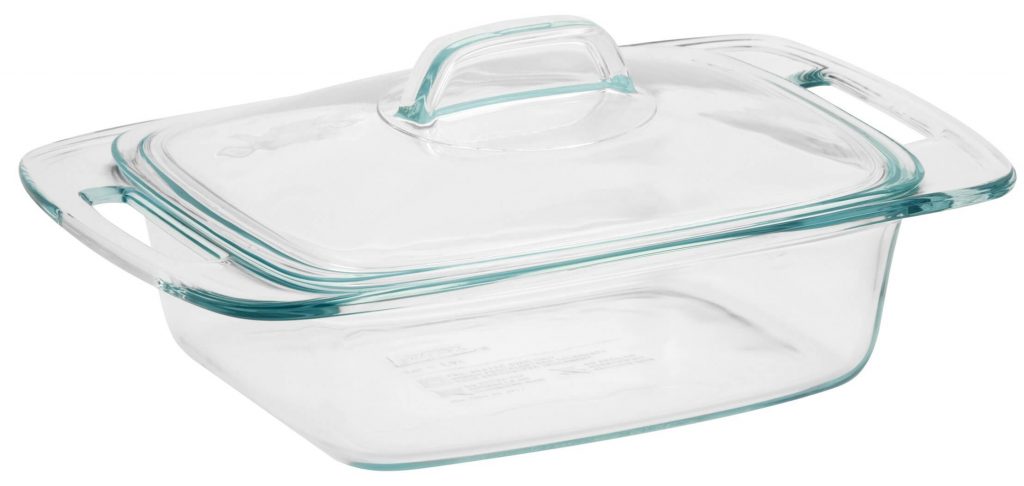 Pyrex Easy Grab bakeware will give you a helping hand in the kitchen. The 2qt baking dish Oblong with lid features easy to grab handles that make it comfortable to hold when placing in the oven and taking to the table.
According to the Pyrex, around 70% of the Americans using this cheap casseroles dish.
Cleaning and Care
The non-porous glass won`t absorb stains or odors and it's perfect for cooking, serving and storing. Furthermore, pyrex baking dish is safe to use in a preheated oven, microwave, fridge and freezer. This 2 quart casserole dishes are easier to clean. The edges of this pie pan are very smooth and residuals can clean easily by hand. Additionally, the BPA free lids and Pyrex glass containers are dishwasher safe.
Pyrex casserole dish is made in the USA and it comes with a 2-year warranty.  That being said, Pyrex Easy Grab Casserole is a good pick due to its ability to bake and store in the same easy-clean containers. Below pros and cons are available in this best glass cookware.
Features of the Machine
Larger handles
Glass lid
2 Qt Glass Casserole Dish with Lid
Dishwasher Safe
Nonporous glass
It's safe for freezer, microwave, and preheated oven
Weight: 4.95 pounds
Positive
Dishwasher, microwave, oven, fridge, and freezer safe
Easy to grab
Sturdy and well-made from heavy glass
Perfect size
Negatives
Extra deep, you can fit 2 batches inside
History
 "Casserole", is one of the famous names among the food lovers. Casserole dishes are very common in every home today on their day-today food servicing. Most commonly casserole pan or cassarole dish used to identify the vessel that carried the different cooked items; it is a deep and large pan commonly using both oven and serving foods.
What is a Casserole?
 Europeans and Americans used a piece of meat, vegetables, pasta or potato while preparing the casserole dishes by using the oven, commonly uncovered and served using the same best casserole pan.
Peoples who are from Australia, New Zealand, Ireland and The United Kingdom named the casserole dish as after dish, and it's very similar to the stews. Usually, it's preparing by taking a lot of time and different heat levels.
Most of the cassarole dish or casserole pans have side handles to make it easy on baking and serving. Different sizes shapes of the casserole pans maintain the quantity, quality and the art of servicing the casserole dish. Mostly it capacity contained from 1 quarter to the 7 or more quarters and craft with using different material types.
The most important factors to consider when selecting the material are,
Maintain the heat evenly across the casserole pan and
Ability to handle casserole dish in high temperature,
Porcelain/Ceramic, Glass, Enamel-coated cast iron and Stoneware are the most common materials used when producing the casserole dishes and all these materials are slow in conducting the heat.
Best stoneware bakeware has more heat absorption capability and retention capability than the other three materials and these casserole dishes are safe with the freezer, oven and microwave. Especially stoneware minimizes the staining, scratching and chipping.
Porcelain casseroles are very colorful with different patterns and enable for long life and durability of the casserole pan. But it is required to identify the temperature range of these casserole dishes absorbed before using it microwave, oven and freezer.
 Glass casseroles are cost-effective and transparent. Because of the transparency, you can keep an eye on the cooking process, progress and browning.
Enamel-coated cast iron casseroles are available in different bright colors and patterns. This heavy-duty material enables to distribute heat evenly without any hot spots.
 Porcelain and Stoneware casserole dishes have high demand compared to the glass and enamel coated cast iron because of the different finishes and colures levels of the foods and encourage on table settings.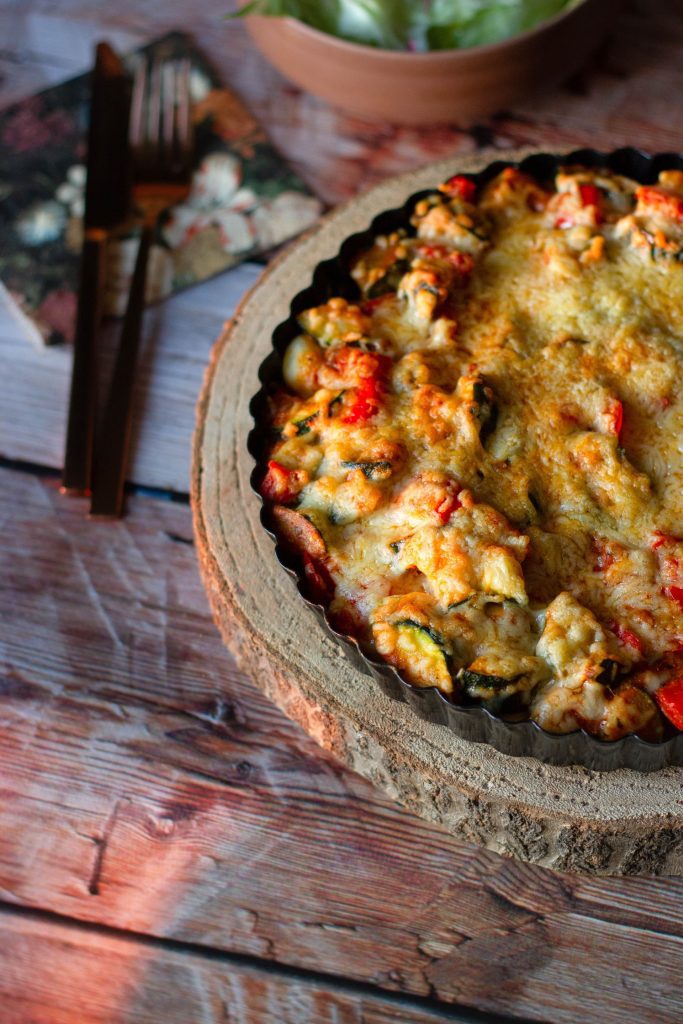 Advantages Of Casserole Dishes
Casserole dishes can be identify as one of the famous dish among the busy people with their careers. This delicious food can be made with different ingredients and flavors and number of best casserole recipes available today for your satisfactions. We should consider not only flavor but also benefits of the casserole. Below advantages might helpful for you to select tasty and healthy casserole dish to your table.
Time Saving
If you have enough time you can chop the vegetable and bake the casserole according to your favorite casserole recipe. But if you don't have time you can use grinder or food processor to grind the meat and vegetables and keep these for few days by using a good refrigerator. Then you can easily heat or bake casserole dish within a few minutes.
Freedom for Testings
There are no standard recipe for casseroles. You can choose different kind of ingredients to the dish to take innovative output for your dinning table. For example you can make herb casserole using herb grinders for the unhealthy members of the family.
Make Life Easier
Unlike other foods, casserole dishes are easy to make using available ingredients. The leftovers can frozen for later use and its easy to serve by using a beautiful casserole dish. You can taste the home made vegetarian casserole or sweet casserole with a perfectly ground coffee cup.
Wrapping up..
The Best Casserole dishes are an indispensable and well-utilized item in any kitchen. Coming in various styles, shapes, size and with many different features, sometimes it might be a challenge to figure out which one is best for you. Taste of the best casseroles are not only solely depends on the quality of the baked recipes but also with the ingredients and utensils. With the best quality utensils and ingredients, you can impress your family by making Christmas casserole or the New Year casserole.  Throughout this guide, we are trying to give you the best details for your purchase decision. We hope that at the end of this review, you have already made a choice that suits your needs and cooking skills.