It's a no brainer to explain the importance of consuming sufficient water. But, are we really aware of how safe the water we consume? Now, that is when you need a water filter. Everybody knows what a water filter is, right? If not, it's a sort of gadgetry made to abolish harmful substances from the water. The best countertop water filters can easily install near your sink and are capable enough to kill more than 90-95% of dangerous contaminants that exist in water.  For the sake of a healthy society, we will let you know the 10 best countertop water filters you should have in your kitchen. Stay with us!
What Is a Countertop Water Filter?
Simply Countertop Water Filter is a device that can directly connect to the faucet and convert the nonpurified water to purified water. It is easy to install and can move around the kitchen without any issue.
What are the Types of Countertop Water Filters?
First of all, there can be various types of filters in the market, but, in general, we can divide these filters into four main categories. Later in the article, you will find it easy to figure out which water filter is best suited for your requirement.
RO water system (reverse osmosis system)
This is the most famous and cost-effective drinking water filtration system out there. In this system, water goes through a thin membrane and collects all the harmful ingredients to provide purified water. Most of the best water filtration systems have three layers, and when it comes to installation, it's not a difficult task to perform.
We can label this method as the old school way of purifying the water. What does that mean? Actually, in this method, water will get boiled, and the steam would be collected again to impart clean and purified water to consume.
This is a bit of a different method than the above two, and there is a process called "electrolysis" involved. In which, with the help of positive and negative ions, there would be more acidic and alkaline substances in the water. The system's thought is to facilitate more alkaline water to the human body to enhance the pH level.
Fourth and final is Faucet countertop filters or the standard ones we see in the kitchens. You can see conventional membrane filters to ceramic-based filters from this type. We would say this is the most convenient sort out of the four and these won't hurt your purse as well.
How to Select a Countertop Water Filter?
Knowing just the name of the best countertop water filter and buying it won't help your cause in the long run. There are important factors to consider before you select a counter water filter. Here's what you have to think.
This is a crucial aspect you have to consider, as it's essential to figure out what the harmful ingredients you intend to remove out of the water. There can be hundreds of pollutants present in your local water supply or your own garden well. In some areas, it can be heavy metals, and in some places, the concern might be over bacteria or pesticides.
Amount of water you need.
Before you grab the best home water system, you must take the amount of water you require daily to the count. Most of these countertop water filters have one or two gallons of water tanks. So, it's always mandatory to know about daily consumption before you buy.
It's another factor you need to look, because, if you have more than one faucet to cater, it's better to go with one of the best whole house water filtration systems (multi faucet).
Obviously, you would not want to spare unwanted bucks for a drinking water filter system. It's ideal to go through water filter comparisons before you head to the market. And, we have 10 best countertop water filters for you to compare and to ease your stress!
Essential Features you must know.
In addition to the above factors, here are some of the must-consider features of the best countertop water filters.
Different filters perform different duties. Some filters are specifically designed to eliminate one or two substances like arsenic or fluoride. But, there are filters to eliminate all sorts of contaminants.
The durability of the filter
You don't want to change the filter of your pick regularly, right? A standard filter can serve you a minimum of three months to one year, depending on the amount of water you filter. But, there are high-quality products available nowadays which are guaranteed to last longer than that.
It's another vital part of the system you must pay attention to. Importantly on the size and the material used for the tank. The tank's size purely depends on your water requirement, and the stainless steel tanks are ideal for a larger sized tank.
As you saw in the types we explained, the time consumption for the purification process has a tendency to vary from filter to another. Especially the steam filters tend to buy more time than the other ones. So, it's up to you to decide on the filter speed.
This is where you have to know how you will connect the filter to your faucet and the filter connection's compatibility. Concerning the installation, most of the models are super easy to fix and not a significant factor to consider, really.
10 Best Countertop Water Filters 2023
Let's see the best 3 product comparison Before we jump into the Top 10 Water filters in 2023.
| Specification | Big Berkey Gravity-Fed | AQUA TRU Filter | Apex  MR-1050 |
| --- | --- | --- | --- |
| Dimensions LxWxH | 8.5″ x 8.5″ x 19.25″ | 18″ x 18″ x 15″ | 6″ x 6″ x 14″ |
| Weight | 7.45 pounds | 22.6 Pounds | 5 Pounds |
| Filter up to | 6,000 Gallons | 600-1200 Gallons | 750 Gallons |
| Material | Stainless Steel | Plastic | Plastic |
| NSF Certification | No | Yes | Yes |
| Color | Big Berkey | White | Clear |
Okay, now it's time to reveal what we recommend to you as the best countertop water filters. 
Interested? Here's our list.
Big Berkey Gravity-Fed Water Filter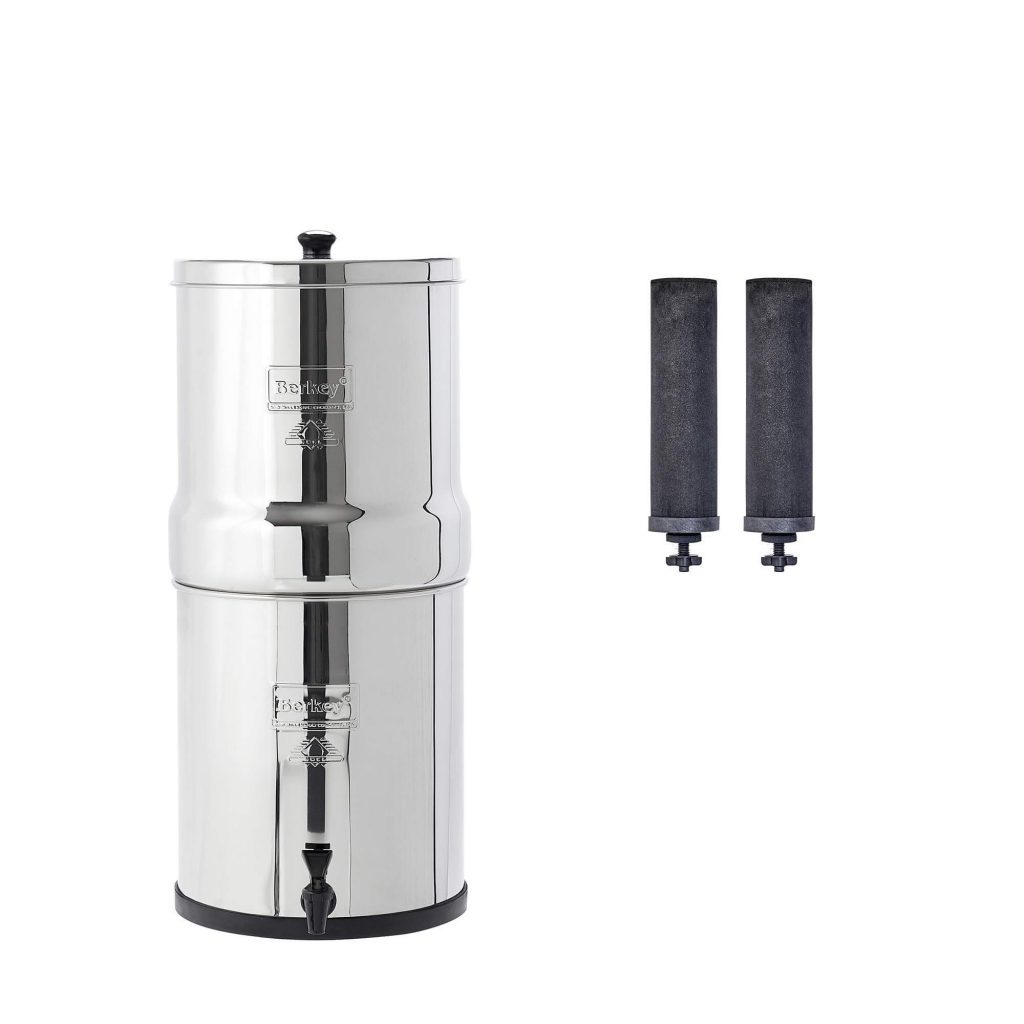 This Big Berkey product is super portable and has all the necessary qualities to answer your question of what is the best water filtering system in 2023. Let us tell you a few. First of all, it can simply purify the water by 99.99% and has a 2.25-gallon water capacity.
Concerning durability, the unit has two purification elements to last more than 6000 gallons of water, and importantly, it costs only 2cents to have one gallon of purified water!
This product requires no electricity, fancy tools, or plumbing and would work as your best family friend in an emergency, especially while you are on a travel. Another valid reason to name this as one of the best drinking water filters is that it has been tested by several independent testers and guaranteed to destroy all harmful contaminants.
If you are looking for a water filter system for home use, do not hesitate, go through this Berkey water filter reviews and try Big Berkey's Gravity-fed water filter.
Features of the Filter
2.25 Gallon Capacity
Powerful Purification
Purification Elements Lasts For Up To 6,000 Gallons
No Electricity, Tools Or Plumbing Required
Stainless Steel Finish
Positive
Two Black Berkey purification elements
Portable and no electricity needed
2.25 Galloon capacity
Economical and long-lasting
Certified from independent lab testers
Negatives
Water taste tends to change after a few months use
AQUA TRU Countertop Water Filtration Purification System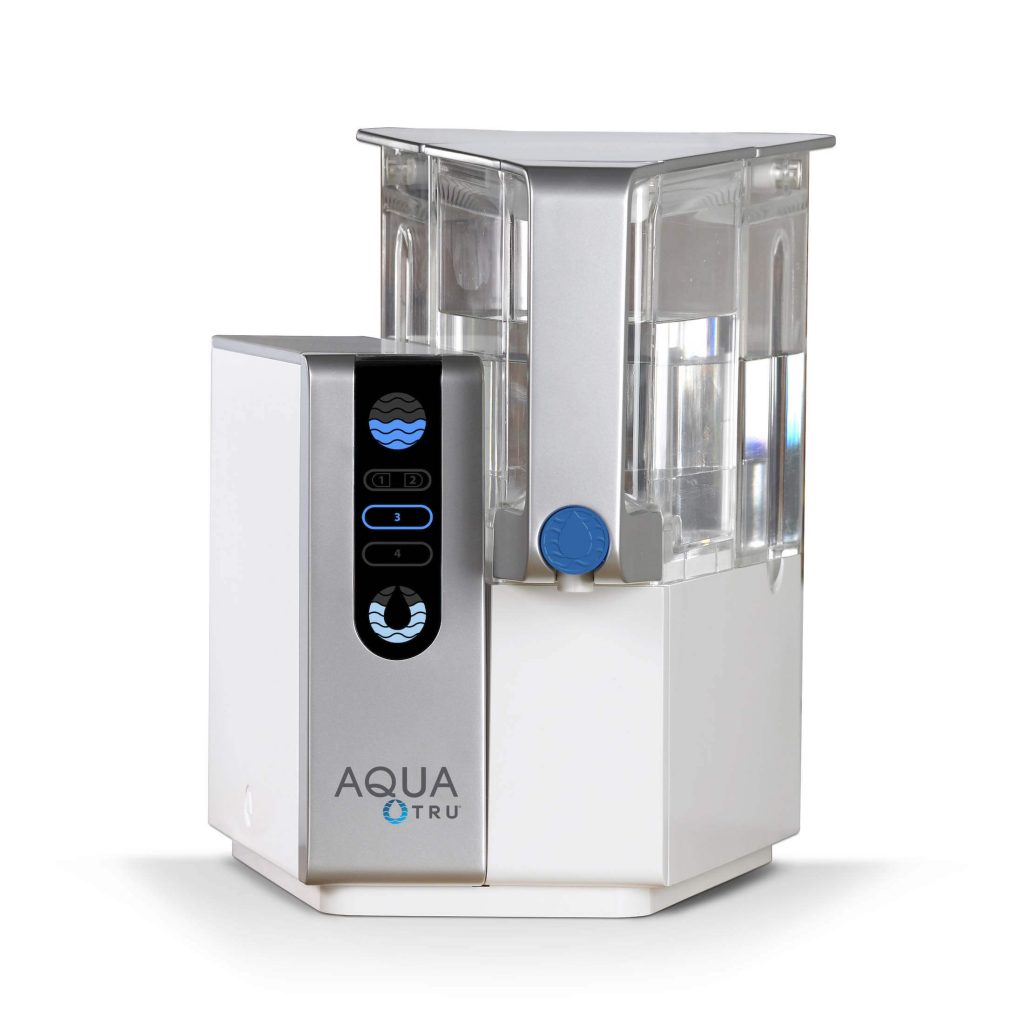 Do you know how safe is your water? Even do you know whether bottled or filtered water is safe? With this certified ultra-reverse Osmosis water filter, it's not something you have to worry about.
We have no second thoughts in suggesting the product as one of the best water filter systems you can have, be it at your restaurant or household. Aqua Tru water filter is very compact, and you can easily fit onto anywhere you wish within minutes.
Do you know one set of filters from this unit can replace 4500 16.9oz water bottles? So there will be no hassle in replacing filters; therefore, the cost of the Aquatru water filter is considerably low comparing to the under-the-counter Reverse Osmosis systems.
Amazingly, it takes less than 15 minutes to convert one gallon of tap water to purified bottle-quality water. Apparently, it's one of the best tap water filters you can think of.
Features of the Filter
Plastic Finish
Dimensions LxWxH – 18 X 18 X 15 Inches
Certified To NSF Standards By IAMPO
No Plumbing or Installation Required
Only Required 120 Volt Power
Filters Last For 600-1200 Gallons
Positive
Certified to NSF standards by IAMPO
No plumbing or installation required
4-step Reverse Osmosis filtration system
Easy to use
Digital display
Negatives
Durability is questionable
Apex Countertop Drinking Water Filter, Alkaline, Clear (MR-1050)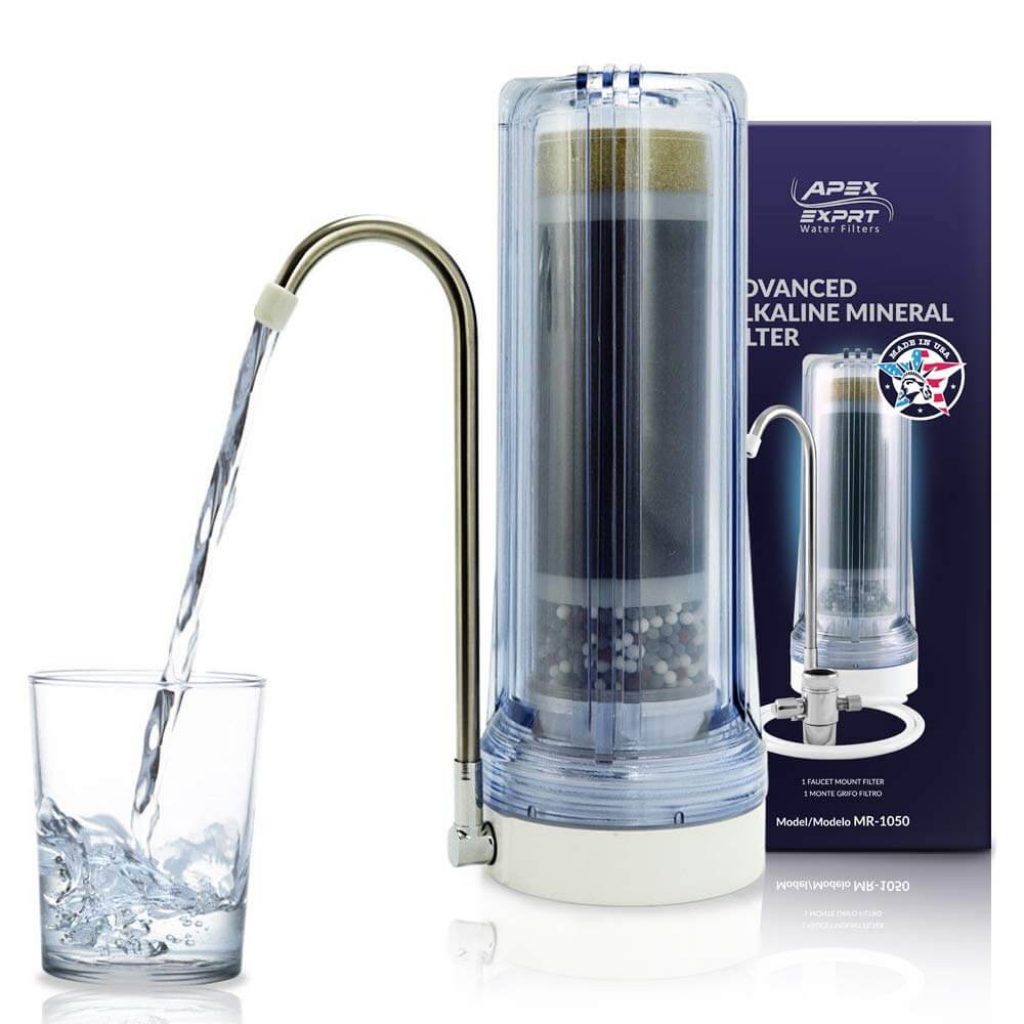 We considered many factors while ranking this bad boy as the third of our list of best countertop water filter systems. The filter removes mostly all of the contaminants in the tap water, such as chlorine, sediment, and radon.
It is one of the best faucet filters (if not the best faucet water filter in 2023) that can easily match with any of the faucet types at your household. The product comes from the USA, and it is produced as per the strict guidelines of the USA's national safety foundation. 
The unit has all the needed hardware to fix it wherever you want with minimum effort, and the taste of water is unmatchable. This Apex water filter is less expensive than most other water purifiers but more than capable enough to provide you with the safest water for your entire family members.
Features of the Filter
Dimensions LxWxH – 6 x 6 x 14 inches
Easy to install
Each filter can filter up to 750 gallons
NSF and the FDA approved
Weight only 5 Pounds
Positive
Easy to install and use
Less expensive
Connects with almost all faucets
Alkaline water filter
Certified by national safety foundation of USA
Negatives
Need to replace filter somewhat regularly
New Wave Enviro 10 Stage Plus Water Filter System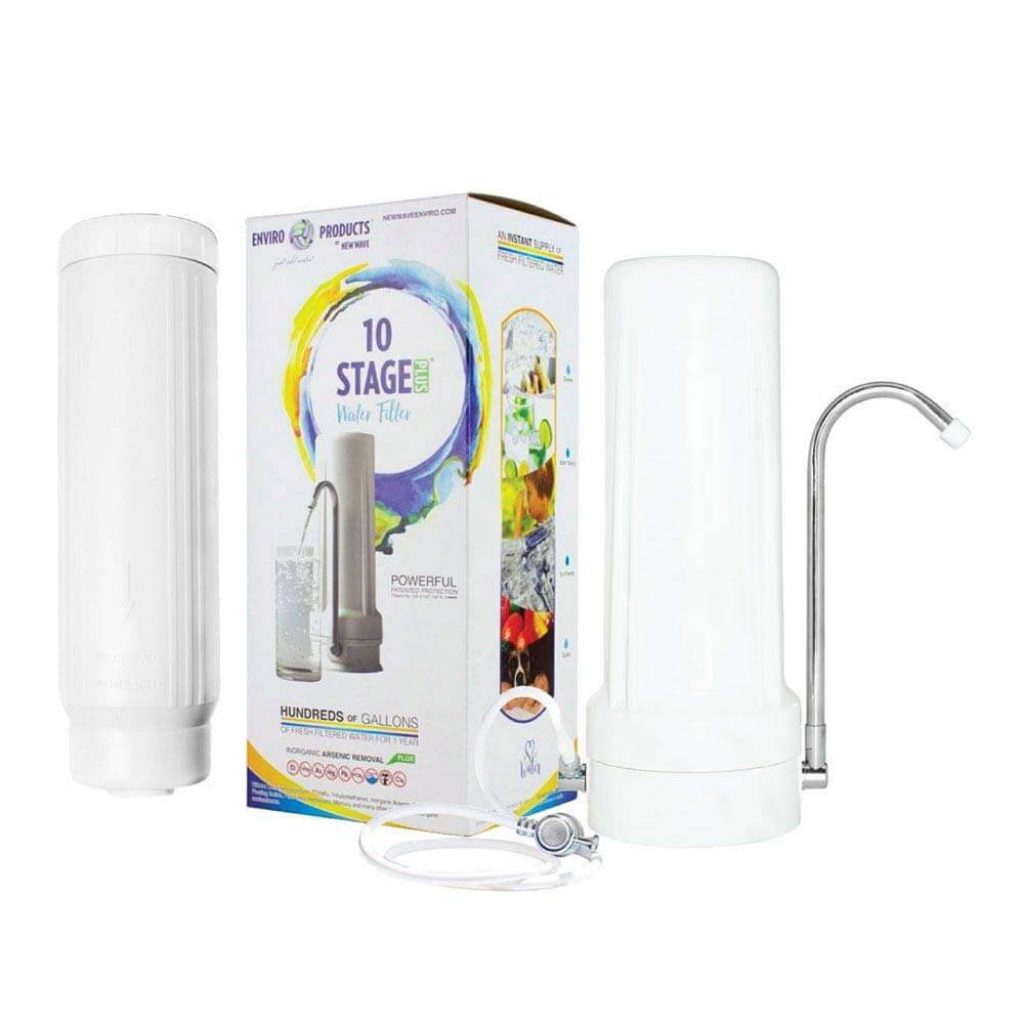 Searching for the best kitchen sink water filter might not be as straightforward as it sounds, and that's why we included this Enviro water products to our list of best countertop water filters. This machine can demolish pollutants such as chlorine, arsenic, mercury, pesticides, and herbicides easily with the help of its all-in-one filter.
The filter promised to last for 800 Gallons (equal to 6000 single-use water bottles), and it's just costs you a penny for a single glass of purified water you consume.
Like the previous product, this one too carries all the hardware you need for the installation process so that you would not have to call an expert for the matter. The manufacturer insists the unit is much appropriate for the tabletops than anywhere else. So, be mindful while fixing.
Features of the Filter
Filter up to 800 gallons
Easy installment
Removes Organic Contaminants
Removes lead
Complete All-In-One filter
Positive
Great tasting water
Cost-effective filtration
Easy to install on tabletops
Guaranteed longevity
Negatives
Replacing filters might not bring the taste of the original filter
AlcaPure Zero Installation Purifier Reverse Osmosis Countertop Water Filter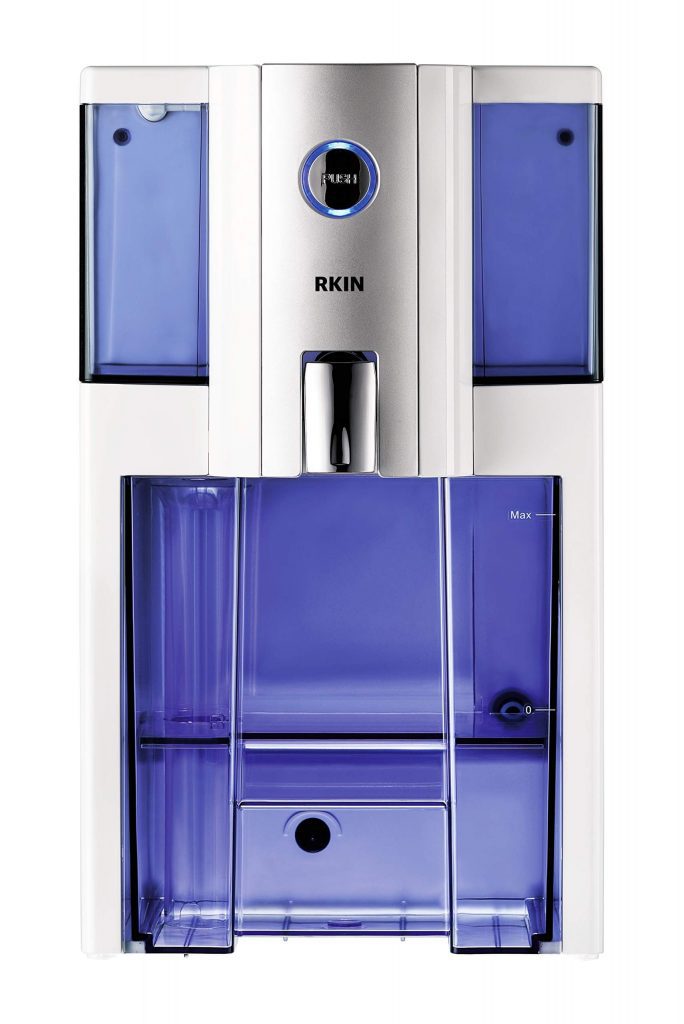 This modern and astonishing machine can bring that fabulous look to any kitchen. Not only the eye-catching outlook, but the device can also transform ordinary tasting tap water to the highest quality, delicious and pure tasting drinking water to eliminate unwanted health issues.
The unit demands no assembling from you, no installation, or any other inconveniences. If your intention is for the best tasting water filters, then this countertop reverse osmosis water filter got you covered with its unimaginable purifying capabilities.
As one of the best countertop water filters, it consumes only 30 watts, which is less than the usage of a light bulb, and the number is considerably low than the other Reverse Osmosis filters. The water loading and the dispensing process can be done from the unit's front side so that you can easily fit the machine in any compacted surface you want.
Features of the Filter
Dimensions – W 9.5″, L 14.5″, H 16.25″
Reverse osmosis system
Space efficient rectangular design
The container will be filled within15 minutes
4 stages of advanced filtration
Positive
No assembly or installation required
Compact and looks magnificent
Consumes less power
Convenient and easy to use
Fresh, healthy, and delicious drinking water
Santevia Gravity Water System – Countertop Model (with Fluoride Filter)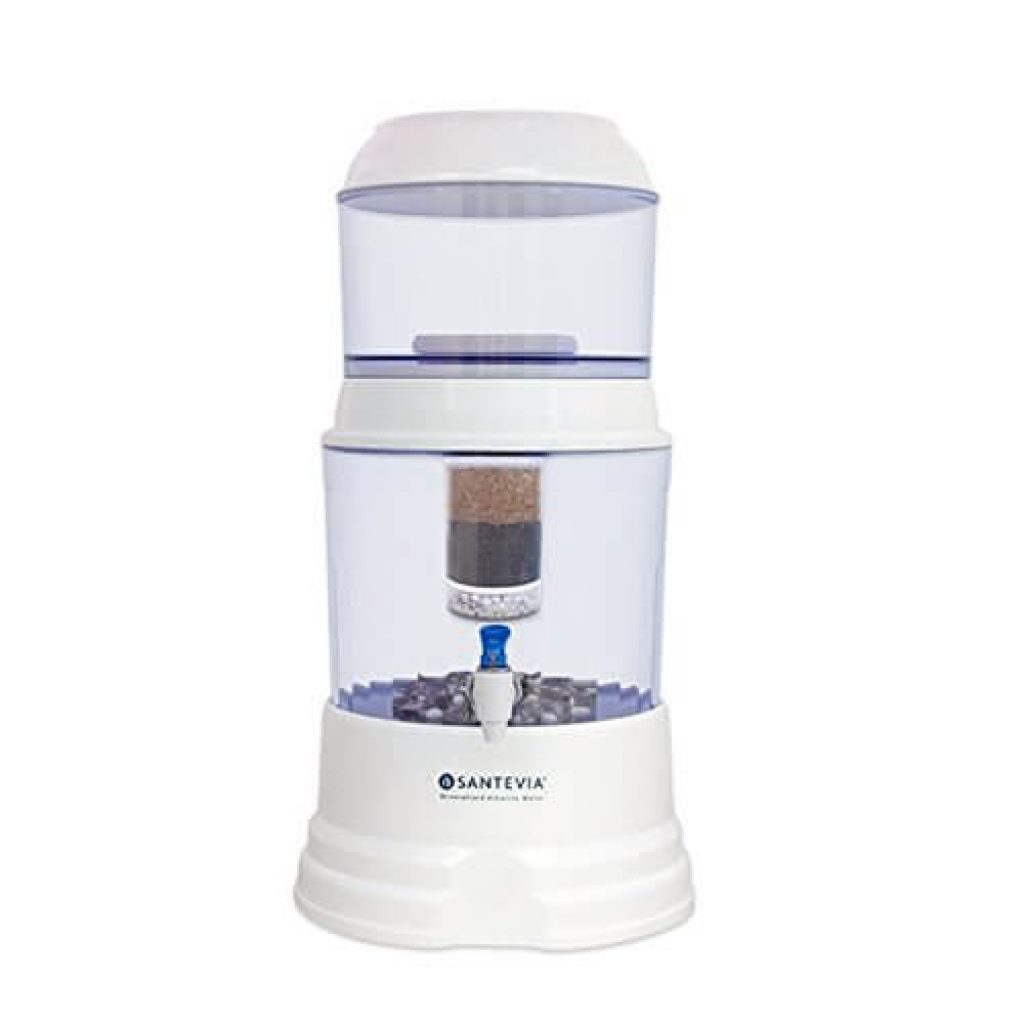 We claim this as the best fluoride water filter according to our perspective and the best gravity water filter listed on our list. This product can nullify fluoride and also can reduce chlorine by up to 99%. The Santevia Alkaline Gravity Water
System of this machine can transform ordinary tap water into mineralized and alkalized water with only gravity's help. No chemicals or electricity are needed for the unit to provide the healthiest water you anticipate.
If you are an American, you should know that the regular tap water around the country contains 94% of microplastics. This product has a 0.3-micron filtration to vanish all that harmful microplastics substances, and it can kill other bacteria and parasites as well.
Most importantly, the Santevia countertop water system seems to satisfy the customers thus far as it has more than 80% five-star ratings from all the major online platforms.
Features of the Filter
Dimensions LxWxH – 13 x 13 x 10 inches
Weight only 8.6 Pounds
Fluoride Filter
Magnetic Energizer
Eight stage water process
Positive
100% gravity water filter
Requires no electricity to filter
Fluoride and microplastic filter
Porous Maifan stones to help oxygenate the water
Mineralized and alkalized water
Negatives
Flawed design and outlook
Ecosoft Countertop Water Filter System for Faucet Mount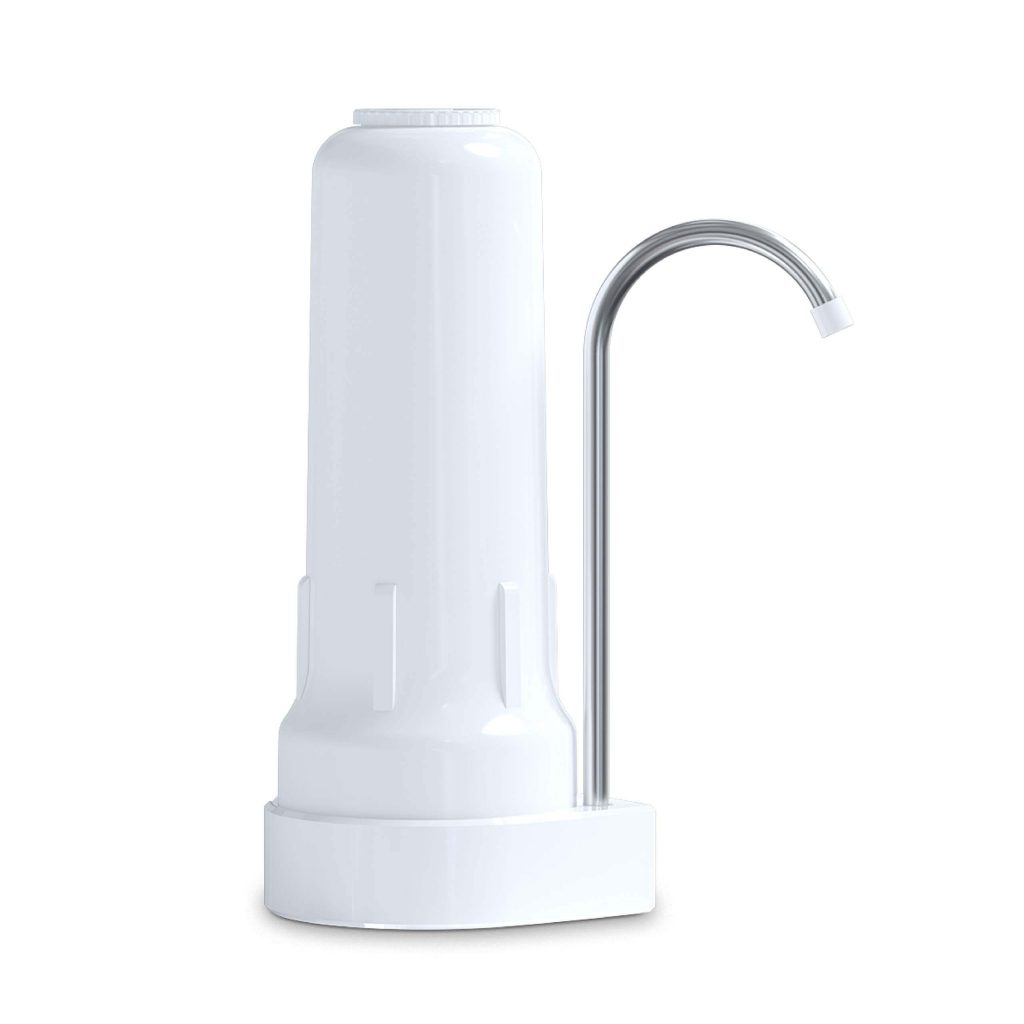 Stop using bottled water and stay hydrated with this European designed and manufactured high-quality water filter. This is the best filter you can afford at this rate! Just take the machine closer to your sink and mount it easily to your tabletop, also there are faucet mount adapters for a leak-free installation.
It's easy to receive odorless, fresh, and safe water with the Ecosoft countertop water filter. Fascinatingly, you are protected with a two-year warranty too.
This best cheap water filter got no bulky water tank to eat your kitchen space, and the filter can work brilliantly without much of an issue for three full months! Depending on the size of your household, the purifier even can last up to six months without any replacement.
This cute looking gadget can quickly destroy iron, manganese, sediment, chlorine, giving you essential safe drinking water. Why wasting money on fancy looking products when a one can perform to the highest quality in most needed tasks?
Features of the Filter
The water filter and water dispenser has a larger cartridge capacity
European Design
Leak-proof installation
Weight only 3.21 pounds
Positive
Modern looking design
Less expensive
European engineered and manufactured
Easy faucet mounting
Compact and less bulky
Best water filter for sinks
Negatives
Faucet adapters faulty at times
Avalon A12 Countertop Bottleless Water Dispenser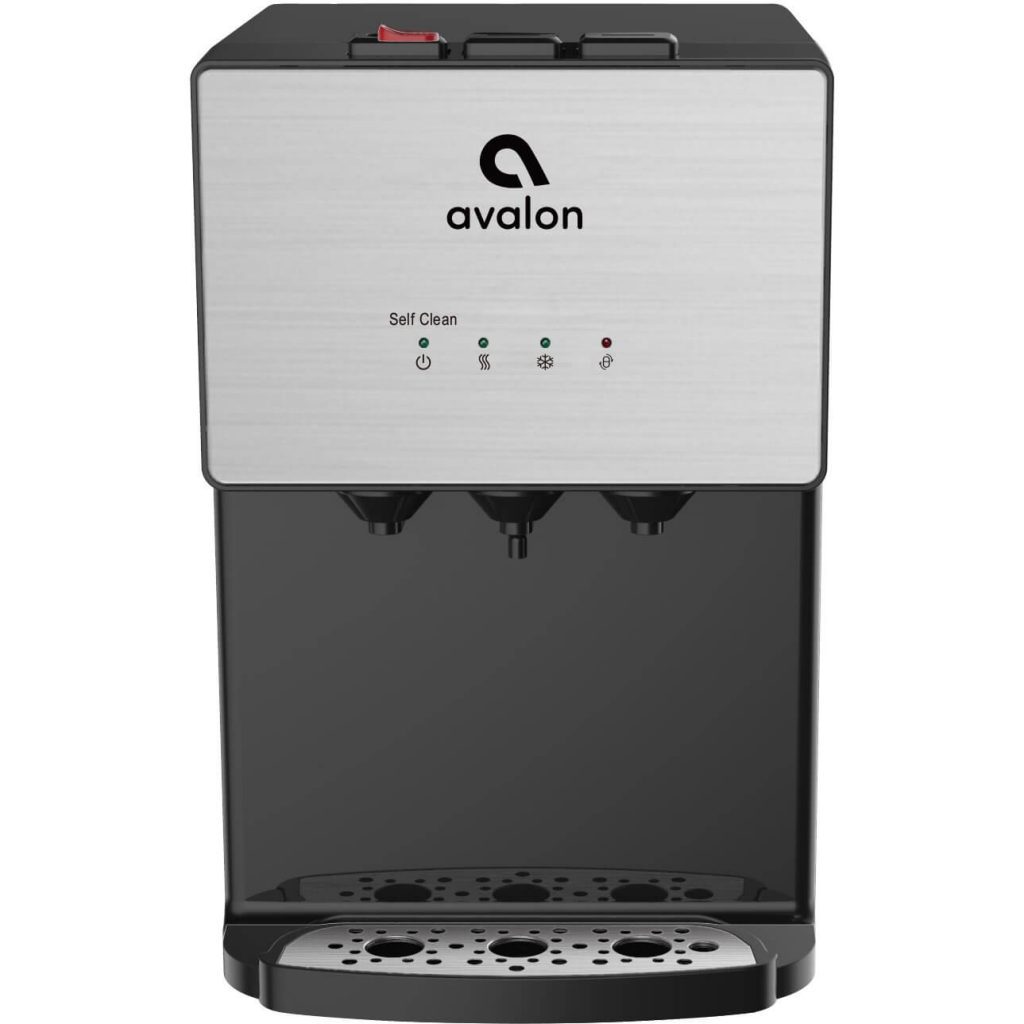 8th position of our best water purifier systems, or precisely the list of best countertop water filters, is allocated for Avalon's A12 countertop filter. What's in it? There are numerous special features included in this product, such as dual filtration, installation kit, the self-cleaning feature, and three temperature outputs.
There are two separate filters in dual filtration as a sediment filter and carbon block filter, which can easily last up to 1500 gallons of water (approximately six months). The machine can self-clean itself in order to prevent the accumulation of germs and bacteria to keep you safe throughout the usage.
This best countertop water filter machine's most exciting feature is that it has three temperature-controlled dispensers as crisp cool, cool, and piping hot to enhance your drinking preference. Further, there are light indicators available for you to see water spouts clearly in darker atmospheres, and even there is an indicator to alert you when to replace the bottle, 
Features of the Filter
Weight only 30 pounds
Dimensions LxWxH – 13 x 12 x 19 inches
Material – Stainless-Steel
Include Water cooler, filters, installation kit
Filter which will last 6 months or 1500 gallons
Positive
Self-cleaning feature
Three water dispensing temperatures
Installation kit
Child safety lock
Built-in indicators
Dual filtration
Aquasana AQ-4000W Countertop Drinking Water Filter System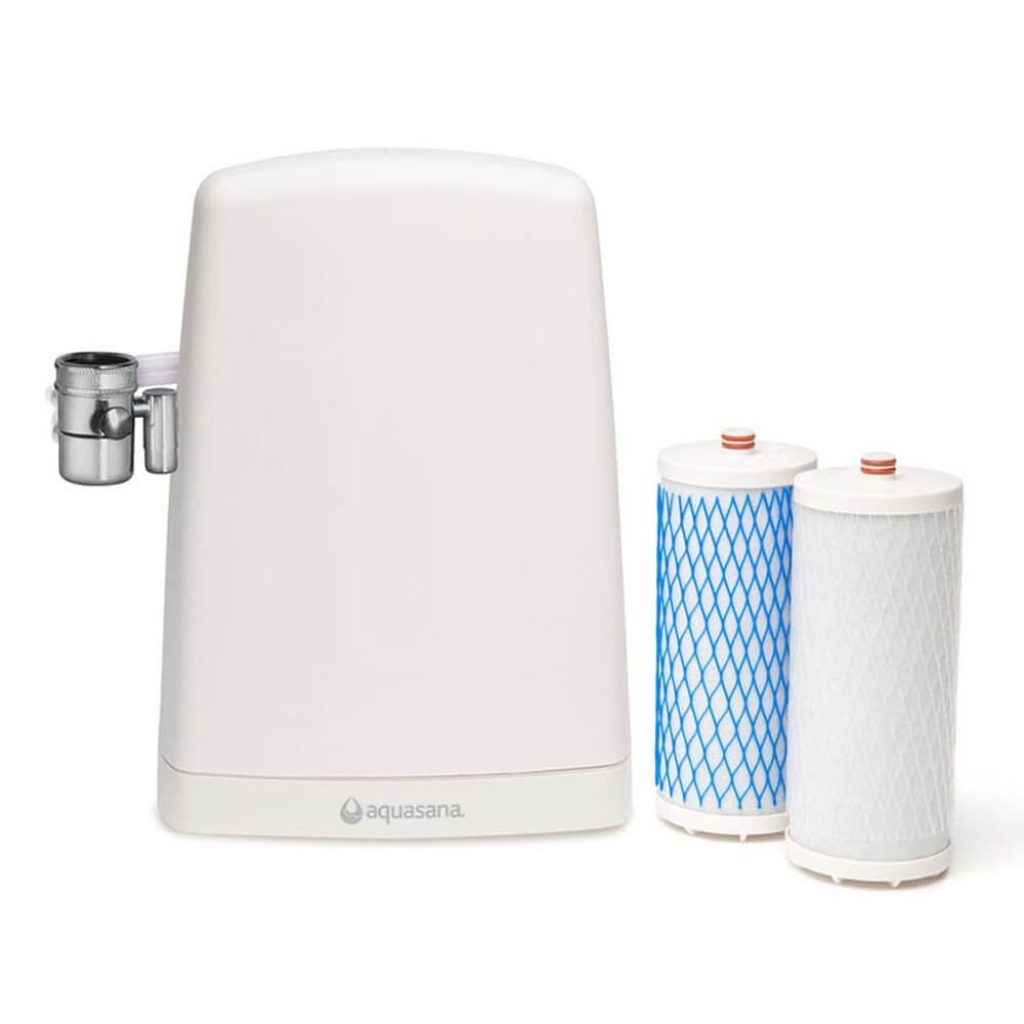 Are you eyeing for a product that has both convenience and value? Look no more. NSF certified water filter is the tiniest water filter you can find in the market, and even no one would notice that this is a water purifier!
It's that much eye-catching and astonishing and more than capable of retaining the water's much-needed minerals and eliminating unhealthy stuff out. In total, the unit can remove 77 unfavorable contaminants such as lead, mercury, herbicides, pesticides, chlorine, and chloramine, to name a few.  
This is one of the best home water filtration systems we recommend to you because it requires no expertise to install it on your tabletop and one of the best water filters for faucets as you can simply screw to the faucet by yourself.
According to the manufacturer, this machine's filter can provide you with 11x capacity than the other leading gravity-based competing products, costing less than 11 cents per gallon and Aquasana installation is also simple.
Features of the Filter
Full system certified to NSF/ANSI Standards
No permanent fixtures or installation required
Capacity – 450 Gallons
6 months of filter life
Flow rate – 0.5 Gallons/Minute
Positive
Affordable
NSF certified
Easy to install on countertops and faucets
Eats fewer chunks in kitchens
Absolute sub-micron mechanical filtration
APEX EXPRT MR-2050 Quality Dual Countertop Drinking Water Filter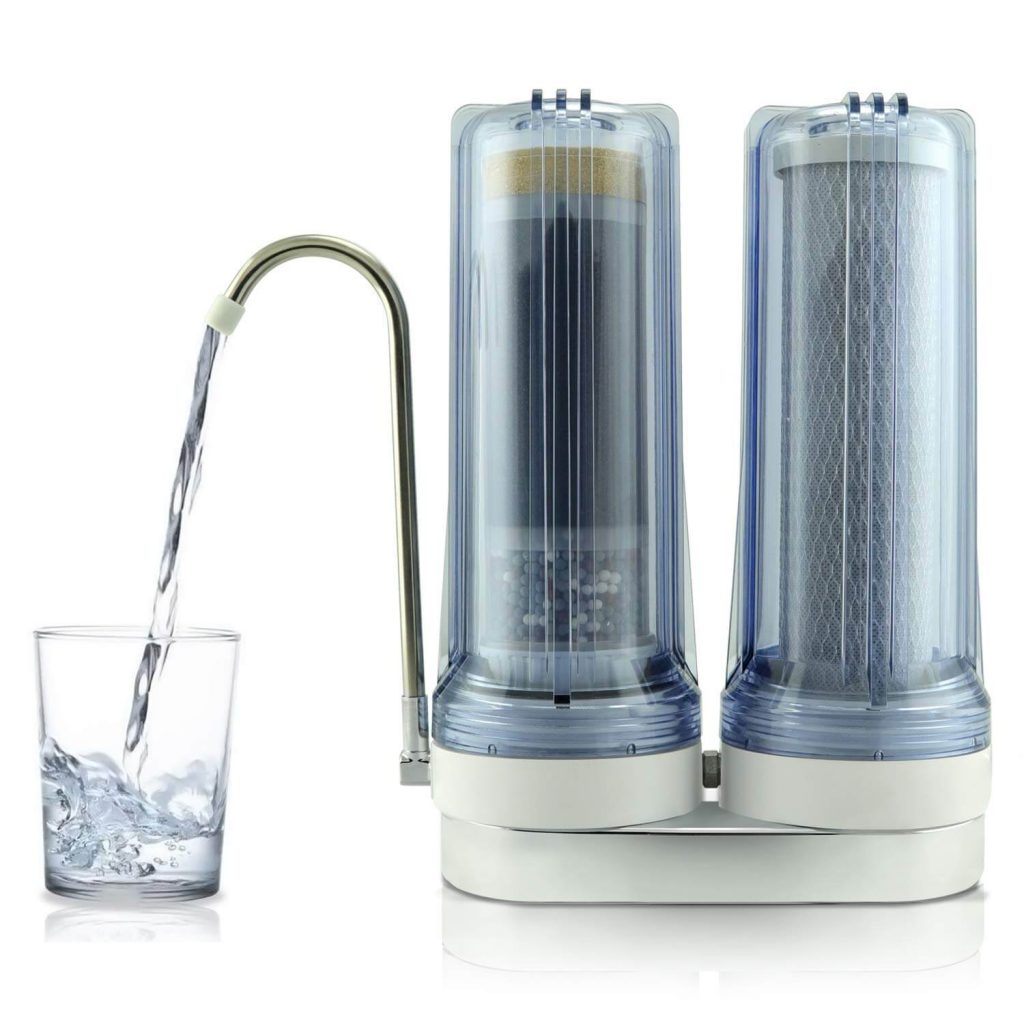 So, we've decided to end our list of best countertop water filters with another mind-blowing product. This design of these Apex water filters helps it to sit comfortably next to sinks and fits all standard kitchen faucets without any bother.
You can also purchase the product with confidence as it comes to you with a 30-day money-back guarantee and a one-year warranty for the manufacturer's defects. Moreover, materials, and the product itself has the NSF certification and complies with NSF/ANSI standard 42.
Tiny bits of particles or other sorts of contaminants like mercury, chlorine, radon, and pesticides are no longer a worry for this USA-made product. Even it can remove the unhealthy substances you can't smell or taste. Stop wasting your money on water bottles when you have the luxury to receive purified water from your household. 
Features of the Filter
Weight only 8.13 pounds
Dimensions 14.7 x 11 x 5.3 inches
Comply with NSF/ANSI Standard
Material – Carbon
Easy installation
Positive
Connects with all domestic faucets
Simple to install and use
Fits comfortably
5 carbon block and 5 stages mineral cartridge
Negatives
There are complaints about filtered water quality
How It work?
Most of these machines would seem compact and straightforward; however, the purification process is not that simple. Even though each brand carries different methods and mechanisms, the process is more or less the same. Let's see.
 In this, the water would go through filter pores that are tiny as 0.1 to 0.3 microns. This process will remove particles such as sediment, rust, various other contaminants, and bacteria.
 As the name suggests, water will be made softer by removing calcium and magnesium in this process. More harmful substances and heavy metals should remove once this process gets completed. Read more about water softeners.
 Now, it's time for the most crucial part. With the help of an activated carbon filter, all the water's organic contaminants would get vanished. This filter is capable of removing particles like chlorine, herbicides, and disinfectants. 
How to Install
Understanding of installation is essential for perfect water filtering. Unlike other commercial water filtration systems, you don't need a thorough understanding of plumbing on the installation of countertop best home water filters. Simply follow these steps for perfect installation.
Firstly make sure to switch off the water supply from the main valve.
Select a more convenient position to place the best home water purifier.

Since it is on the countertop you have to decide on a strategic position. Before you make the final decision rechecks the length of the line to connect the faucet adopter.

Thirdly remove the aerator from the faucet.

If your faucet is inside tread, you have to choose the right adopter and washer. If that is outside tread you don't need the adopter.

After removing the aerator attach the valve to the faucet. Make sure to tighten it by using the hands. And check again to ensure the correct positioning of the valve.
Check the water flow through the filtering system and adjust the valve if there any leakages.
Finally, open your main water flow and start using.
Advantages and Disadvantages
Advantages
Easy purifying – The biggest advantage of having a countertop water filter is the ability to clean and use clean water. It is important to have clean water to drink; you don't need to buy plastic water bottles from the supermarket. You can select the most suitable product by reading the above products including the Berkey water filter review.
Affordable – Countertop filters are affordable compared to the other major filters like whole house filters. You can purchase the desired countertop water filtration system from any convenient store like Aamzon.com
Low maintenance –Unlike Your best faucet water filter 2023, countertop water filters require less or no maintenance cost. You can set up the filter without hiring a plumber and most of the filters available as the assembled systems. Therefore it minimizes the initial cost and less annual cost require to replace the countertop water filter accessories.
Easy to Move- Sizes of these kinds of best home water purifiers are small. It is easy to move around your kitchen area. You can easily disconnect from the waterline and can reconnect to a different location.
Useful for making food – Filtered water can be directly use for drinking and cooking. You can use these water to make your favorite papaya juice using juice machine or make coffee using dual coffee maker or cook and wash vegetables.
Disadvantages
Lack of Efficiency – Some water filter dispenser systems have less capacity for commercial water filter systems. Therefore it takes much higher time to clear the water.
Small capacity – Countertop filters are relatively small compared to the commercial water filters. Therefore the water capacity is at a minimal level. If you are planning to cook rice using rice cooker or prepare celery juice for a large no of peoples using the purified water, you have to wait a little longer.
Display to others – Unlike under counter water filters, countertop water filters are displays to the visitors. You cannot keep it separate place since it has a relatively small valve to connect the faucet.
Countertop water filters vs. water softeners
Usually, water softeners are used to remove calcium and magnesium and eliminate the water's hardness. In other words, water softeners don't necessarily remove most of the other contaminants as water filters do.  
On the other hand, water filtering systems are in place to vanish a wide range of pollutants such as arsenic, lead, cadmium, chlorine, chloramine, sediment, and lots of other contaminants. The water softeners' process is different from the water filtering systems, and the best countertop water filters can perform both works for you.
Countertop water filters vs. Under Sink water filter
As you now know what a countertop water filter is, let's see what's an under sink water filter. These are the filters sit underneath of the sinks, and these too relatively easy to install.
Unlike countertops, they're out of sight and a brilliant option to have when you have limited space in your kitchen. And these filters are generally connected to your water line and require no water tanks on most of the filters; thus, the water flow is much faster than the tabletops. 
But, they are a little bit expensive than the countertops and require dedicated faucets for most filters. Though we stated it's relatively easy to install, some find it difficult and seeks the help of a professional plumber.
Countertop water filters vs. whole house water filters
Countertop water filters are more specific, and in most situations, they are installed near a sink to provide purified water mainly for help to flow purified water into kitchen sinks, washing machines, brewing machines, or the showerheads. 
There are various types of whole house water filters available in the market, depending on your water source and the purpose. You would decide the contaminants you want to remove off the water source and select the machine accordingly. 
Countertop water filters vs. water filter pitchers
Water filter pitchers do the same job as countertop water filters but in a limited way. If your goal is to drink cold water, you can easily pour water into a pitcher and store it inside a refrigerator. The pitcher would purify the water and provide you with a refreshing and healthy glass of water. 
But, the downside is that these pitchers cannot hold a large amount of water, nor they have that capability of a countertop water filter. However, water filtering pitchers are inexpensive and can provide you with the luxury of keeping it inside a fridge.
Certifications Required
Every food processing machine requires a standard international certificate to prove the quality of the product. Similarly, water filters are required to take the international certificates of either the Water Quality Association (WQA) or NSF International. Both of these institutes are carrying out independent third party investigation before granting awards to the manufacturers.
Under this certificate, water filter manufacturers ensure their products are in line with the public health and safety standards. NFS International US based independent authority, which conducts the research, training, and auditing food, health science, water, consumer product, and sustainability.
Water Quality Association (WQA)
This institute was established for the development of the water improvement industry. Each manufacturer should go through several testing and exams to obtain the relevant standard. After completing these tests WQA issued a certificate by confirming the quality of the product.
FAQ
Do countertop water filters work?
It works for water purifications. These water filters are cheap and easy to install, therefore you can use them without any hesitation. Some of them improve the natural taste of the water and some will destroy the harmful germs.
Are countertop water filters BPA free?
Most of the branded water filters are BPA free. The main reason for not using the plastic water bottles to avoid the BPA therefore countertop BPA free filters are a great replacement for it. But make sure to check the product description before you choose it.
How do I know when the filter is no longer working?
The solution for one of the common questions, how do I know when to replace my countertop water filter? Is simple. Basically, you can check whether it still flows the water through the filter. If there is any speed difference or discontinuation, you can replace its parts or make arrangements to repair the parts.
What is a UV filter?
Water contains lots of harmful bacteria and germs. Some best countertop water filters using electromagnetic energy to destroy these harmful germs and bacteria.
Do countertop water filters work for all kitchen faucets?
Most of the time countertop filters work for sink faucets. But in some instances, there can be a miss match. Therefore go through the countertop water filter reviews before you purchase it
How do I find out if my countertop water filter is NSF or WQA certified?
You don't need to worry about finding the NSF or WQA certifications. Its standard certificate for quality products therefor manufacturers using this as a marketing tool. Most of the producers included this in the water filter product description.
Do countertop water filters trap minerals like calcium?
Simply most of the best tap water filter systems do not destroy important minerals like calcium. But reverse osmosis countertop water filters block this calcium. Therefor adding back it into the water is important.
Can I connect my countertop water filter to multiple faucets?
No. Countertop water filters come up with a single valve to connect the faucet. Therefore you cannot connect multiple faucets but you can change the place by easily disconnecting from the existing tap.
Can bacteria grow in my countertop water filter?
Water is a perfect environment for creating and grow bacteria. Even though the water filters designed to remove bacteria growing can be happened inside of it. Therefore flush your water filter 20 seconds before you use it and don't keep it open for the sunlight.
Pitcher water filters vs. countertop water filters – what's better?
Basically, it's depending on your requirement. No definite answer to the above question. We prefer to go with the countertop water filters. It's better to go with the perfect water purifier review before you choosing a product for your home.
Will I need to buy replacement filters from my unit's manufacturer?
Absolutely not, Most of the manufacturers are providing their product to the global market. Therefore they are frequently supplying water filter accessories to the market through their sales agents or online platforms. So you don't need to worry about the ordering the replacements, you can order online through the Amazon.com easily.
My water has a funny taste/smell. What's the problem?
If you are not using water filter frequently or not replacing the essential parts may lead to such kind of situation. You have to go through the countertop water filter manual take actions according to it.
Which water filter removes the most contaminants?
According to our research, Big Berkey Gravity-Fed Water Filter is the best filter that removes the most contaminants. Go through the Berkey water filter review carefully and identify the pros and cons of the product.
How does a countertop filter improve the taste of water?
Your best countertop water filter removes the harmful minerals, bacteria, and chlorine from the water and improves the natural taste from it.
Which countertop filter reduces to 0.3 Microns?
0.3 Microns indicate the toxins' size in the filters. Most of the renowned brands operated between 0.3 – 0.5 range. According to our research, Santevia countertop water system is perfect for it.
Which countertop filters are affordable to maintain?
All most all the countertop water filters are less expensive compared to the best whole house water systems. Therefore the prices of the accessories are at a lower level. You can choose an affordable countertop water filter from our list and make your life comfortable.
Do countertop water filters store water before drinking?
It depends on your best home water purifier. Simply faucet water filters can directly connect to the waterline and can use it quickly but water filter pitchers store water until the consumer started to using it.
Why are countertop water filters better than bottled water?
Most of the time using bottled water cause harm to the human body. Uses of plastic bottles are harmful to the environment and difficult to recycle and you have to spend considerable costs to purchase water bottles frequently. But having the best countertop water filter saves your costs, you have to put quite high initial cost but maintenance costs are less. It saves the environment and not harmful to the human body.
What common contaminants does a countertop water filter remove?
Most of the time unpurified water contains lots of harmful chemicals like herbicides, pesticides, chlorine, heavy metals, and microorganisms. Your best countertop water filter can remove these different chemicals with the advanced technology used by the water filter manufacturers. The use of alkalization filters improves the tastes of the water by adding back to the calcium and magnesium.
Wrapping up..
You know the importance of water for a healthy human body, but the quality of the water you drink can unimaginably back fire you if you take it for granted. Drinking bottled water is not an option we recommend, and why wasting your money when you can afford a countertop water filter? On top of everything, what's the excusable reason you have behind promoting plastic products? It's a big no, no. The list we provided for you as the best countertop water filters contains fantastic machines, and most of the products are not skyscrapers. Have a look again at those if you missed it. Live long, peeps!