There are many different types of knives including Japanese knives, Pocket knives, outdoor knives, bread knives, paring knives etc. and most probably, the fillet knives are the most overlooked and underrated out of the lot. Even most people have no clear idea of what a fillet knife is and tend to use an ordinary chef knife for all of their uses. Having the best fillet knife is going to help you in many ways than a chef knife, and if you don't know, a fish fillet knife is designed explicitly for filleting and is a member of the boning knife family.
What Makes a Fish Fillet Knife Special?
The main difference compared to the standard knives is the shape of the blade. A knife is typically hard and rigid, but the fillet knives are thin and ideal for precise works like filleting fish. If you are an experienced cook, then there is nothing left to tell you that cutting fish is not easy, right? You will hardly succeed with the task if you don't have the best fillet knife with you.
Filleting Knife Styles: German Vs. Japanese
If you are a knife enthusiast, you would know that German and Japanese knives are more prevalent. When it comes to styles of filleting knives, you could find two variations as German and Japanese as well. The below chart would assist you in selecting the best fillet knife.
Regular Fillet Knife vs. Electric One
A regular knife has the capability to only fillet fish and a few types of other meats. Obviously, the help you obtain is limited: on the other hand, the best electric fillet knife is so versatile and can be used to cut all types of fish and meat with less effort.
However, the electrical ones are relatively expensive but can be an excellent mid-term and long-term investment for you.
Fillet Fish Knife Types
Fillet knives come in different kinds of sizes, shapes, and we have brought you two major types as German and Japanese as well. Let's see the other common types of fillet knives available in the market these days. It's always good to know the types of knives and their uses before you shop.
In this bracket, you could see various knife shapes, materials, and colors. Most of these knives have a slight curve, which helps users to skin off a fish. Again, the standard fillet knives are most used to cut only fish, but typically these are more durable and require no re-sharpening for a considerable time.
Salmon slicing fillet knifes
These knives are usually 9-12 inches long and mainly in use to filleting salmon type of fish. Also, these sorts are expertly designed to prevent the fish's skin from getting damaged because of its rounded tip. You would see longer blades in this type of knives, but there are no any handling difficulties.
If you are a truly salmon lover, you must know how to tell if salmon is bad?
These are more similar to the standard fillet knives but work with a motor and do many more works. Over the years, people are running behind these just because of the knife's versatility, and as mentioned, the price tag can be relatively high.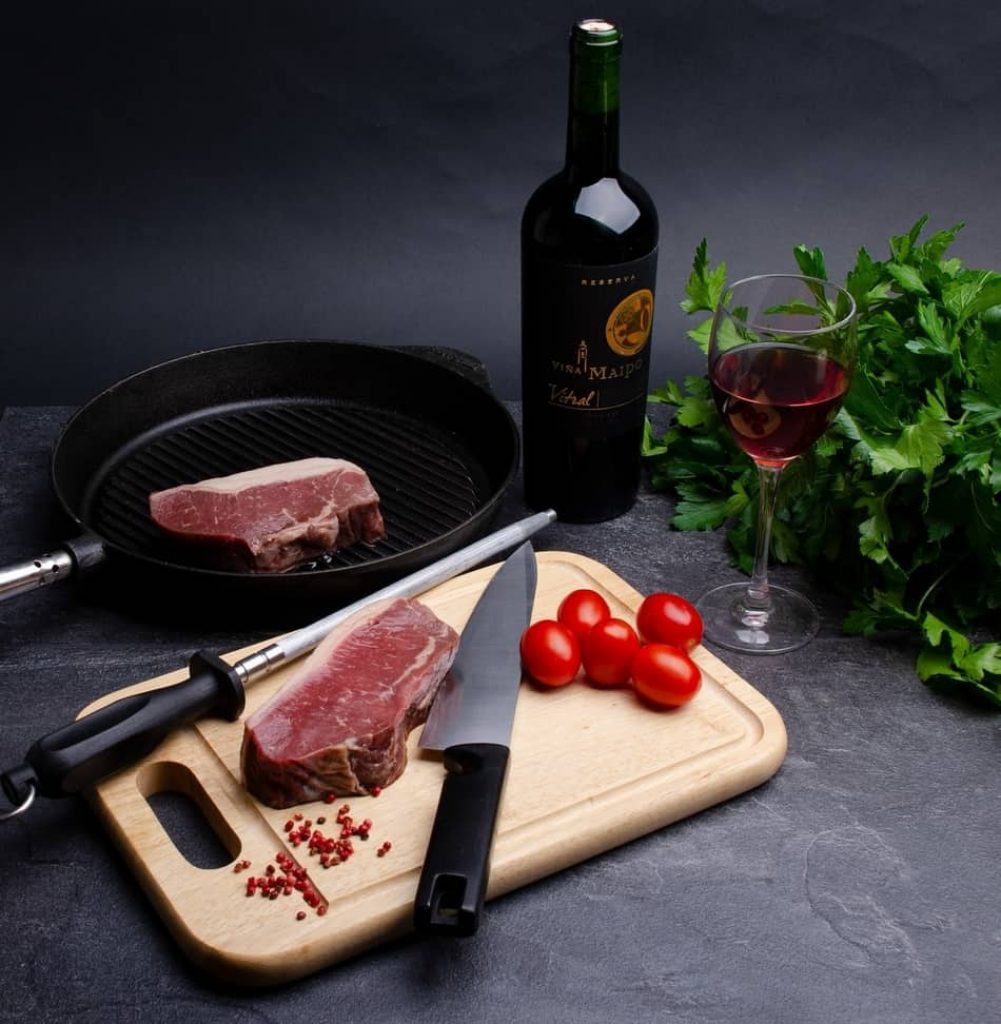 Factors to Consider for the Best Fillet Knife
Choosing the best fillet knife, cleaver knife or Bushcrafts knife has to be done by considering several vital factors. Obviously, going through a couple of fillet knife reviews will help you with this; however, pay your attention to the following features in order to belong to a good and log-lasting fillet knife.
Sharpness
Sharpness is essential for any knife, but it's more critical for fillet knives as you are dealing with soft flesh most of the time. Having a perfectly sharp blade is the key; if not, you will see torn meat and flesh not properly separated off the skin; everyone knows the frustration of said scenario.
Blade retention
This means the retention of the sharpness of your knife. Go for a knife with high carbon materials for a long-lasting blade; yes, you can sharpen the knife with a sharpening stone or steel, but most of the high-carbon knives keep you away from this unnecessary hassle for a long time.
Construction
To get the maximum out of a fillet knife, it should be thin, strong, and flexible. The high-carbon ones are more suitable as they have the potential to bend without breaking or cracking. Further, the handle must be full tang, and it should be made in an ergonomically to ease the handling.
Price
You do want to own the best fillet knife, but the price tag should not be a skyscraper as well. Also, see whether there is a warranty for the product because you are going to spend a considerable amount on a knife, so it's always ideal to purchase with secure. 
10 Best Fillet Knives with the Highest Customer Ratings
Before jump into the product reviews, we have summarized the qualities of the best 3 products in the market.
Actually, the Amazon fillet knife result contains over 900 knives, so finding the best fillet knife is not a cakewalk and can be misleading as well. So, we have hand-picked the 10 best fillet knife sets for you purely from the customer experiences and ratings. According to our perspective, the best way to select a product is, by going through the previous user experiences, so let's jump in.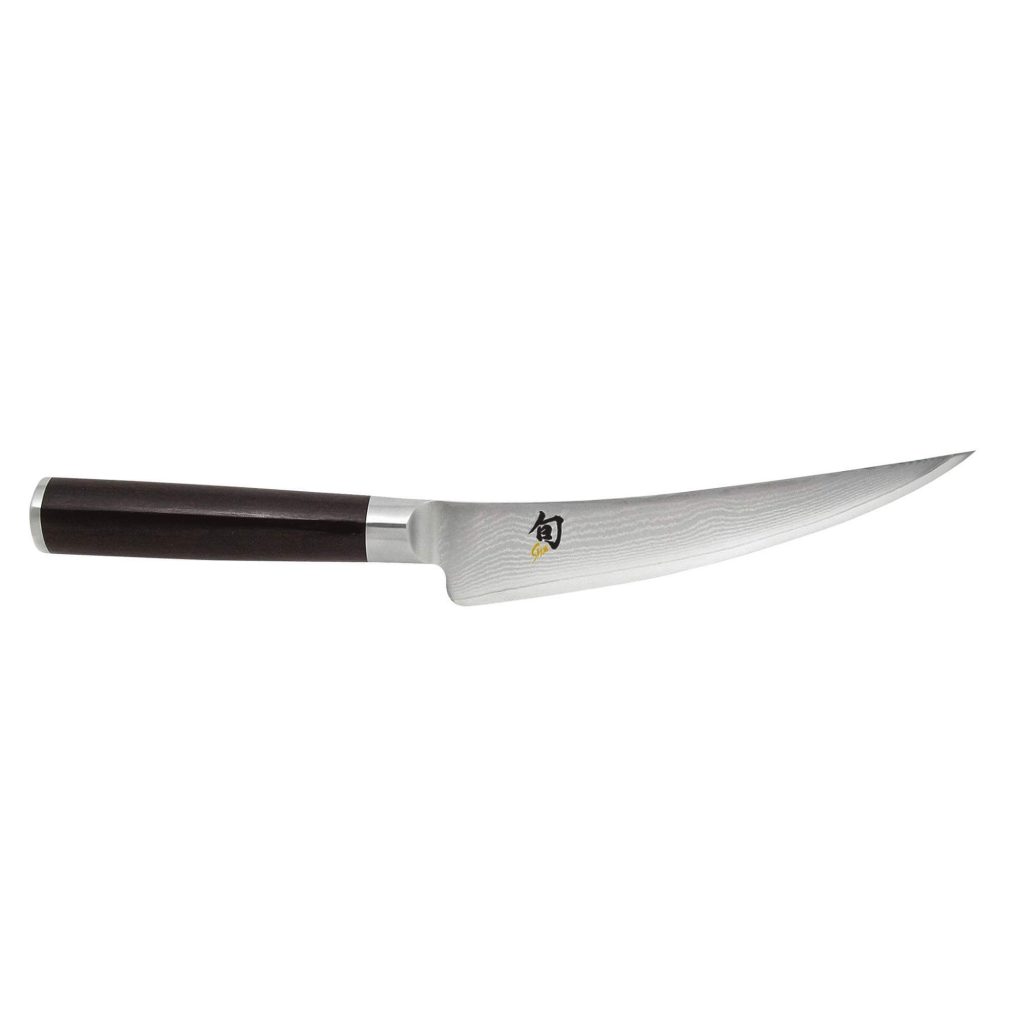 Any knife lover would know that Shun is a giant in the knife industry, they have produced some excellent knives over the past, and their reputation is huge. The common belief among people is that Shun makes the best fillet knife for saltwater fish.
And, no exception in this product as well. This hand-crafted, double-beveled top fillet knife offers you the luxury of easy cutting through fish and meat; most importantly, the blade constructed with VG-MAX steel. Actually, the best steel for fillet knife sorts is always comes from VG-Max steels, which is another crucial reason why you should consider buying this one.
The ebony Pakkawood made, D-shaped handle allows you a secure grip and the edges of the blade are absolutely sharp so that cutting requires minimum effort to separate bones and skin. The precision of the cuts is always up to the mark for both the experts and beginners. On top of all, the Shun fillet knives typically are a stunning addition to your kitchen arsenal.
Another cool product from a well-known manufacturer, and with more than 87% of five-star customer ratings in e-commerce plat forms, this is the best electric fillet knife going around these days. The Bubba fillet knife comes as a wireless unit, and there is a wall charger available for you to recharge the knife.
The package of Bubba electric fillet knife contains 4 premium grade blades, 2 lithium batteries, and an EVA case for storage and transport as well. Blades are easily removable so that cleaning is never a problem with this unit. Moreover, there is a LED indicator to alert you about the remaining battery life.
The non-slip grip handle provides ultimate control over the cutting process, and there is a trigger guard for additional security. The ergonomically designed shape fits nicely in hand, and maneuverability is 100% secure and comfortable.
This Bubba blade fillet knife is ideal for all types of fish, and the size of the fish really doesn't matter to this monster. If you are a fisherman, in particular, there shouldn't be any second thought while selecting this electric fillet knife.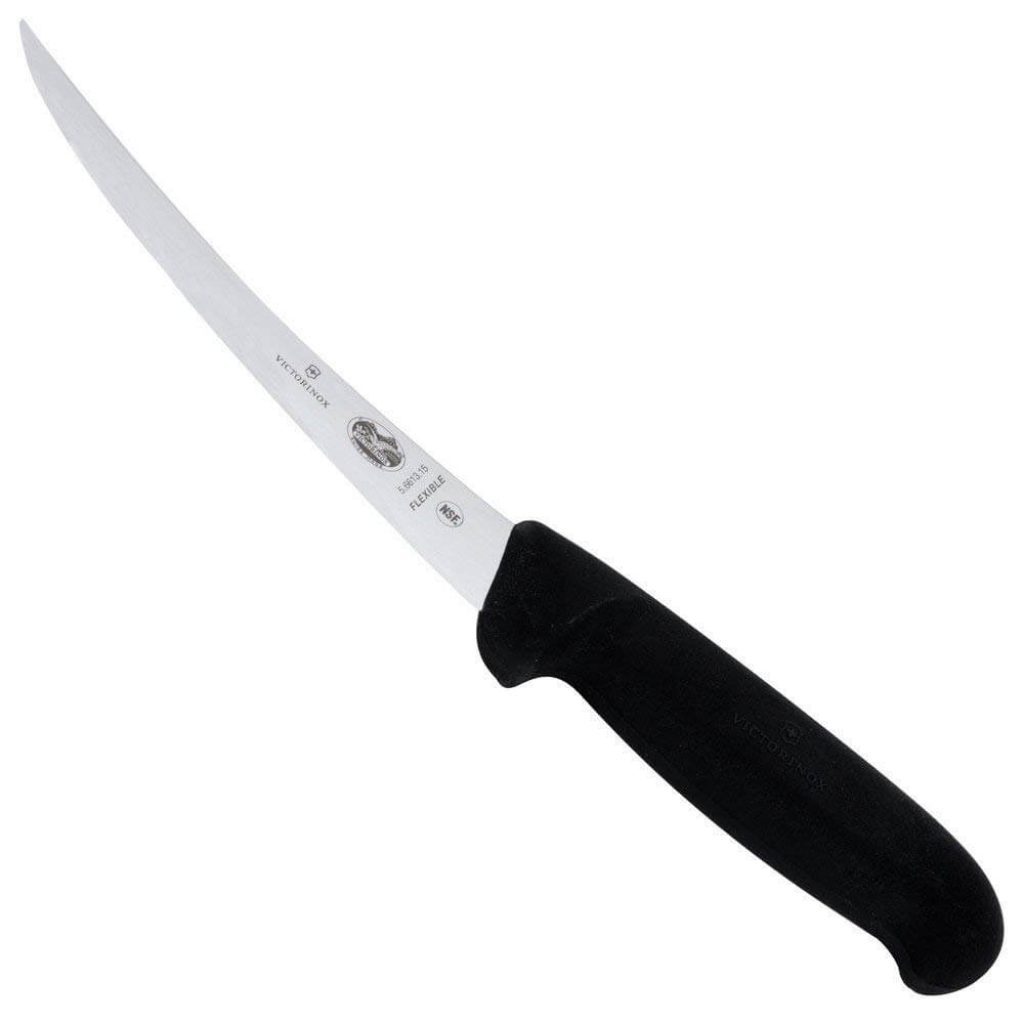 Easily the best boning knife from Victorinox inventory for sure. The Victorinox knife's perfectly designed tip can easily pierce the meat, and curvy nature allows smooth, precise, and clean cuts around the bones. If you have concerns over how to fillet a fish or how to fillet a salmon, then you should not try to learn the mastery with a common type of filleting knife but with this one; because it's specifically produced to deliver delicate cuts.
A unique feature of this Victorinox fillet knife is that its ergonomic Fibrox Pro handle, which has a non-slip grip, so controlling the knife is never going to be an issue even when the handle or your hands are wet. The good fillet knife's stainless steel blade is 5 inch in length and meets the guidelines of NSF (National Sanitation Foundation) as well.
As we said, you are always secured when a product has a warranty; and, this commercial fishing Victornox knives comes to you with a lifetime warranty for any defects in material and workmanship! You couldn't ask for more in a fillet knife, guys.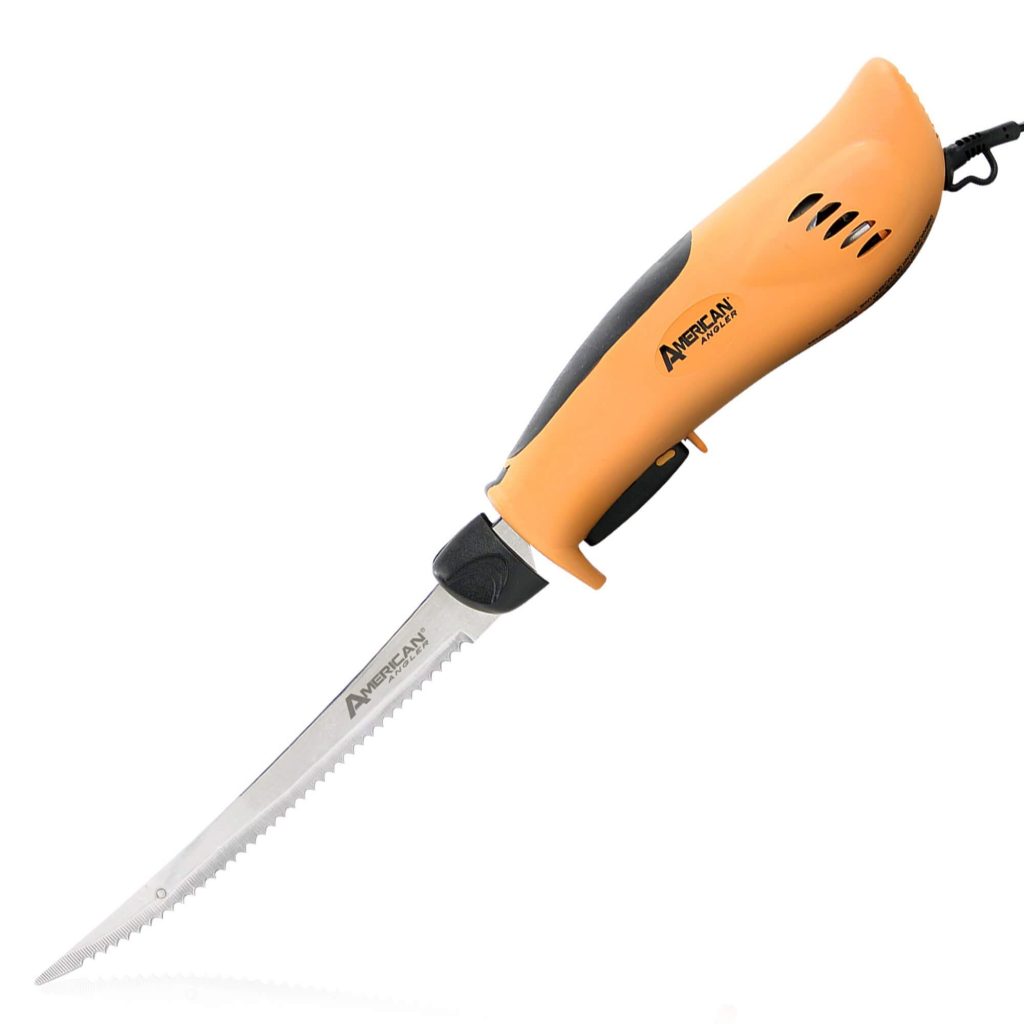 As you know by now, electric knives are becoming a fan-favorite day by day, and here is another beast for your consideration. Make finding the best knife to cut meat easy is our primary objective of this article, and this one is one of the best when it comes to fillet knives on Amazon.
The Pro Series motor of the American angler fillet knife means you will not face any slowdowns while you go close to or around big bones. And, it gives a "4x lifespan" than any other so-called heavy-duty Efks.
The advanced airflow design keeps the American angler electric fillet knife cool for many hours of continuous filleting, and the Pro Series handset is compatible with almost all of the angler replacement blades. The American Angler electric knife's exclusive gear design and motor deliver extra torque and all the power you anticipate in your filleting.
Go for your next catch with utter confidence if you are a fisherman having an American Angler PRO Electric Fillet Knife. End of the day, you want a knife you can trust, right? Then this is the one.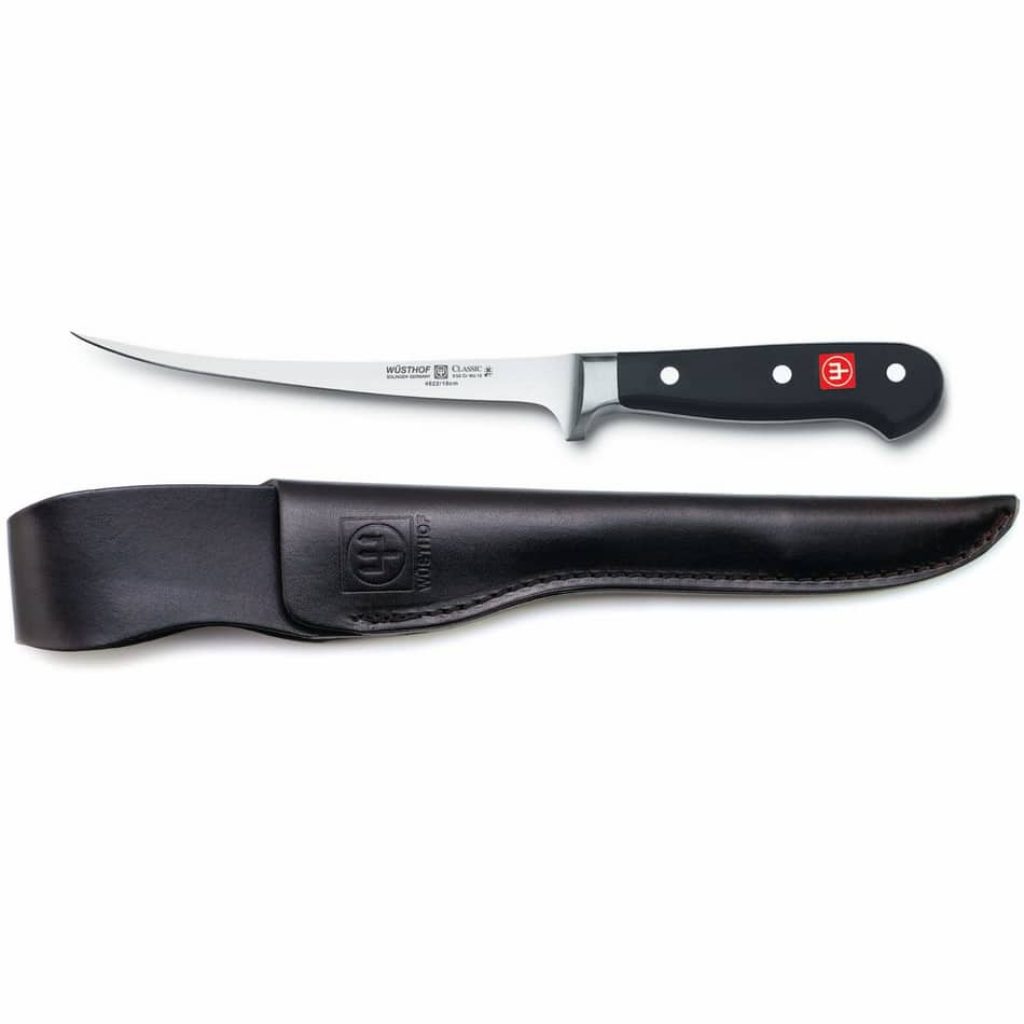 Do you know Wusthof is the oldest knife manufacturer in the world (known)? This automatically reflects that the materials and the trust are 100% of the brand. This Wusthof fillet knife is made from a single block of high-carbon stainless steel, which tapers brilliantly at the blade's end for precise and delicate cuts. And they claim that this Wustof fillet knife is 20% sharper and has twice edge retention capability than their previous models.
This German knife comes with a spectacular sheath, and the full tang triple-riveted synthetic polypropylene handle can prevent heating, fading, and discoloration. It brings comfortableness to your hands while cutting and weighs only 12Oz, which is another factor you must take into the count while buying the best fillet knife set.
The finger guard, limited lifetime warranty, and 200-year WUSTHOF expertise are a few of the other advantages you are going to get with this magnificent product. All and all, this knife has all the features you expect from a fisherman knife.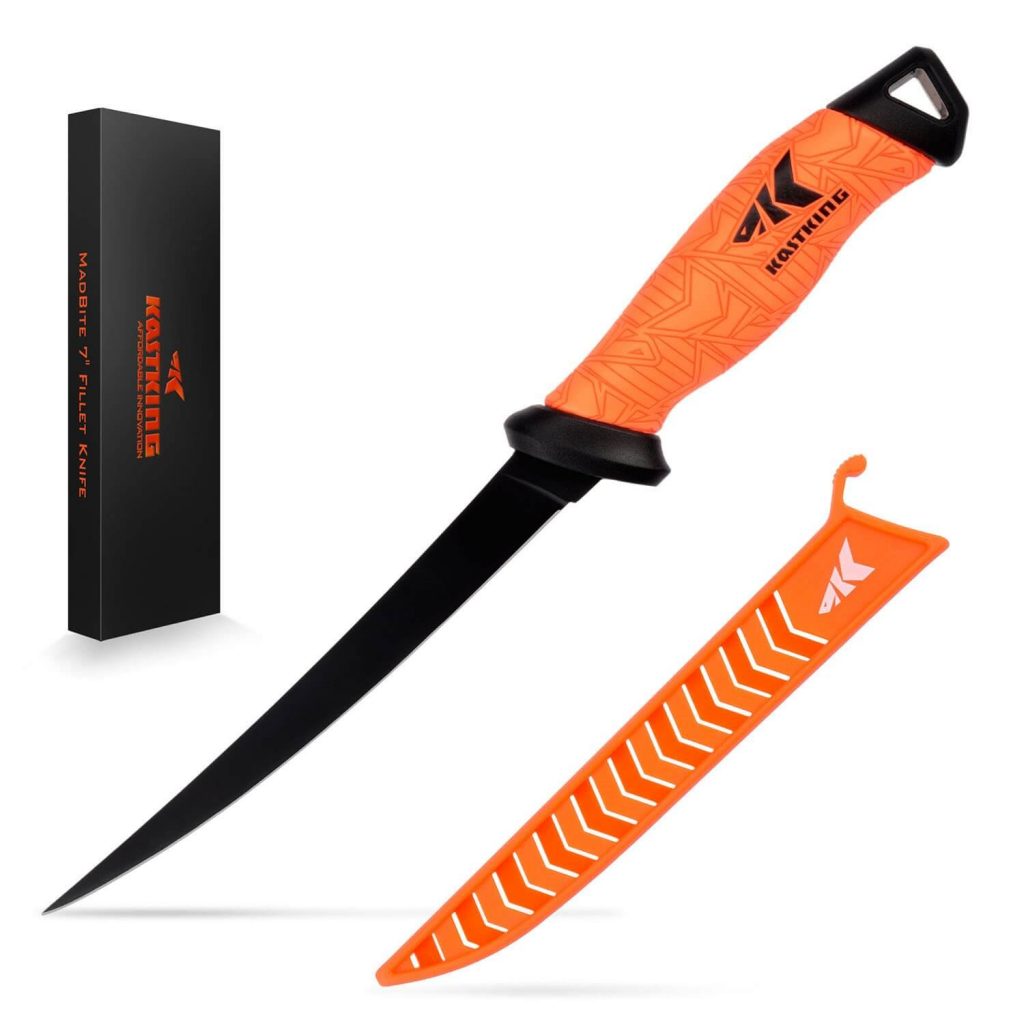 We all want affordability and quality at the same time when we purchase a product, but those two words hardly blend truly in purchases, but cannot say the same with this KastKing Fillet knife. It's affordable, and the product's quality is confirmed by more than 82% of Amazon fillet knife five-star customer ratings. So what's in it? G4116 German stainless steel made blades are razor-sharp and super durable.
Super polymer grip of the knife won't let you lose control in handling, and it provides you comfort while being safe as well.
There is a uniquely designed protective sheath available with each knife that locks perfectly with the handle and keeps you safe in between jobs. The sheath's open spaces make sure your knife is always dry after use, and it helps the durability of the blade as well.
Most of the knives can only perform one thing: that is filleting meat, but the best fillet knife should be the best knife for cutting raw meat as well. Once you get your hands on this bad boy, you'll figure out whether our statement correct or not.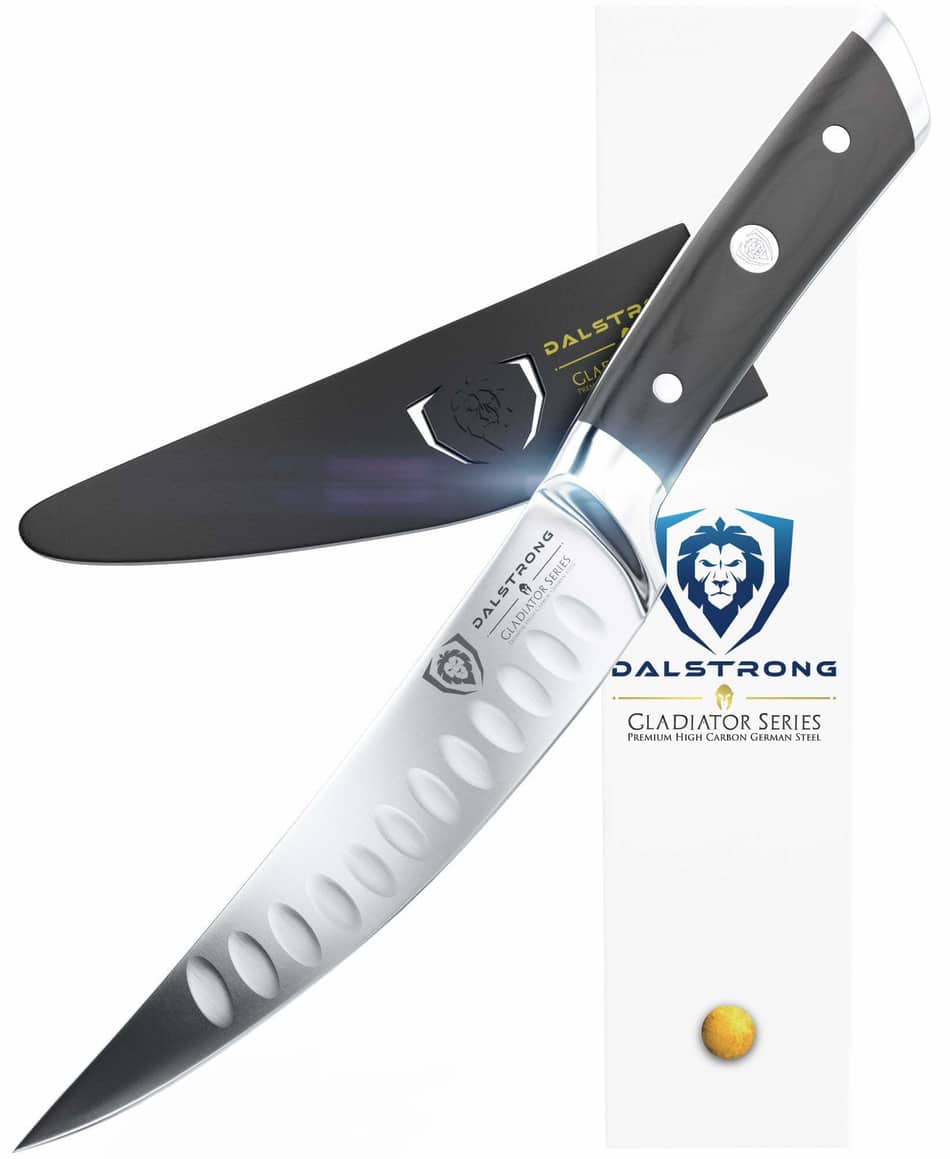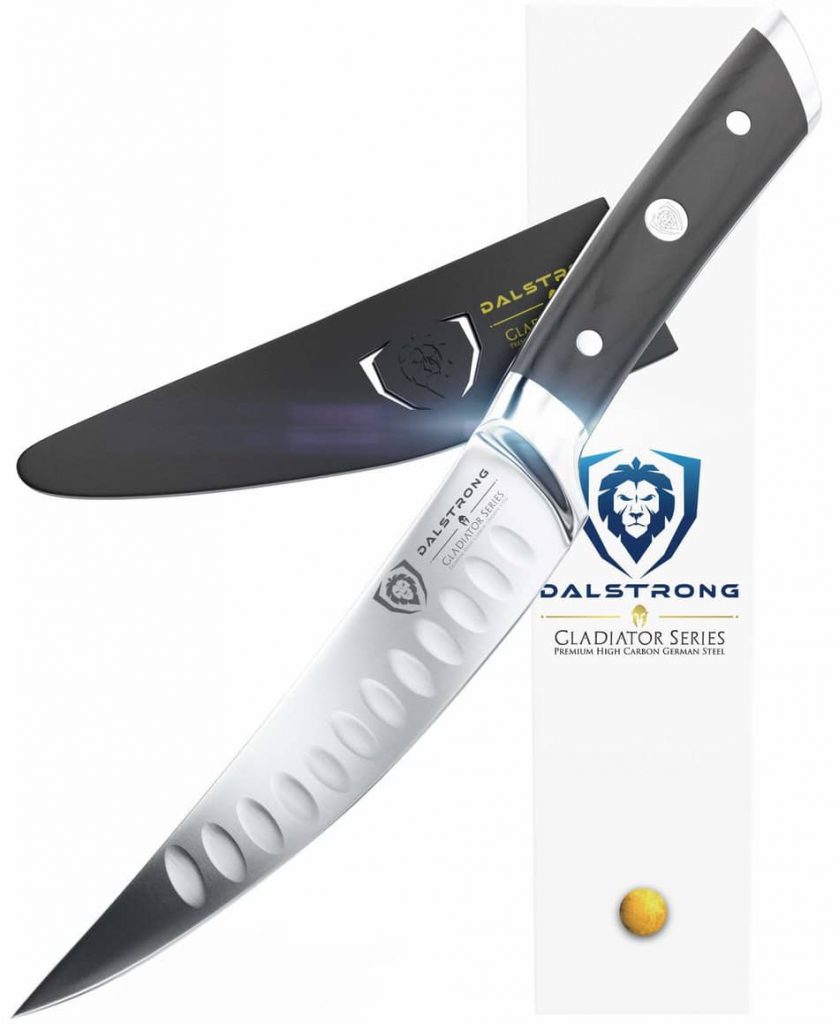 Keep in mind that most people used to call boning knives as fillet knives and vice versa. And, we say, don't go searching fillet knife vs. boning knife when a knife can do both the works for you. This is a classic example of the above scenario. Furthermore, if you ask us which knife has the best cutting edge, our answer is DALSTRONG.
The high-carbon steel provides the needed strength for the Dalastrong knife, and it assures durability as well. And, the incredibly razor-sharp blades will allow your trimming, skinning, and maneuvering very convenient. The narrow curves go smoothly around joints, bones, and between skin and flesh with minimal effort.
Concerning the handle, it is a triple-riveted G10 one and no slipping hazard attached due to its laminated grip. This is another 7 inch knife in our fillet knife review that is super affordable, worth of money, and, most importantly, money-back guarantee as well as a lifetime warranty against any defect making you secure in purchasing the product.

One reason to stand out this product from most of the other listed knives is that this is an electric knife, and you won't find this in every kitchen except for a fisherman or an experienced cook. A fisherman or a professional cook always goes for a top fillet knife; for fishermen, this is one great option to clean the catch.
The price tag of the Rapala electric fillet knife is reasonable for an electric fillet knife, but the performances are three times bigger than the standard electric knives. Yes, it is. Rib bones, backbones are literally nothing a big deal for this machine, and dishwasher safe reciprocating shape blade is perfect for all sorts of filleting works.
There is no fatigue feeling associated with the cutting process because of the comfortable grip. There is an 8-foot power code in the Rapala fillet knife so that you can move freely around the table without much of a problem.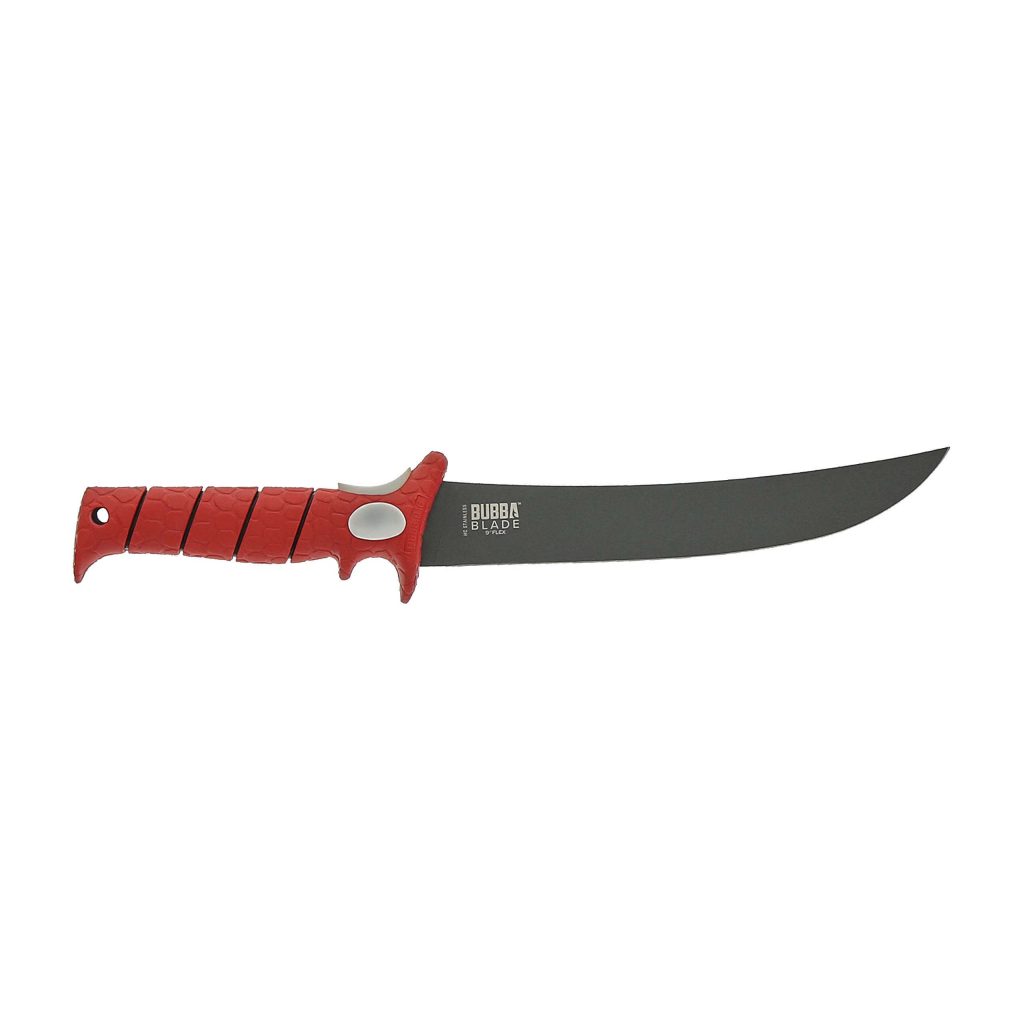 It's the best fillet knife for Tuna. Most of the newbies get frustrated while boning fish because of the wastage. The skin tends to remove with a considerable amount of flesh, and literally, there is no way you can use that wasted meat. With the 8Cr13MoV super-thin blade of this Bubba filet knife, you can eliminate this issue forever.
The razor-sharp blade is Ti-Nitride coated and rust-resistant. Further, the extra sharp tip at the end makes starting the cut easy, which is hugely important for a delicate cut.
There is a safety guard to protect your fingers from the blade and spine of the fish. Also, this safety guard helps you with a firmer grip and total control over your cut. The overall length of the knife is 15 inches, and the blade is 9 inches long. There is a sheath available with a loop for you to safe hands-free carry as well.
The knife stays perfectly strong and sharp irrespective of the water you use it in. Again, the blade is lenient than most of the other fillet knives, which provides you with the cushion for cutting through heavier sorts of meats without much of an effort. And, all these valuable features come to you with a reasonable price tag as well.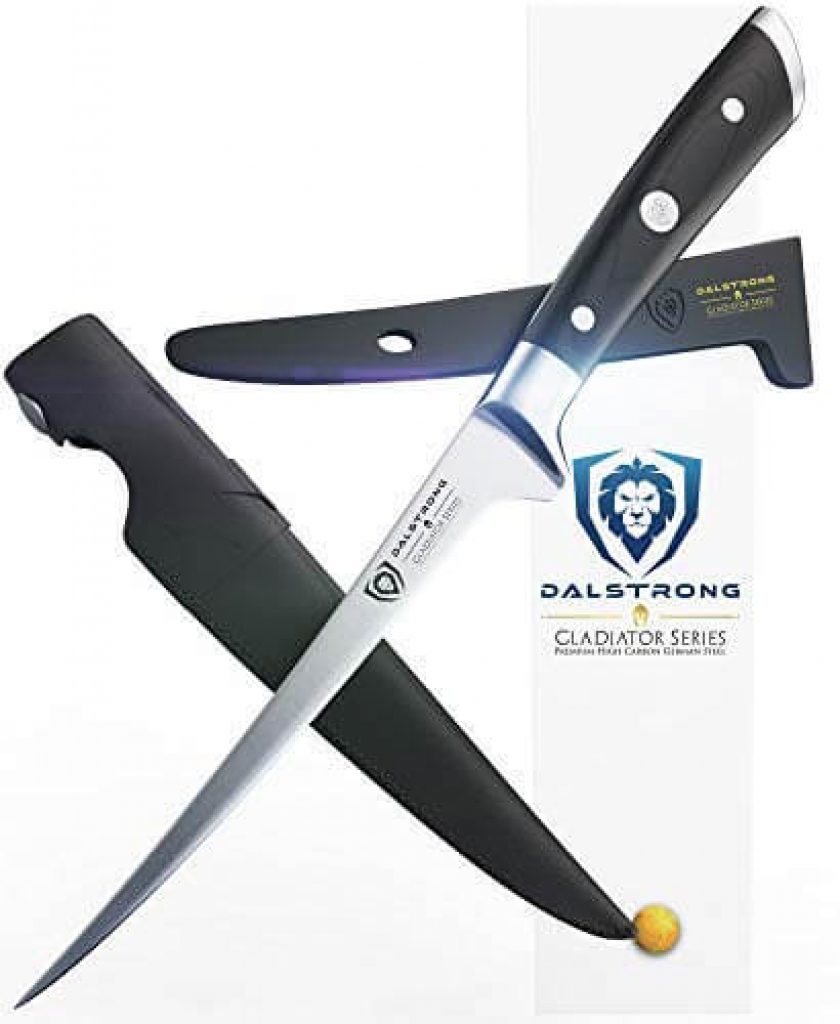 The second fillet knife on our list from DALSTRONG, and they both are from their Gladiator series. But, this one is thinner and linear than the previous one and definitely the most flexible fillet knife from their stocks. Hence, you can breeze between the skin and bone more efficiently than an ordinary knife.
The blade is made from high-carbon German steel and hand-polished; the edge's angle is 14-16 degrees per side.
Same as the previous DALSTRONG product, the handle is triple-riveted, and the grip assures comfort and smooth maneuverability. The blade carefully tapered for improved hardness, and filleting, skinning, boning, trimming, or butterflying just not only easy; it's satisfying to the hands as well as to the eyes.
There is a majestic-looking sheath for the knife's protection, and the product weighs only 6Oz. More than 82% of five-star ratings can't be wrong, and 100% satisfaction or money-back guarantee makes it a risk-free buy.
How to Fillet Fish?
So you have the best fillet knife, but you must know how to fillet a fish to get maximum use out of your knife. Follow the below steps.
Rest the fish on a cutting board, insert your knife's tip into the anal opening, and move the blade along the belly to the head.
Do not press hard as you don't want to puncture the intestine.
Open the body and remove all the stuff inside the stomach and anus. And remove the head as well.
And cut "V" shapes separating bones and spine. Make sure you start separating from the spine to the head and tail.
Do not rush and always move the knife away from you rather than towards you.
How to Sharpen a Fillet Knife?
No matter how good your fillet knife is, you will have to sharpen it once in a while; else, it's inevitable to lose your knife's capacity. Let's see how you can do this.
In this method, you can use a whetstone; however, you do need some experience in sharpening a knife else the chances are high that you are ruining the blade of your knife. Think about how you are going through a block of butter. Just do this process that way, the motion should be consistent and smooth. Our advice is to master this art with an older knife before you do it to your new buy.
If you can get your hands on an electric knife sharpener, then there will face no hassle what so ever in sharpening a fillet knife. Go for the technology shortcut if you can, and most of these sharpeners have two settings. One cuts the knife's steel for a sharper edge and the other hones the blade.
Care and Maintenance
Like almost all other tools, fillet knives also must be taken care of else the performance will get drastically low, and you will have yourself seeing blaming the manufacturer. It's no big deal in caring your knife if you pay attention to the following points.
Use wood cutting boards as much as possible to minimize the stress on the blade.
Always clean your blade with soap and warm water with your hands once you finish the job and dry it with a towel.
Always store your knife inside its sheath. If you don't have one, make one!
Never wash the knife with hot water.
Never let the knife soak in the sink.
Make sure you dry the blade before you store it in the sheath.
Wrapping up..
What is the best fish fillet knife? This is no more a query for you guys as you had 10 fantastic options to select the best fillet knife. The best part is all these products have more than 75% of five-star customer ratings, and most of them are above 80%, which elaborates we have hand-picked the top notch user favorites correctly. Fillet knives are just gorgeous, elegant, super effective, and very much affordable as well, so go for your next with the best fillet knife! Adios!