Graceful chefs' sensation, Japanese knives are famous for the sharp and precise cuts it produces and might not be the best friend of unskillful cooks as it requires prime delicacy and eager attention while handling. Best Japanese knives are typically thin in shape, and if you don't love or care for them, they are given to deteriorate or break sooner rather than later.  
When it comes to Japanese cuisines you cannot get the same outcome if you don't have or use some of the best knife brands, the simple and very reason is that certain Japanese recipes require the precise cuts in order to enhance the power of ingredients and get the true accent of the dish.
What is Better Japanese or German?
The answer depends on your requirement. Regarding the shape, Japanese ones are thin and sharp, while the counterpart's ones are heavy and bulky. Further, best Japanese knives are more suited for delicate and subtle works like slicing meat, fish or vegetables. But the German products are tailor-made for heavy-duties.    
Types of Japanese Kitchen Knives
Rookies and even more experienced chefs have issues in identifying different shapes of these knives and their uses. There are many types of best knives out there in the market to confuse you, but the following list will see you through this dilemma. Later in the article, we are planning to provide you in-depth analysis on a list of kitchen knives best on the market, for now, see below types and get used to the names of these Japanese products. 
Gyutou – Preferred one for most of the chefs (multi-purpose)
Sujihiki – Ideal for slicing
Usuba – Made to cut vegetable
Deba – Ideal for butchery tasks
Nakiri – Made to cut vegetable
Hankotsu – Perfect for deboning
Takobiki – Ideal for slicing
Petty – Suited for tiny and delicate works  
Honesuki – Perfect for deboning
Yo-deba – Heavy and built for butchery tasks
Yanagi – Ideal for slicing
Santoku – A Multi-task knife
Pankiri – Made to cut bread
Kiritsuke – Ideal for slicing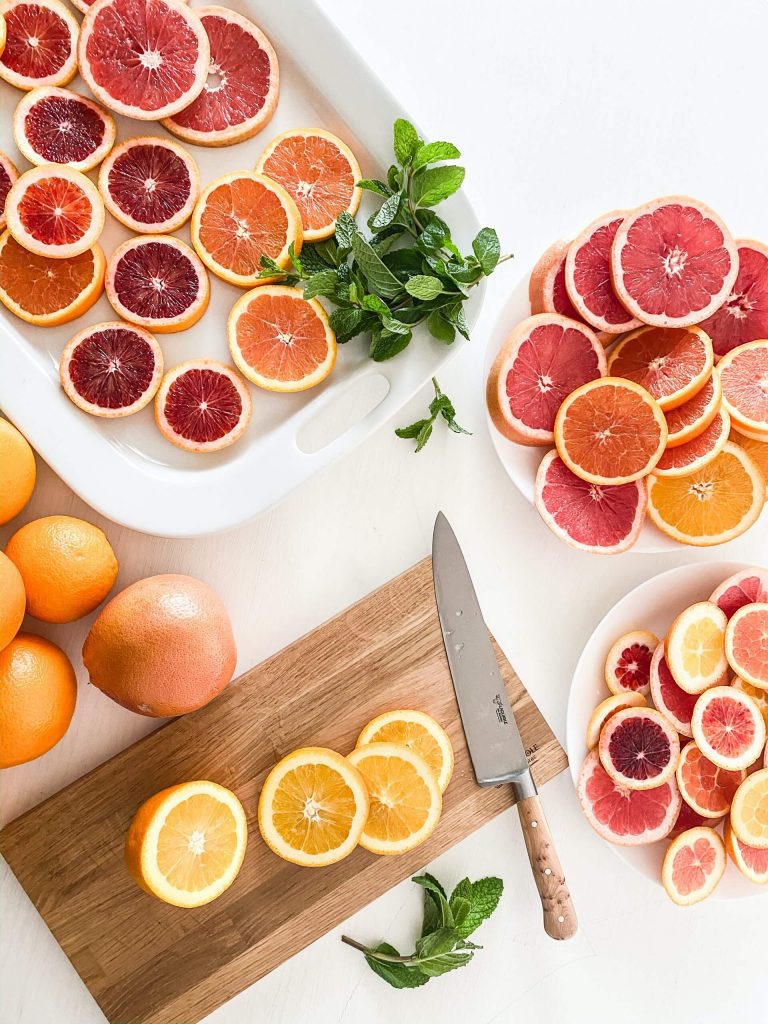 Factors to Consider when Buying a Japanese Knife
Now it's time to see the crucial elements you need to focus on when buying one. These factors are the same even though you are planning to buy a Bushcrafts knife, fillet knife or cleaver knife.
Steel
For most of these knives, you don't have to worry about the toughness or the sharpness of the steel. Still, your choice of the blade should be made from stainless steel, else constant maintenances are inevitable. Especially if you are going for an entry-level knife, most of the Japanese knives are made from stainless steel, and we see no need to pay for a one made from expensive high carbon steel or white steel.
Use
As you saw and realized before in the article, Japanese best knives are made for different purposes. So before you buy your thing, you must know for what you are planning to use the knife. Otherwise, you might not get the intended results. For instance, if you need a knife for butchery works at your household, you must go with a knife such as Yo-deba.
Handle
One thing you must keep in mind is that Japanese knives are renowned for their sharp blades and not ideal for the clumsy type of users. It doesn't matter whether you are an expert; the feel of the knife in the hands must be comfortable for both protection and handling. Choose one that is not too big or not too small.
Budget
Obviously, the price is another factor you have to consider. As mentioned in the steel section, most of the time, the blade's steel determines the cost of the knife. If you are going to buy a new Japanese knife, you got to know that prices in Japan are significantly low in most cases.
10 best Japanese Knives
Alright, so you are in search of the best quality knives, and Japanese are the ones you prefer. Here is our list of 10 best Japanese chef knives.
Shun Cutlery Premier 8″ Chef's Knife

It's no secret that Shun Cutlery knives are regarded as one of the best knives in the world and one of the best Asian kitchen knives you can ever find in the market.
In Japanese, the word "Shun" describes the top and perfect local foods, and this premier knife is well known for its astonishing look and high standard of performance. This magnificently handcrafted knife is considered as a user-friendly product for from chefs to husbands.
If you are an existing user of the Shun Cutlery Premier 8″ Chef's Knife, you probably know how it's going through the fruits, vegetables, and meats and the joy it brings to your soul. 
Features of the Knife
8-inch Chef's knife
Lightweight
Razor-sharp edge of the blade
Walnut-colored Pakka wood handle
Weight: 7.7 ounces
Hand-sharpened 16° double-bevel blade
VG-MAX cutting core
34 layers of Damascus cladding on each side
Positive
This premier knife is extremely light weighted (7.7 ounces) and agile
Pakka Wood handle blends a sense of comfortableness to the hand, and you don't have to be an expert to handle the knife
Handcrafted 16-degree double bevel and VG-Max cutting core mean easy to maneuver on even the ripped fruits, vegetables, and meat
Negatives
Shun Cutlery knives require regular maintenances
Relatively high in price
Some claim the handle is too small for handling (very few!)
Shun Classic 8″ Chef's Knife

A must in every kitchen and Shun Classic 8″ Chef's Knife is one of the best Japanese kitchen knives. These classic knives are the first of its kind made available, particularly in North America, and carry a traditional Japanese look with it.
This product can be named a versatile and multi-purpose knife made from utilizing the modern and high standard of materials. Like the premier sort, these are also magnificent in look and handcrafted with hard to resist utter elegance.
For proper cutting, it is advisable to move the knife forward and down in a "locomotive" method until you get used to the knife. 
Features of the Knife
8-inch Chef's Knife
Blade material: Carbon
VG-MAX cutting core
Ebony-colored Pakka wood handle
Lightweight
Weight: 7.1 ounces
Double Bevel (16 Degree each side)
34 layers of Damascus cladding on each side
Positive
The Shun Classic weighs only 7.3 ounces
Extra Tungsten included VG-Max formula steel guarantees the longevity and strength of the knife
Smooth and precise cuts, chops, chips, and slices through all sorts of food ingredients
The resin-infused Pakkawood handle is water-resistant and brings an eye-catching finish to the knife
VG-Max cutting core and 16-degree double-beveled blade are helpful to keep the exact taste of the recipes
Negatives
Technically the knife is made for the right-handers, so handling can be not so easy for the left-handers
Zelite Infinity Chef Knife 8 Inch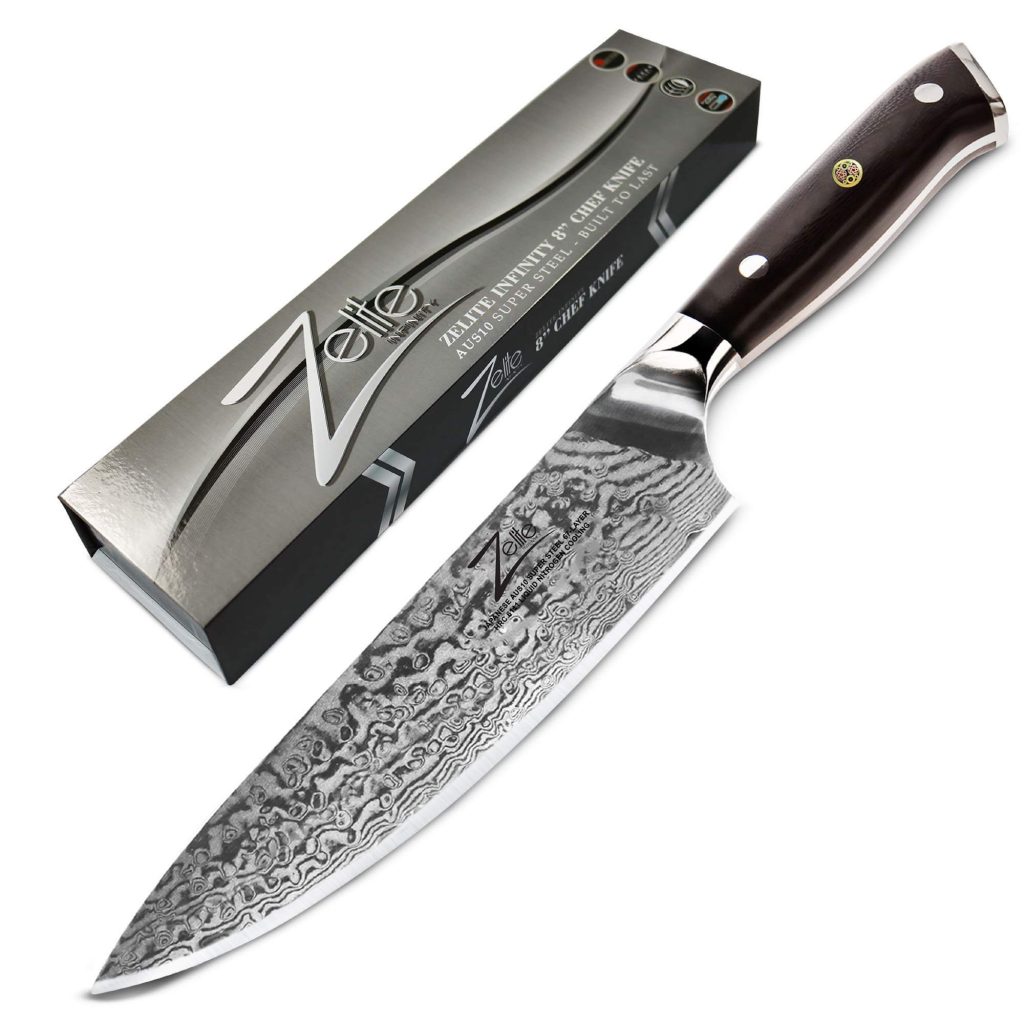 We argue this is the best Damascus chef knife in the market, due to various reasons. Some say this knife more inherited to the west, but you better understand the Zelite infinity Chef Knife is built from Japanese VG-10 super steels.
The curvy handle will ease the pressure on the wrist and so that you can comfortably chip, chop, and cut the foods. The unique Japanese traditional look is preserved in the product, and we will guarantee you will get an unforgettable experience when unboxing the knife. 
Features of the Knife
8-inch Chef's Knife
The military-grade G10 handle
67 layer high Damascus carbon Japanese AUS-10 stainless steel
Finished using the traditional 3-step Honbazuke Method
Weight: 9.9 ounces
2.2 mm Thick Blade
Rounded edges
Positive
High-carbon 67 layer/ Stainless steel (AUS-10) and G-10 Military-grade steel
100% handcrafted and double-beveled edge brings you butter slicing feeling when you cut through meat or steak
Astonishing Damascus pattern and 2.4mm thick blade
Prevent stains, corrosion, and discoloration
12-degree blade and finished utilizing traditional Honbazuke method (3step method)
Unbelievable handling and balance
Negatives
If you want a Japanese made knife, you must know that Zelite Infinity Chef Knife is made in China, though the materials are directly imported from Japan
Zelite Infinity Santoku Knife 7 Inch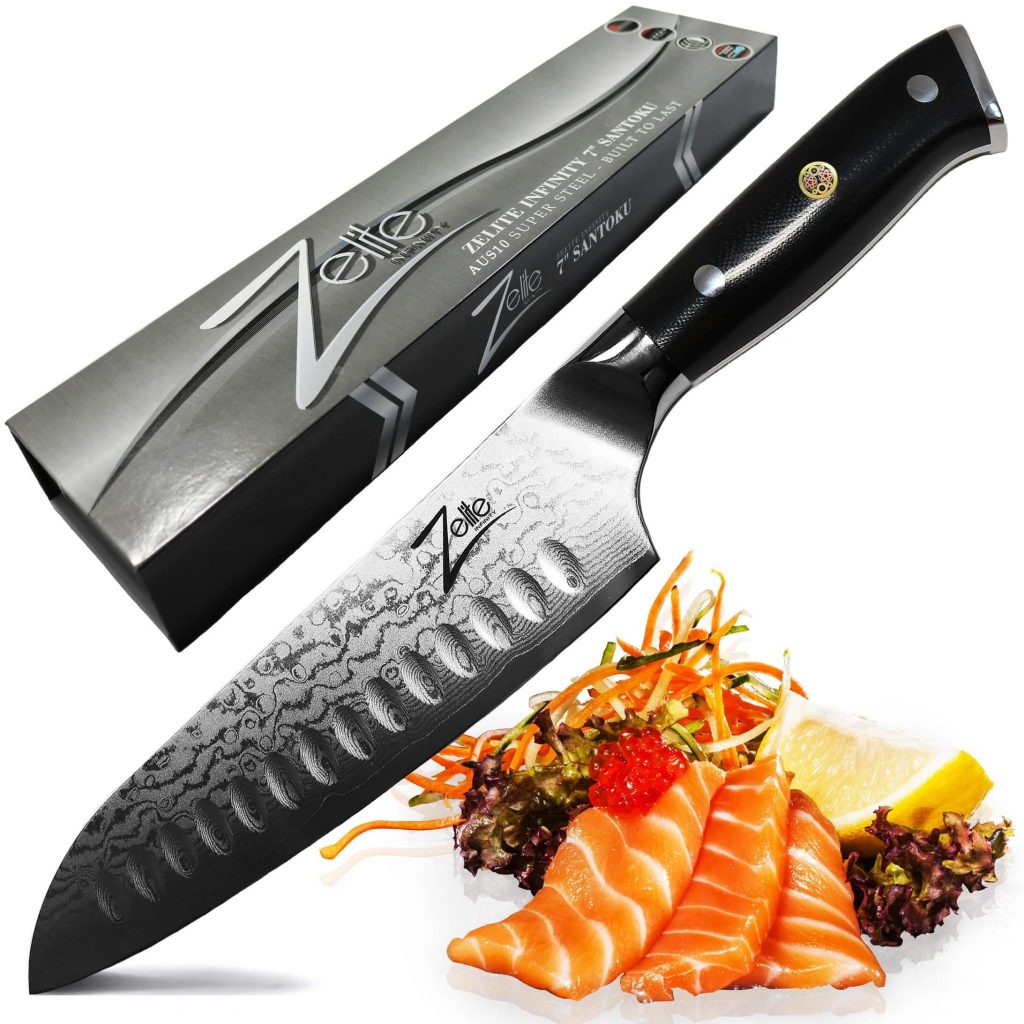 Zelite is one of the famous brands among the best Japanese knives lovers. If you are a lover of Santoku knives, then you should try the Zelite Infinity knife to realize the new standard it has set to the type.
It is made to add a distinguished and modern appearance to the whole kitchen with its supreme outlook as one of the best household kitchen knives. The knife's grip brings exceptional feel on the hand as it is reverted to the blade, which helps the strength and durability of the knife too. 
Features of the Knife
7-inch Chef's Knife
67 layer high Damascus carbon Japanese AUS-10 stainless steel
G10 Handle Triple Riveted
2.4 mm Blade thickness
Weight: 9.9 ounces
Rounded edges
Positive
High carbon 67-layered stainless steel with AUS-10 super steel keeps the blade away from stains, rust, and corrosion
Superlative Damascus pattern ensures the longevity of the knife with the help of tempered liquid Nitrogen
Ergonomic curvy handles are pivotal in comfortable handling the product and smooth cuts on top of the additional security it provides
Blade thickness is 2.4mm's, and weight is 9.4 Ounces
Précised and delicate cuts on any type of food ingredients, including meat for grilling, steak, vegetable
Most of the Zelite products award you with lifetime warranties, so there is no risk involved
Negatives
As mentioned in the above 8 Inch knife, this is a Chinese product though it has similarities with best Japanese chef knives
Shun Cutlery Classic 6.5″ Nakiri Knife
This is another remarkable Shun Cutlery Japanese chef knife in the Nakiri family. As you know, Nakiri knives are specifically made to cut vegetables and fruits like papaya & mango, and Shun came up with the best 6 Inch chef knife you can ever dream of.
This handcrafted Japanese knife has a 15 degree double bevel blade, and exquisite black D-shaped Pakkawood handles to satisfy your eyes and your culinary needs. If you are going around the market for a traditional Japanese vegetable cutting (Nakiri) knife, this is our recommendation.
Shun Cutlery is a trusted product for restaurant chefs as well as the home cooks for many years purely because of the efficiency and the comfortable feel on hands. 
Features of the Knife
6.5-inch Chef's Knife
VG-MAX cutting core
34 layers of Damascus cladding on each side
Weight: 7.5 ounces
Ebony Pakka Wood handle
VG-10 cutting core
Asian Cutlery blade edge
Positive
6.5 Inches blade produced from customary Shun material of VG-Max steel, also well equipped with Damascus stainless steel
Shun Cutlery Classic 6.5" is handcrafted to provide you with the feel of a traditional Japanese Nakiri knife and comfort
Clean and precise cuts allow you to try with any vegetable cuisine, and handling doesn't require an expert
Best Nakiri knife in the market
Negatives
This is not ideal for dishwashers as handling must be done with complete care, and we do not suggest you use this as a gift item for your loved ones, especially for the clumsy ones
Shun Classic 7″ Hollow-Ground Santoku All-Purpose Kitchen Knife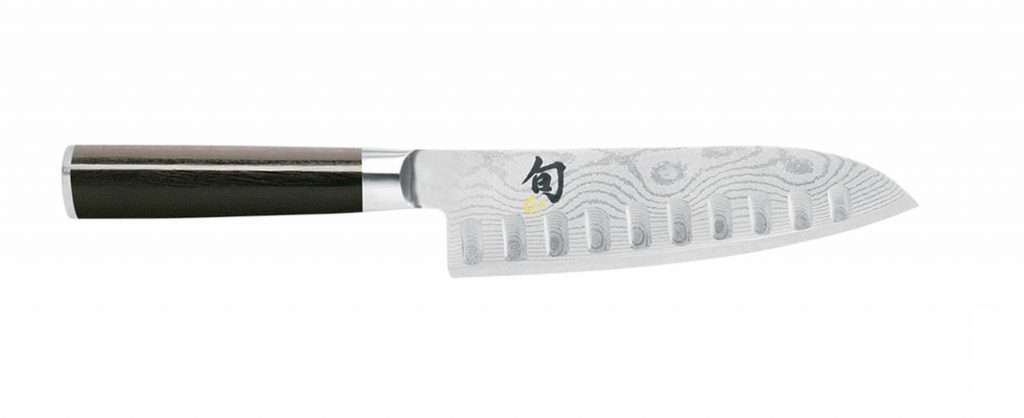 This multi-purpose knife will do all the kitchen cut needs of you with supreme ease. The Japanese word Santoku elaborates "three virtues," It can be related to chopping herbs like coriander, parsley, marjoram etc. , slicing meat, and dicing.
Once, this particular Shun Classic knife was recognized as the "Kitchen knife of the year" by the famous Blade Magazine. The award itself tells how much capable the knife is and a valid reason for you to pick the knife among the other brands.
Moreover, it is another proud product of Shun, which has a history of 90 years in producing magnificent Japanese knife sets. 
Features of the Knife
7-inch Chef's Knife
Weight: 11 ounces
34 layers of Damascus cladding on each side
Wide blade measuring 7-inches in length
VG-Max Cutting Core
Double Bevel (16 Degree each side)
Traditional blade shape
Positive
Light-weighted knife (7.40 Ounces) and 15.5 inches in length
Made from Shun's unique VG-Max stainless steel and includes extra Tungsten, Carbon, Cobalt, and Chromium for solid strength and enhanced durability
With its fine Damascus blade, cooking becomes so enjoyable, and you don't have to be an expert to cut precise pieces from the knife
Pakkawood handle brings comfort and balance to the blade's maneuvering, and it prevents water from absorbing into the handle
Negatives
The only disadvantage we can say is that high maintenance it requires after the usage
Zelite Infinity Chef Knife 10 Inch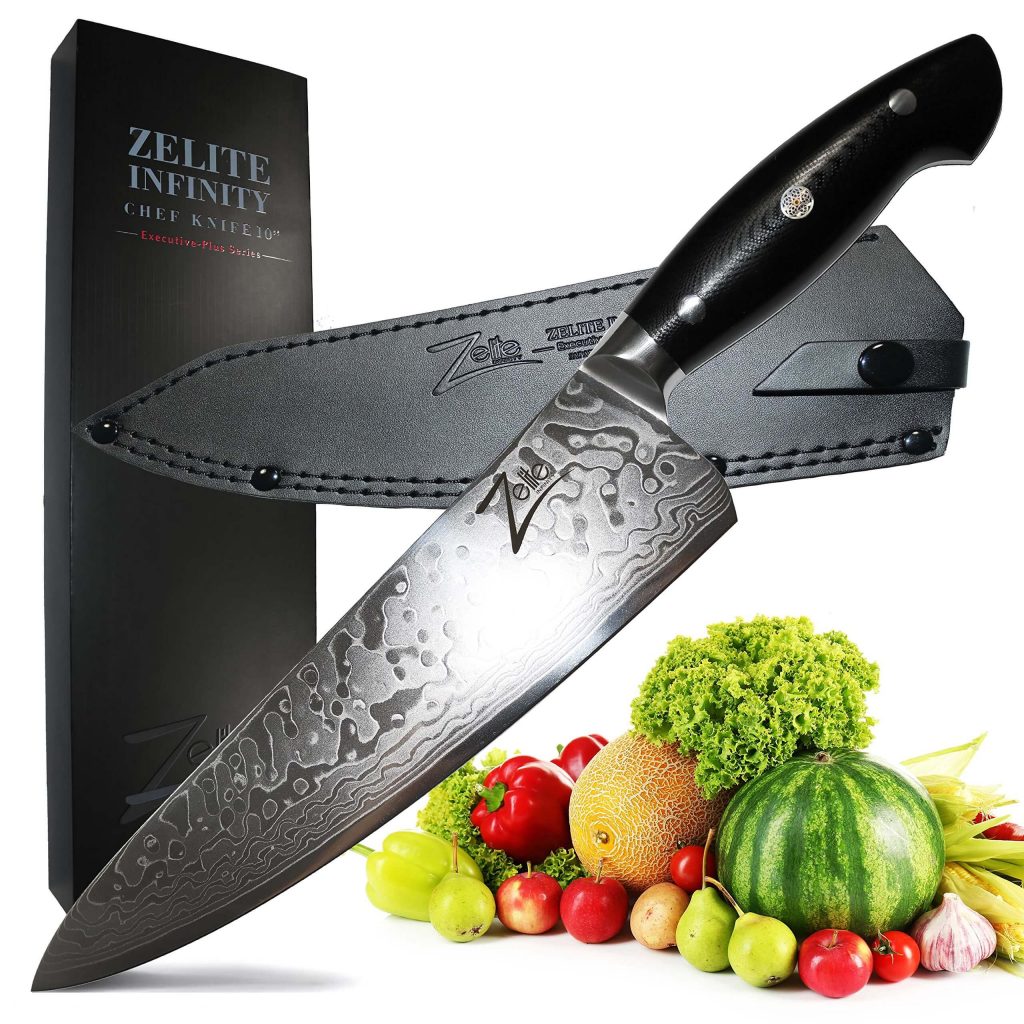 Zelite always provides its customers with great products from super quality materials, and the same can be said on this product too. 
Typically, the Japanese cooking knives are less in weight, but the Zelite's products tend to feel well balanced on the hand but not bulkier like Western products. When it comes to Zelite Infinity 10 Inch Chef Knife, this one also made from AUS-10 super steel with 45 layers High-Carbon Damascus stainless steel.
The innovative curvy looking handle and the blade's imperious look bring executive feel into your kitchen and for you.
Features of the Knife
7-inch Chef's Knife
45-layer High Carbon Stainless Steel blade
Japanese AUS-10 Super Steel
60mm Deep Blade
Weight: 1.94 pounds
2.4mm thickness
Black Forged G10 Handle Shape
Positive
60mm deep blades ensure your knuckles are away from the sharp edge so you can experiment with different shapes of cuts and slices easily with the knife
Sturdy and executive looking leather sheath
The liquid Nitrogen tampering means that blade is capable enough to protect itself from rust and stain quite easily without much upkeep
Hand-crafted with customary 3-step Honbazuke method so that blade can effortlessly cut any food ingredient
VG-Max cutting core and 16-degree double-beveled blade are helpful to keep the exact taste of the recipes
Negatives
Wee bit heavy in weight for some users
Don't get disappointed
it's from China, not Japan folks
Some claim the blade is not robust and prone to break while cutting solid foods!
Miyabi 34373-203 Chef's Knife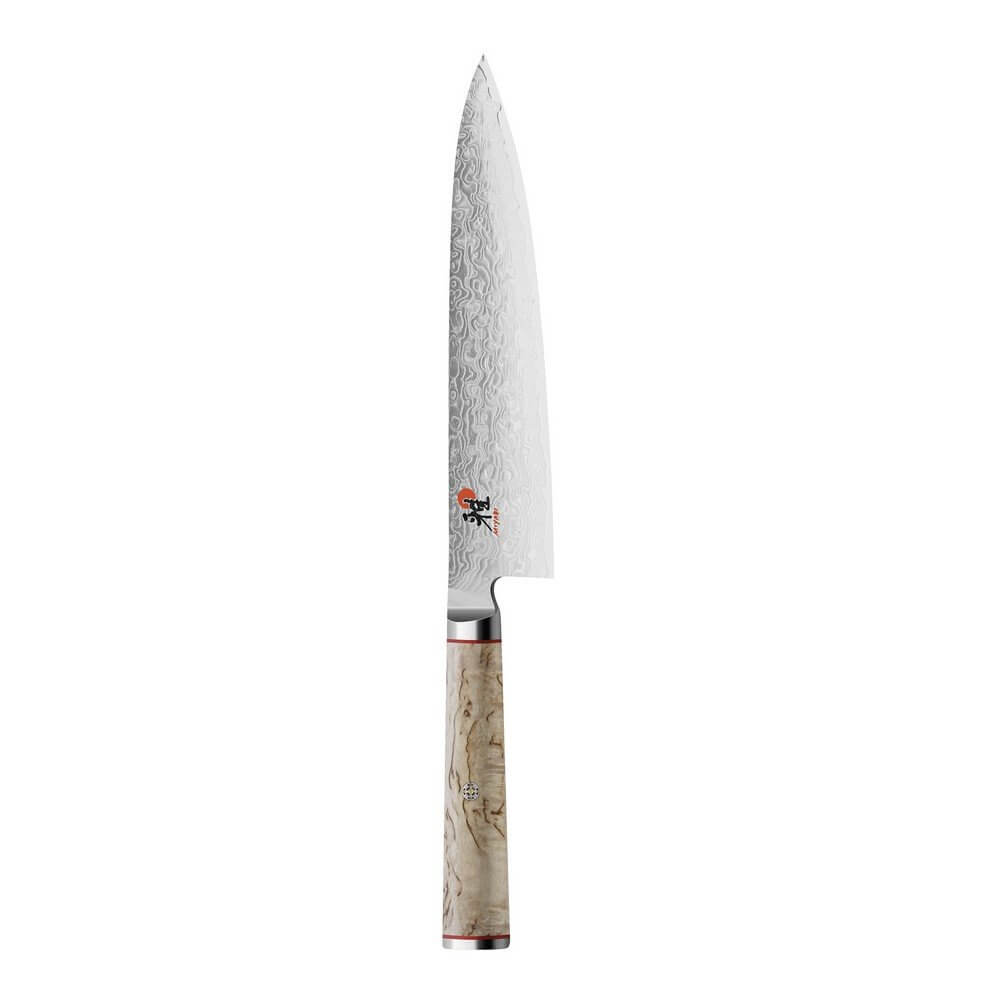 Miyabi knives are renowned for its elegance and beauty, and if you are new to the brand, it will be hard to resist because of the captivating look.
The sharp cutting edge helps and working well on any type of food and is an extremely light weighted knife. This Japanese chef knife is sharpened from the famous traditional Honbazuke method expanding from 9.5 to 12-degree angle on each side.
Miyabi 34373-203 Chef's Knife is regarded as one of the best if not the best Sushi knife, and it is designed to balance well in hand to try out your intended cuts with a considerable amount of ease. 
Features of the Knife
8-inch Chef's Knife
Damascus pattern added durability
G2 micro carbide powder steel
Hand honed
Handle length:5.39 inch
Blade material: Alloy Steel
Positive
D-shape looking handle can minimize the pressure on the wrist
A Multi-purpose chef's knife you can use for cutting, slicing, chopping, and dicing
Handcrafted product using traditional Honbazuke method and a Japanese product
Negatives
It requires extra attention on the knife
if you let moisture on the blade, rust and corrosion are inevitable
Not ideal for solid or frozen foods
Yoshihiro VGYA270SH Hongasumi VG-10 Stainless Steel Yanagi Sushi Sashimi Japanese Knife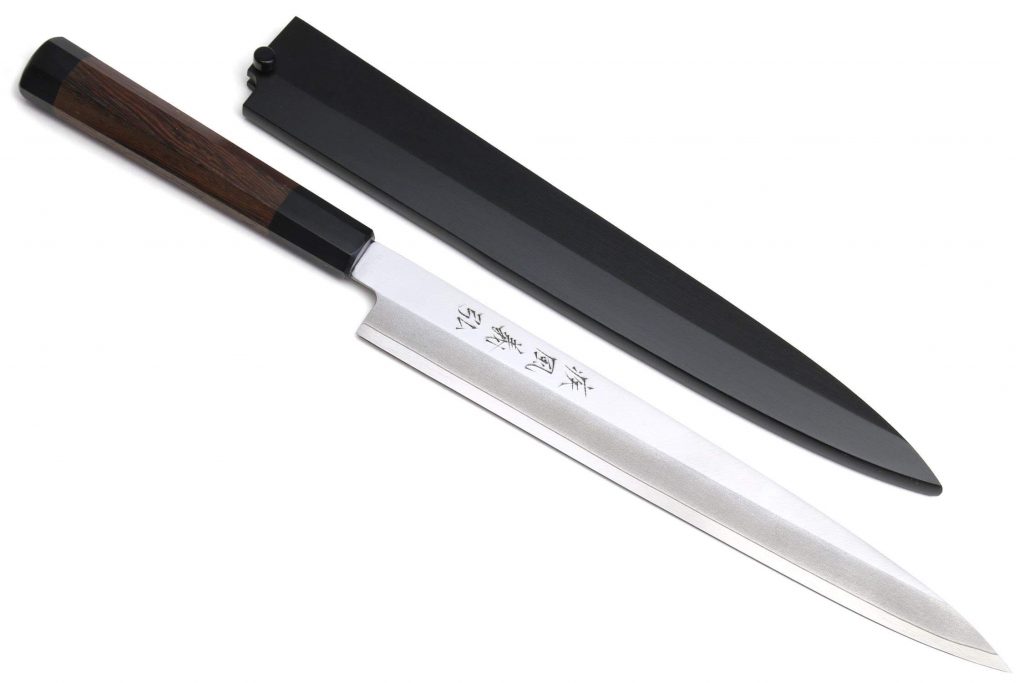 This long knife is explicitly made for Sushi, slice fish, and Sashimi and one of the most famous and most used traditional Japanese knives.
This mini sword looking knife is handcrafted using traditional Wa-Style, and the octagonal and Rosewood handle ensures a firm grip on the hands. The exceptional sharp blade is made from Hongasumi high-carbon stainless steel material, and the durability of the product is guaranteed.
Though the knife is relatively long compared to the other knives mentioned in the list, this Yanagi knife is considered a light-weighted product that can handle without much of a problem.
Features of the Knife
Rosewood Handle
Weight: 5.9 ounces
Made with VG Stainless steel
10.5 inch (270mm) single-edged blade
Double Ebony Bolster
100% handcrafted in Japan
3mm Spine Thickness at Heel
Positive
The long shape means continuous strokes so that the cuts' appearances can be kept in an identical way
It is completely flat on one side, so it can be easy to keep in kitchen trays while in use
A delightful looking wooden sheath (Saya) available to protect the knife from outside factors, and it is essential in keeping a distinguished outlook of the knife
Negatives
Due to the knife's long shape, some find the light-weighted nature is a barrier for a smooth cut
TUO Cutlery Cleaver Knife – Japanese AUS-10 Damascus steel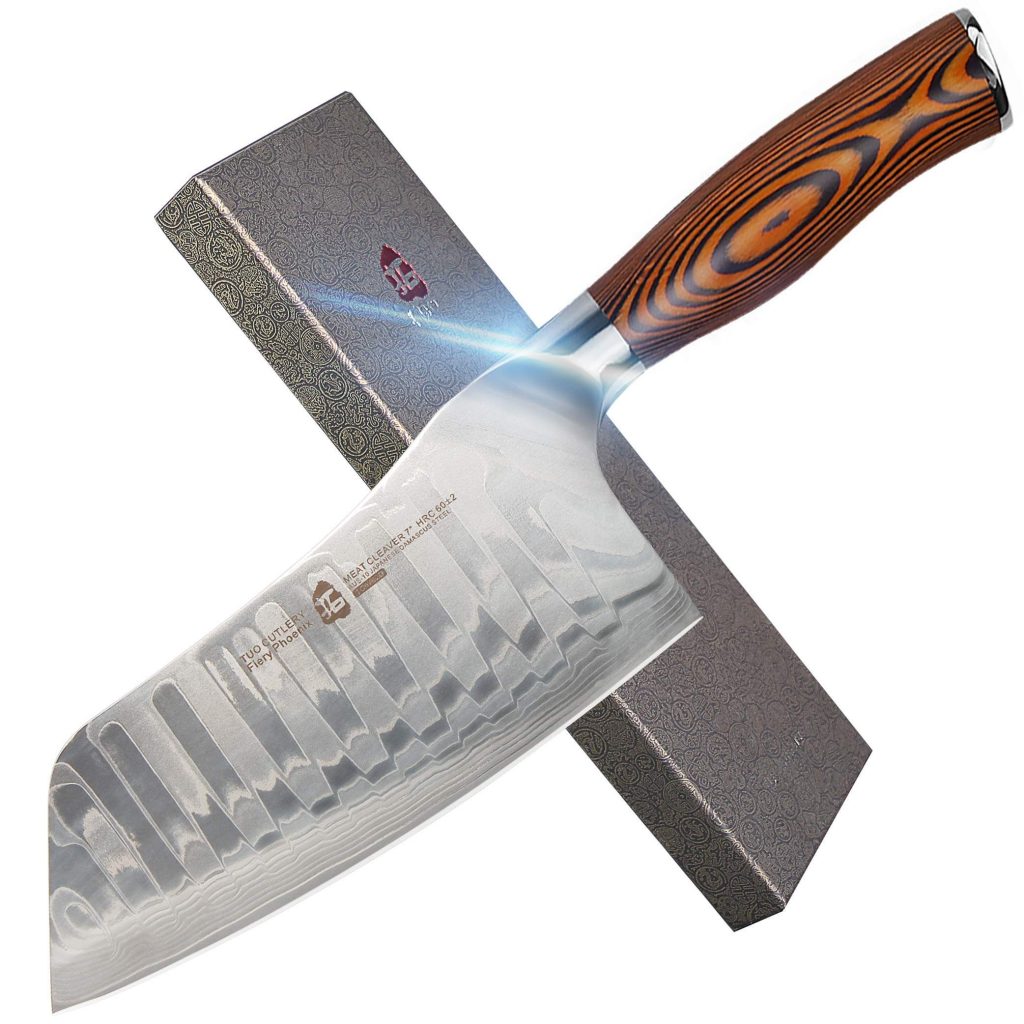 The TUO knives have relatively thinner edges than other brands mentioned in the list, and this design is helping chefs around the world to handle the knife nimbly on the foods.
This one comes from the fiery phoenix series of TUO kitchen knives, which they claim (TUO) people wanted their knives to be different and beautiful than the traditional Japanese knives.
Tuo Cutlery Cleaver knife is produced from Japanese AUS-10 high carbon Damascus steel and enriched with 66 layers to add extra durability to the product. 
Features of the Knife
7-inch Chef's Knife
Ergonomic Pakka Wood Handle
Japanese AUS-10 Damascus steel
Blade sandwiched with 66 layers of softer steel
Hand sharpened using 3-step Honbazuke method
Weight: 1.16 pounds
Nitrogen Tempered & Heat Treated
Positive
Gentle curvy shape and Pakkawood ergonomic handle will help you maneuver easily on the fruits, vegetables, or meat with no pressure on hand or wrist
The multi-purpose Cleaver helps all of the cutting functions, and you can cut most of the hard foods without any hassle by putting additional pressure with the non-working hand
The versatility of the Cleaver can be utilized at restaurants as well as the households
Negatives
There are instances of cracked and broken handles experienced by the users
Difference between Japanese and German knives?
In our view, typically, the best Japanese knives are handcrafted while German knives are machine finished. Further, traditional Japanese blades are designed to cut food items precisely and clean, but the Germans expect rocking cuts from their blades. All and all, Japanese knives hold slightly upper hand over German brands. But it is always up to you to decide what you want to buy.
Are Japanese knives suitable for home use?
See, we would say it is suitable for home needs too and why not? People all over the world use Japanese cutlery with a significant amount of efficiency. The Santoku knives are famous among the house chefs, having said that, the handling must be done with absolute care as all of these Japanese products are sharp enough to damage you in a jiffy.
What kind of Best Japanese Knives do chefs use?
It's not a secret that Gyuto knife is the most used type among the chefs, but it's not the only sort they prefer. These chefs do use Santoku, Hankotsu, Nakiri, and many more kinds. Overall it's better to keep in mind that Japanese knives are more in use among the professional chefs as they have vast experience handling these kinds of stuff, but it does not suggest that you can't try one even if you are a rookie.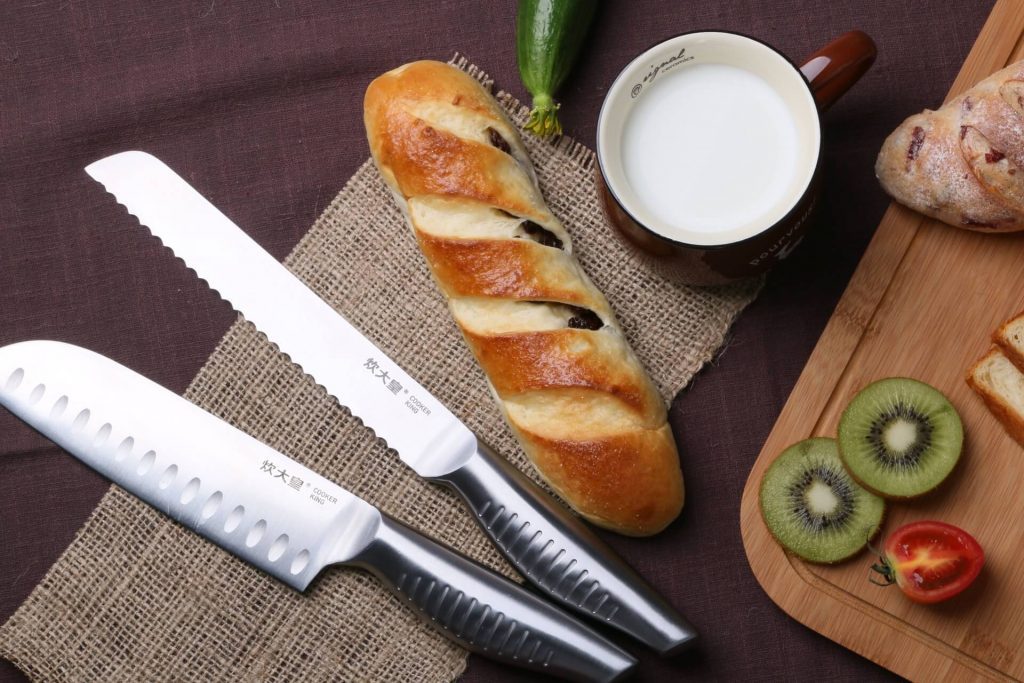 How to sharpen a knife?
This question might have different methods and answers, use of electric sharpener is the one of easiest sharpening method but we will tell you the process of sharpening a knife using a whetstone.
Step-1
Get/buy a Whetstone.
Step-2
Clean the knife – remove all the dirt on the surface of the blade carefully. 
Step-3
Lubricate the Whetstone from water, oil, or mineral oil.
Step-4
Start sharpening – create a 30-degree angle with the Whetstone and apply pressure to the blade by using semi-circle rounds/motions. 
Step-5
Monitor the progress – Use your thumb carefully on the edges and feel is there any more rough areas left in the edge. The dull edges tend to shine more, and when it gets sharper, the shiny look disappears gradually.
Step-6
Do the same on the opposite side.
Step-7
Check the progression by using thumb and cross-check it by using the paper cut test. 
Wrapping up..
The Japanese knives and cutlery are particularly famous among the chefs worldwide. And more and more home chefs are also searching online shops for this magnificent handcrafted Japanese product. If you came to this part of the article, we are confident that you have the knowledge to choose the best Japanese knives and to use them in day to day life. Cheers! Have a good day!