Best Latte machine produce the best Lattes! It's no joke to make perfect Latte all the time. So What is Latte? In the simplest of forms, it's a delicious type of coffee produced with Espresso and hot/warm steamed milk. By reading out the definition we provided, you could feel that the process might not be as straightforward as one would think. Yes, it is valid to a certain extent, and that is the exact reason why we are writing this article to reveal the 10 best Latte machines. For now, grab whatever the coffee you have and read the article. You can make your mouthwatering Latte just after you read this piece.
How to Choose Latte Machine?
There are lots of famous brands manufacturing various kinds of latte machines, simply you should check the different kinds of features, capacity, qualities and the technology that they are using to give you a perfect latte. This complete guide on selecting a best Latte Machine for beginners covers the most essential factors you should get to know before choosing a latter machine for a home.
Difference between Latte and Cappuccino
Before we dig in, let's see the difference between Latte and Cappuccino. Cappuccinos have an even arrangement of Espresso, steamed and foamed milk. In Lattes, you can see there are way more steamed milk and a thin or light layer of foam. Moreover, Cappuccino is sharply layered while Latte is blended with Espresso and steamed milk.
Types of Latte Machines
Before we learn about the top 10 best Latte machines, let's see the types of Latte machines we can find in the market. Knowing everything about these machines will benefit you when choosing your desired product because each type has pros and cons. Let's dive in.
Semi-Automatic and Automatic
These two types are designed and ideal to cater to newbies who prepare their daily cup of coffee. So this is the best Latte machine for beginners. From the two sorts, semi-automatic machines provide you the control over flavor extraction. Pre-programmed machines (Automatic) sometimes tend to dilute the flavor with over-extraction. With the semi-automatic machines, you can turn off the pump when you want to get the optimum extraction and best taste.
Read more about automatic espresso machine.
Super Automatic
These types are providing more convenience than above mentioned two sorts, and you are just one button click away from obtaining the cup you wish. But, the flavor of Espresso can get a bit dull with the super-automatic machines as same as automatic machines. These machines are ideal for the ones who are not confident of espresso brewing. If you value your time more than anything in the world, close your eyes and pick this sort.
Coffee Pods
Coffee pods require coffee capsules or pods with pre-grind coffee and capable enough to brew a delicious coffee cup in a unique method. For this you can search best coffees for brews. Moreover, these are the brand new sort you can see in the market. Don't assume that the additional requirement of the coffee capsule will hamper your budget because these capsules are way cheap than you think.
Overall, these machines are less expensive, and you will be amazed by its hassle-free functions. When it comes to flavor, the same taste levels might not present like in semi and automatic machines but capable enough to brew a decent coffee cup with less knowledge on the process.
Espresso Machines or Latte Machines?
This question might sound silly or nonsense for you. As you know now, Latte is a drink made with Espresso and steamed milk; so our recommendation is to buy a home espresso machine with a built-in milk frother. Further, the difference between the two machines is price and convenience. So it's your choice as we can't force you on either of the factors.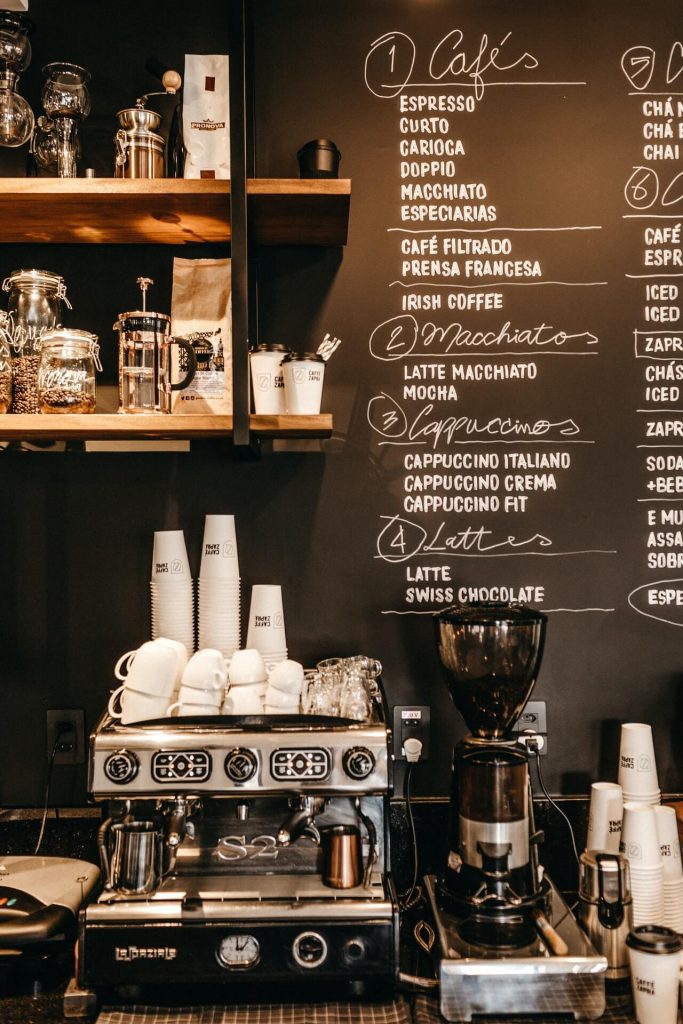 What Factors to Consider when Buying an Best Latte Machine?
Don't you feel tired of running to coffee shops every time you wish for a Latte? Let's buy a machine. Choosing the best Latte machine or best Latte maker must be a walk in the park once you complete reading the following factors. 
Budget
The price range usually starts from 100 bucks and can go up to four figures. The price dictates the machine's overall performance, but you have to think about the use you are going to get. But, this doesn't necessarily mean you have to spend 1000 bucks to buy the best home latte machine 2023.
Type
As mentioned earlier, there are three types of machines. Basic home espresso machines with onboard frother would also do the job without much of a problem. Semi-automated machines always give you control over the task. If convenience is your objective, then our recommendation would be for a super-automatic device. But, again, it's your choice.
Grinder
Most of the best espresso machines have built-in grinders, and these grinders play a vital role in making delicious lattes. It's no brainer to explain the importance of perfect ground coffee. Go for a one with less noise and made from ceramic rather than stainless steel. However, the stainless steel ones are the most common sort available in the market. Proper grinding is essential for extract the true quality and grab the health benefits of the coffee.
Size
While you choose best at home latte machines, make sure it won't eat the whole surface of your kitchen. The small-sized machines would do the same job as big fancy machines, so why?
Cleaning
Make sure your machine is easy to clean as some machines tend to take much effort to get cleaned once used. Importantly, you don't want to buy machines three times per year, right? So avoid this mistake. You can learn how to clean your grinder for better quality cleaning.
Top 10 Best Latte Machine Reviews in 2023
Keeping all the above instructions in mind, let's see the best latte machines in 2023? 
Breville the Barista Express Espresso BES870XL Machine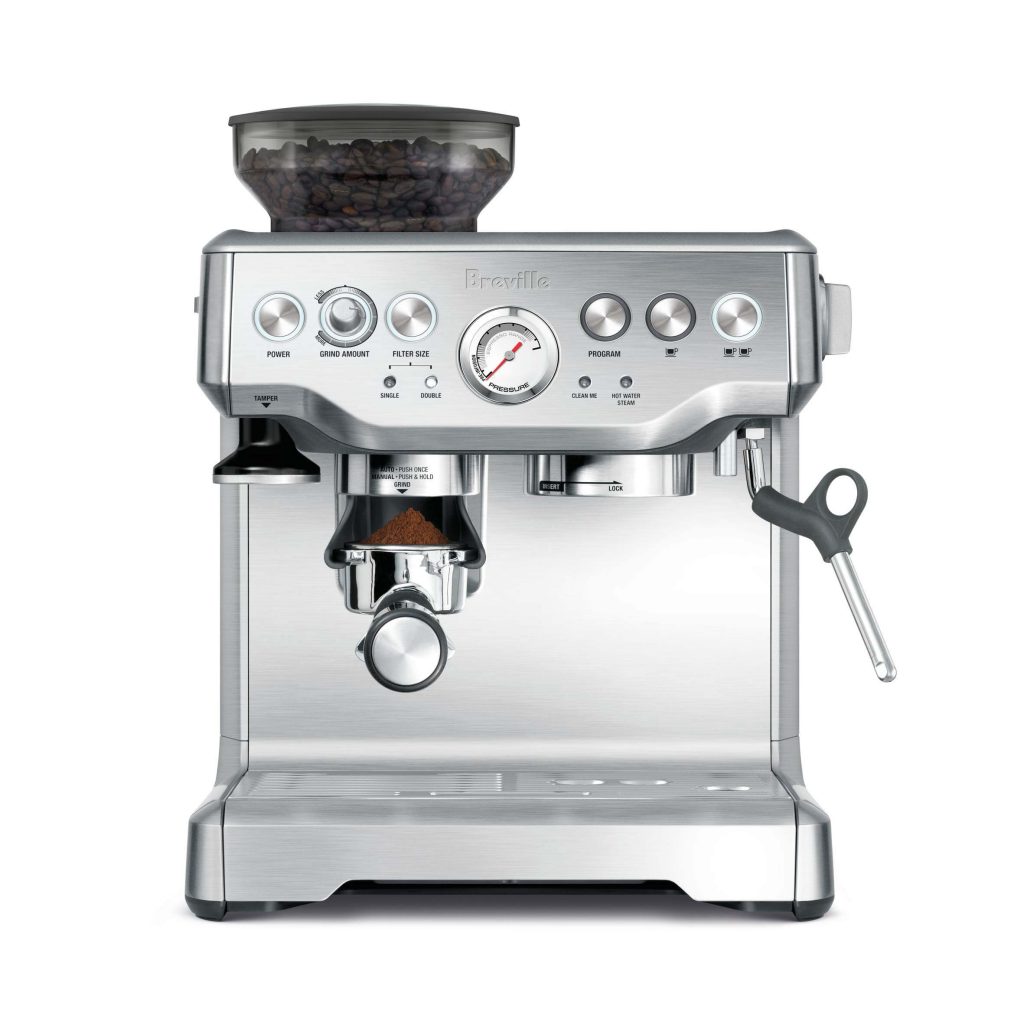 Breville is a famous kitchen appliance producer, and its "Barista Express Espresso Machine, BES870XL" is number one in our list of best latte machines.
The machine can be operated manually or automatically as per your need, and you can grind the coffee beans right before the extraction process. The quality of the brew is guaranteed and easily one of the best automatic latte machines for home use. 
You can grind any roast of coffee beans as your wish using the grind size dial. There is a digital temperature control available in the machine for optimal espresso extraction.
The steam wand performance helps you to hand texture micro-foam milk, which intensifies the flavor, and you will get an expert feel while creating your Latte. The pressure steamed milk produces thousands of tiny milk bubbles giving silky and velvety mouthfeel to your latte.  
Features of the Machine
Grind size dial
Micro-foam milk texturing
Bean hopper
Digital temperature controller
Innovative grinding cradle
Water tank capacity of 67Oz
Positive
Hands-free operation
Precise espresso extraction
Perfectly balanced taste
Manual/automatic selection
Negatives
Durability is questionable
Mr. Coffee Cafe Latte Maker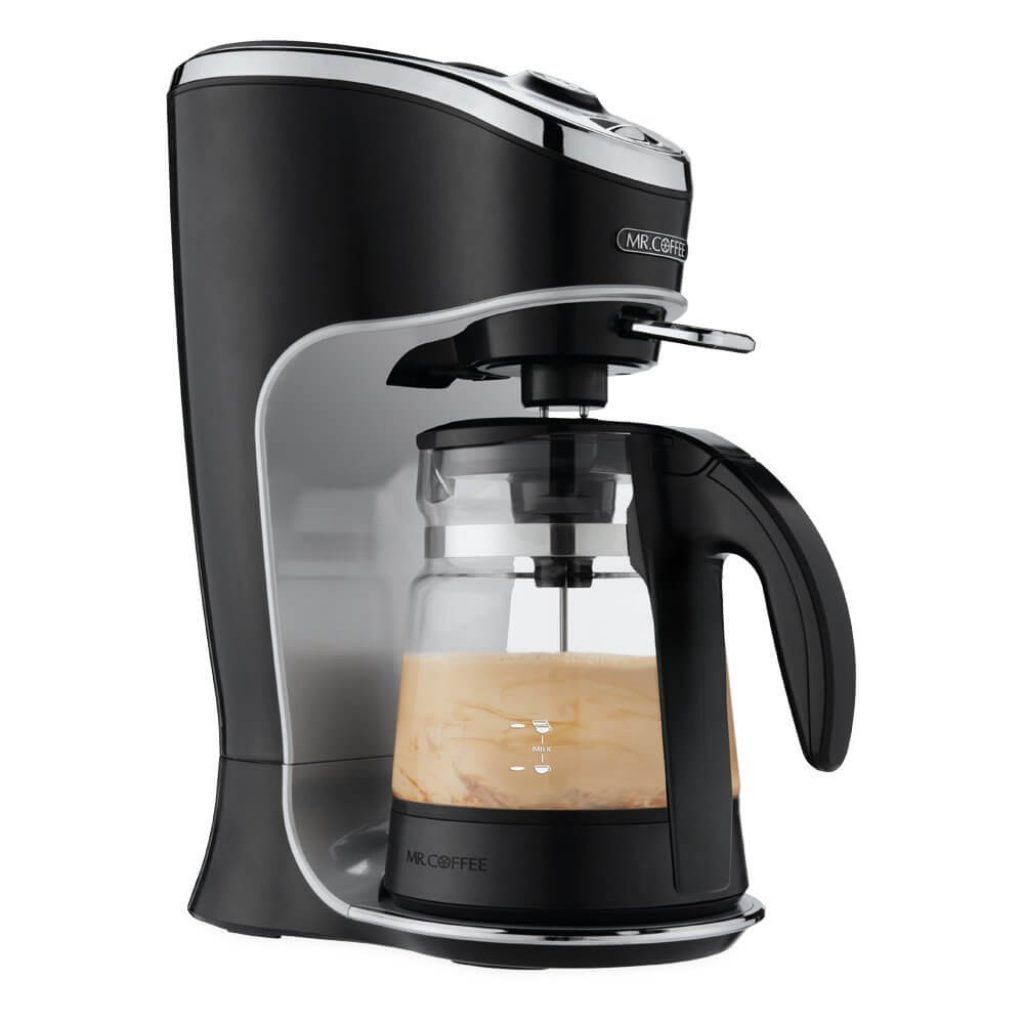 Be your Barista with this magnificent espresso machine. If you are searching for the best machines for lattes at home, this one would fit ideally with your intentions.
You can also amaze your family members to hot chocolate with the best Caffe Latte with Mr. Coffee. Even there is a recipe book available with the product which has 20 mouthwatering recipes you can test with. The machine is capable enough to brew multiple drinks at a time and contains easy to use controls.
Café Latte maker is a fully automatic machine that allows you to have your Latte in just three simple steps. If you are a rookie to the subject, don't worry, buy the Café Latte Maker from Mr.
Coffee and become an expert in a jiffy! The machine's automated process can brew Espresso or coffee with utter ease while heating and frothing milk for a delicious café type latte.
Features of the Machine
24Oz capacity
Powerful milk frother
Automatic power off
Automatic Latte cycle
Free Recipe book
Stainless steel
Positive
Easy to clean
Easy to use
Ideal for home use
Can serve multiple drinks
Negatives
Carafe tend to crack
Replacement parts are hard to find
Keurig K-Cafe Coffee Maker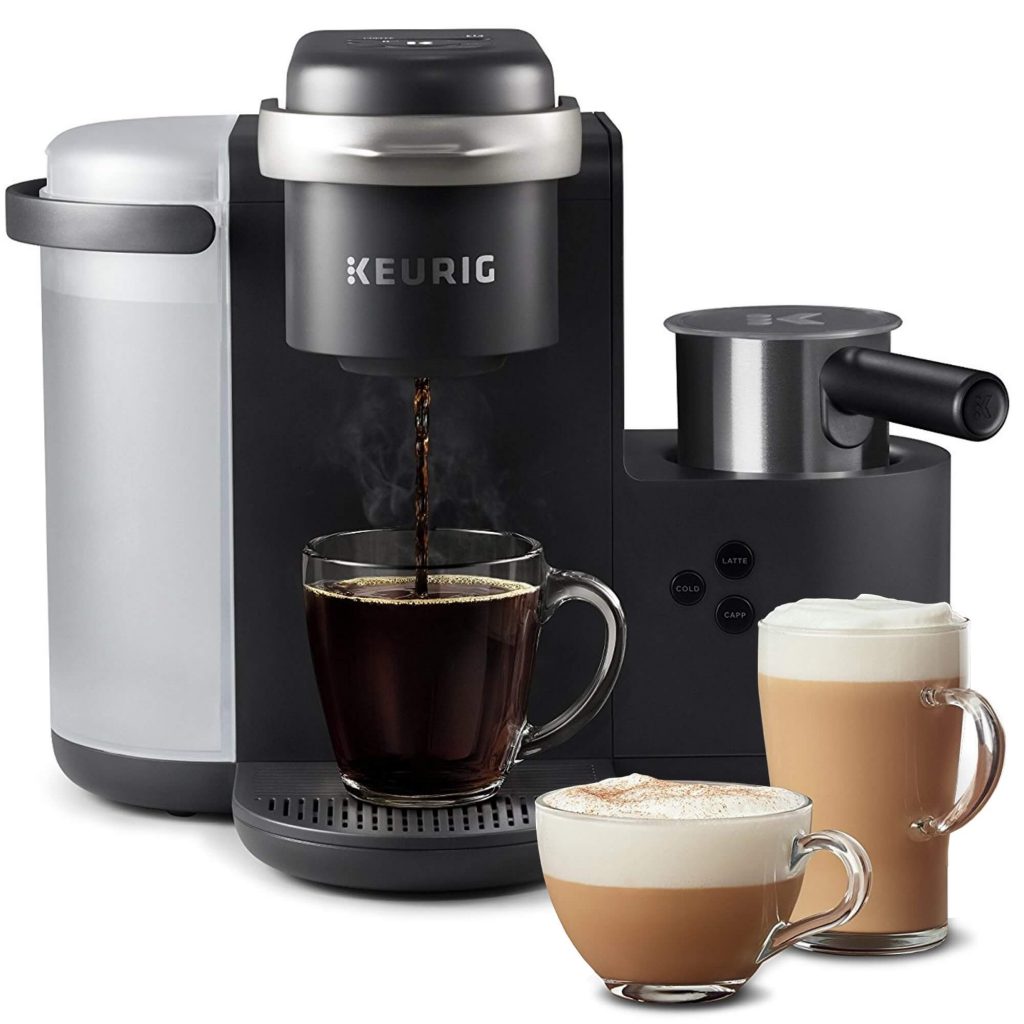 This is a highly versatile coffee machine out there in the market you can try various recipes of Coffees, lattes, and Cappuccinos.
Keurig latte maker is one of the best Latte machines which got user-friendly controls, and you can brew up to 6 cups at a time without much of a fuss. There is a built-in brewer maintenance reminder to alert you to descale the coffee maker ensuring best possible taste for your brew.
Even there is a setting for high altitudes, which is essential for the machine to run correctly at high altitude levels (more than 5000 feet) 
The Keurig K-Cafe Coffee Maker works perfectly with any type of a K-cup pod, which enables you to make the best latte k cups or frothy cappuccinos. 
Features of the Machine
60Oz water reservoir
Programmable auto-off feature
Brewer maintenance reminder
Dishwasher safe milk frother
Smart start feature
Positive
Simple button controls
Can brew up to 6 cups at a time
Compatible with all K-pods
Manual/automatic selection
Negatives
There are complaints about the frother
Electrical faults at times
Mr. Coffee Espresso and Cappuccino Maker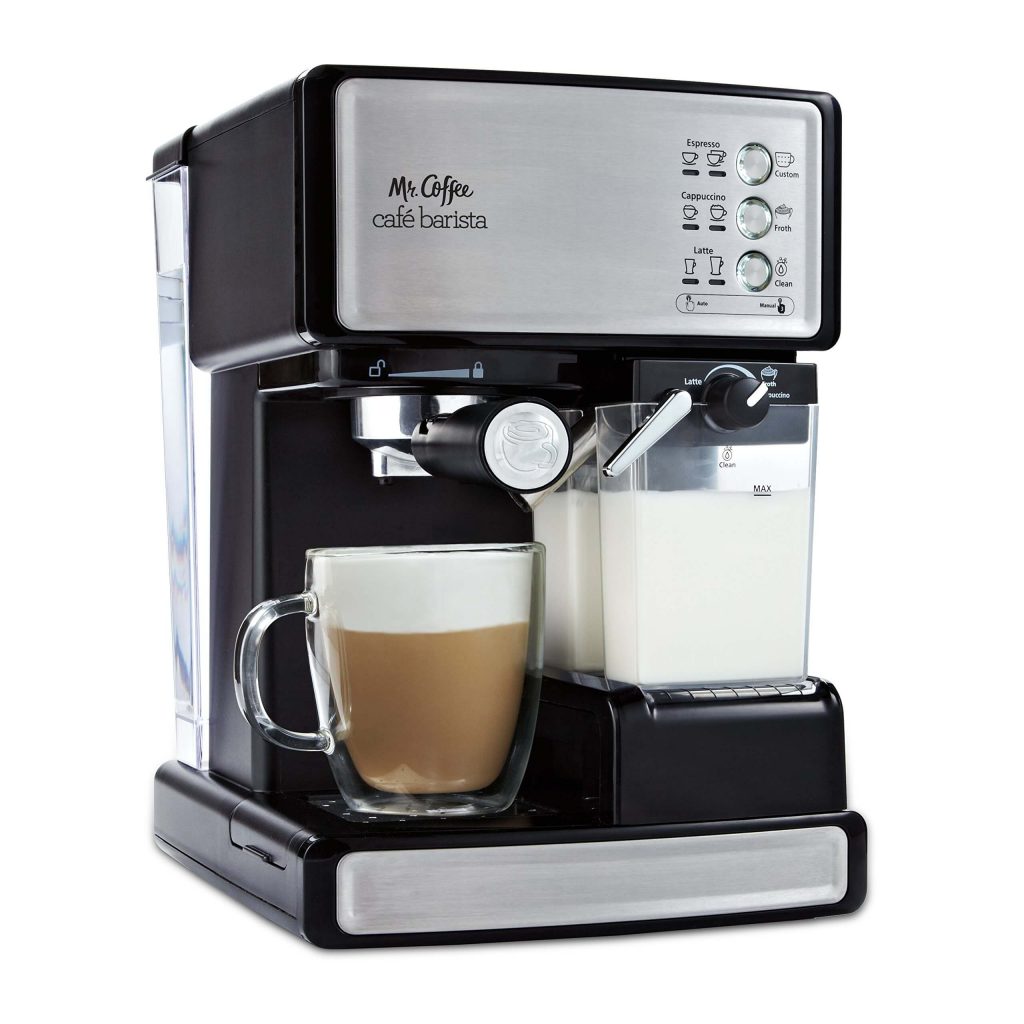 Some say that the best latte machine is semi-automated, and we are with that statement because, as explained earlier, these machines give you the much-needed control of the brewing process.
This product from Mr. Coffee is a semi-automated machine that can be labeled as one of the best home latte machines in 2023. 
The 15 bar pump system plays a pivotal role in brewing rich and tasty Espresso, and with the help of trouble-free frother, Café Barista will make your dream Latte quite comfortably.
The user-friendly one-touch control panel is tailor-made for newbies as well as for a perfect brew, and you can remove the milk and water reservoirs easily if needed. As Mr. Coffee says, they only do one thing from 1970, which is brewing coffee! 
Features of the Machine
Semi-automatic three in one Espresso, cappuccino and Latte maker.
Drink selection control panel
Removable water reservoirs
Electric 15 bar pump
A recipe book available with each unit
Positive
Easy to use
Automatically froths milk
One-touch control panel
Easy to clean
Negatives
The design is questionable for the safety
Got complains about durability
Delonghi EC680M Dedica 15-Bar Pump Espresso Machine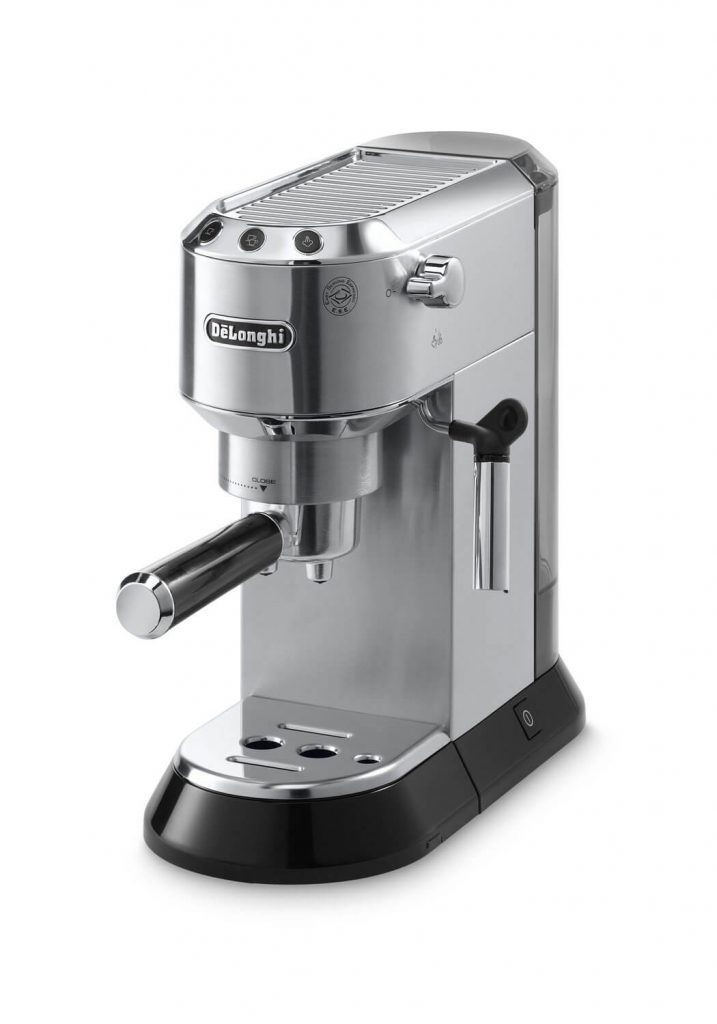 Want to brew like a pro? Then try Delonghi coffee and espresso maker. It doesn't matter what your preference is, be it Espresso, Latte, or Cappuccino; the machine provides you with a delicious output.
This is one of the best all in 1 latte machines we can recommend for you and another best home espresso machine 2023. There is a manual frother to mix the milk and steam to produce vibrant and creamy froth for whatever the drink you prefer.
The space-saving design of the machine will help to fit anywhere you like in your kitchen. Moreover, the unit's bottom tray is adjustable, which means you can have taller cups of drinks without any issues. 
Features of the Machine
Removable water reservoir
Sleek space-saving design
Stainless steel
15 bar pressure
Adjustable control panel
Positive
Easy to use
Manual milk frothing
Eats less chunk of your kitchen space
High-quality output
Negatives
Smoke issues while brewing
Brewing quality might be inconsistent
Ninja Hot and Cold Brewed System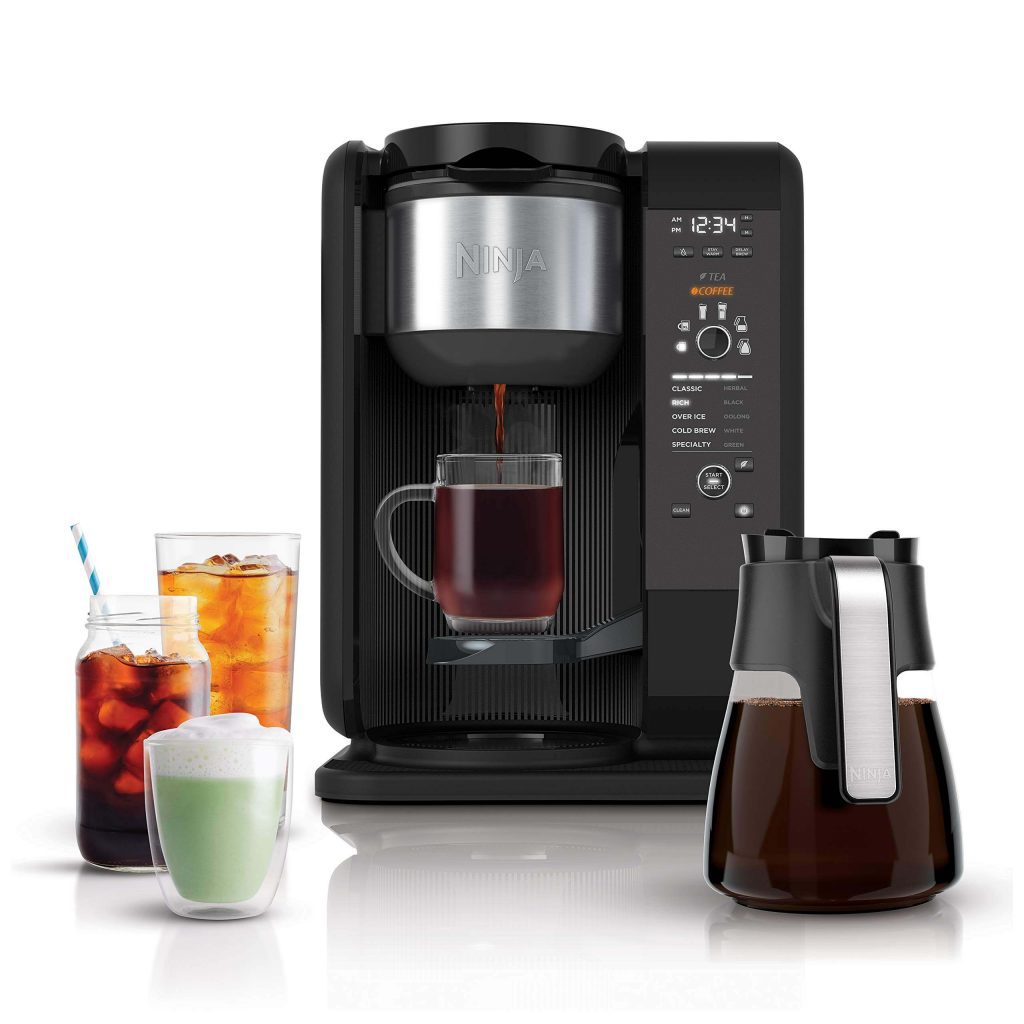 There are multiple reasons to include these products in our top 10 list of best latte machines. Elegance is definitely a one, and this one is ranking high with regards to elegance and beauty.
If you are wandering around the internet searching the best coffee machine for Latte, we urge you to stop and have a look at this product. Further, this product is not limited to coffee brewing as the machine is made to serve you up with various other beverages like tea too.
Read more on how to make tea in a coffee maker for more information.
The integral frother means you can turn hot or cold milk into velvety, silky foam within a few seconds. And all these features are just one button press away!
If you are a newbie, you won't seem like a rookie while brewing from this machine; it's that much simple. As a latter maker Amazon.com, this product has 80% of five-star ratings, says a lot, right?
Features of the Machine
Auto IQ one-touch intelligence technology
Built-in frother
Two specifically designed baskets for tea and coffee
50Oz Glass carafe
Positive
Six brew styles and sizes
No pods required
Ideal for cold brewing
Tea or coffee as your preference
Negatives
Leakages reported from users
Single-cup serving is huge
De'Longhi La Specialista Espresso Machine with Sensor Grinder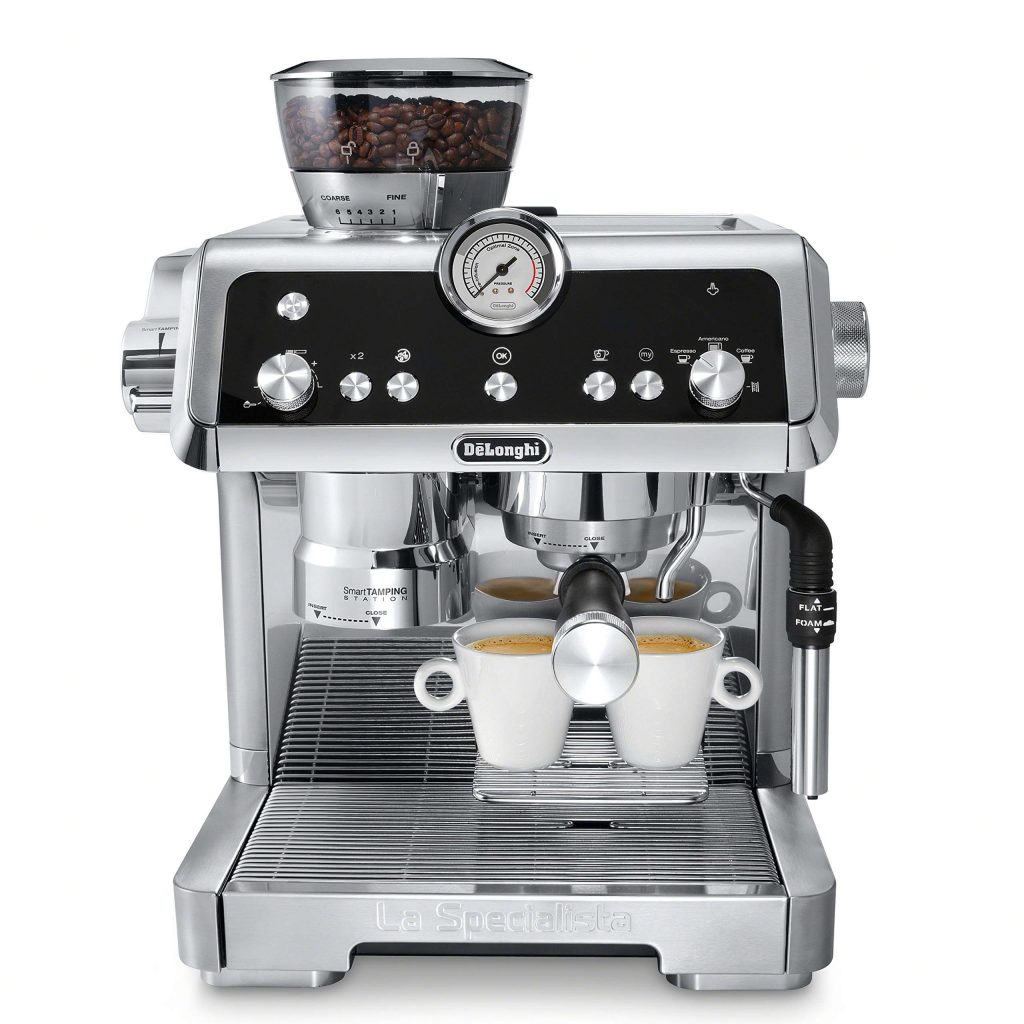 Did you search the best latte machine 2023, and this product not popped up even once? We bet not. It's that much famous monster in the market.
You might argue the price is relatively high, but how about its features and the convenience it provides? This state of art machine has everything you anticipate from a latte machine. The unique sensor grinding technology provides you with a precise and optimum grinding dose for Espresso and obviously for lattes.
Further, we feel so comfortable recommending you De'Longhi La Specialista Espresso Machine as the best cappiciona and latte maker in 2023, and we mean it!
The machine takes only one second to get ready and provide you with grinds, and you are immediately good to go with whatever the brew you intend. 
Features of the Machine
Sensor grinding technology
The smart tamping station
Dual heating system
Advanced latte system
The separate hot water spout
Milk pitcher
Descaling option
Cleaning brush
Positive
Super easy to use
Optimal coffee extraction
Supreme milk texturing
Two-year warranty
Easy selection of froth (microfoam and rich foam)
Negatives
Leaks water sometimes
Relatively expensive
Gaggia Brera Super Automatic Espresso Machine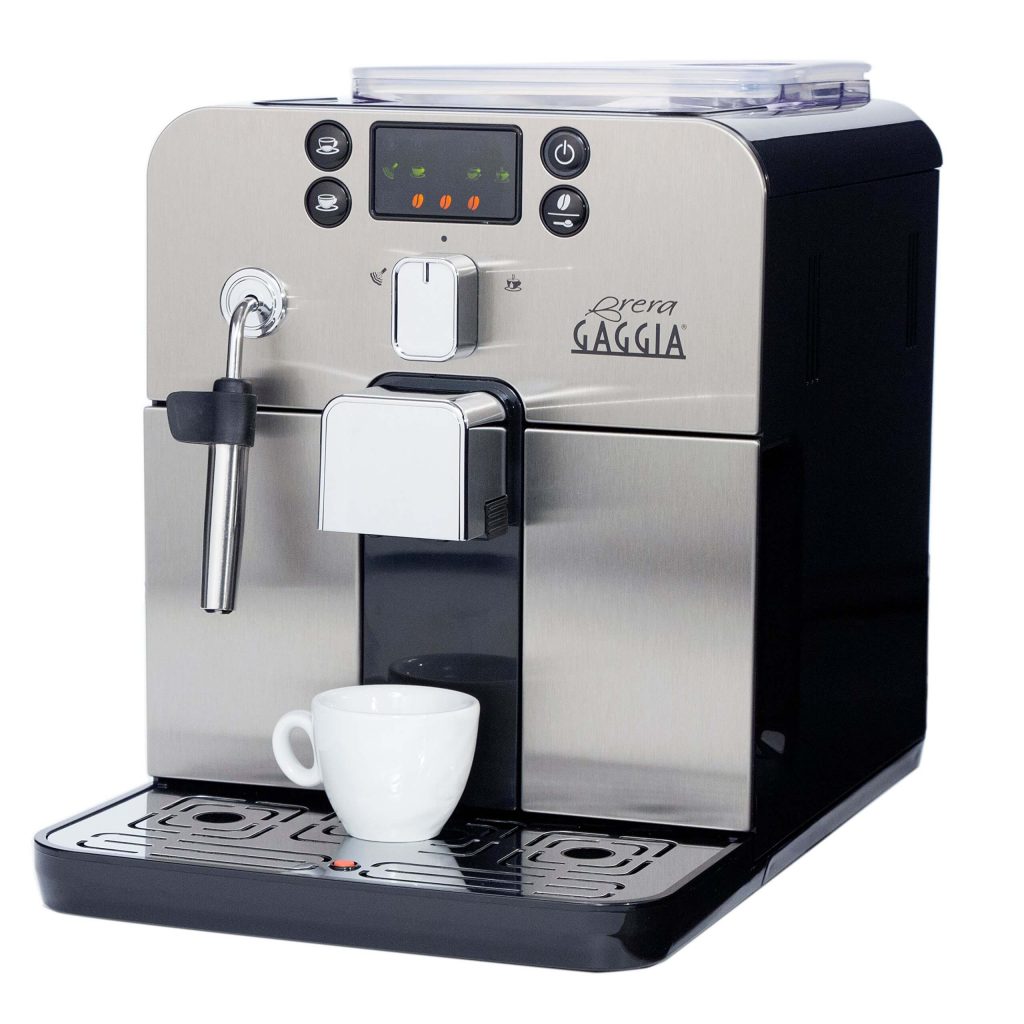 Becoming an expert is not an easy thing, regardless of what we do. Isn't it? But that is not the case with the Gaggia Brera espresso machine.
Even your five-year-old daughter is eligible to become an expert with this machine. The user-friendly display alone more than enough to name the machine as one of the best automatic latte machine for home use.
Frothing for milk beverages made easy with Pannarello wand specifically for cappuccinos and lattes. The rapid steam technology can quicken up the brewing process and steaming operations to provide the Latte you want way faster than even you want!
Importantly, you are entitled to a Gaggia handled one year warranty, which is another factor we considered while including this as one of the best latte machines. To access the water reservoir, you can pull back the same from the front side of the machine and fill and remove water quite easily.
Features of the Machine
Push-button controls
LED display with illuminated icons
Rapid steam technology
Pannarello steam wand
Stainless steel front panels
Gaggia adapting system
Front-loaded
Hopper and bypass doser
Positive
Simple and user-friendly interface
Heats up to steaming temperatures within 10 seconds
Removable brew group
One year warranty
Negatives
There are reports on leakages
Requires considerable maintenance
Coffee One-Touch CoffeeHouse Espresso Maker and Cappuccino Machine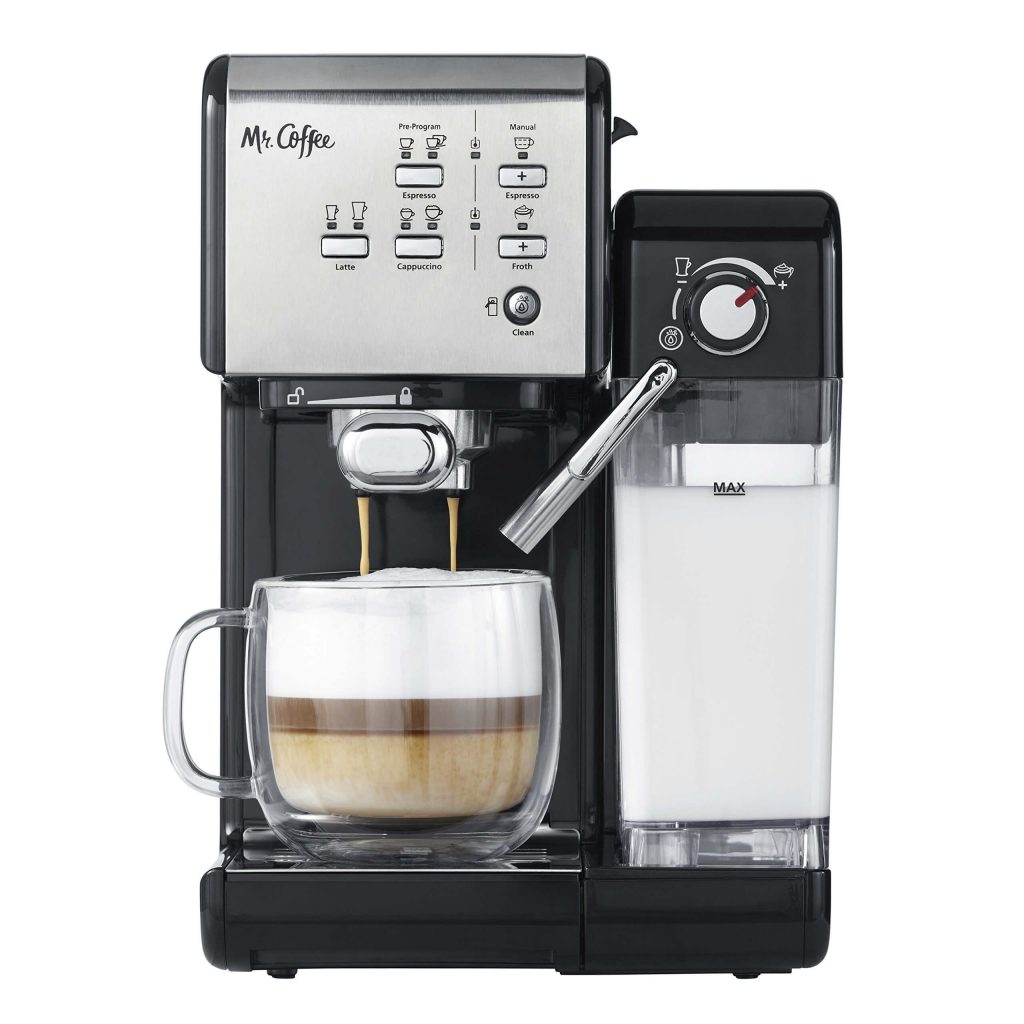 Third Mr. Coffee product of our list of best latte machines and nothing to raise your eyebrows as Mr. Coffee knows what you want, and we are recommending the brand even closing the eyes.
No, it's not just our assumption, search for reviews, and thank us later. Unlike most of the items featured in this as best latte machines, this one has a 19 bar pump to deliver you the ideal pressure to extract the best coffee flavor for your Espresso. The thermocouple system is there to heat the water precisely and evenly for hot drinks. 
Moreover, it has a removable water reservoir to quickly fill, remove, and clean the leftovers with utter ease. You are just one button click away from brewing most perfect coffee you would ever imagine, let's give it a try!
Features of the Machine
19-bar Italian pump
Easy one-touch button interface
Automatic milk frother
Removable water reservoir
Adjustable cup tray
650ml milk tank
Positive
Quick and easy to use
Six cappuccinos or three lattes at a time
Even and precise water heating
Easy to clean
Negatives
Durability is questionable
The frothing process has issues
Nespresso by De'Longhi EN560B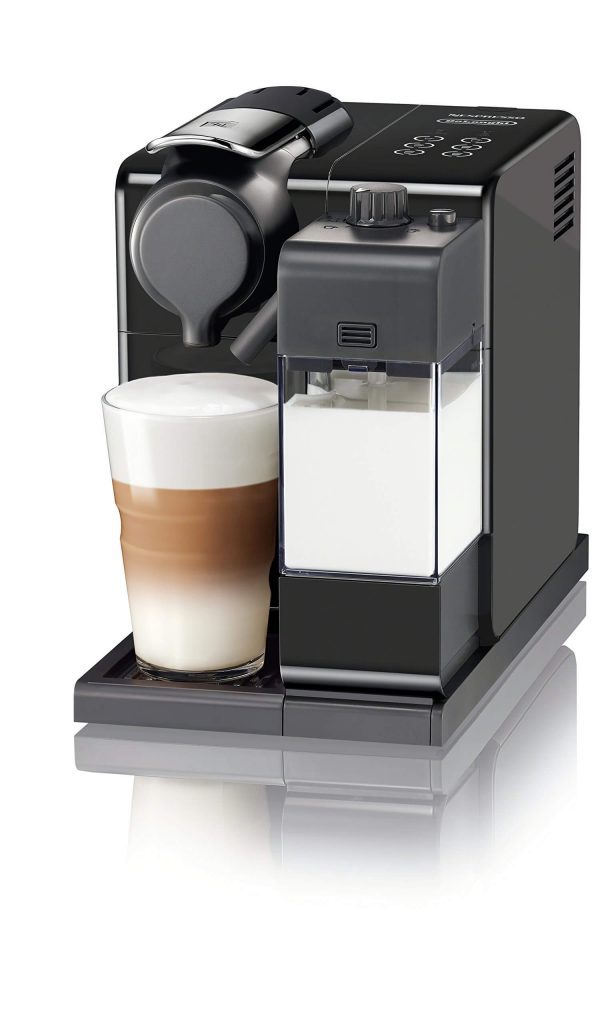 If you are a die-hard fan of creamy, silky lattes, this is our final recommendation. And as we said throughout the 10 products, this is another best latte machine you can have in 2023 and another best at home latte makers.
It just takes one button and one capsule to produce a delicious cup of Latte. Yes, it's simple to execute the task with Nespresso. 19 bar pressure pump consumes less than 40 seconds to complete the whole brewing process, and the automatic frother produces long-lasting foam, which is unmatchable and creamier than the rest of the competitors. 
The used capsules eject automatically to a container stored inside the machine so that the cleaning won't take much time and machine looks sharp all the time because of this reason. 
Features of the Machine
19 high-pressure bar pump
Milk froth regulator
Simple one-touch buttons
Removable milk container
Lattissima touch single-serve espresso machine
Positive
Looks astonishing and fantastic in the kitchen
Makes perfect creamy lattes
Practical design
Rapid heat uptime
Negatives
Cleaning is kind of a hassle
No water indicator
How to Clean your Best Latte Machine
Yeah, caring is as important as buying; let's see how to clean your latte machine.
If you use the machine daily, make sure you backwash your machine once a month. 
Remove the basket from the filter and scrub it thoroughly. If you use hot water for the task better it would be. 
This means the water (coffee) dispenser. Keep it clean and free of dirt all the while. The coffee ground can build up over time and can cause the Espresso to become taste bitter because of the retention of the oily properties. 
It's essential to clean up the steam wand right after you use the machine. You can use a dampened cloth for this purpose.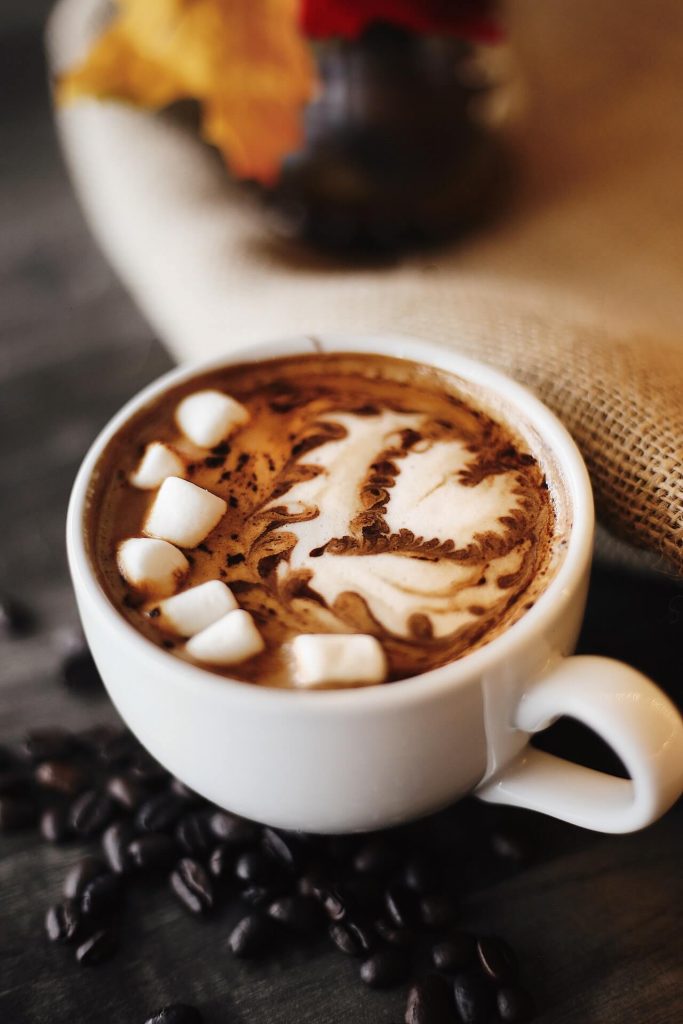 FAQ's
Q: Are Espresso machines expensive?
A: No, they are not. Check out our list.
Q: Semi-automated or super-automated?
A: If you are a newbie, go for a super-automated one. If you are a tester or already a pro, it's better to go for a semi-automated machine.
Q: What kind of milk can I use for Lattes?
A: Brand is doesn't matter but quality milk improves the taste. 2% of milk kept inside a refrigerator, and whole milk is the easiest for the job.
Q: Can I make Cappuccinos from a latte machine?
A: Yes. You have to add less milk to the drink, of course, more foam.
Q What is the perfect level of grind for lattes?
A: Actually there is no exact level for the recipes, but lattes are made from Espressos, in that regards, it's better to use fine ground coffee for lattes (Espressos) 
Q: Latte helps in weight loss?
A: though coffee can help you minimize daily calorie intake, flavored Latte can cause the body weight to increase.
Wrapping up..
Cool! And congratulations! As we mentioned in a section of this article, it's not easy to quickly become a pro or an expert in a field. But, if you a latte lover (no one hates Latte!), it's not rocket science to convert yourself as a pro of the subject and the knowledge we watered on you today is more than enough for you to fulfill your latte dream! Ok, guys, try out one of the machines we mentioned and let us know your take by commenting them below. Cheers!