If you are a vegan, pack your bags; this isn't for you. If you are a die-hard meat lover and want to tick boxes for yummy, tasty meat, then most probably, you would know what a meat grinder is. A meat grinder is a home appliance that helps chop cooked or raw meat as per your requirement. We will walk you through everything about these machines and the 10 best meat grinders you could get your hands on. Stay tuned!
Why Should You Grind your Meat?
When you get chopped or ground meat straight from the supermarket or Butcher, it is evident that the meat is exposed to all sorts of bacteria, leading you into foodborne illnesses. Grinding those by yourself can help eliminate the chances like E Coli pollution, and you can enjoy the fresh and raw meat all the time without much of a risk. 
How to Grind Meat with a Grinder?
First of all, you must have a suitable grinder for your purpose (we will be bringing how to choose your kitchen grinder and 10 best meat grinders later in the article). 
Then you would want to choose your meat. This is something we can't suggest. The selection is always yours as the meat grinder doesn't care about your choice!
Cut the meat into 2-inch slices using meat slicer or clever knife and store them in a freezer for 20 minutes. Cutting into 2-inch pieces will help the meat fit ideally to the spout of the grinder, and freezing will help to avoid gumming with the grinder. Now you can walk your meat through the grinder with considerable speed. That's all!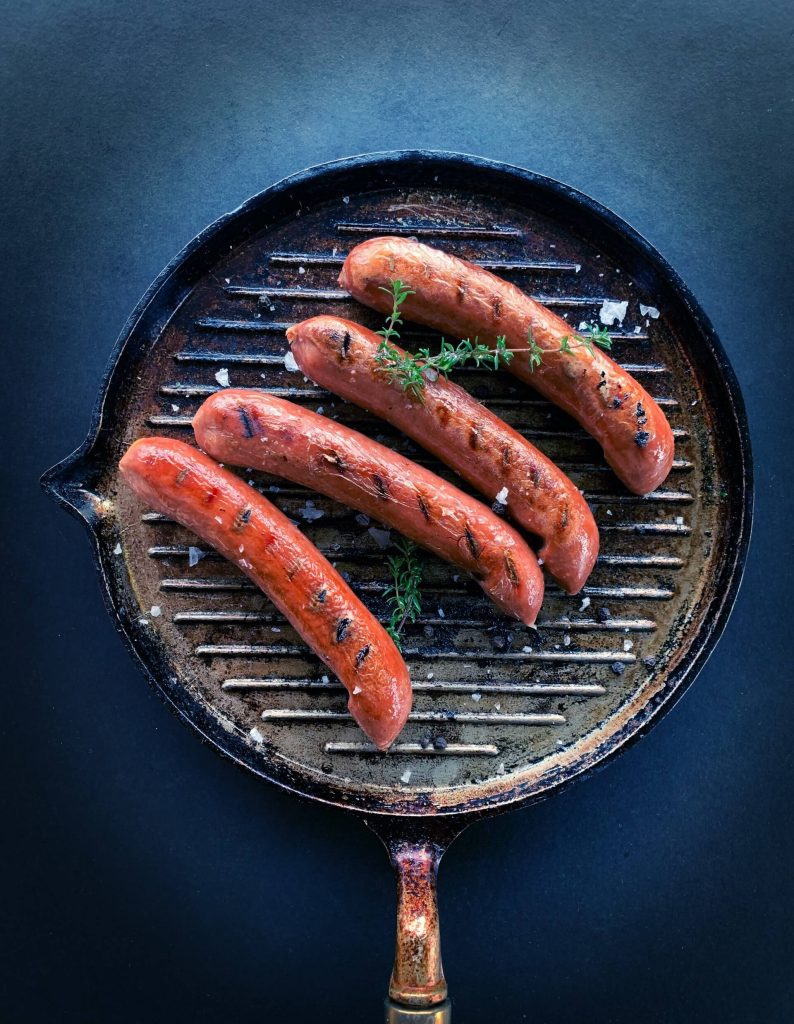 Factors to Consider when Buying Best Meat Grinders?
Before getting confused at the supermarket, you should know that there are two types of meat grinders:
Manual meat grinders– this is also referred to as hand meat grinders. This sort is ideal if you are not grinding meat regularly, as it operates 100% manually.
Electric meat grinders– as the name elaborates the Machine works by electric and can grind huge amounts of meat with ease.
Consider below factors while buying,
Meat quantity – the load of meat, decides what type of grinder you would want. If you are a casual or occasional meat consumer manual grinder would do the work for you. If not, or you are more into foods like sausages, and then go for an electric meat grinder.
Budget – This is one thing most people handle with less knowledge. In short, all of these machines do one thing, which is grinding meat. Pick a one that matches your budget. 
Parts of the grinder– most of the machines come with parts like plates, blades, hopper, and screws. Importantly look for the tray at the top where you feed meat if you have ideas to chop huge meat quotas regularly, better to get a one with a large tray.
Capacity – Go for one which has a capacity of more than 1000W. For a good food grinder machine, it should have the capacity to mince more powerfully and quickly. Above 1000W is our recommendation. 
Good reviews– Do we need to explain this? If yes, keep reading. We will show you the pros and cons of 10 best meat grinders in the current market. So, we promise you don't have to search online anywhere for reviews.
10 best Meat Grinders in 2023
Our list of 10 best meat grinders includes comprehensive descriptions as well as pros and cons. These are not just our recommendations, but the industry top notches.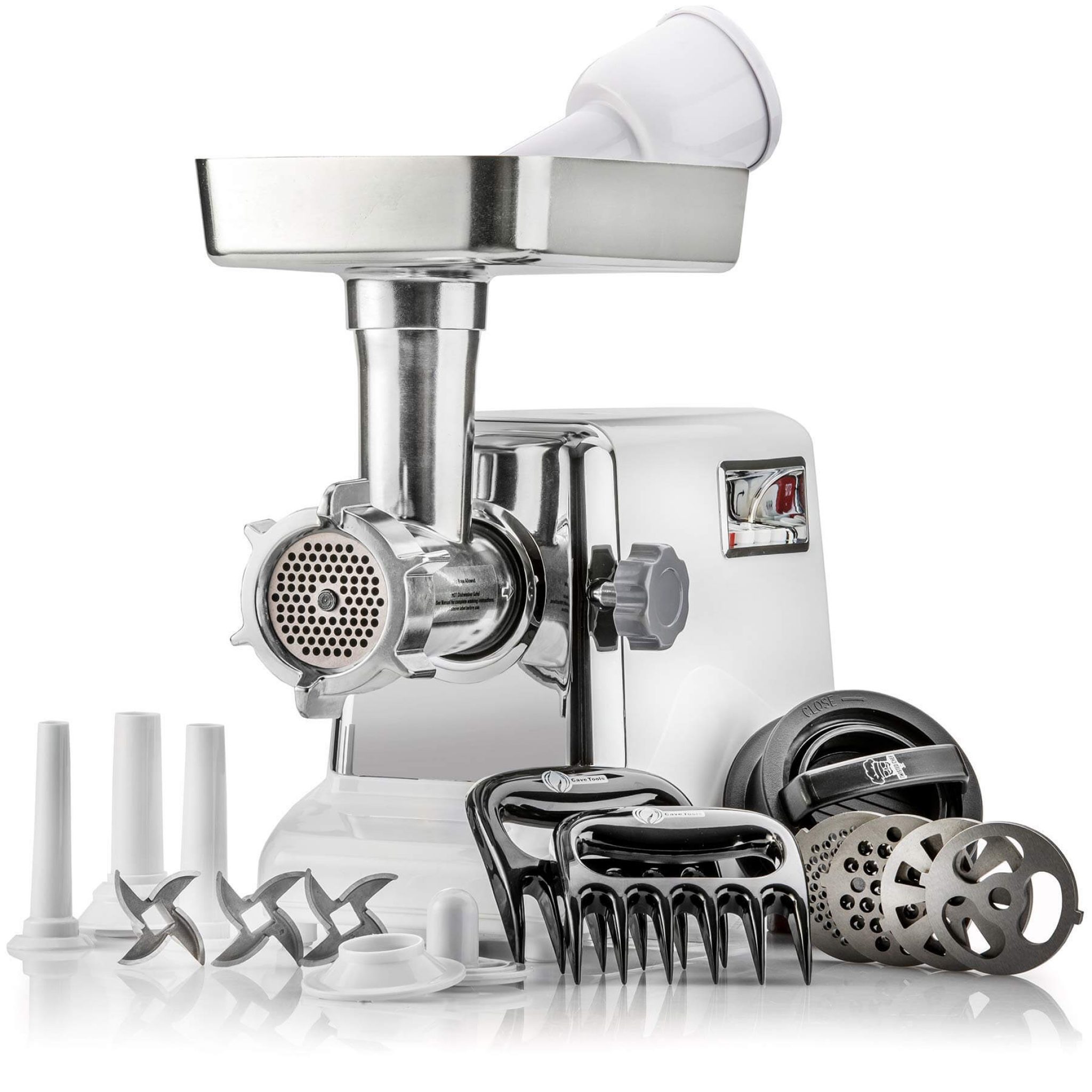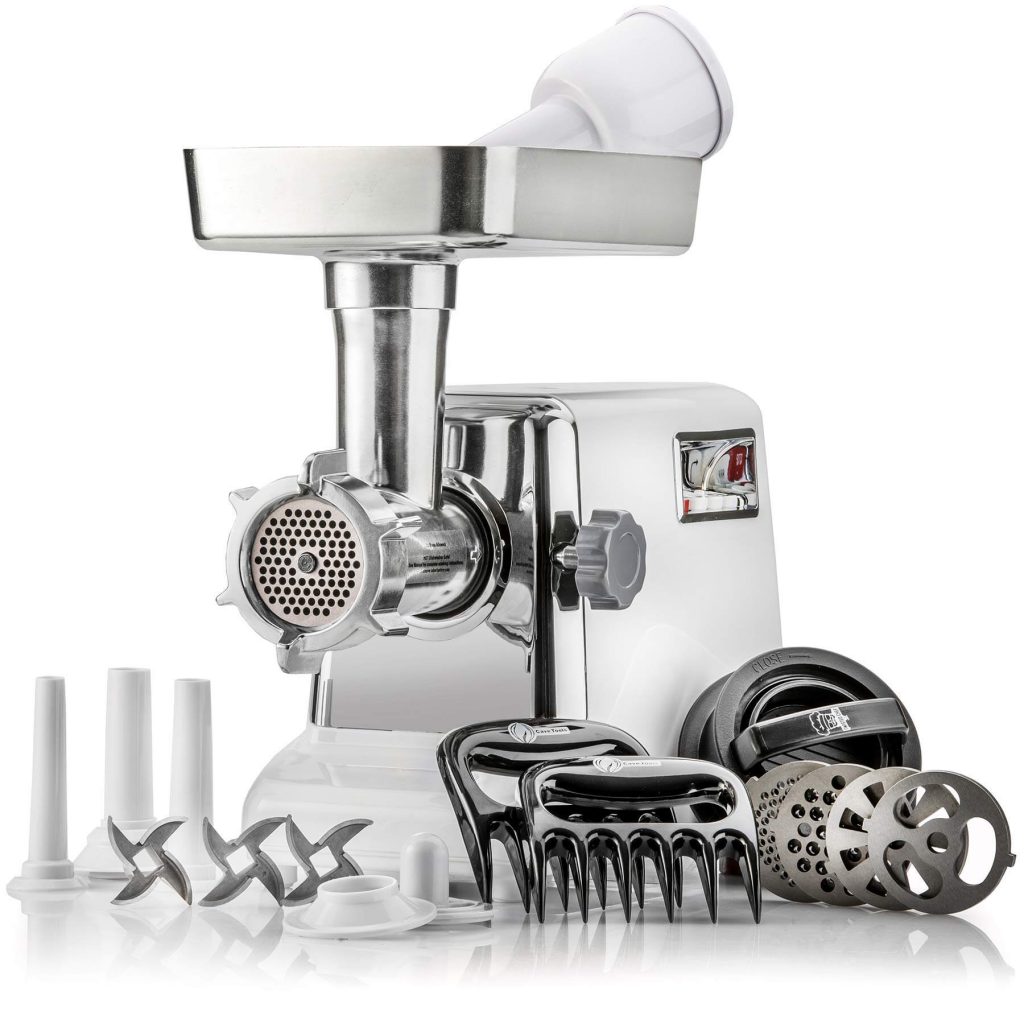 The Turbo Classic 3000 is one of the best home meat grinders out there, which has a motor wattage of 3000 watts.
While in operation, the Machine uses wattage of 800W-1200W and has the capacity to grind 180-240Lbs of meat if the load is adequately prepared for the grind (pre-sliced or cubed). The Auger of the Machine is built AVI (Advanced Variable Intake) technology. If you want to grind vast portions of meat, you will have to use 2 and 1/8 inch hopper opening to feed the meat.
Moreover, we can define this as a perfect sausage grinder too. You can make delicious meal with the grind meat using a gas grill.
There is another reason to like these STX products besides its ranking as one of the best grinders. You automatically get a 30-day money-back guarantee (unconditional) as well as a three-year warranty. So it's worth giving it a shot.
This LEM big bite #8 is one of the best electric meat grinders you can think of, and it has an induction motor (permanently lubricated) with a run capacitor.
W779A comes with Big Bite technology, and the whole Machine completed from stainless steel. Additionally, the grinder has a built-in circuit breaker, and you can receive a five-year factory warranty. To add more value, if you want to move the unit here and there, you can do it easily with the heavy-duty handle. 
The total product weighs 37.9 pounds, and the dimensions are 17.2 * 16.3* 15.3 Inches. LEM grinder Products is a well-known brand in the market, so there is nothing much to worry about when selecting the Machine.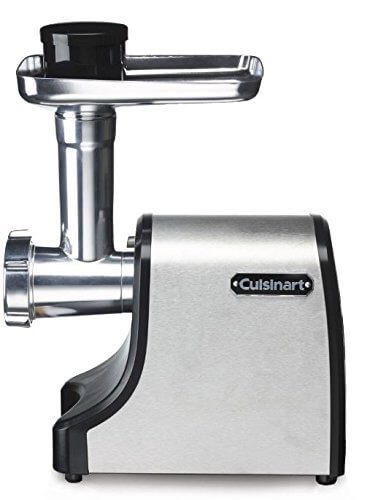 This beast can grind all types of meats, including beef, turkey, chicken, deer, and many more. Cuisinart MG-100 is one of the best meat grinders for home use, and it can grind up to three pounds of meat quickly with the help of its 300-watt Motor.
The Cuisinart meat grinder Machine includes two metal cutting plates, from which you can try your foods with different sizes of thickness. For a smooth operation of the unit, reverse function releases the clogged food parts. Further, the Cuisinart Electric Meat Grinder is made from stainless steel and guaranteed for the longevity.
This tabletop meat grinder is a family friend who can offer you a range of favorite foods like burgers, sausages, meatballs, and other mouthwatering stuff.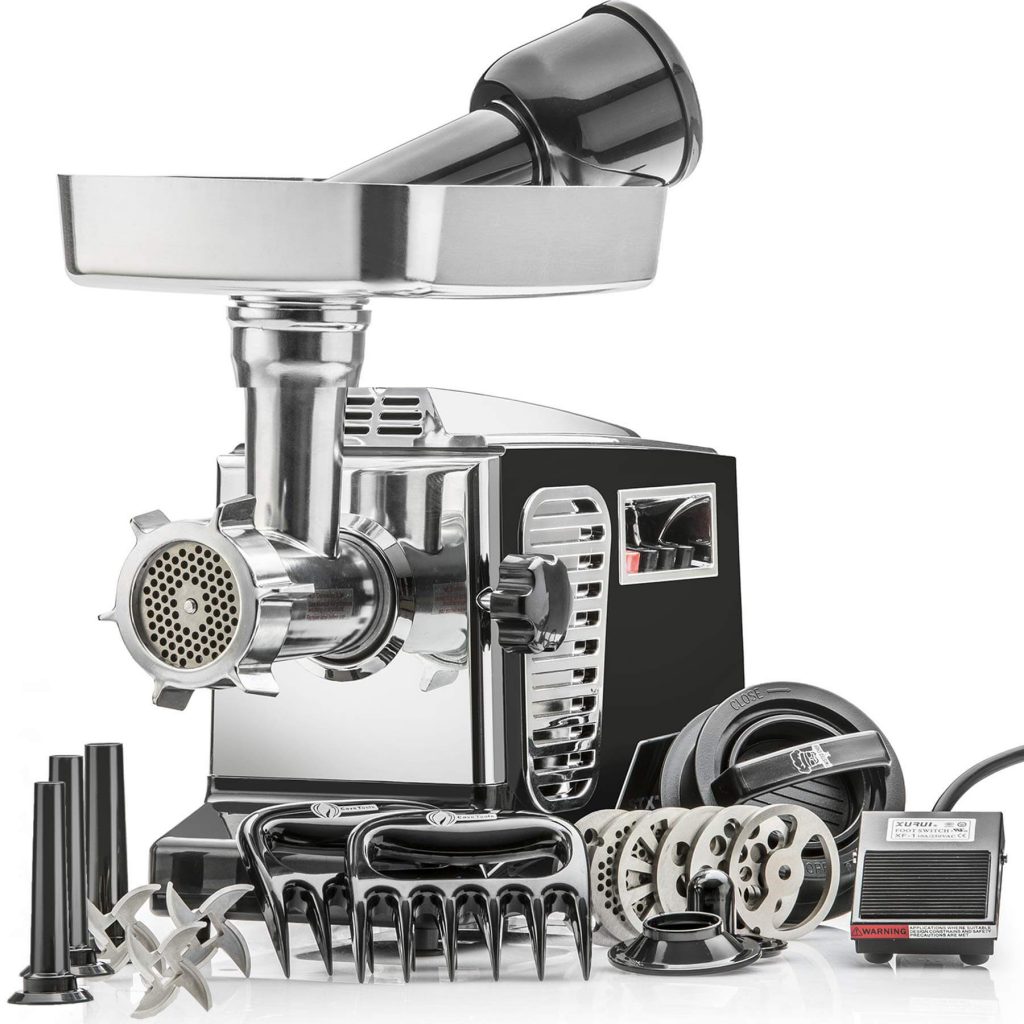 Oh yes! This is one of the best heavy-duty metal grinders we suggest confidently for you with our own experience. The product carries a patent for its "Quad Air Cooling" system, which plays a significant role in the durability of the Machine.
This monster has 2000 watts of output power with three levels of speeds as high, low, and reverse and a built-in circuit breaker. Do you want to give your hand a rest? Ok, it can facilitate you with a hands-free foot pedal (optional use). Just plug the Machine into foot pedal control, that's all. 
There are many reasons to rank this product as one of the top 10 best meat grinders on our list. One thing is its perfect to make patty when you grilling using flat top grill in home. Just look at the ingredients of the Machine.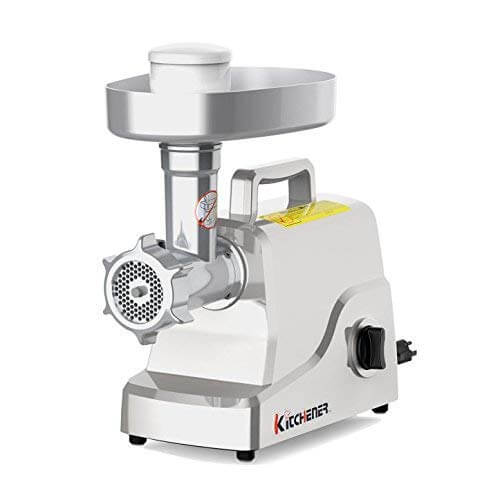 Kitchener is no rookie to the matter, but they are experts in producing the best meat grinders. They've various brilliant heavy duty grinders in their armory, and this one is ideal for home-usage.
The Machine is capable enough to produce 330Lbs ground meat per hour. Moreover, if your intentions are to make brisket, patties, meatballs, or crispy bacon strips, this one is tailor-made for you. This all-around meat grinder has a powerful motor to arrange three-speed levels: grind, stuff and reverse, and a safety circuit breaker.
The oversize pan of the Machine is essential in loading vast portions of meat to the unit, and the neck of it can grab more meat once, so you don't have to waste your much valuable time for feeding the unit. 'Use Kitchener be a Kitchener' is the motto of them, which does make sense.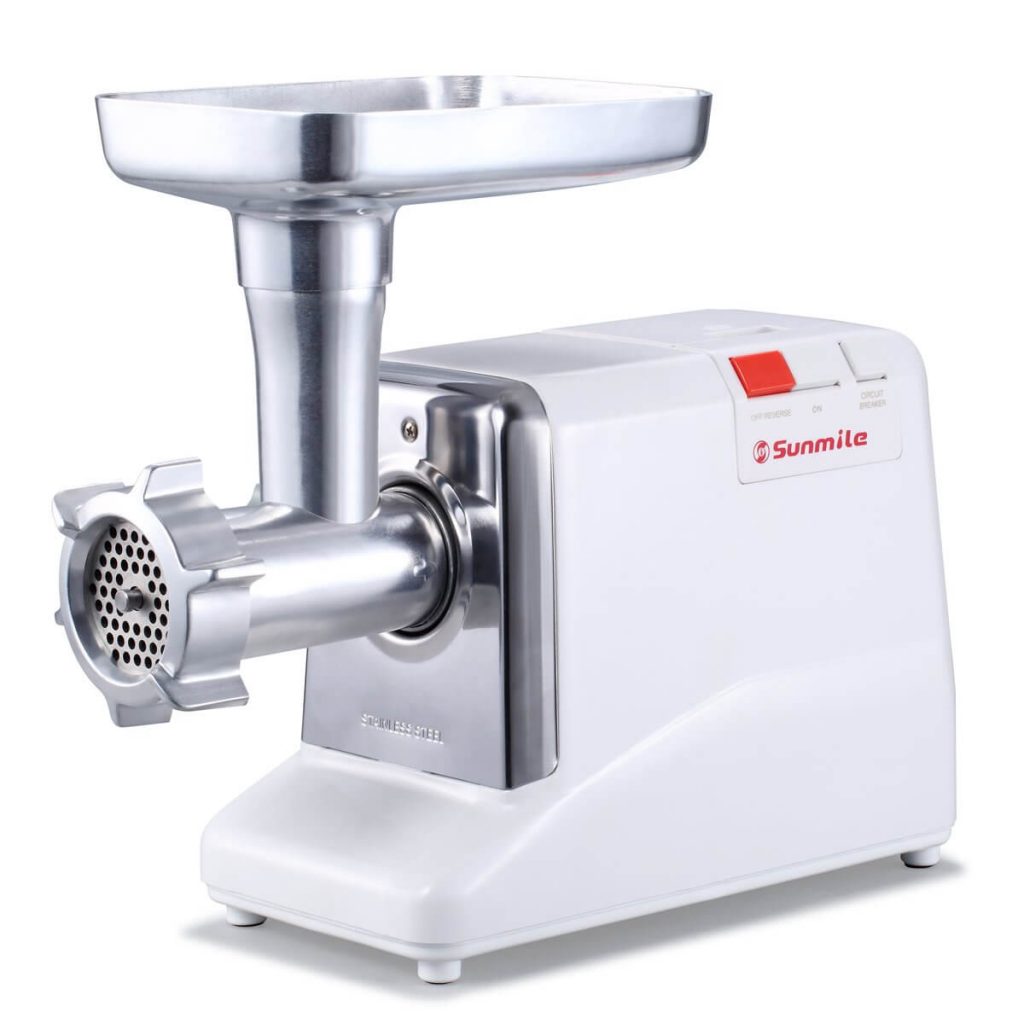 You know, we handpicked these items feature in our list, and most of them are tried and tested by our colleagues. This is another machine we stamp as one of the best meat grinders for various food recipes and one of the best meat grinders for the money you spend.
With that being said, let's see what she has to offer you. It has a 1000W locked power motor and can provide you 200Lbs of ground meat per hour with ease. Food grade aluminum made plates, and size 12 meat grinders can hold and suck a huge load of meat without bothering you for constant feeding.
Fact: Do you have any idea how long you can keep ground pork freshly?
Moreover, it comes with three different cutting plates (stainless steel), and you can wash them in a dishwasher, unlike most of the other grinders.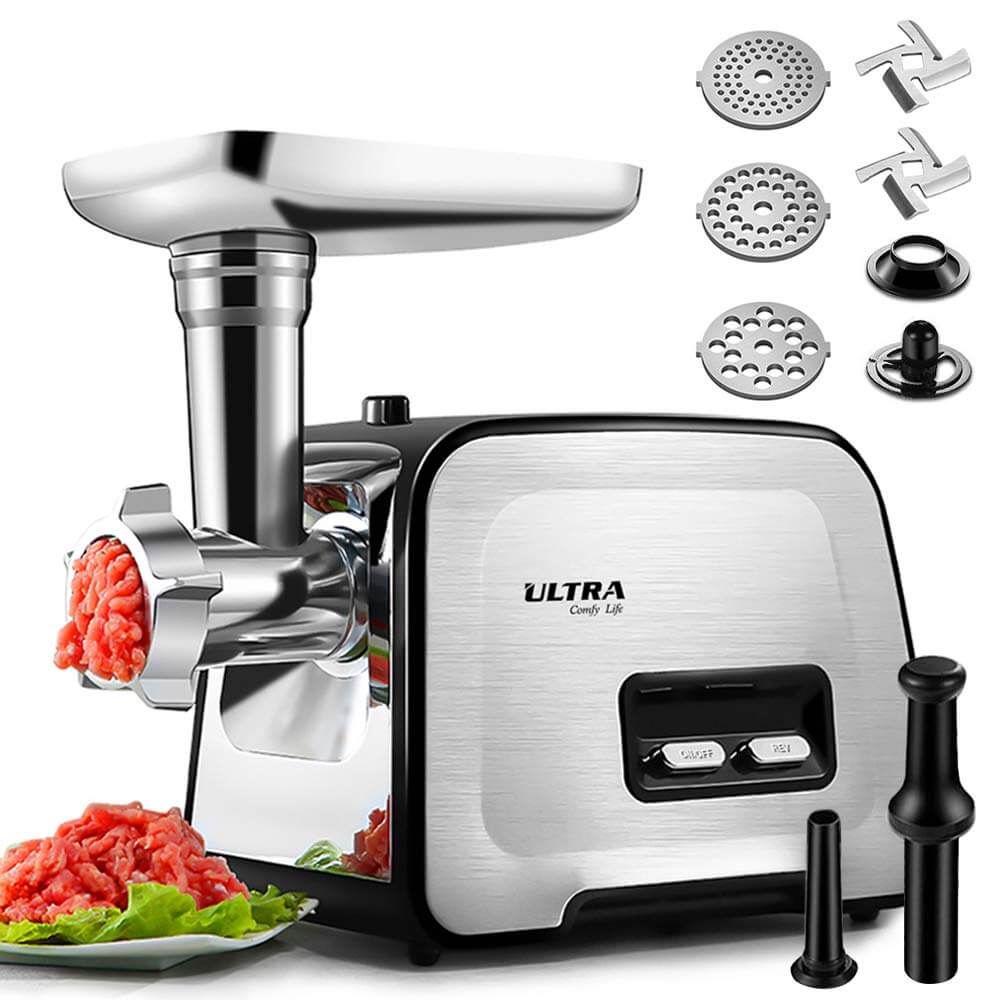 When talking about the best meat grinders, ALTRA enters the market in late 2019 and has been good enough features in this list. This inclusion itself says a lot about the product.
The Machine has more than 72% of five-star ratings as an Amazon meat grinder product and carries less than 10% of one-star ratings. ALTRA Stainless Steel Electric Meat Grinder has a powerful 350W engine that can efficiently produce 2pounds of minced meat per minute.
Additionally, there are three cutting plates with three different diameters, which are quite helpful in supplying coarse, medium, and fine outputs. Also, the Machine works fine as a grinder for other types of food items like vegetables, spices, and so on.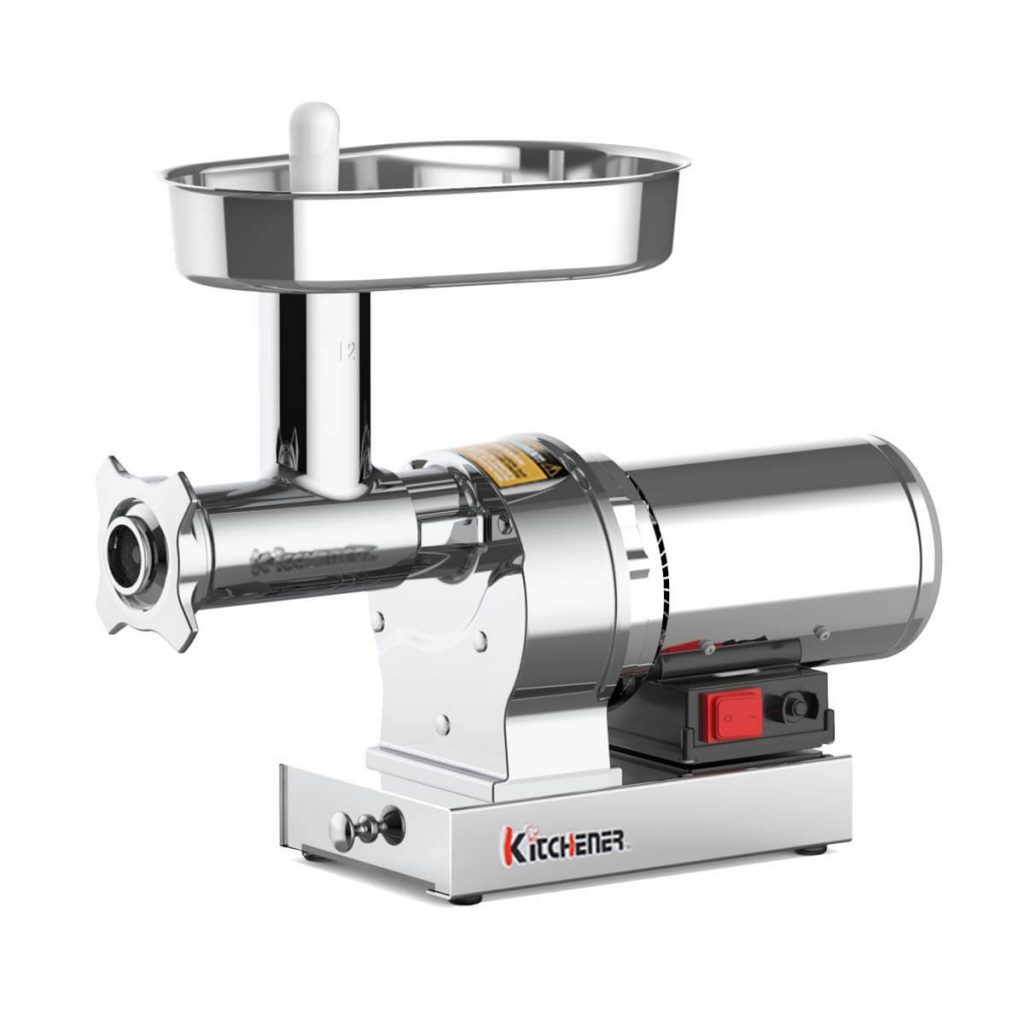 This is another Kitchener product we recommend you with supreme confidence. This Kitchener Elite Electric meat grinder regarded as one of the best electric meat grinders in 2019 and Kitchener maintains the same standard until now.
This particular product is a commercial grade unit from Kitchener and has a 550W induction motor to get a humongous load of 720Lbs of ground meat in an hour. The enlarged throat of the grinder can hold more flesh than the ordinary ones, so it takes less time to complete your task. 
It contains a big heavy-duty stainless steel head and a waterproof switch as well as a circuit breaker to blend safety with efficiency quite perfectly. Moreover, the unit has a removable drawer to organize its accessories as you want.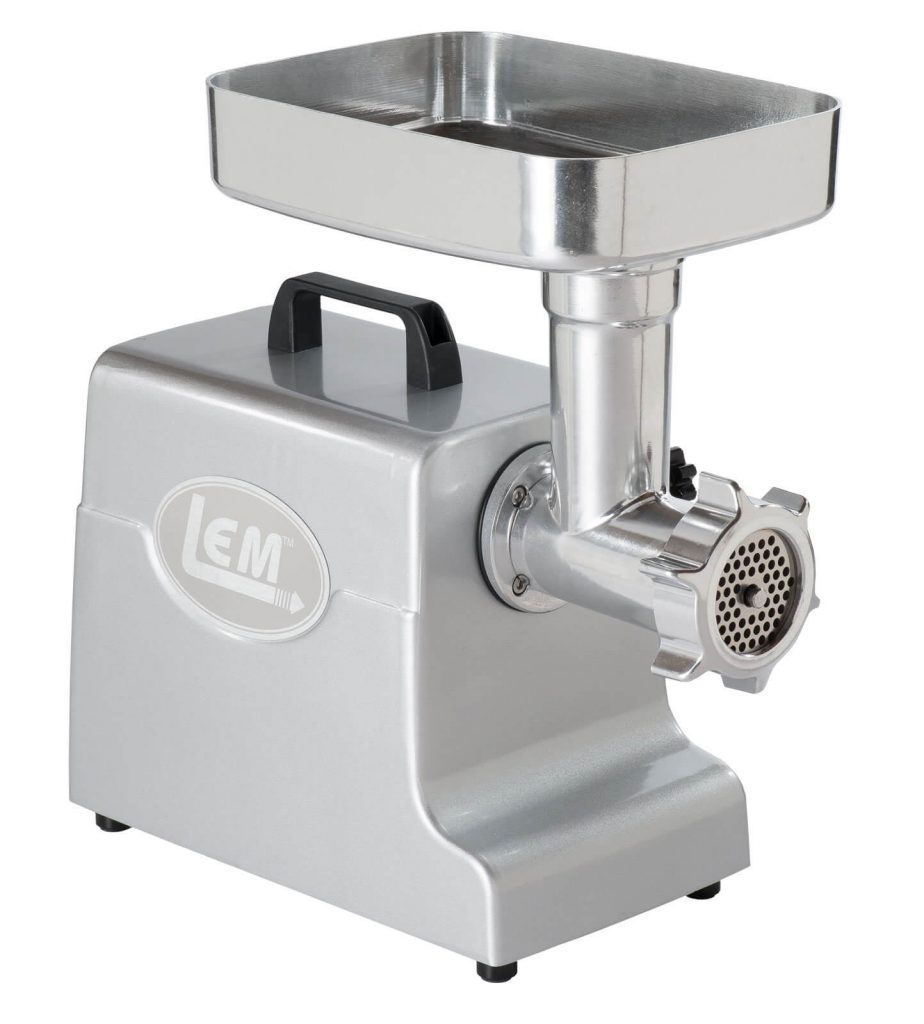 The second LEM grinders of the list and we think the name justifies the product quite correctly. Yes, it is mighty and strong. 120V / 500W permanently lubricated Motor is more than capable of producing 3pounds of ground per minute.
Once you select the best meat to grind for burgers, this 1158 Mighty Bite grinder provides you the best output you can ever imagine for your recipe. There are three-speed levels as slow, full, and reverse.
Importantly, the meat pan can hold up to three pounds of meat, and the broad neck means you can feed large pieces of meat quite comfortably to the Machine.
These LEM meat grinders have more than 84% of five-star ratings in major e-commerce websites, so why not giving it a try?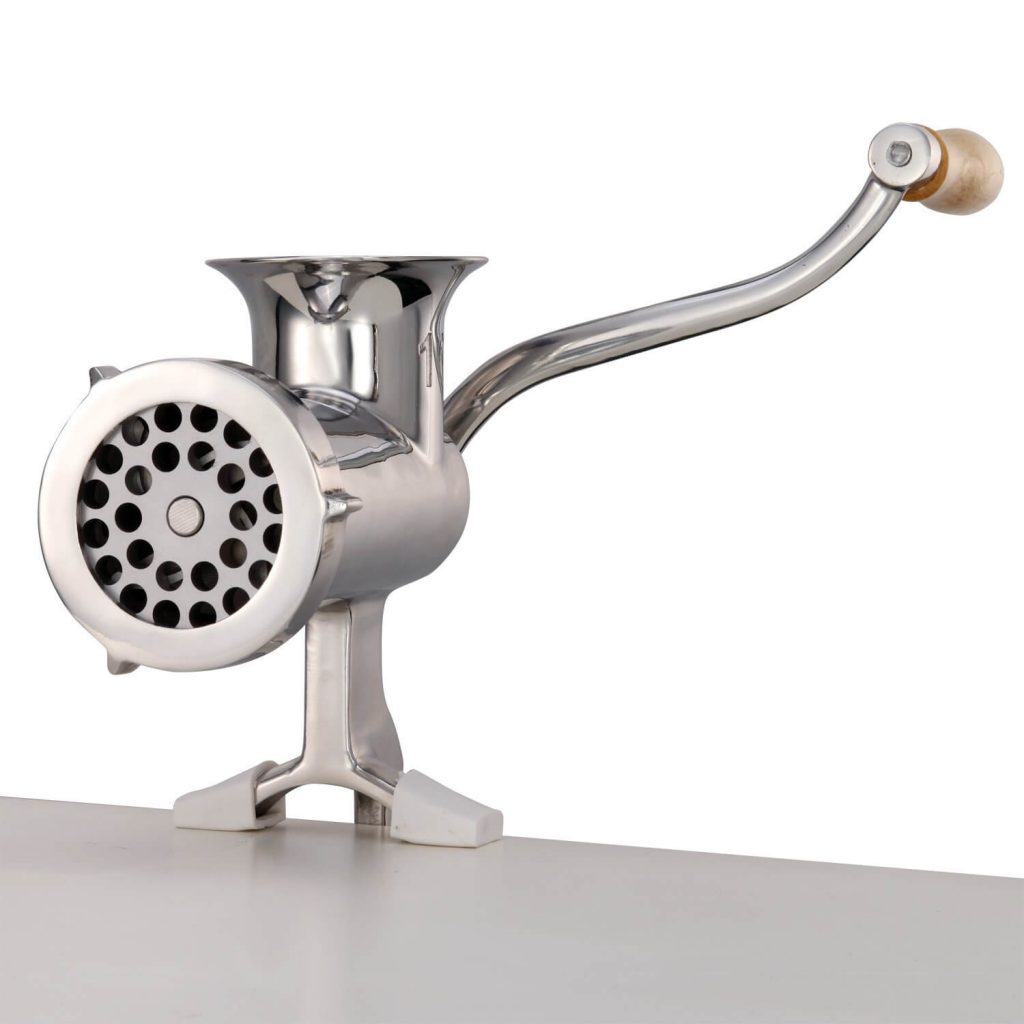 We thought to cap off our list with one new and cute looking grinder and the only manual grinder in our top 10 best meat grinders.
As we mentioned earlier, if you are not constant meat grinding person and still want a top-notch hand crank meat grinder, look no further. This is our recommendation. You can quickly and majestically mount the Machine wherever you want with the wide-opened clamps. Additionally, you can clean the LEM grinder unit without much trouble and can quickly assemble the parts.
The polished stainless steel makes the LEM meat grinders rust-resistant, and the durability of the unit is assured. 
Electric VS Hand-crank VS Attachment Grinders 
We think you can remember the two types of grinders we mentioned earlier. Also, there is another type used by people, which is called attachment grinders, which you can fix to a KitchenAid or Cuisinart. Let's see a few pros and cons of these three types. 
Electric Grinders
Pros
Can grind huge loads of meat quickly.
Consumes less time.
It can bring different consistencies to the ground.
Cons
Expensive than the other two types.
Need thorough up keeping.
Manual Grinders
Pros
Relatively cheaper.
No need for electricity.
Can mount almost anywhere you need.
Cons
Time-consuming.
Not ideal for big tasks.
Attachment grinders
Pros
Fits in easily.
No need for extra machines.3
Most of the grinders have consistency settings.
Cons
Domestic VS Commercial Meat Grinders
Throughout the article, we explained the best meat grinders, and if you read carefully, you would have noticed that there are two types as commercial and domestic. What is the difference? The difference is that commercial grinders are specifically designed for heavy duties. These machines even can grind up a deer or a cow within one or two hours, whereas the domestic ones are for household stuff.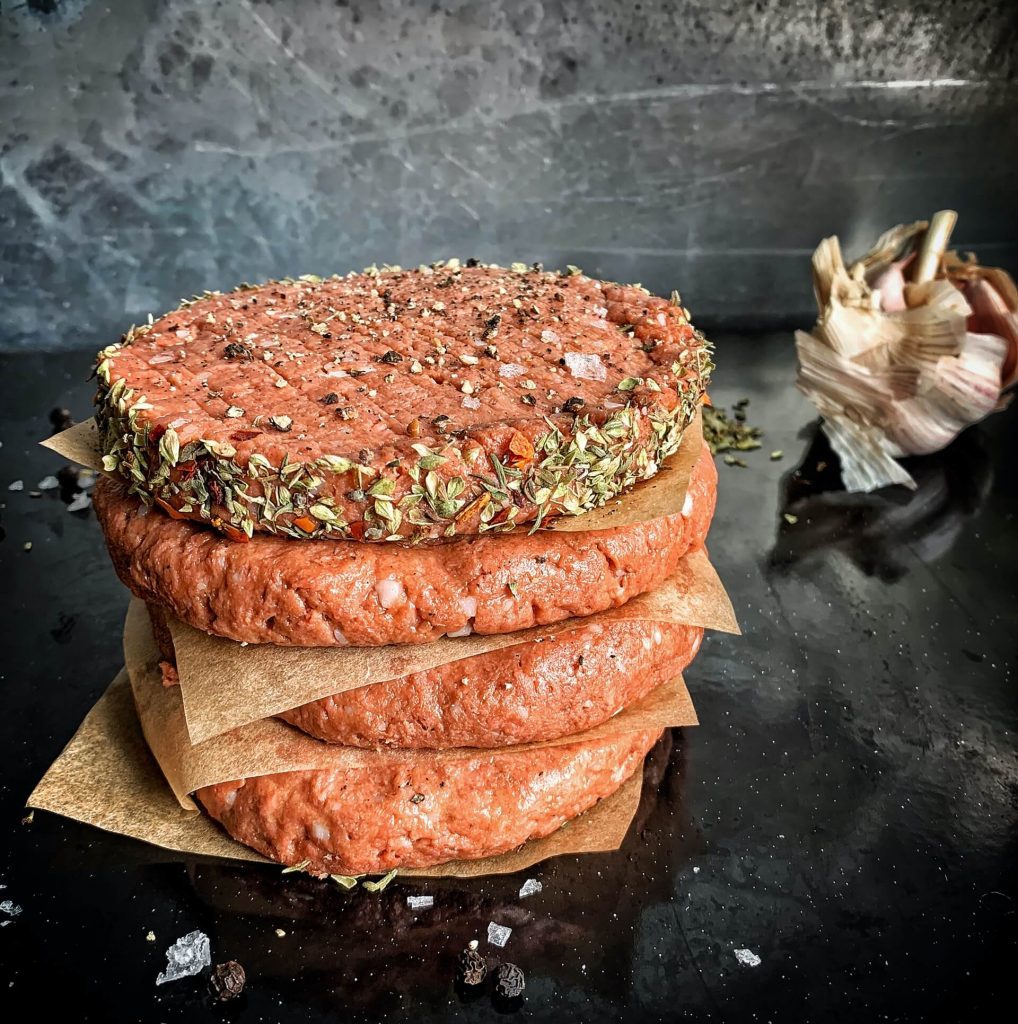 How to Assemble a Grinder?
Let's focus on the process in steps.
How to Use an Electric Meat Grinder?
Now that you have fixed your grinder, let's see how to use meat grinders.
Maintenance of Meat Grinders
It's human nature to lose desire once you own a thing. But, if you love what you owned, then it's your responsibility to take care of it for the rest of your life. The same applies to your meat grinder too. 
Let's consider a few crucial aspects of the maintenance of a meat grinder.
Cleaning the components
Before you removing and cleaning the parts, you should know how to do it. We urge you to refer manuals received with the products for the betterment of your grinder. We recommend washing all the parts (Auger, blades, screws, etc.) with soapy water. Don't use the dishwasher. Read more on cleaning the grinder.
Storage
Once you rinse the parts, make sure they are free from moisture, and apply food-grade mineral oil on the surfaces to avoid rust. 
Blades
It's mandatory to have sharp blades to get the maximum out of your grinder. If you feel the edges are too dull, don't think twice, get help from a professional or consider changing them.
Best Brands
You already have a partial answer for the above query, as we elaborated 10 of the best meat grinders out there in the market. We strongly recommend you buying stuff from the below list of brands. We have already mentioned some in our list of best meat grinders, and some didn't. These are not just our picks but from industry pundits!
STX International.
Kitchener.
Weston Brands.
LEM products.
Gourmia meat grinder
Sunmile.
Homeleader.
Cuisinart.
Cabela's meat grinder
Wrapping up..
In this piece, we have focused on bringing you the top 10 best meat grinders in 2023 and the pros and cons of the products. Besides, we think we have shared some valuable factors about buying, caring, and using the meat grinders. This is neither the end nor the beginning, so let's continue the discussion!