On most of the situations, you could find that grilling indoors is the only option you have. But, it won't be as easy as it sounds, simply because of the smoke. Shutting down a smoke alarm or opening up windows might be inevitable. With the help of comprehensive guide on best smokeless indoor grill, you won't have to worry about this issue. 
What is smokeless indoor grill?
It's a similar kind of small grill as an outdoor grill. It produces less smoke when you are grilling smaller batches. Drip tray catches oil from your favorite meat or food without splattering it to the hot surface and reduces the smoke.
Why Electric Grills?
Let's face it. Most of the traditional BBQ cuisines require a specific machines like smokers or traditional grills and lot of time to get the taste we want, and time is the most precious thing that we lack as well. This is one important benefit you can have with an electric indoor grill. Besides, unlike ordinary gas or charcoal grills, electric grills are smokeless and compatible with both indoors as well as outsides. 
Types of Indoor Grills
Basically, there are two types of indoor grills as,
Open indoor grills
Contact indoor grills
Open Indoor Grills
As the name suggests, these grills don't have a closed top, and you'll have to flip to get the foods cooked both sides evenly. And, as you know, you will have to apply pressure to the middle part of the foods in order to extract the juices out and to avoid that uncomfortable rawness. When it comes to the price tag, these types are less expensive than the contact indoor grills.
Contact Indoor Grills
Simply you are free from above sorts' hassle because the contact grills are made to provide heat from both up, and bottom sides and you will have your foods cooked evenly and fast. Most of the best indoor grills come from this form and price is relatively high compared to the other type but totally worth it.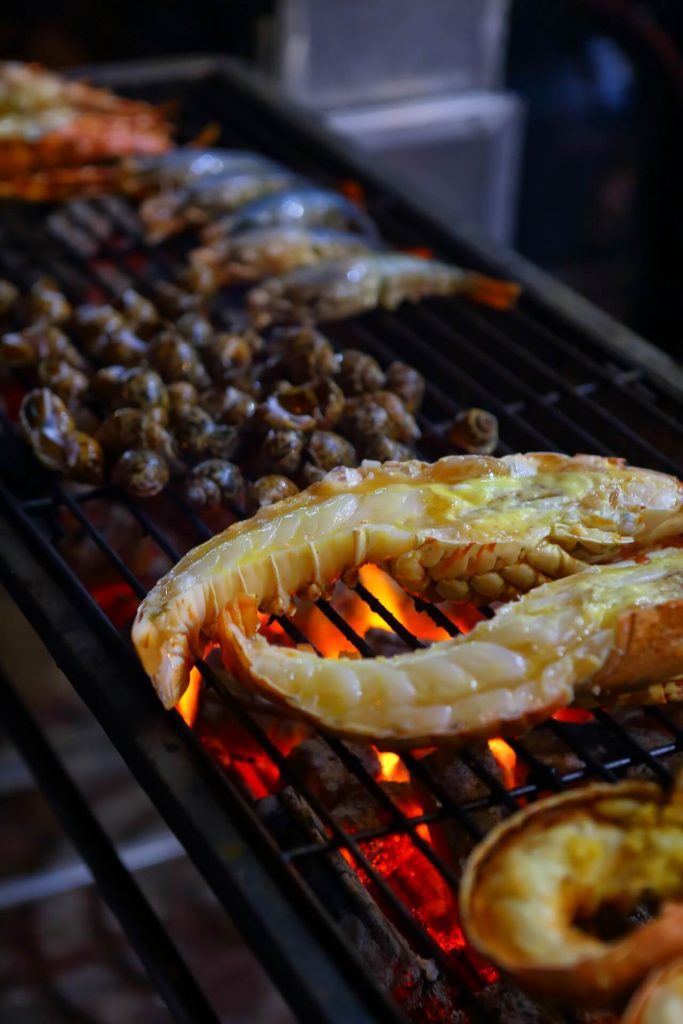 Want to Buy the Best Smokeless Indoor Grill? Consider These Factors.
Best indoor grills indulge you best BBQ dishes, so, read these factors carefully before you pull out your purse.
Drip trays
The drip tray is what collecting the oil drips out from the foods. Once you finish your cuisine, you can pull this tray out of the machine and throw out the oily substances. If you select a machine without the said part, you are going to see the grill is getting destroyed quite quickly as the cleaning process is complicated and inefficient. 
Timer
You don't want to sit in front of the grill and wait if you select a one with a timer. You can focus on the other stuff, and the machine would complete the task and let you know with a beep sound. 
Control buttons
To avoid over or under-cooking, it's essential to have temperature control knobs. Besides, different recipes require different heat settings. Look for a one with a user-friendly interface.
Removable cooking plates
These plates help your upkeep work as you can easily remove them and wash once you complete the cooking. Our suggestion is to look for non-stick removable plates as you can eliminate the food sticking in the pan. Moreover, it ensures both sides of the food are evenly cooked. 
Auto shut down feature.
This feature is more like the timer. Auto shut down feature will help you in more ways than one. Your grill will shut down automatically if it detects smoke, foods overcooked or circuit failures. This will provide you with both safety and tasty recipes.
Price
We included price as a factor because we thought it's necessary to let you know that indoor BBQ grills are way cheaper than the gas or charcoal grills. Moreover, you won't have to pay big bucks for gas or charcoal as well!
Best Smokeless Indoor Grills in 2023
Most of the world's renowned brands introduced different types of grills such as Flat Top Grills, Pellet Grills, Electric grills, etc. Out of all these best open indoor grills allows you to grill inside of the kitchen. Now you know how to buy the best smokeless indoor grill 2023, if it's the best time to buy a grill let's see our recommendations for the top 10 best indoor grills.
Top 3 Product Comparison
| Specification | Ninja Foodi 5-in-1 | Philips HD6371/94 | Power XL Grill |
| --- | --- | --- | --- |
| Color | Black/Silver | Black | Black |
| Material | Stainless Steel | Plastic | Plastic |
| Max. Heat | 500°F |  446°F | 450°F |
| Weight | 14.5 Pounds | 15.66 Pounds | 15.47 Pounds |
| Wattage | 1760 Watts | 1660 Watts | 1500 Watts |
| Dimensions LxWxH | 17″ x 14″ x 11″ | 7.48″ x 21.85″ x 16.93″ | 21″ x 15.40″ x 8.10″ |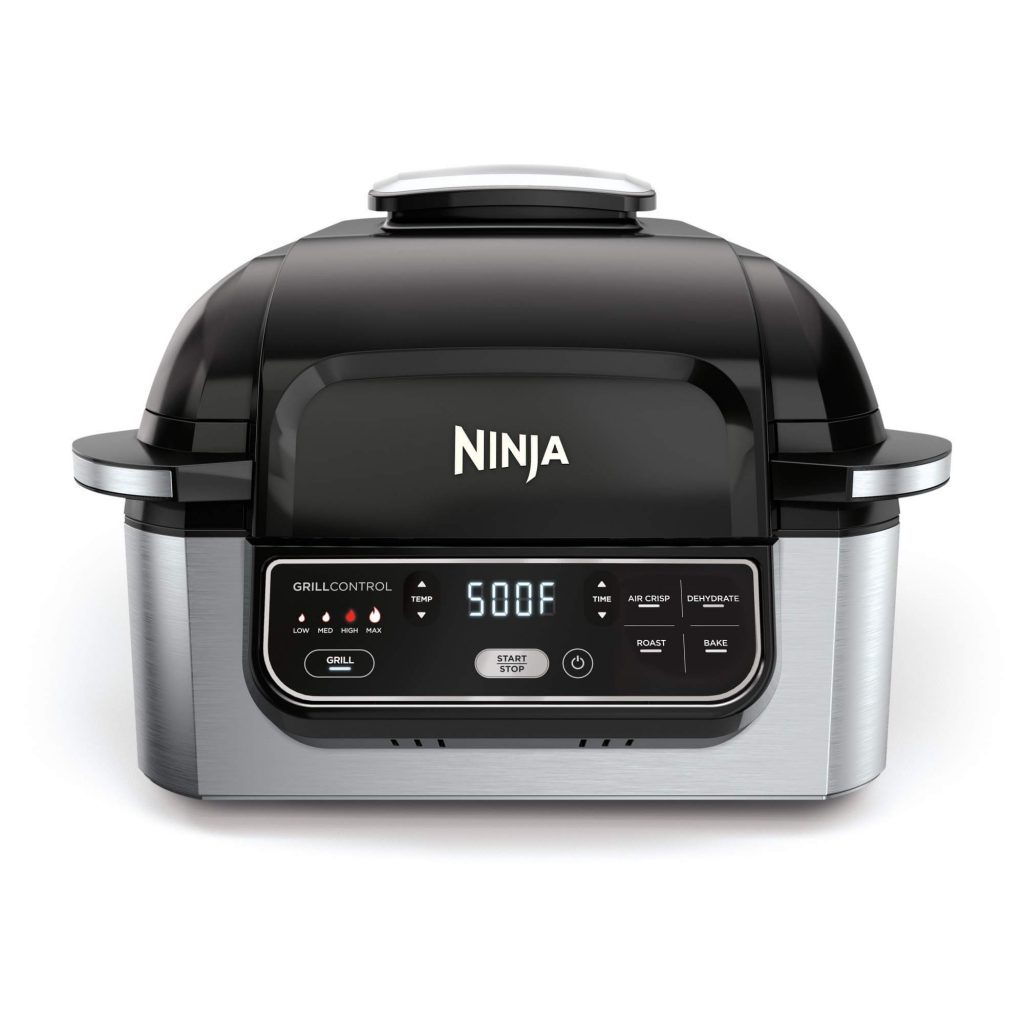 The Ninja Foodi is one of the best indoor grills of the world, which can help you with grilling, air crisping, baking, roasting, and dehydrating the foods. The machine generates and circulates 500F air within and around foods for unbelievable searing.
The 500F hot grills are capable of creating char marks and a unique flavor with the Cyclonic grilling technology. The BTU cooking power of the product is more than enough to bring the outside grilling machines' taste to your tabletop regardless of the weather conditions. 
Moreover, you can air crisp foods up to 75% less fat compared to the deep-fries, and Ninja Foodi can convert frozen foods to delicious, char-grilled, dishes within 25 minutes. With the digital control panel, it's convenient to adjust temperature and time as an indoor smokeless grill. Importantly, no burning hazard while handling because it doesn't require any flipping from you. 
Features of the Grill
500F Cyclonic air and grate
User-friendly digital control panel
The non-stick ceramic coated grill grate
Chef-created 15 recipe book
Cleaning brush
Positive
5 functions to elevate your cooking
Dishwasher safe components
No flipping required
Virtually smoke-free
Easy to use
Negatives
Cleaning the unit takes much time
Philips Kitchen Appliances HD6371/94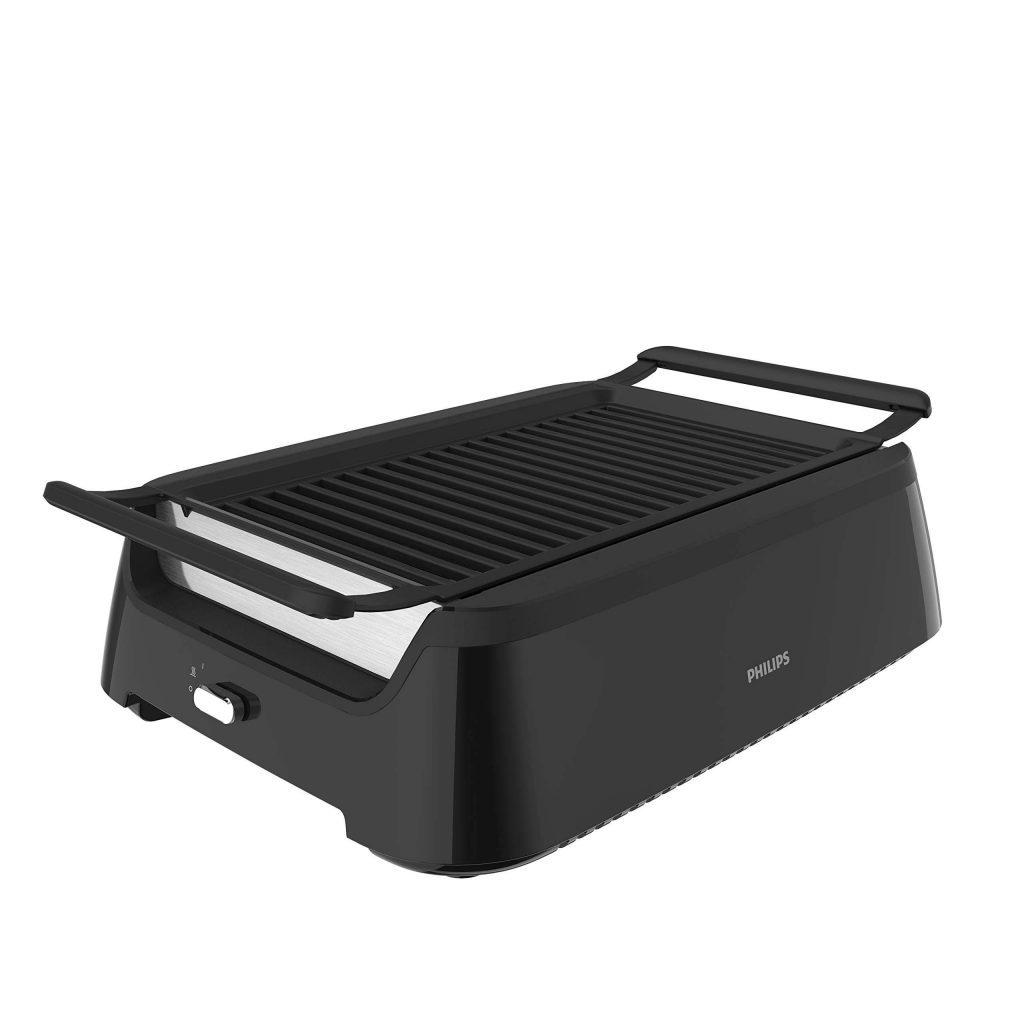 Simply, one of the best indoor electric grills you can think of. Advanced infrared technology and special reflectors of the unit can cook you mouth-watering, evenly-grilled dishes quickly and it is why we included this to our list of best smokeless indoor grills.
The design of the drip tray will remain cool while cooking so that there is no risk of smoke. You don't have to adjust the temperature of the Philips smokeless indoor grill machine because it gets to its optimum and consistent 446F fast for cooking and the electric grill makes sure that the fat is separated from the food during cooking. 
Cleaning a grill has never been easier. You can complete the cleaning work of the Philips indoor grill within one minute, either wiping or placing the grid in the dishwasher. Additionally, there is a non-slip foot underneath the unit to ensure the machine stays in one place as you wish. 
Features of the Grill
Advanced infrared technology 
non-stick aluminium grid
On/off switch feature
non-slip feet
Positive
Cooks evenly-grilled foods
Safe removable parts
Fast set-up and easy to clean
Virtually no smoke
Negatives
Made from plastic and parts tend to break
Power XL Smokeless Electric Indoor Removable Grill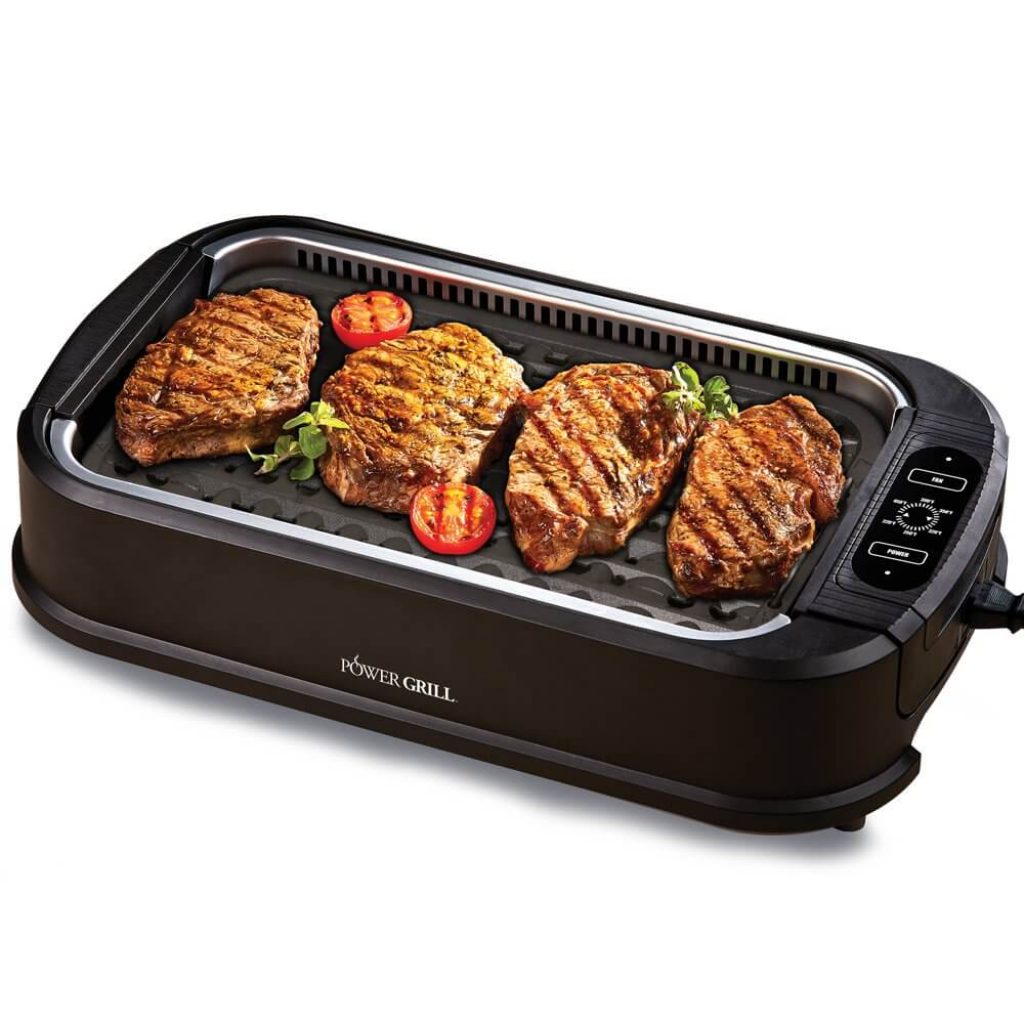 Looking for an indoor grill pan that can hold even a whole chicken? Look no more this is the best indoor grill 2023 for your need. Power XL Smokeless is one of the best smokeless indoor grills in 2023. This countertop grill has a non-stick ceramic grill surface which requires no added oil for grilling.
Even delicate fish won't stick to the surface, and the drip tray sits underneath to catch the fat and Grease. The dishwasher safe Cerami-tec grill plate is easy to remove, and you can clean the unit effortlessly, avoiding wasting time at the kitchen. 
You can receive an ideal temperature up to 450 degrees by the custom LED smart temperature control. And the unit is capable enough to provide rapid and even heat eliminating risks of overcooking. The Turbo smoke extraction system of the Power smokeless grill can absorb all the smoke inside the machine, and virtually there is no smoke inside your kitchen.  
Features of the Grill
Non-stick ceramic grill surface
Removable grill plate
LED smart temperature control
Turbo smoke extraction system
Dishwasher safe components
Positive
Big grilling surface
Rapid and even heating
Virtually no smoke
Custom heat control
Easy to clean
George Foreman 15-Serving Indoor/Outdoor Electric Grill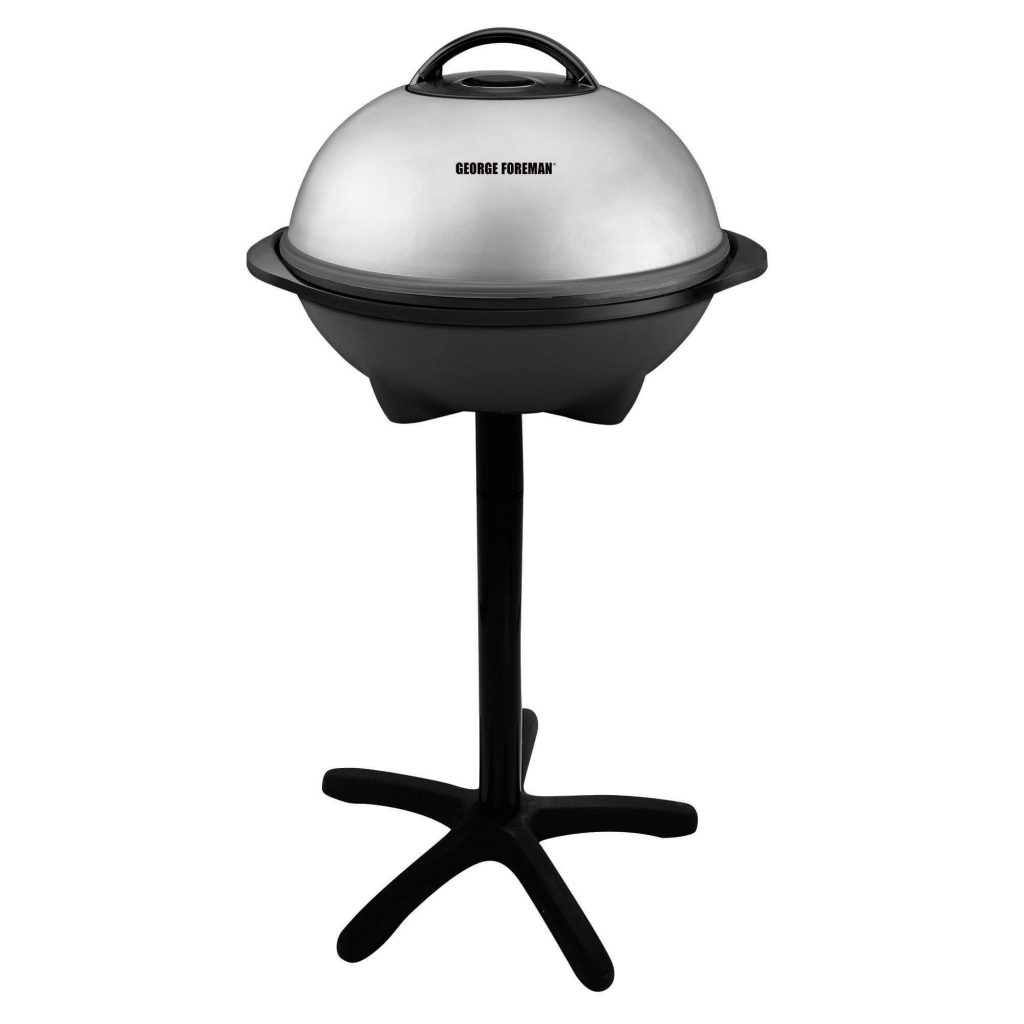 We felt there is no wrong in mentioning an indoor grill best for external use as well. Yes, George Foreman's electric grill can serve you perfectly in that perspective. There are more reasons to love about the unit; one is tough non-stick coating.
George foreman smokeless grill is durable, comfortable and leaves the need for butter or oil out of the equation. There is nothing to worry about weather conditions while you cook outside. Because, there is a removable stand to bring the grill from outside to your tabletop within a jiffy to protect the glory of grilling. 
Besides, there is a five-setting temperature control panel in the George foreman indoor grill for you to try with different recipes as you wish. The 240 square inch surface is big enough to let you have 15 servings at a time so everyone can enjoy delicious dishes together without having to wait licking lips with desperation! 
Features of the Grill
Indoor/outdoor removable stand
Adjustable temperature control panel
240 square inch grilling surface
Non-stick grill coating
Apartment-approved
Positive
15+ servings at a time
Compatible for both indoors and outdoors
No gas or charcoal required
Durable and easy to clean
Negatives
Non-stick coating tends to chip out
DeLonghi America CGH1020D Livenza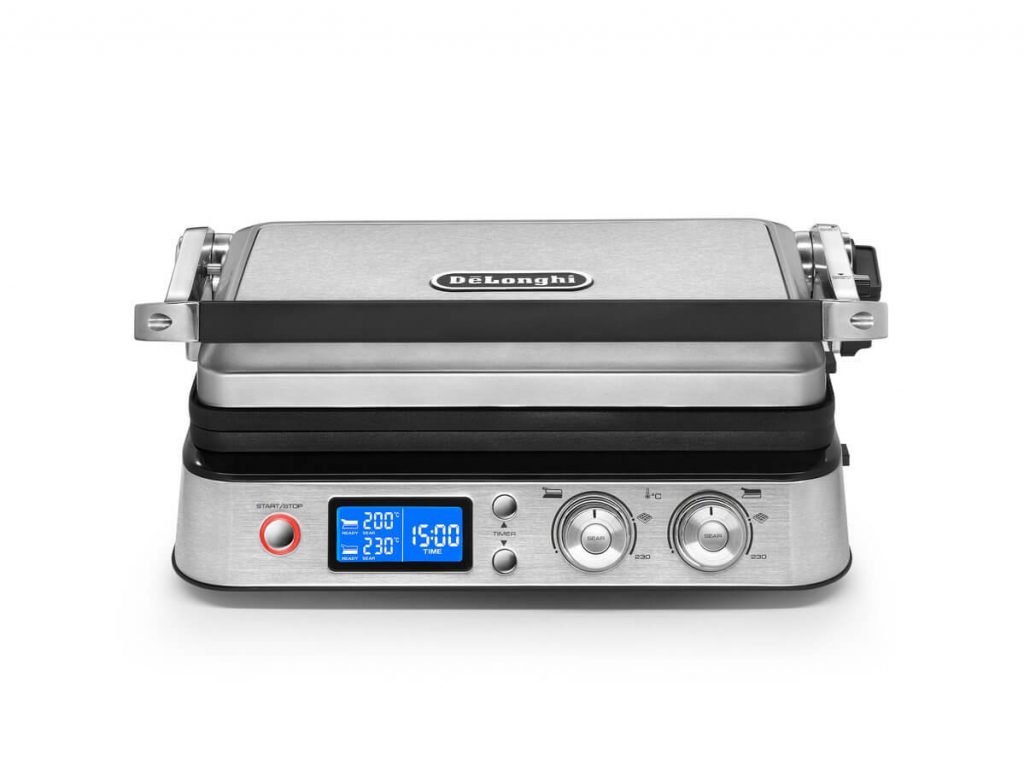 If you ask us, what is our pick out of these 10 best smokeless grills, most probably we would say this is the one. DeLonghi America CGH1020D Livenza is the best indoor grill for steaks; yes we state that with confidence.
You have the opportunity to try with 5 different cooking functions with this unit. They are Contact grill & Panini press, open-full grill, open-full griddle, half grill and half griddle. Delonghi grill contains a digital control LED panel with two knobs separately for up and bottom plates so that flipping and uneven cooking jumps out of the window. 
You can use the unit both closed and opened. The cooking surface of the Delonghi indoor grill is 14.5in x 9in, and it doubles to 14.5in x 18in once opened. The floating hinge grills mean you can grill even thick sandwiches without crushing and spoiling the look. Additionally, you can 'float' the upper grill to broil a steak or crostini.
Features of the Grill
Large LCD control panel
Temperature control knobs (upper and bottom plates)
Digital cookbook app
Removable, dishwasher safe die-cast plate
Hanging self-adjustable hinge
Positive
5 cooking functions
Multiple servings at a time
Bright and easy to read display
Even heat for an even grilling
Negatives
It takes much time to clean
Tenergy Redigrill Smoke-Less Infrared Grill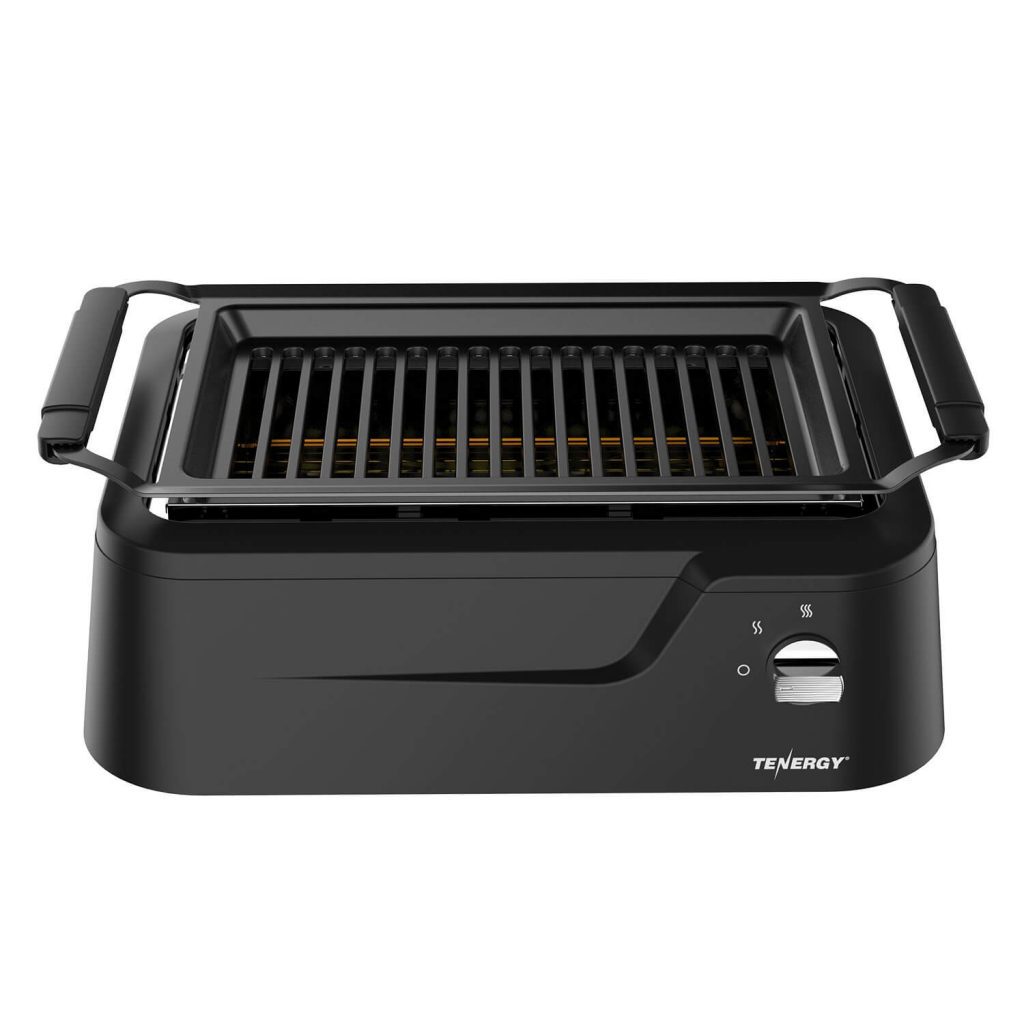 Tenergy's Redigrill Smoke-Less Infrared Grill is another remarkable and affordable smokeless power grill we name as one of the best electric grills 2023. The infrared grills of the product create 80% less smoke than the other electric grills out there in the market with the help of Smoke-less technology.
The advanced infrared technology spreads heat evenly on the foods, and there won't be any undercooked spots or cold zones. The machine can heat up to 446 degrees within a matter of six minutes, and you can get a feel of an expert while handling the grill. 
Tenergy's infrared technology has the certification by North American ETL standards, and the product comes to you with more safety features like built-in overheat protection and automatic shutting off functions. Importantly, you can receive up to two years extended warranty if you register the product with Tenergy life.
Features of the Grill
Advanced and certified infrared technology
Built-in overheat protection
Cooling tray
Automatic switch-off function
User manual
Positive
Evenly distributed heat on foods
80% less smoke than other electric grills
Designed with safety
Easy to use and clean
Zojirushi EB-DLC10 Indoor Electric Grill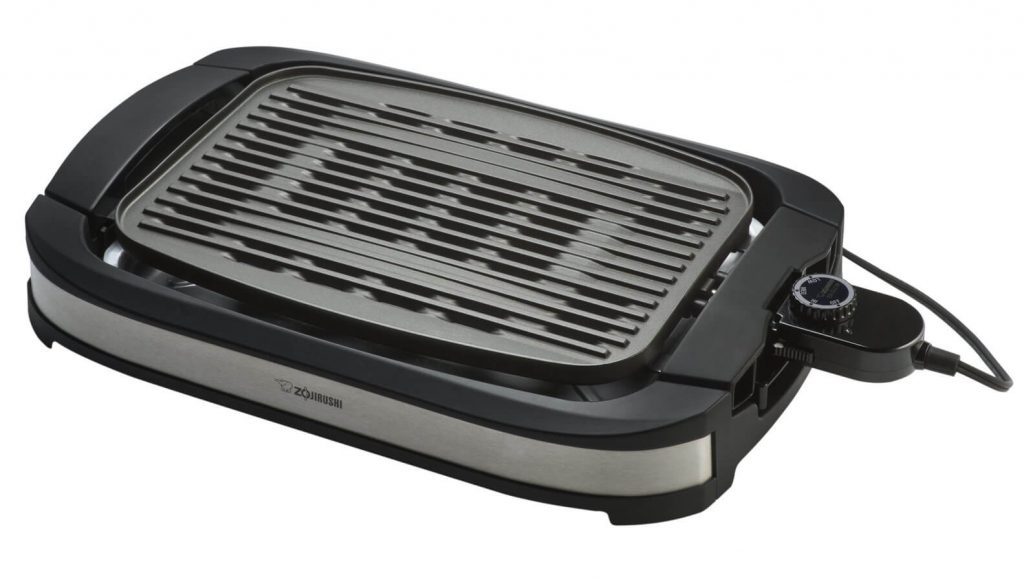 We know you're a stylish person and you are looking for an astonishing grill too. How about trying Zojirushi EB-DLC10 Indoor Electric Grill? Typically, the best indoor grills come with ceramic coated grills, and this product is no different. Additionally, this grill has titanium enhanced non-stick coating.
This unit facilitates you with a heat range of 176 degrees to 410 degrees, and there is a 1,500-watt high powered heating element. Keep in mind that, for the betterment of the product and taking safety into the count, Zojirushi has designed machine not to get heated if the components not appropriately installed.
For easy cleaning of the machine, you can disassemble the parts without much of a problem, and all the necessary instructions are available in the manual provided with the unit (In English and French). 
Features of the Grill
14-7/8″ x 10-5/8″ grilling surface
Ceramic grilling surface with titanium enhanced nonstick coating
cULus listed
The removable control plug
Instructions manual
One year limited warranty
Positive
Stylish and easy to use
Disassembles for easy cleaning
Large grilling surface
Remove oils away for a healthy grilling
Multiple servings at a time
Negatives
The grill does not get heated evenly at times
T-fal GC70 OptiGrill Electric Grill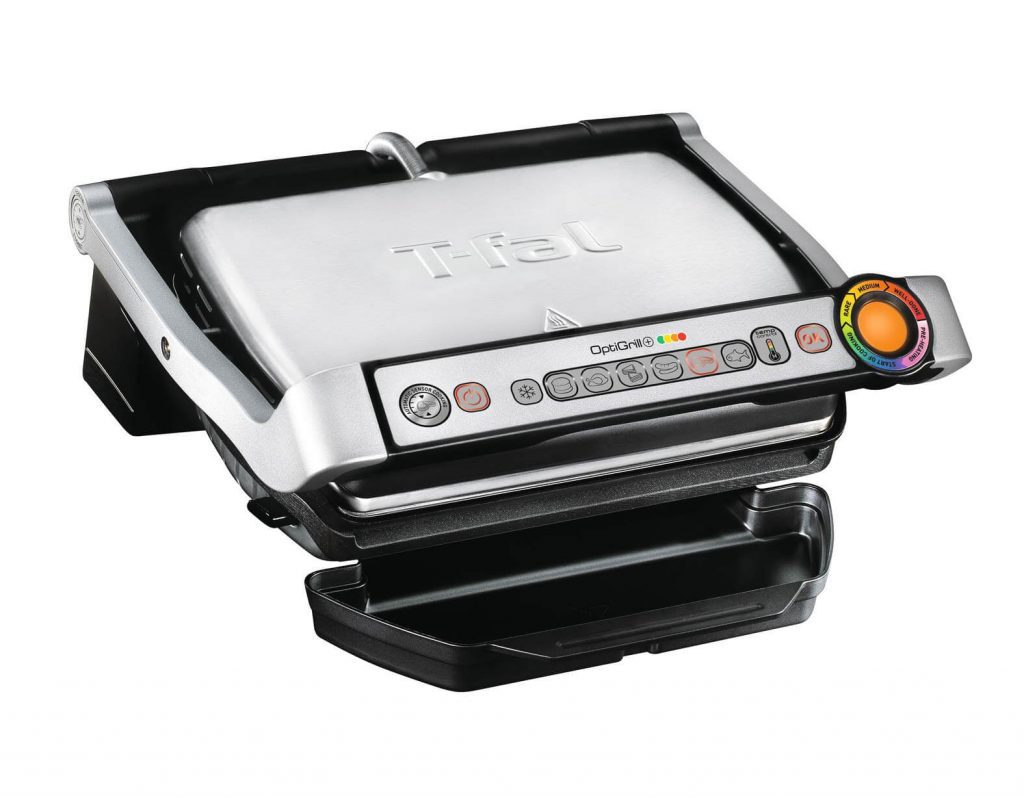 This is a highly automated grill getting featured in our list of best indoor grills. What does that mean? 
T-fal GC70 OptiGrill Electric Grill can measure the size of the food you inserted to the machine and select the appropriate grilling cycles within the given program (there are six automatic cooking programs you can try with the unit).
The bracketed programs are for Burger, Poultry, Sandwich, Sausage, Red Meat and Fish. Further, you can easily monitor the cooking process with its preheating indicator lights and audio beeps. With the two cooking modes (for frozen foods and manual mode) you can prepare a range of mouth-watering recipes.
The removable non-stick plates will help you with easy releasing of foods and effortless cleaning. Additionally, there are dishwasher, safe drip trays and plates. It's advisable you refer the user manual before you play with the machine.
Features of the Grill
Automatic thickness measurement feature
6 automatic cooking programs
2 cooking modes
Die-cast aluminium and removable nonstick plates
Automatic sensor cooking technology
Positive
600 square centimetre surface
Versatile cooking capacity
User-friendly control panel
Easy to clean
Negatives
Durability is questionable
ChefWave Smokeless Indoor Electric Grill & Rotisserie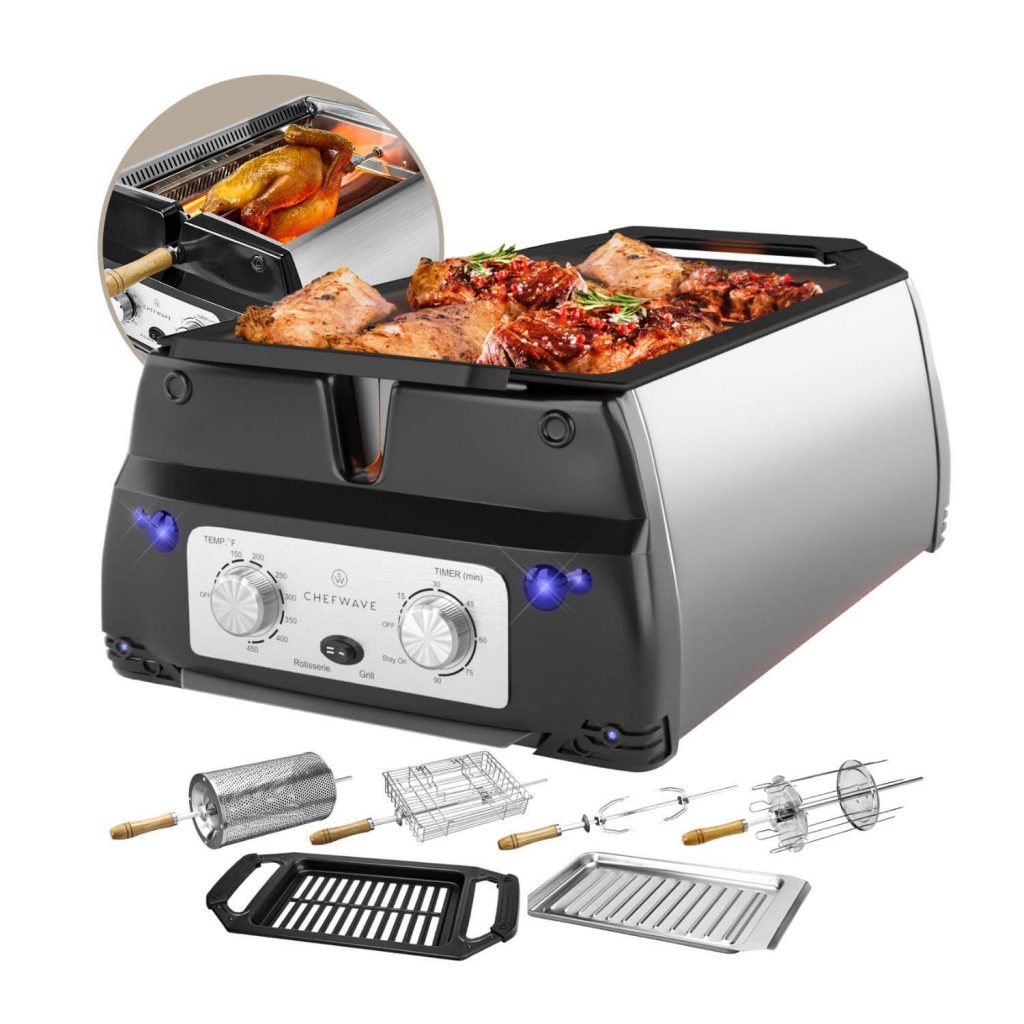 9th of our list of best smokeless indoor grills is from ChefWave, and indeed it is one of the best electric grill indoor users can have. If perfection is your goal, with the machines' smoke-less infrared cooking technology, you can blend deliciousness with perfection like an expert chef.
This ETL certified product is tailor-made for grills, rotisseries, Kebabs, Fries and Fish recipes. Even you can roast a whole chicken up to 6lbs with the help of big grill surface. 
It takes only a few minutes to heat up the machine, and with easy-to-adjust control panel, you can control the temperature from 150F to 450F. Further, you have the chance to control whether you need rotisserie or grill and timer as well.
Considering the safety it has, the machine contains a feature that shuts off automatically once you finish the grilling. The stainless steel construction and non-stick grill ensure the unit is in great shape for a long time.
Features of the Grill
Smokeless infrared technology
5-in-1 Grill and Rotisserie
large 9" x 13" grilling space
90-Minute Timer with Automatic Switch-Off
Stainless steel construction
Kebab Set – 7 Skewers and 2 Round Plates
ETL Certified
1 year warranty
Positive
Easy to clean
Infrared Cooking Technology
Easy to use
Stainless
Techwood Raclette Grill / Raclette Party Grill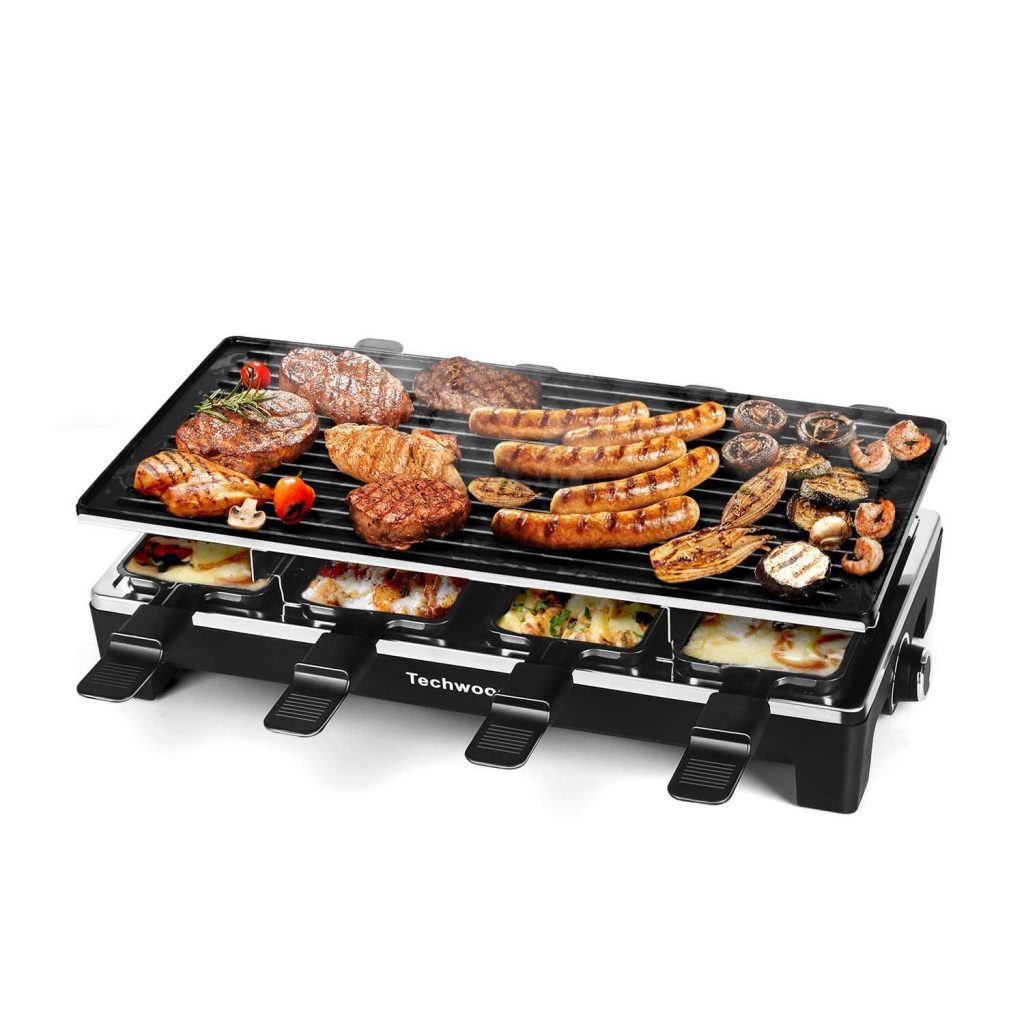 We know we have readers who want outside as well as inside grills. This product is for them. Techwoods' Raclette is a grill compatible with both outdoor and indoor environments. The unit has a large cooking surface, and as the name explains, you can serve many people at a time with various mouth-watering dishes.
This product comes with a grooved and a flat surface for versatile cooking options. The Raclette grill has adjustable thermostat and indicators to select a temperature as per your requirement. The non-stick coating requires no additional oil and which is essential in preparing healthier cuisines.
Do you know Techwood offer you a 30-day return policy and 18-month warranty for this product? Besides, this grill has more than 74% of five-star ratings in Amazon.com. So why not giving it a try as the product costs less than 100 bucks. 
Features of the Grill
Large Non-Stick cooking plate 18.5 x 9 inches
Reversible grill plate
Adjustable temperature 
30-day hassle-free return policy & 18-month warranty
Visible indicator light and non-slip feet
Positive
Removable components and easy for cleaning
Non-stick coating for a healthy grilling
Two sides for cooking
Can try different food recipes
Negatives
The heat it provides might not be even
Benefits of Indoor Grills
The best smokeless indoor grill can provide you with loads of benefits compared to the outdoor gas or charcoal grills. And, we have listed a few below.
Indoor grills are super easy to use, and it won't take much time to prepare dishes. And, how about the mess outdoor grills create? 
Most of the indoor BBQ grills come with adjustable temperature feature whereas it won't be that easy with a charcoal grill.
No need for gas or charcoal
Having an outdoor grill requires constant fueling, be it gas or charcoal. But it's not the case with indoor grills as you need only electricity. 
Weather conditions are not an issue anymore. Bad weather won't stop you eating BBQs!
Read the above machine reviews, and you would know the options these grills have.
Tips for Using an Indoor Grill
Having the best indoor grill alone won't make delicious dishes. You must know a few tips to get the maximum out of your machine. See whether you know below,
Pan-fry your meat before you place them inside the grill. Add your preferred oil and seasonings and give it a go until you see the outer layer is slightly charred.
Avoid adding salt until you serve them.
Preheat the grill. Never put cold meat inside an electric grill. Yes, you can cook fast with electric grills, but you don't want any moisture inside.
Grill veggies. Yes, of course. Wrap your vegetables with a parchment paper and grill. You can have a charred flavor to your steamed veggies quite comfortably. 
Learn how to protect grills from the rats. Read here.
Best Smokeless Indoor Grill Brands
In our list, we have tried to include products from renowned brands. If you skipped the product review see below-mentioned brands, but we urge you should read our top 10 list for detailed information. 
Philips
Delonghi
Zojirushi
George Foreman
Excelvan
Hamilton Beach
Ninja Foodi
FAQ's
Outdoor or indoor grill?
It depends on your requirement. But, indoor grills are more versatile and easy to use. 
What is the max temperature of an indoor grill?
The maximum is 600F. But you must know that you always don't require that much heat to cook BBQ's. Read more about optimum temperature required for grilling steak.
Drip pan, what is it?
Drip pan is the tray that collects dripping oils and grease from your meat. These pans help to reduce the smoke as well as cooking healthier cuisines.
What makes the best indoor grill?
Usually an indoor contact grill is considered a good grill. A few of the must-have and essential qualities are heat from upper and bottom sides, removable drip tray, versatile cooking systems, safety options and dishwasher-safe components. 
Can I grill vegetables from an electric indoor grill?
Yes, you can
Wrapping up..
To cap it all, there may be instances you can't or won't go outdoors, but still, you want mouth-watering BBQ's. And, who hates barbecues? If you can pick one of the products we mentioned as best indoor grills, nothing on the earth can stop you enjoying a sizzling piece of meat. Yummy! I can feel it right now!