Whether you are a professional cook or just a cooking enthusiast, it's always mandatory to keep your workplace clean and tidy. So, we've decided to let you know how to clean a flat top grill, an integral part of BBQ cooking, for various reasons. Without any ado, let's jump to the matter straightaway.
Signs Your Griddle Needs Cleaning
Before we talk about how to clean a griddle grill, first of all, you need to identify whether your grill is crying for a griddle cleaner, which is, in fact, not difficult to understand. Following are a few of such signs.
The buildup of grease on the surface of the grill
Uneven cooking
Food sticking to the grill
Change of flavor
Burnt oil on the food
What is The Importance of Knowing How to Clean a Flat Top BBQ Grill?
It doesn't matter what you are cooking; you always have to focus on hygiene. Since you are working with a comparatively high amount of oil when cooking on grills, if you don't know how to clean a flat top grill after use or left it unattended, inevitably, there will be grease buildup over time. Also, the norm is that around 10% of food tends to get separated and becomes debris. This says the oil buildup has a tremendous chance of becoming more harmful to the food.
Other than food residuals, some animals also attract to these types of grills. Treat of Rats are at a higher level compared to the other animals. So it is better to keep it clean and learn how to keep rats out of the grill.
How Often Should Clean Flat Top Grill?
Whether you are using a commercial flat grill or small griddle, the cleaning cycle purely depends on how often you use it. That said, if you notice the food sticks unusually, you should consider it as a clear sign and opt for a cleaning as soon as possible. 
Things You Need to Clean a Flat Top Grill
When talking about how to clean a flat top grill at home, you must have the right tools in your arsenal to execute the task. First, it makes the job easy, and on the other hand, it prevents damages to the grill. These are the tools that we recommend for you to clean your flat top grill. 
A Grill scraper – It works as a blade to scrape food particles from the griddle.
A gill scrub pad – It's more or less the same as a dishwashing sponge made for scrubbing the grill. 
A grill brush – This tool is essential to get rid of food residue from the grill's tough parts without much of a problem.
A grill screen – It removes stuck food and grease buildup.
A flat-top grill cleaner – grill cleaners are specifically made for cleaning purposes of flat top grills.
A grill cleaning brick – grill bricks can do all the duties of the tools mentioned above.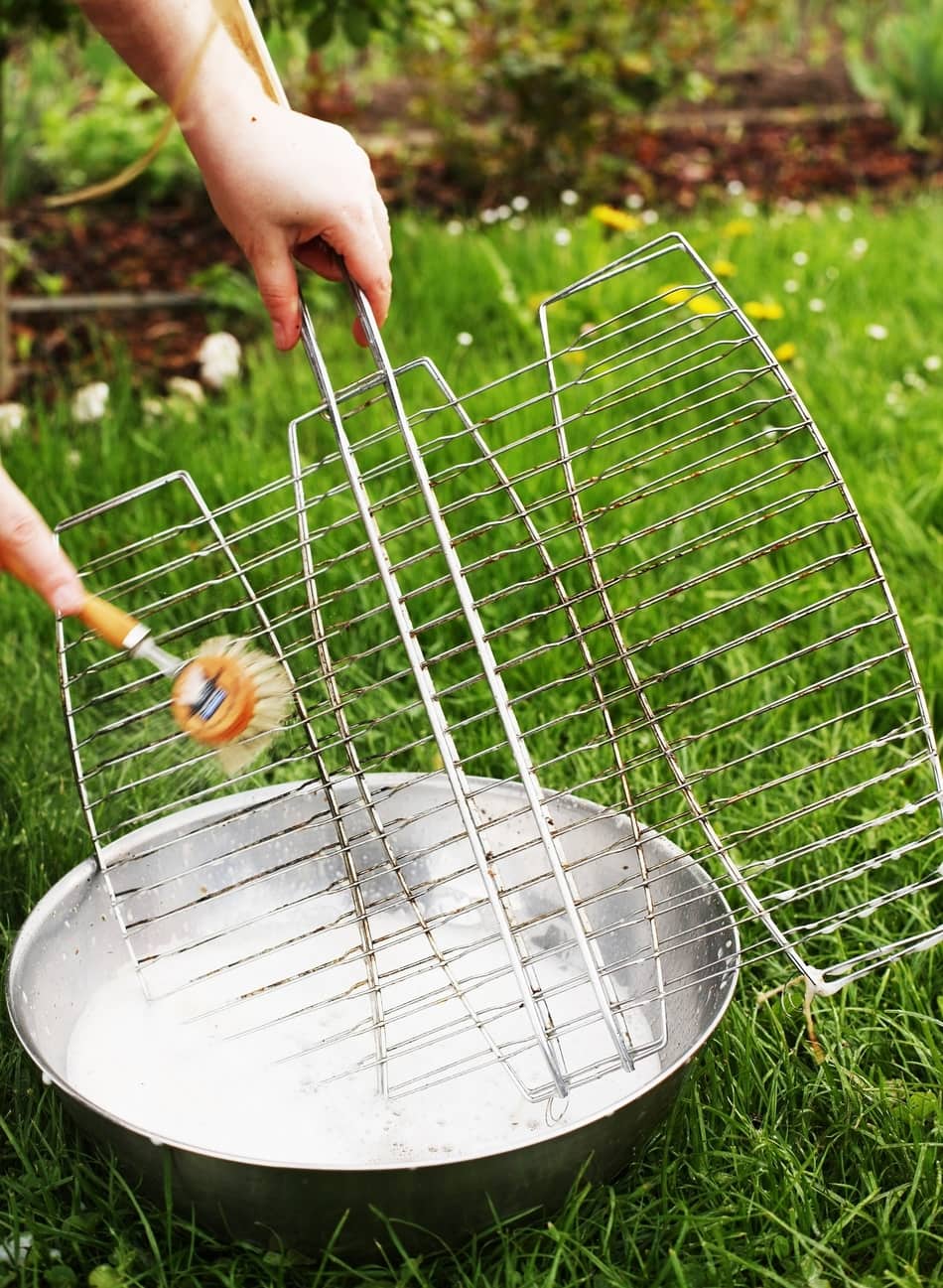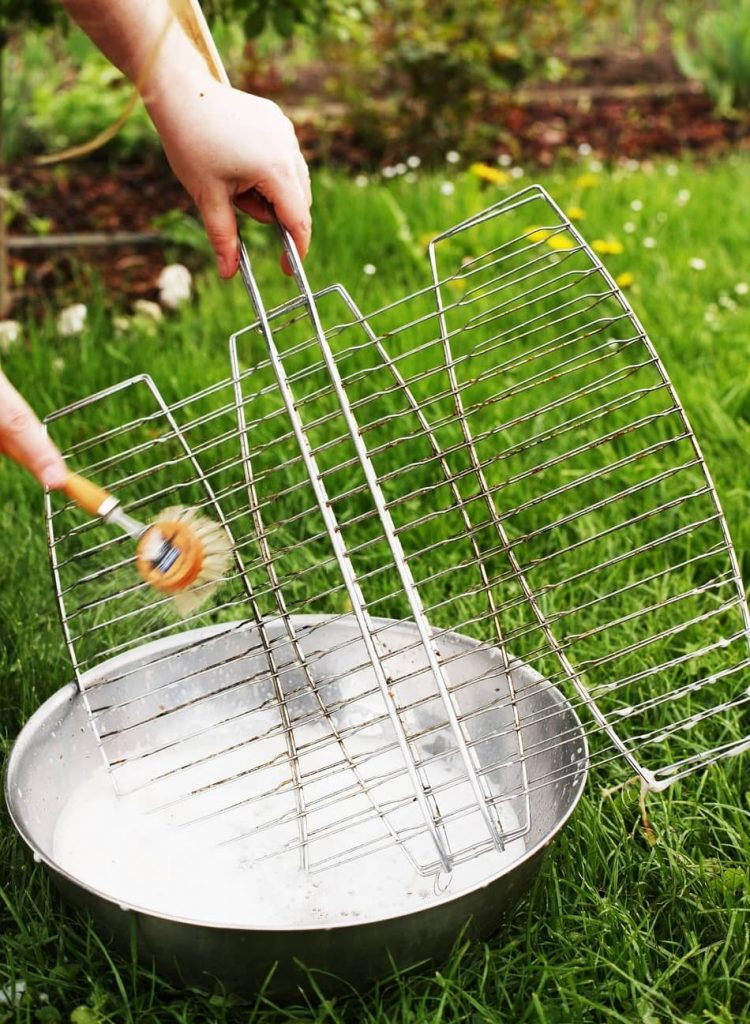 12 Methods of Cleaning Flat Top Grill
We cannot pinpoint the best way to clean a grill as there are loads of methods available to accomplish the work. However, we have handpicked 12 methods to answer your question of how to clean a flat top grill.
The most straightforward way of cleaning a flat top grill is to use dishwashing liquid and sponge to get rid of food particles, griddle oil, or any other substances on the grill. 
Yes, a mixture of lemon and soda water can be an excellent solution for removing the dirt off from the grill, and it will help remove rust from the griddle as well. First, you have to heat the griddle to soften the stuck debris and oil; then, use a scraper to remove all the residues. Now, spray the lemon and water mixture on the grill and wait for three to five minutes for the liquid to absorb. Then, scrape off the griddle again using a scouring pad to remove all dirt to the fullest. 
Tip: If you couldn't find lemon, try to find lime. It also removes the residuals and rust, but lemon has much higher acidity than lime. And also, find a lime that gives you more juice. You can read about the lime and how much juice it gives to your household for better cleaning.
This is a simple yet efficient way to clean flat top grills. Bring the grill to high heat and scrape the grill with the help of a grill brush. Now, spray or sprinkle water on the grill and spread the water over the entire surface using the brush to make the residues soft.
Sprinkle water throughout the process to prevent the dirt from getting drained and brush off until you receive a clean and tidy grill surface. Finally, drain the grill to remove all the added water.
Here also you have to heat the grill first. Then use an equal amount of vinegar and water to make a liquid. Now, spray the mixture on the grill and scrub it using a grill brush. You should repeat this process three times until you see gunk from the debris and oils on the grill.
Now switch off the grill and put more vinegar and water mixture and scrub again to remove the collected gunk. There is no exact amount of liquid to use; you can pour an adequate amount of the mix depending on the gunk. 
Are you worried thinking about how to clean rust off a griddle? Then this is one of the easiest methods out there. The carbonation of soda works magnificently to soften the toughest of dirt on the grills, and you should find it very easy to scrape the debris after that.
Similar to previous methods, first heat up the grill and pour soda; the scrubbing has to be done in concentric circles with the help of a grill brick. For best results, you can soak the grill overnight, focusing on tough dirt and scrub using a grill brush, which is the easiest solution for how to clean a rusty griddle.
Beer is another popular method to clean flat top grills. After pouring beer on the grill, you can scrub the dirt off with a wire brush or grill brush before the liquid gets drained. Again, beer must be poured onto a heated grill as it will help break down the debris and grease efficiently. Also, continue the scrubbing process in circular motions.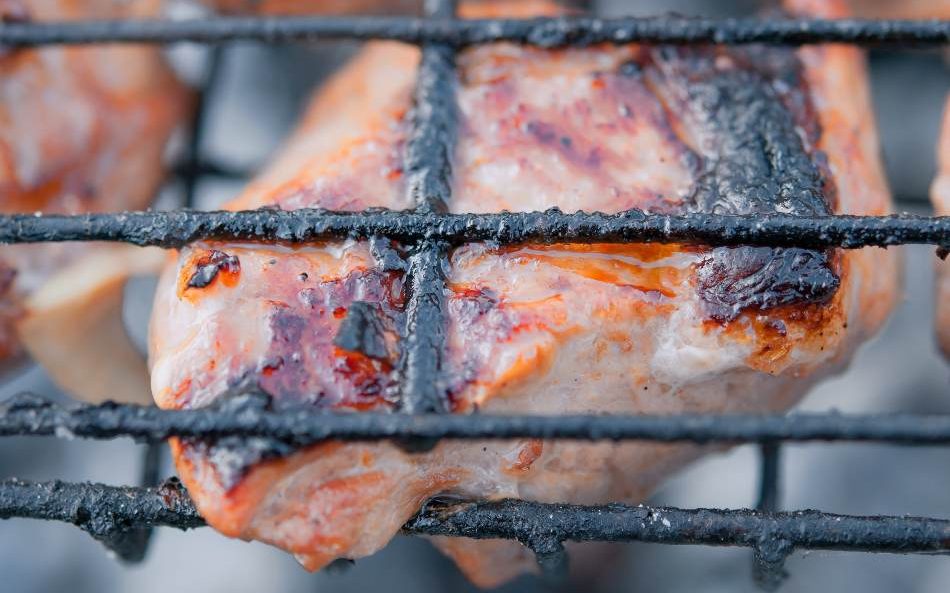 Here, you can use regular flat top oil for cleaning on hot grills. Small concentric circle scrubbing will remove all stubborn dirt from the grills. But, do make sure to get rid of dirt and oil you put completely off the surface. If not, it will work against you, and the grease buildup will happen fast again. Use a griddle brick or pumice stone to scrub the debris.
Lemon Juice and Water Mixture
One of our previous readers asked us how to clean a flat top grill with lemon juice and water. This is especially for him! Actually, the process is very much identical to the vinegar and water method; but the composition you have to use is different. Here, you will be using 1/3 of lemon juice instead of equal amounts. Further, allowing the mixture on the grill for a few minutes before you heat it also helps to break the debris far more productively. 
Perhaps, hearing the onion grill cleaner method to clean a flat top grill might have caused your eyebrows to raise, but that is one supernatural and convenient way to get a fresh-looking grill. All you have to do is scrub an onion on the grill surface while it is hot; that's all, and that is how to clean a grill with an onion! It's not just on the grills; you can use onion to clean grill drip trays as well since it has an incredible power to remove old dirt. 
How to clean BBQ grill with vinegar is one of the frequently asked questions among the newcomers; here is how you do it. Spray raw vinegar on the grill and wait about five minutes for the liquid to seep into the debris and oil residues.
Once they get soften up, you can scrub them off conveniently with a grill brush. Then, heat the grill and scrub it again using vinegar until you get a clear grill surface. Cleaning a griddle with vinegar is considered one of the logical ways of fighting against rust in particular.
Cleaning with a grill brick makes it easy to remove all kinds of dirt because bricks don't absorb the debris and greases from the grills. You can use any of the substances we mentioned above with a grill brick for cleaning.
It's always good to do the scrubbing in circular motions when you use a brick and make sure you keep it clean after you finish the process. Cleaning bricks with vinegar is the best way we recommend to keep them in good shape and enhance the longevity. 
I have previous experience in using coffee which I used for cold brews to clean the grill with good results, and would like to suggest this option for you as well. Mix coffee with water in equal amounts and soak the grill about 10 minutes before the scrub.
You should heat the grill after scrubbing it and use the water and steam method to remove coffee from the grill. Coffee has the capacity to separate tough stains and dirt from the grill; even we have seen people using coffee as a commercial grill cleaner, so why not give it a try?
Before we move onto the next part of the article, we want to emphasize to you that cleaning a flat top grill is not all about the surface of the griddle. You have to pay an adequate amount of attention to the other parts of the unit, including the drip tray.
In most instances, you can use the same substances you used to clean the surface for the other parts as well. Also, make sure the partitions are completely dry before you install them back into the machine.  
Steps for Cleaning a Stainless Steel Griddle
Stainless steel comes with a chromium oxide layer, so the grills will not work correctly when there are dirt and grease buildups. Further, it can lead to corrosion as well, and here is a simple step-by-step guide to keep your stainless steel griddle clean.
Step 1 – Add soap (grease-fighting soap products are ideal) to warm water and agitate the mixture.
Step 2 – Then use a sponge and soak it in the mixture and wipe the griddle's surface putting adequate pressure.
Step 3 – Rinse the whole surface with clean water.
Step 4 – dry the surface thoroughly using a dry towel. Never allow water on the stainless steel grill.
Special note: If you are using a stainless steel griddle, regular upkeep is a must. They typically don't get worn with regular cleaning as stainless steel is tough enough to tolerate repeated maintenances. Also, do not use hard cleaners on the grill to remove tough stains. Cleaning stainless steel grill grates with vinegar is another good option you can consider but make sure you dry the surface completely before you store the grill. 
Steps for Cleaning a Chrome Griddle
Here is how you do it,
Step 1 – First, you have to set the temperature of the griddle to 300°F and wait for 15 minutes.
Step 2 – Now pour water (preferably one or two cups) on the grill's dirty areas and allow water on the griddle for four to five seconds.
Step 3 – Then, use a non-scratch pad to clean the soiled areas, moving water and debris to the drip tray. Apply a sufficient amount of pressure according to the state of the dirt.
Step 4 – Now, turn off the griddle and let it rest for 15 minutes.
Step 5 – Then, use a damp towel to buff the surface and repeat the process with a microfiber cloth. You can use an equal amount of water and vinegar on the towel to buff the surface for better results.
Step 6 – Once the griddle becomes cool, you can remove the drip tray and clean it with soapy water. Wipe it with a dry towel and put the drip tray back to the grill.
How to Clean a Flat Top Commercial Grill?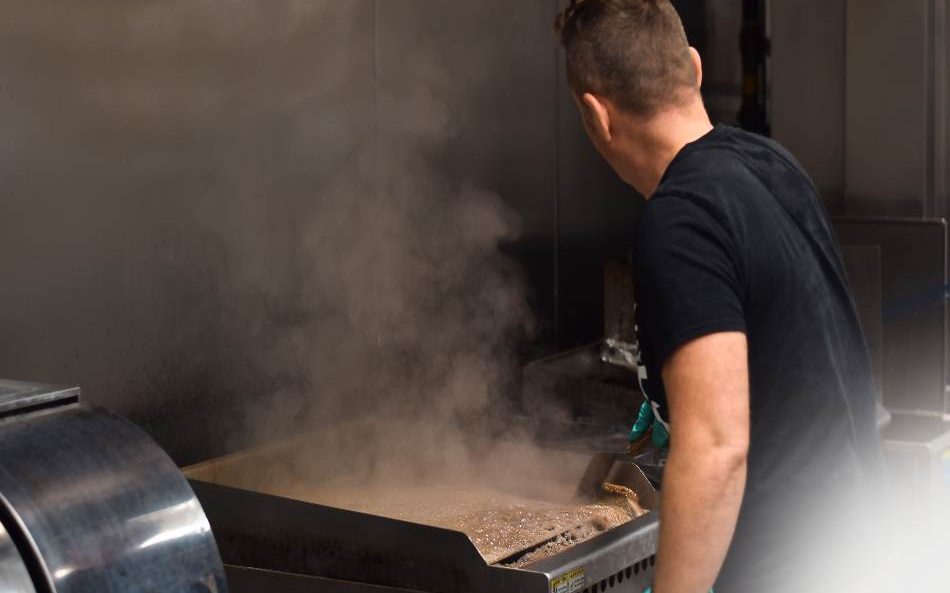 If you ask how to clean a commercial griddle from experts, no wonder they will come up with various suggestions. This is one of the easiest and less time-consuming methods out of the lot. Let's see.
Step 1 – When the grill is hot, pour 1/2 cup of cooking oil onto the surface of the griddle (fryer oil is the best oil for flat top grills).
Step 2 – Scrub the surface using a grill brush in small concentric circles. Scrape all the greases to the trough and throw them away. 
Step 3 – Turn off the griddle, pour one cup of soda onto the grill, and repeat the process mentioned in the above step. 
Step 4 – Now, pour one cup of vinegar all over the surface of the griddle and avoid them pooling. Scrub the surface until you get a refreshing outlook on the grills. 
Step 5 – Get a towel soaked in cooking oil and polish the griddle. 
How to Season a Stainless Steel Griddle?
You have to realize that seasoning a griddle is necessary as a properly seasoned stainless steel griddle prevents problematic food sticking, which helps reduce the cleaning cycles of the grills. Overall, it is a crucial step you must consider to improve the longevity of your griddle. Here is how you do it.
First of all, you will have to clean the grill using the method we elaborated on earlier in the article. What we are saying is that your griddle has to be clean and tidy before you season it. Another important thing is that if you used soap for the cleaning, make sure there no soap is left on the grills; otherwise, it will make awful tasting food. 
Then, take a decent amount of high-temperature oil of your choice and evenly apply the oil on the cooking surface; spread it all over the surface using a cloth or towel. Now, heat your griddle up to 400°F and let it sit for five minutes at that temperature. Next, you can turn the grill off and rest for a further five minutes. If you notice too much oil on the surface, wipe it with a towel.
That's all you have to do; your grill is now ready to cook delicious food without causing sticking issues. So what is the optimum temperature for grilling a steak?
FAQs
It's time to answer a few frequently asked questions about how to clean a flat top grill. 
How to Clean a Flat Top Grill without Chemicals?
Yes, you can clean the flat top grill with chemicals with absolutely great results, but there are some side effects associated with it. That is why people nowadays focus on staying away from those harmful substances. Luckily, you can use tons of natural products to clean flat top grills such as,
Lemon juice
Vinegar
Onions
Water
Oil.
How to Clean a Flat Top without A Grill Brick?
As we mentioned, grill bricks are a great tool to clean the flat top grills, but if you don't have one, you can use grill brushes, sponges, and many other tools to get the work done more or less with the same results. That said, we highly recommend using a grill brick to clean your grills as it is tailor-made to cater to the grill cleaning tasks, and you can use it on hot surfaces with utter safety.
How To Clean A Flat Top Grill Without Grill Cleaners?
You don't necessarily have to use specific grill cleaners to clean grills. You can use natural ingredients like lime, vinegar, water, onions, and oil instead of artificial grill cleaners.
How to Remove Rust from a Flat Top Grill?
Rust forms on top of the surface and hardly has any chance to cause issues to the whole metal. You can place the flat top over a stovetop on medium fire for 20 minutes. This will help rust to loosen up, making it easier to scrape. Now, use a scraper to remove the formed rust, and then, you can go for a griddle seasoning, as we explained before.
How to Clean Rust off A Commercial Griddle?
If you notice rust forming on the griddle, it's time for proper cleaning and reasoning. You should remove the griddle and medium heat it before you scrape the rust off using a scraper. Then, apply cooking oil to the grill and let it stay at 400°F for five to ten minutes. 
Wrapping up..
Today, we have described how to clean a gas grill with vinegar, lemon, water, and various other easy ways. We think now you have understood that taking care of your grill is not challenging as it sounds, and importantly it's not an expensive task at all. That wraps today's article on how to clean a flat top grill; have a great day!