So, you want to know best methods of reheating left over Nachos.  Of course there are many, but here are the 05 best tested ways for reviving them.  Properly reheated they would regain their crispiness.  You may even impress your dinner guests with amazing left over Nachos and so, here goes. 
Key Facts!
| Method used | Time | Temperature |
| --- | --- | --- |
| Oven | 10 Minutes | 300oF |
| Microwave | 20-30 seconds | High |
| Stove | 5 Minutes | Medium |
| Toaster Oven | 15 Minutes | 225oF |
| Air Fryer | 6-7 Minutes | 400oF |
Can You Eat Nachos the Next Day?
Yes, if properly stored.  Left over Nachos must be kept refrigerated.  They can be reheated and served the next day.  Mind you, Nachos are best when eaten fresh.  But don't worry, using proper methods, you can revive and refresh the leftover Nachos to get back its original crispiness or close to it.
Is Nachos Safe to Reheat?
Worried whether it is safe to reheat Nachos? But you don't have to be.  It is a definite 'yes' to this question, if refrigerated in an airtight container.  It's best to scrape off all cold toppings.     The quality of the reheated nachos lies mainly on the way it is stored.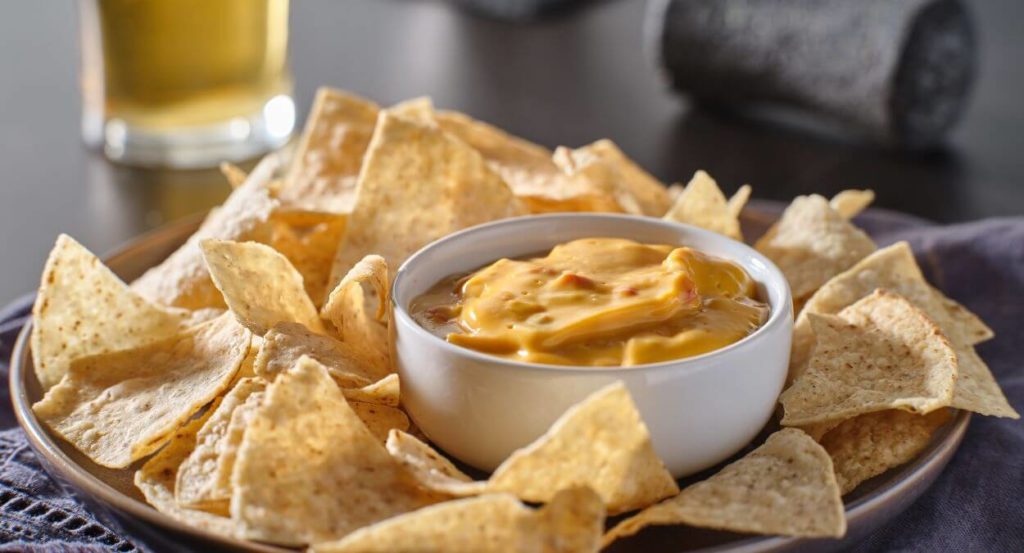 How to Reheat Nachos in Microwave?
Mind you, according to popular belief microwaving is not the best method to reheat nachos.  There is a risk in your nachos getting soggy when microwaved. But, if microwave is the only option available to you go ahead.  Scrape off all toppings of the refrigerated nachos (if you haven't done it before storing).
Place nachos evenly in a microwave-safe plate well lined with good quality paper towels.  This way any moisture will be sucked up by the paper towels preventing sogginess. Keep in mind not to pile all nachos one on top of the other.  Microwave the nachos for 20 to 30 seconds on high.  Test them at intervals for desired temperature.  Add more cheese.  Lower the temperature and heat until the cheese melts. 
In a separate bowl reheat the toppings of your nachos like beef, beans or meats, scraped off and stored separately.  Add them to already heated nachos.
Before jump in to the next methods, i suggest you to read complete guide on how to reheat Quesadilla?
How to Reheat Nachos on the Stove?
Reheating nachos in a skillet on a stovetop is a good way to revive them, but is not the best way.   However the choice is yours.  If you feel you'd rather go for it than waste time waiting for the oven to pre-heat, here's what you have to be mindful of.   There is a risk of the nachos getting steamed when reheating in a skillet.  Surely, you want your nachos to be crisp and crunchy and not steamed?  Therefore, you need to be extra careful to make sure that the left over nachos get crisp and not steamed. 
Now, if you haven't scraped the toppings of the leftovers before storing, first remove all such cold toppings of nachos.  Spread nachos evenly in a single layer on a heavy bottomed skillet or pan.  Do not pile or stack nachos in the pan.  Overcrowding the pan will make the nachos to get steamed.  Place an aluminum foil over top of the nachos. Cover with a fitting lid.  It is safest to heat them over medium heat for 5 minutes.  Once the cheese is melted add the cold toppings.
Keep an eye on the heat, which should be kept on medium.  You don't want the bottom of the nachos burned.   Remove the nachos from the skillet.  Let it cool before serving.
Personally, I would go for this method only if I'm not left with any other choice. Give me less hassle anytime!
How to Reheat Nachos in Toaster Oven?
Using the Toaster Oven for reheating Nachos is best, when you have only a small quantity of left over Nachos.  You will have the revived Nachos in double quick time.  And there is less washing up too as you need only a small utensil.  You go about reheating in the same manner as in a large oven.  Scrape off all the cold toppings, if you have not done so before storing. 
Pre-heat your toaster oven to 225o degrees Fahrenheit.  Lay the nachos evenly on a small oven-safe pan.  Cover with aluminum foil and bake for 15 minutes or until they are warm and the cheese has melted.  Remove from the toaster oven and leave aside for a few minutes to cool.  Replace the cold topping stored separately with the left overs.  Now the Nachos are ready for eating. 
If you have only a toaster oven and not a regular large oven, and you are left with a large amount of Nachos, you will probably have to work in batches when reheating them.  Piling all your left over Nachos in a pan at one go, would end up the Nachos becoming a soggy mess.  So remember to exercise patience and work in batches when you use a toaster oven for reheating Nachos.
Check the heat at intervals to ensure that they are crispy and not over cooked and burnt.  You are sure to be rewarded for your patience  with the most crispiest tastiest reheated Nachos to dig in.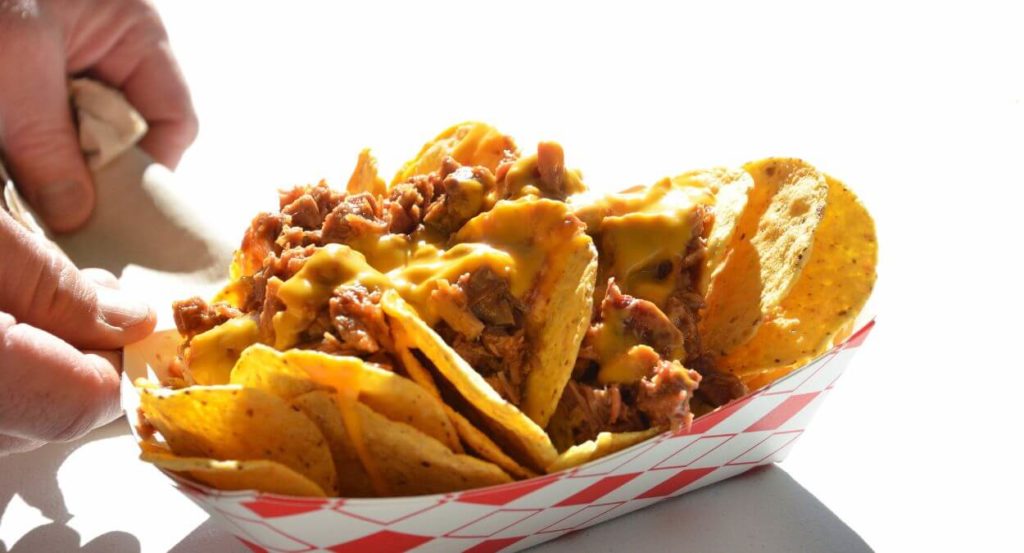 How to Reheat Nachos in the Oven?
Reheating Nachos in an oven is one of the best and easiest way to revive the crispiness and melting cheese. 
First you need to scrape off all toppings off, if you have not done so before storing them in the refrigerator.   This way you avoid having one big soggy mess in your hands. Now Pre-heat oven to 300 degrees Fahrenheit.  It's better to cover pan with parchment paper or foil but its optional.  Lay the nachos in a single layer in the pan, for even heating.  Place the pan in preheated oven.  Check on them after 10 minutes. 
This way you are at hand to check on the temperature you prefer.  Remove pan from oven .   you can serve them hot from oven.  If you feel like needing more cheese on them sprinkle some cheddar and pop into oven until the cheese melts.  Take out and enjoy. 
Why I say reheating Nachos  in the oven is the best method of reviving them is that although its slower than other methods you can keep your eye on them for the until they crisp up for the correct temperature.  Also, the taste is better. 
If you are truly enthusiast about one of the famous Mexican food burrito, I suggest you to read complete guide on reheating taco bell burrito.
How Long To Reheat Nachos in Oven?
You have to cook Nachos in oven for 15-20 minutes at 225o Fahrenheit degrees.  All toppings have to be scraped off before laying them evenly in the oven safe pan.  Check on the temperature for desired heat. Or else you may get the edges of some of the Nachos burnt.
How to Reheat Nachos in Air Fryer?
Using an air fryer for reheating Nachos is another excellent and fast and easy method.  There is an increased popularity for use of air fryers for reheating Nachos. The air fryer reheats Nachos by getting moisture out thus making them crispy again.  You can never go wrong reheating Nachos in an air fryer.  Therefore, as said earlier using air fryer for this purpose is becoming very popular.  Due to its even hot air circulation air-fried Nachos turn out better than by any other method.
As given earlier, you have to make sure that all cold toppings have been removed from the leftover Nachos first. Keep in mind that it is necessary to pre-heat the air fryer at 400o degrees Fahrenheit for 6 – 7 minutes. This enables the nachos to reheat evenly.  It is also necessary to keep n eye on the Nachos so that they do not get burnt while reheating. Spray the bottom of the pan with oil.  Place the Nachos in the air fryer in layers.  Scatter extra cheese between each layer. 
Heat the Nachos for 4-5 minutes.  Gradually lower the temperature to 350o degrees Fahrenheit and continue heating until it reaches your required crispiness.  Remove from the air fryer and transfer to a plate. Add fresh cheese. Allow to cool and pop back the cold toppings before tucking in.
How Long To Reheat Nachos in Air Fryer?
Pre heat the air fryer at 400o degrees Fahrenheit for 4-5 minutes.  Transfer Nachos into the air fryer and heat for 4-5 minutes to get the required crispiness. 
How to Store Nachos for the Purpose of Reheating?
Remove all cold toppings (such as sour cream, salsa, lettuce etc.) from Nachos.  Place nachos in an air tight bag or container.  Store the cold toppings separately.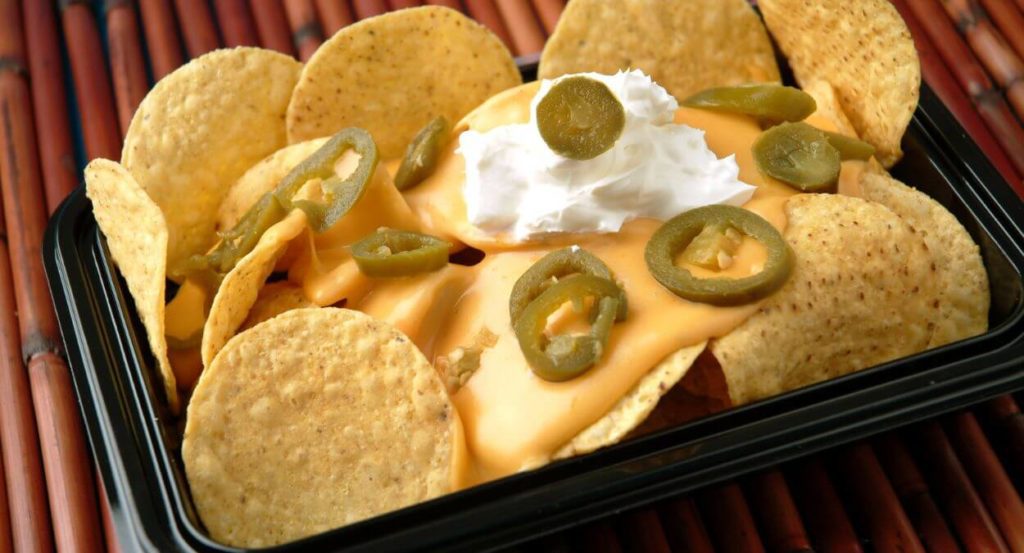 How Do You Keep Nachos From Getting Soggy Overnight?
The key is to remove or scrape all cold toppings from the left over nachos before storing them in air tight bags or shallow air tight containers.  Store the toppings separately in the same manner.
I recommend to read step by step guide on how to reheat taco meat before jump in to the FAQ section.
FAQ!
How Do You Reheat Refrigerated Nachos?
You can reheat them in an oven, toaster over, air fryer, skillet or micro-wave.  Out of these methods air frying is the quickest and easiest.  You can also revive the refrigerated Nachos in oven or toaster oven as well. Personally however, microwaving is the least favorite method. 
How to Reheat Nachos with Sour Cream?
When reheating Nachos the number one tip is to remove any topping or sour cream on them in order to avoid them getting soggy.  It is best to remove them before storing the left overs.  Store the cold toppings and sour cream separately as well.   When nachos regain the crispiness after reheating, you can pop back toppings and sour cream.
What Is the Best Way to Reheat Nachos?
Out of all the five methods given above for reheating leftover Nachos, my favorite is the air fryer which is the quickest and the easiest for a small quantity of left over Nachos.  If the left over portion is large, I would go with the regular oven as I am 100% sure the crispiness of the reheated Nachos would be to everyone's satisfaction.