Most people, including me, like to have wooden utensils in kitchens. However, finding appropriate food safe oil for wood isn't the easiest, and not everyone understands the importance of it. So, what is the best oil for wooden bowls and other wooden kitchen items? If you are painstakingly in search of solutions, you have landed on the right web page. Let's get started.
Importance of Maintaining Your Wood Bowl!
Well, maintaining wooden utensils isn't the hardest as most would think, particularly when it comes to the safety of the accessories. However, if you are confused thinking about what oil do you use for wooden bowls, it would be challenging to keep the wooden items in good shape without knowing the suitable products.
Using the right oil for wooden bowls not only keeps them stylish but also helps you extend the longevity of the accessories.
The primary objective of this article is to help you with some food safe oil for wooden bowls, and I will walk you through everything you need to know before you pull the credit card out.
Is It Safe To Revitalize A Wooden Serving Bowl With Mineral Oil?
The straightforward answer to this question would be "yes." Using mineral oil for wooden bowls is perhaps the best option you have. Actually, some of my wooden utensils are more than twenty years old, and they are still at their optimum quality. So, yeah, if you ask me what to put in a wooden bowl, I have no second thoughts in recommending mineral oil for wooden bowls.
Factors to Consider Before Choosing Food Safe Oil for Wooden Bowls
When you are in the market for oils for oiling wooden bowls, make sure you look at these factors to get maximum bang for the buck.
Ingredients
The main purpose of buying oil is to protect the surface of your wooden utensils and keep them away from cracks. In that sense, it is essential to look at the ingredients of the oil that you are buying. When it comes to oils, there is hardly a battle between mineral oil and other types of oils. So, make sure you are buying a product that has mineral oils in it.
One would think that mineral oil is only for industrial purposes, which is nothing but a faulty myth. There are food-grade mineral oils specifically produced to cater to the needs of wooden kitchen items. Such products have no odor or taste, making them ideal for the job.
Other than mineral oil, walnut oil, coconut oil and olive oil are other good options, and they provide an astonishing outlook to the wooden bowls as well.
The Form of Oil
You know, using oil as a coating substance can be a hassle to keep everything clean and tidy. Wooden utensil oils mainly come in two ways; liquid and spray. Using liquid oil sometimes can be a messy process, and if you have the luxury of choosing one from two, I would recommend everyone to opt for a spray product.
However, there is a slight disadvantage of using spray products as they tend to take a much longer time to apply the correct amount. As far as I'm concerned, the extra bit of time you put in is totally worth it, given you have more control over the process.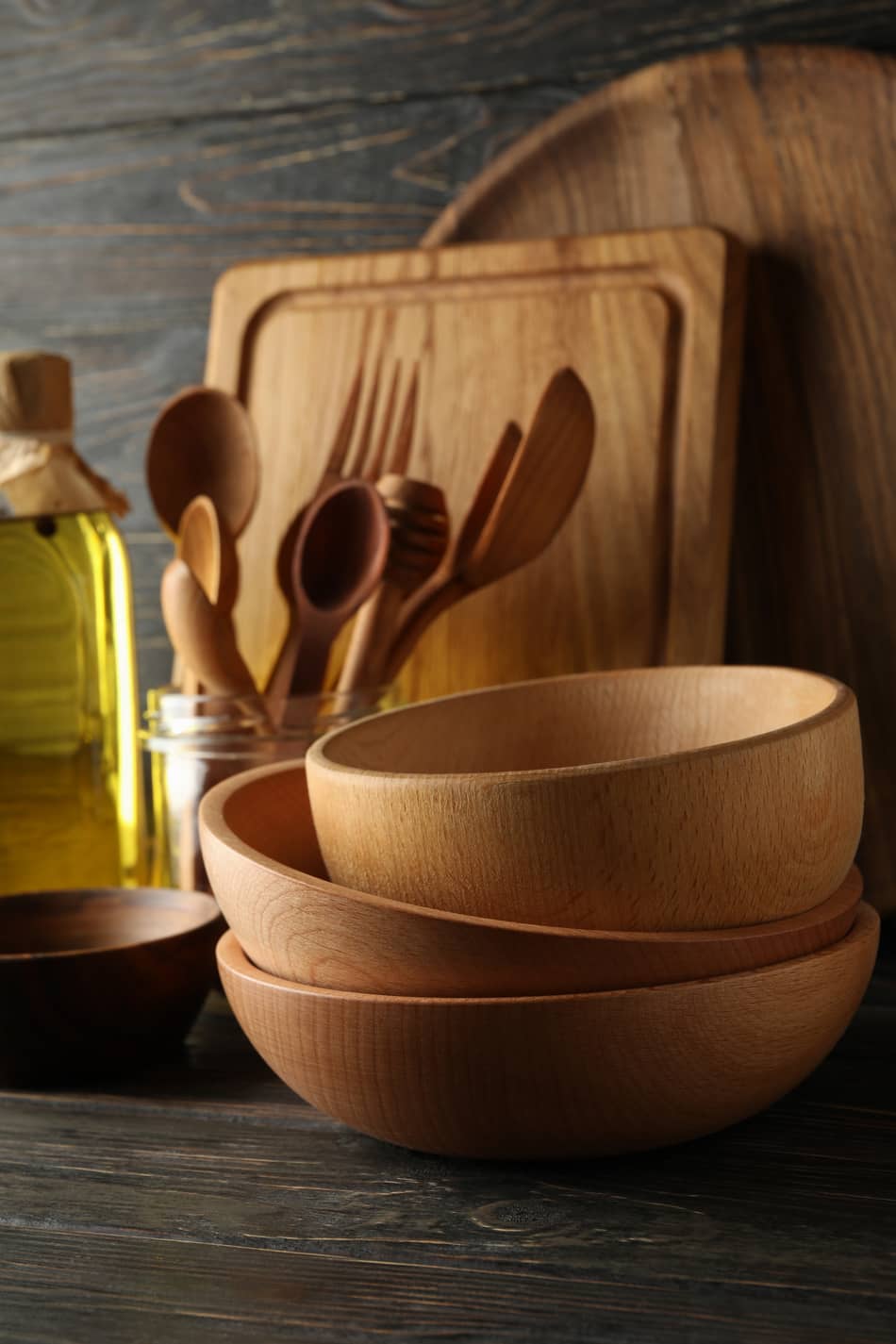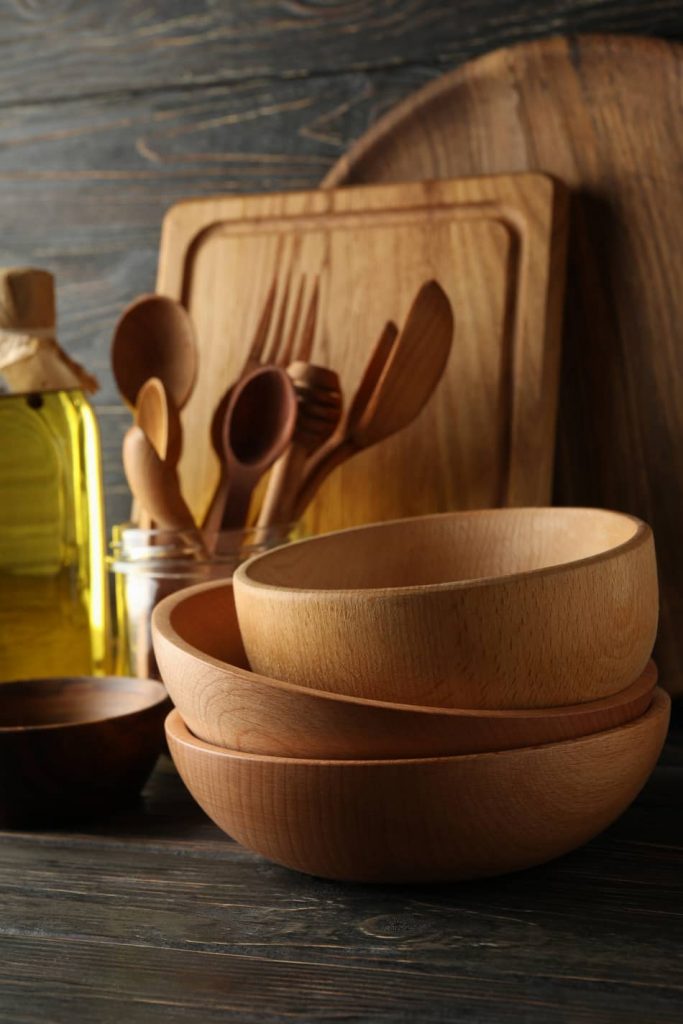 Conditioning
The typical understanding is that wooden items last for a long time when they are kept out of water. However, that is a luxury that you cannot afford on wooden kitchen utensils. This suggests that the life span of wooden accessories is bound to get reduced over time because of water. If your product has conditioning capability, you are adding an extra layer in terms of the safety of the items.
Perhaps, you will have to think of a separate conditioning product, but the juice is definitely worth the squeeze.
Applying Process
The ease of use is another factor that you need to keep a close eye on. The application process may vary from one product to another. So, make sure you read manufacturer instructions to see whether it is convenient for your requirement.
Price
The price of the best oil for wooden salad bowls should not be a skyscraper. If you are puzzled about finding the best products at the right price, please scroll down as I'm about to reveal to you three of the top-notch products you can buy with just a couple of mouse clicks.
What Is The Best Oil For Wooden Bowls?
For those who intend to oil wooden bowl, these are the products that I recommend. All these were tried and tested by me and had results beyond my expectation. Let's see.
Thirteen Chefs Food Grade Mineral Oil
This particular product is lab tested and guaranteed to meet food safety standards, which blends confidence into your purchase. It's not only wooden bowls you can take care of as Thirteen Chefs mineral oil is tailor-made for all wooden utensils, including cutting boards and wooden countertops.
The best part of this product is that it helps keep the integrity of wood while keeping the surfaces hydrated. If you opt for this, you are pretty much guaranteed to prevent pre-mature cracks, dryness and other damaging water effects.
Unlike most other wood conditioning oils, this one is quite straightforward to use on wooden accessories. It comes to you with a push-applicator cap which makes the application process a cakewalk even for those who are using wood oils for the first time. Make sure you don't use the wooden bowl or the item you apply oil for at least before you use it for the best results.
Considering the price and the quality of oil, also the results I've experienced over the years, I want my readers to have an eager look at this magnificent product from Thirteen Chefs.
Howard Food Grade Conditioner And Oil
Should wooden bowls be oiled? Of course, you should. What oil to use on wooden salad bowl? Howard food grade conditioner and oil. No, guys, I'm not exaggerating; this is one of the best wood oils I have come across. Even one of my friends who is handling a big restaurant uses this product with the best results for almost all of his wooden kitchen items including, bowls, countertops, and chef cutting boards.
Similar to the oil of Thirteen Chefs, this particular product also has no odor or taste to disturb the flavor of the dish you are serving in your wooden bowls. The vitamin E compounds make sure the wooden items are in good shape and last for a prolonged period of time. Moreover, it holds a reputation for being one of the safest wood conditioners going around, thanks to its mineral oil and vitamin E ingredients.
Not all wooden utensils are made equal; thus, the oil product you are using must be well-equipped to match all wood types and constructions. Howard's oil is the ideal pick for that purpose as its ingredients have the ability to penetrate all types of wooden kitchen items deeply.
Also, to minimize the usage of oil, I personally like to use my hand rather than cloth as using cloth has a tendency to waste valuable oil because the cloth obviously absorbs more oil. However, you don't have to worry about your own safety when using your fingers, and it helps for a better application as well.
John Boos MYSCRM Essential Mystery Oil
This product is a set that includes a bottle of oil and a tube of board cream. This might lead you to ask what I should use, cream or oil. Well, you should be using both to get the best results. I use the oil first then cream to replenish my wood surfaces. It suits all the wooden items such as butcher blocks, cutting boards and all other wooden utensils.
Usually, the wood performs well when the oil deeply penetrates into the grains, that is what experts say, and John Boos' oil does that masterfully. The cream includes unbleached beeswax and mineral oil that provide the much-needed moisture on the wooden surfaces you apply. It is a USA-made product, and all the ingredients are natural and have the NSF certification.
On top of all, John Boos essential oil and cream offer a one-year guarantee against all issues in workmanship and materials. So, yes, make use of both cream and oil to keep your wooden items safe with confidence.
Can I Use Coconut Oil For Wooden Bowls?
Yes, coconut oil is edible, and you can use it as an alternative to mineral oil. The compounds of natural coconut oil can help you keep the wooden bowls moisturized and away from cracks. In addition, unlike most mineral oil products, coconut oil has no dyes and other additives that are harmful to the human body. The nut-free nature of coconut oil makes it suitable for those who are allergic to nuts as well.
Can I Use Olive Oil On Wooden Bowl?
This is a debatable question. Some people think using olive oil on wooden surfaces is not appropriate. However, as far as my experience is concerned, it works oppositely and nourishes the wood. That said, it would be best to stick with mineral oil as much as possible to oil the wood items.
If you are unable to find mineral oil, there is nothing wrong with using olive oil moderately as it offers more or less similar results as mineral oil; especially as a varnishing substance.
Conclusion
When answering the question of how to care wooden bowls, you just cannot omit the importance of oiling them. If you are baffled thinking what is the best oil for wooden bowls, my recommendation is to use mineral oil for the job. You can bank on the products that I explained in the article if you want to buy a mineral oil-based product. If you have any questions to ask, please feel free to drop your concern in the comment section. Have a great day!