If you are truly passionate about cooking rice, Japanese rice cookers are perfect for you. Zojirushi is one of the top brands out of all of the world's renowned Japanese rice cooker brands. One of their successful products of Zojirushi np-hcc10xh is the leading market with wonderful feature s and technology. In this comprehensive guide, we are pointing out the innovative features, technology, tips, and safety guides of the Zojirushi rice cooker.
Zojirushi is a Japanese corporation mainly engaged in the manufacturing and selling of kitchen and household items. The company mainly manufacturing rice cookers, coffee makes, ovens, rice mills, jars, dyers, etc. to the global market. Zojirushi started in the year of 1918 by introducing a vacuum bottle. They have introduced a different number of product ranges by using their advanced technology and innovative inspirations. The company's corporate philosophy of "Creating a Quality Life" drives them for much successful brand awareness across the globe during the last 100 years.
When it comes to the Japanese rice cooker business, they have introduced several types of products to the world market. Zojirushi NS-LAC05XTMicom 3, Zojirushi NS-ZCC10, Zojirushi NS-TSC10 are one of the famous models other than this nphcc10. Let's jump it to the Zojirushi np-hcc10xh review.
Positives
Induction heating technology
The control panels that comes with push buttons enable easier to control the appliance
Ease on cleaning due to detachable parts and the stainless-steel material that used for the design
Ability to keep the rice warm with its automatic warm feature plus the ability to keep the rice fresh for a longer period of time
Negatives
1-year limited warranty
The product counters large space from your kitchen
Size and Capacity of the Zojirushi NP-HCC10XH Rice Cooker
The size of a product matters a lot. Size defines the capacity. If your family with a large number of members, you have to use a much larger rice cooker to prepare food for them. This Zojirushi induction rice cooker comes up with the 14 inches long, 10 inches wide, and 8-inch height. So you can require a small space in your kitchen to keep this stylish rice cooker.
It has a cooking capacity of 1 liter or in the other words 5.5 cups. Which is enough for 12 peoples and extended high capacity rice cooker of this version Zojirushi NP-HCC18 can cook up to 1.8 liters or 10 cups.
Design
When you compared the design of the rice cooker with the competitors, you can identify the unique and stylish look from this Zojirushi np-hcc10xh. This is developed with a modern and sleek design to attract users' attention. It has an LCD to measure the cooking status preciously. The push-button system facilitates several options including start, cancel, timer, and warmer and extended wormer options.
A clear-coated stainless steel exterior of the Zojirushi NP-HCC10XH protects the rice cooker form damaging and becoming dirty. The detachable stainless inner lid can be washing easily and has good strength. The black thick spherical inner cooking pans perfect for durable use and enhance the life span of the cooker. More importantly, should follow the below steps when you are using the cooking pan.
Do not use tools such as iron sticks or whisks to clean the pan.
Use cooking pan only for cooking rice.
Don't hit hard to the pan
Clean the pan immediately after the seasoning.
Use soft items to clean the pan. (Sponge)
Motor & Heating
This best price Zojirushi rice cooker included a 1,230-watt power motor for perfect cooking. Manufacturers use the induction heating technology for this professional series rice cooker range. Simply induction technology is the use of magnetic material in a magnetic field. In here coils included in the cooker create a magnetic field and when the pan placing on it creates instant heat within the cooking pan.
With the heat controlling system of the Zojirushi NP-HCC10XH, you can control heat from high to fine heating and the pan can bear from lower to high heat. Specially triple heating system encourages even heat distribution throughout the cooking process. It generates heating from the bottom, side, and lid.
Zojirushi a stainless steel rice cooker with another wonderful technology called MICOM. It is a microcomputer technology for heating adjustments. Where the rice cooker automatically adjusts its cooking temperature and time based on the rice type and amount of cooking.
What is Automatic Keep Warm and Extended Keep Warm?
Automatic keep warm and extended keep worm system give you the rice at perfect condition and temperature. Under the regular keep worming settings, it can convert to the keep warm method automatically. If your cooker switched off and you want to keep your rice warm, you must move with the extended keep warm method.
Clean and Maintenance of Zojirushi NP-HCC10XH Rice Cooker
Cleaning is much more important for continuous cooking. Proper cleaning enhances the life span of the product and removing of residuals improves the health benefits. You must follow the below steps for or a proper cleaning.
Before you clean the machine you must make sure to unplug the power code.
Do not use the thinner, abrasive cleaners, bleach, scrubbing brushes, benzene, or sponges with nylon surface to clean the pan.
The use of a dish dryer or dishwasher may cause scratches and discoloration.
Make sure to reattach the steam vent set, inner lid set, and spatula holder correctly.
When you cleaning the exterior, use a soft cloth to clean the body parts and do not scrub the cooker forcefully. It may cause damage to the exterior. Especially use a vacuum to clean the exhaust duct and intake duct located at the bottom of the rice cooker.
Use mild kitchen detergent with the soft sponge to clean the Spatula, Spatula holder, measuring cup, and cooking pan.
When you start to clean the interior of the Zojirushi NP-HCC10XH, soak the inner lid set in warm or cold water, and wash with a sponge. Not properly removing rice may lead to leak the steams. Make sure to clean the inner lid after every use.
How to use a rice cooker? 
Before answering the common question of how to cook rice in a rice cooker? Wash your Zojirushi NP-HCC10XH rice cooker before every use and follow the below steps to proper cooking.
Measure the amount of rice or no of cups using the measuring cup. Please make sure to cook the required amount for your family.
Secondly, clean the rice and adjust the water according to your rice amount
Clean Rice Quickly
Rinse Rice – Pour water into the inner pan and stir the rice loosely by hand. Repeat this twice.
Wash Rice – Wash by stirring the rice by hand 30 times. Pour the water from the bowl and stir rice loosely again. Do this 2-4 times. I always recommend using purified water to wash rice. Because most of the time in dirty water contains harmful bacteria and minerals to the human body, so invest in a good water softener system to remove calcium and magnesium. If you have a water filter system in your home, you can remove impurities from drinking and cooking water.
Rinse Rice – Pour plenty of water from the bowl and rinse the rice. Repeat this twice.
Water Adjustments
| | |
| --- | --- |
| Types | Water Adjustment |
| White Rice with Germ | Normal Scale Level |
| New Crop | Reduce Water Slightly from Normal Level |
| Old Crop | Add Little Water to the Normal Level |
Tip – Do not use strongly alkalized ironic water. – It is more than the PH9 therefore rice turning into the yellow and become more glutinous.
Place the cooking pan into the main body of Zojirushi rice cooker and plug the power code.
Select the desired menu settings and press the start button.
When the BEEP melody coming out, stir and loosen the rice immediately to give delicious fluffy texture.
After that press the cancel button to and unplugged the power code.
Estimated Cooking Time for Perfect Cooking
| | |
| --- | --- |
|  Rice Type | 1.0 L Model |
| White Rice – Regular | Approx. 47 Min – 54 Min |
| White Rice – Softer | Approx. 53 Min – 1 Hour |
| White Rice – Harder | Approx. 38 Min – 44 Min |
| Quick | Approx. 22 Min – 35 Min |
| Mixed | Approx. 44 Min – 58 Min |
| Jasmine | Approx. 51 Min – 58 Min |
| Sushi | Approx. 33 Min – 44 Min |
| Porridge | Approx. 1 Hour & 12 Min – 1 Hour & 19 Min |
| Sweet | Approx. 37 Min – 45 Min |
| Brown | Approx. 1 Hour & 24 Min – 1 Hour & 30 Min |
| Gaba Brown | Approx. 3 Hour & 1 Min – 3 Hour & 12 Min |
How to Cook Brown Rice in a Rice Cooker? – GABA Brown Settings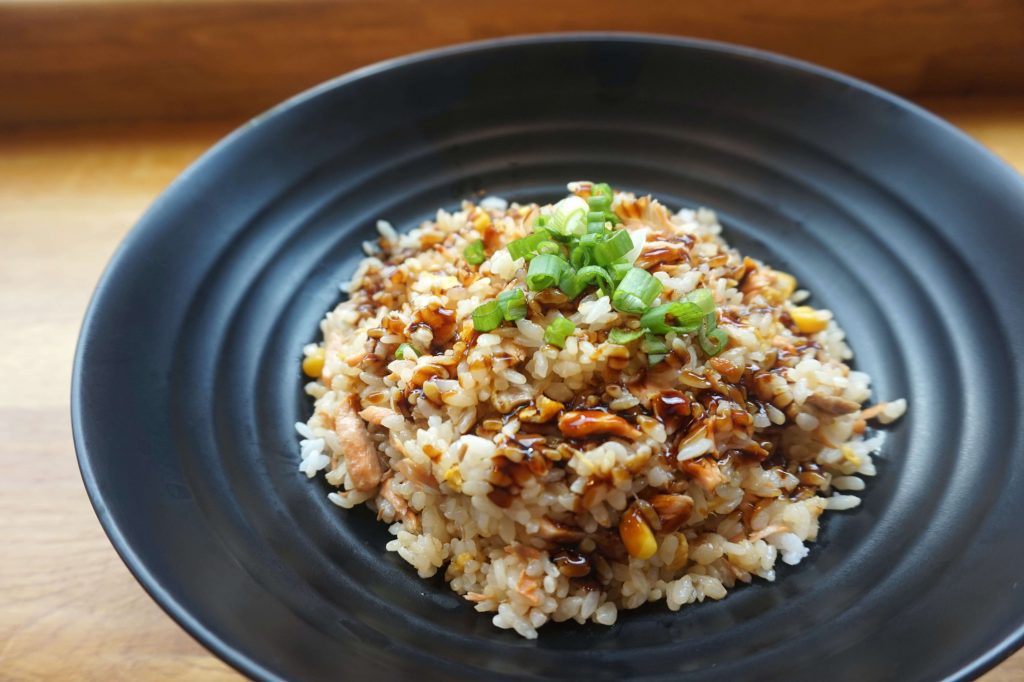 GABA (gamma-aminobutyric acid) is a wonderful amino acid that reduces blood pressure and stress. In this Zojirushi np-hcc10xh, Japanese Rice Cooker has two settings for cooking brown rice. It is designed to increase the nutritional value of rice.
While you selecting the GABA Brown rice settings it will adjust automatically and start to cook. When it starts, it requires approximately 104F (40C) temperature for 2 hours to finish the cooking. With this setting, you can increase nutrition value by 150% than the normal cooking.
How to Cook Jasmine Rice in a Rice Cooker? – Jasmine Settings
This best rice cooker programmed for special rice cooking options such as brown rice and Jasmine rice. Jasmine rice cooking is different from white rice cooking because it is longer than short or medium white rice. Here you have selected the settings from the menu and it automatically adjusts the settings and starts to cook.
Delicious Recipes for Zojirushi NP-HCC10XH
Rice Porridge with Seven Herbs
Mixed Rice
Mixed Brown Rice
Features of the Rice Cooker
1,230 Watts Motor
Multi-Menu cooking functions
Automatic keep warm & extended keep warm
Healthy cooking options
Superior induction heating (IH) technology
Triple heater
Delay timer (2 settings)
FAQ
Does brown rice need more water in a rice cooker?
Brown rice requires more water in the rice cooker. The main difference in cooking between brown rice and white rice is water to rice ratio. Brown rice contains outer bran coating therefore it requires a longer time and more water to cooking.
What is the ratio of water to rice?
That depends on the types of rice you are going to cook. In general, it requires 2 cups of water for 1 cup of rice.
Wrapping up..
Cooking your favorite rice for our family is not difficult with modern technology and equipment. Out of all the options available in the market Zojirushi np-hcc10xh Japanese rice cooker is perfect for a verity of rice cooking. Not only for home use, but it is also popular among the restaurant owners and chefs as a commercial rice cooker. So brag your rice cooker now.