Bought a new grill and wondering whether it needs a cover or not? But why not cover your dream grill? It's simple, the more you love your Grill, the more it will cook delicious foods for you. So, a grill cover is a thing you need to cover your Grill from all types of weather conditions after you finished the cooking. Be it sunlight, rain, snow or wind. The best grill cover are typically produced from materials like Polyester, Canvas or Vinyl which are capable enough to facilitate protection for your Grill mainly from different weather conditions and, other elements like rust, ash pastes, and animals as well.
There is nothing like enjoying a barbecue in the backyard, but most people out there either not aware, or taking the protection of the Grill for granted. So, we thought to reveal everything about this important accessory to pull you out of that lot.
How to Choose the Best Grill Cover and What are the Factors to Consider?
Let us clear this for you before moving any further as some get confused with lid and cover. The first and most important thing you have to understand is that you can cook with the lid on but should avoid cooking with the cover on. And before picking your grill cover, there are numerous factors you should consider.
Price
It's everything about price these days, even the flat top grills , indoor grills and smokers, isn't it? Frankly speaking, these type of accessories won't cost you that much, but if you want to keep an eager eye on your expenses, then you might want to compare few products before choosing the best match. We will ease your pressure, continue reading!
Size
You must have a calculation of the size of your Grill before you select one, as grill covers don't represent a standard size but come with customized dimensions. 
Material
As we mentioned in the first part of the article, there are three best grill cover materials as Polyester, Canvas and Vinyl. Let's have a closer look at each of this material.
These BBQ covers are waterproof and can be utilized as an ideal outdoor grill cover. There are two types as heavy-duty grill covers and light Vinyl covers with former tend to last long, and the latter is not that much durable. Typically, Vinyl ones are recognized as the best BBQ Grill covers around the world though they are relatively high in price compared to the other two. 
These are the customer-favourite within the three types and capable of handling all kinds of weather conditions because of the sturdy nature of the material. The longevity of the cover is guaranteed, and you can use these covers throughout the year as these BBQ covers are made to be impenetrable from direct sunlight and rain.
Canvas barbecue covers are often used as a substitute for Polyester ones and proficient enough to bear different sorts of weather conditions. In addition, it can help you as a fireproof accessory as well. When it comes to the cost, it is much cheaper than the above-mentioned cover types.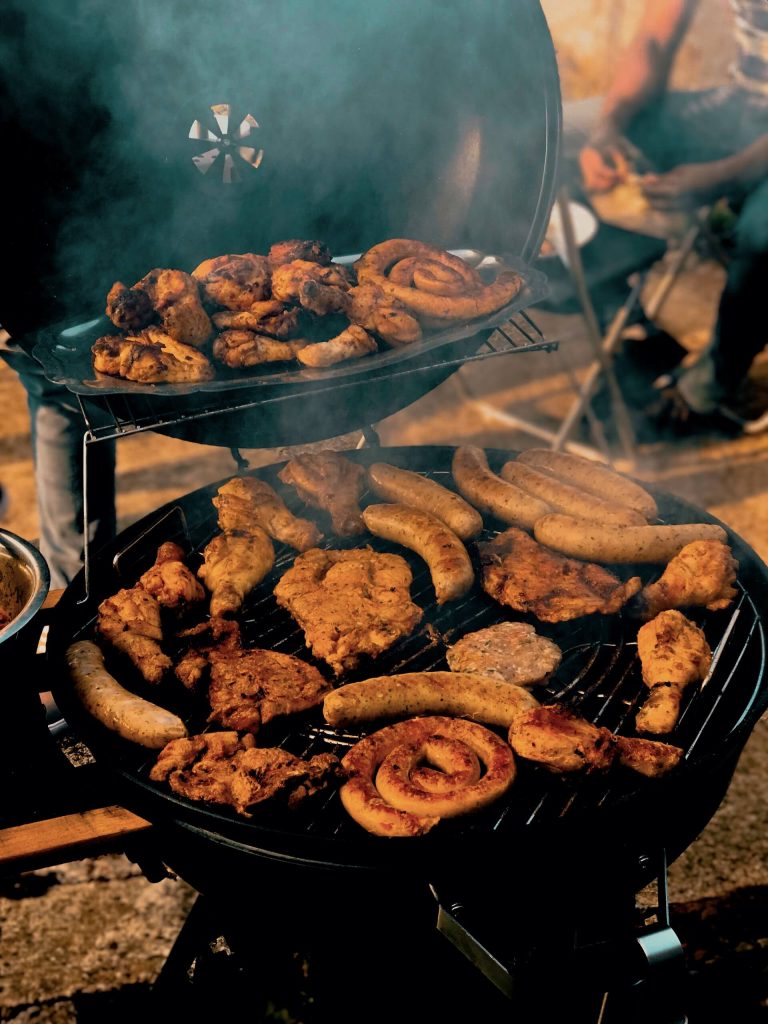 Features
Your barbecue grill cover must have a couple of vital attributes like handles, straps, pockets and air vents. Each of these features helps you in various ways and enhances the longevity of the cover. As an example, air vents would assist you to keep the moisture away from the grills so that it prevents rust, and handles would help you to remove the cover from the Grill easily without any hassle.
Weather Conditions and Usage
This is another crucial factor to consider when buying a smoker cover. Think how often you use the grills for BBQ seasons, and what are the weather conditions your protection going to face. If you are not using the grills regularly and you have severe weather conditions, then the cover bound to be there for more extended periods on the smoker. If so your pick should be a heavy-duty grill cover. And if you have an opposite situation, then it would be ideal if you buy a lighter one.
Maintenance
Your choice of cover should be easy to upkeep. It's a norm that the covers with inner lining are machine washable which helps the durability of the covers and more convenient for you as well after a BBQ session. So, be sure to get a cover which allows machine washes.
Best Grill Covers 2022
Immediately after you decided the best time to buy a grill and product, you must consider the safety & care of the grill as well. In order to help you in shopping and before you type "grill cover Amazon", we will bring you 10 best grill covers and would let you know all the features they have in a nutshell.
Weber 7130 Genesis II Cover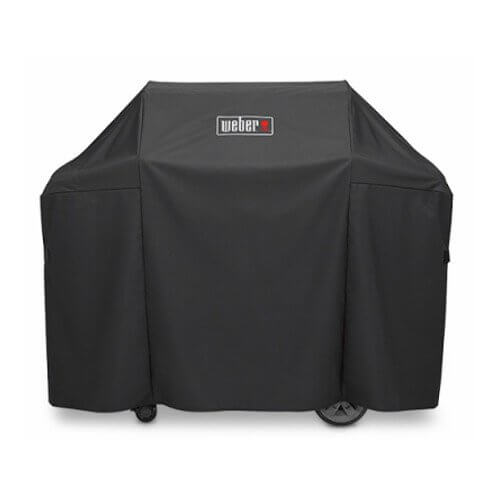 This is one of the best gas grill covers you can afford in the market, and this Weber genesis grill cover is fine and less heavy than customary grill covers but is super strong.
This is black and does not prone to fade the original colour even if you allow it in sunny weather conditions for long hours for many years. So the headache of constant replacements won't occur as you do with other regular grill covers.
Though the nature of this cover is less bulky, still it can behave well in almost every weather conditions. All and all, we strongly recommend you buying this cover; furthermore, see on below additional details as well. 
The material is Vinyl, and the dimensions are 7.2 x 2.9 x 10 inches
This cover fits perfectly with Genesis II 3 burner, Genesis 300 Series grills and Genesis II LX 300 series gas grills.
Velcro straps are tailor-made for windy conditions, and it gives a tight appearance overall. 
Breathable fabric helps to minimize threats such as rust and other elements and UV resistant.
The price is competitive and affordable.
Best Grill cover for weber genesis. 
Char-Broil Performance Grill Cover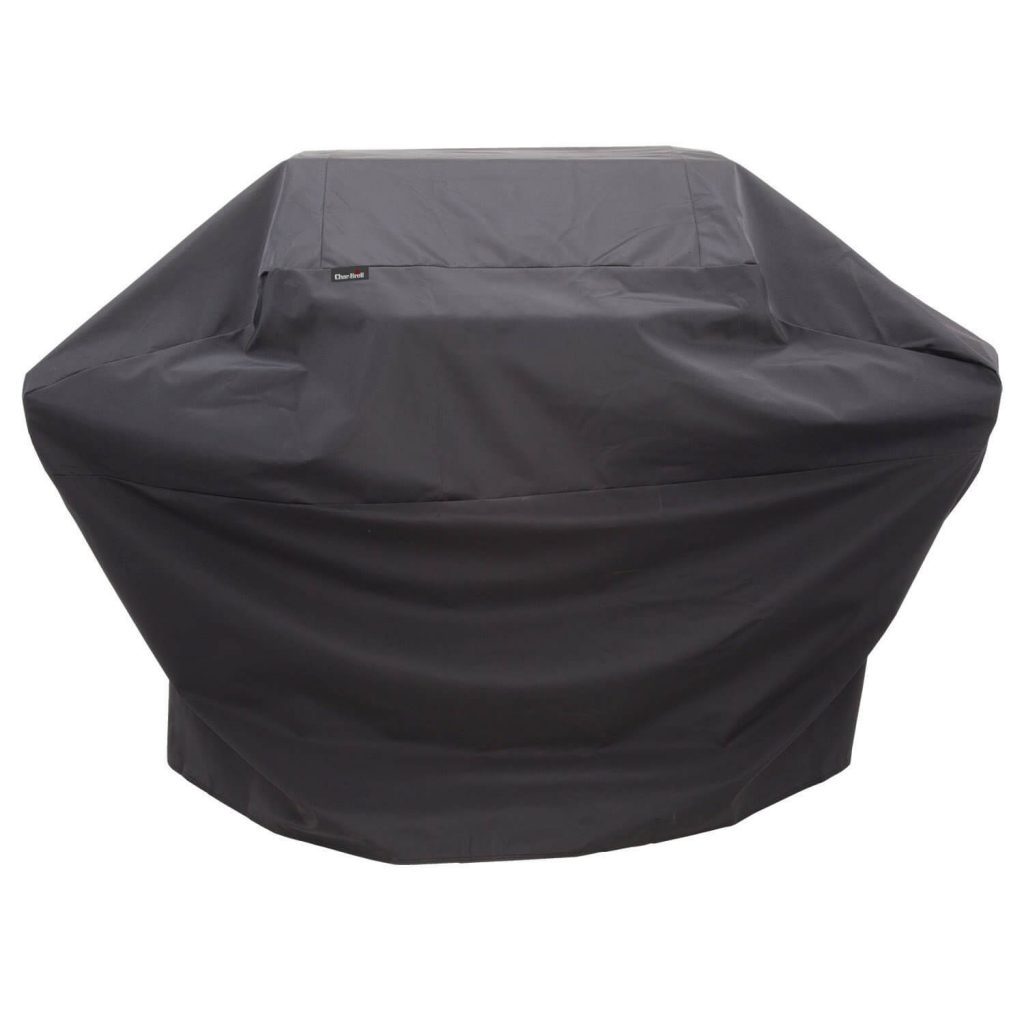 Simply one of the best large Grill covers out there and is competent enough to cover 3-4 burners typically or even 5+ burners.
The Char-Broil 4 burner grill cover comes with different colours and sizes, so you have to be precise with the size of your pick. Despite the above mentioned large-sized burners, this type can cover the smaller and medium-sized burners as well. Because of the sealed seams, this has recognized as one of the best waterproof grill covers, and we have no second thought in recommending this cover to you. 
Refer these additional points as well,
Fitting perfectly with brands like Char-Broil, Weber, Char-Griller, Broil King, Nexgrill, Kitchenaid, Dyna-GLO, Expert Grill and most of the other grills.
18mil polyester material and a liner to protect from sun fade. 
Dimensions, 62-inches w x 42-inches H x 24-inches D.
Adjustable side straps to help a secure and custom fit.
Ideal as a gas grill cover with 3-4 burners, large charcoal grill cover or smoker grill cover for smokers up to 62 inches in width and 42 inches in height.
Classic Accessories 73912 Veranda Water-Resistant Grill cover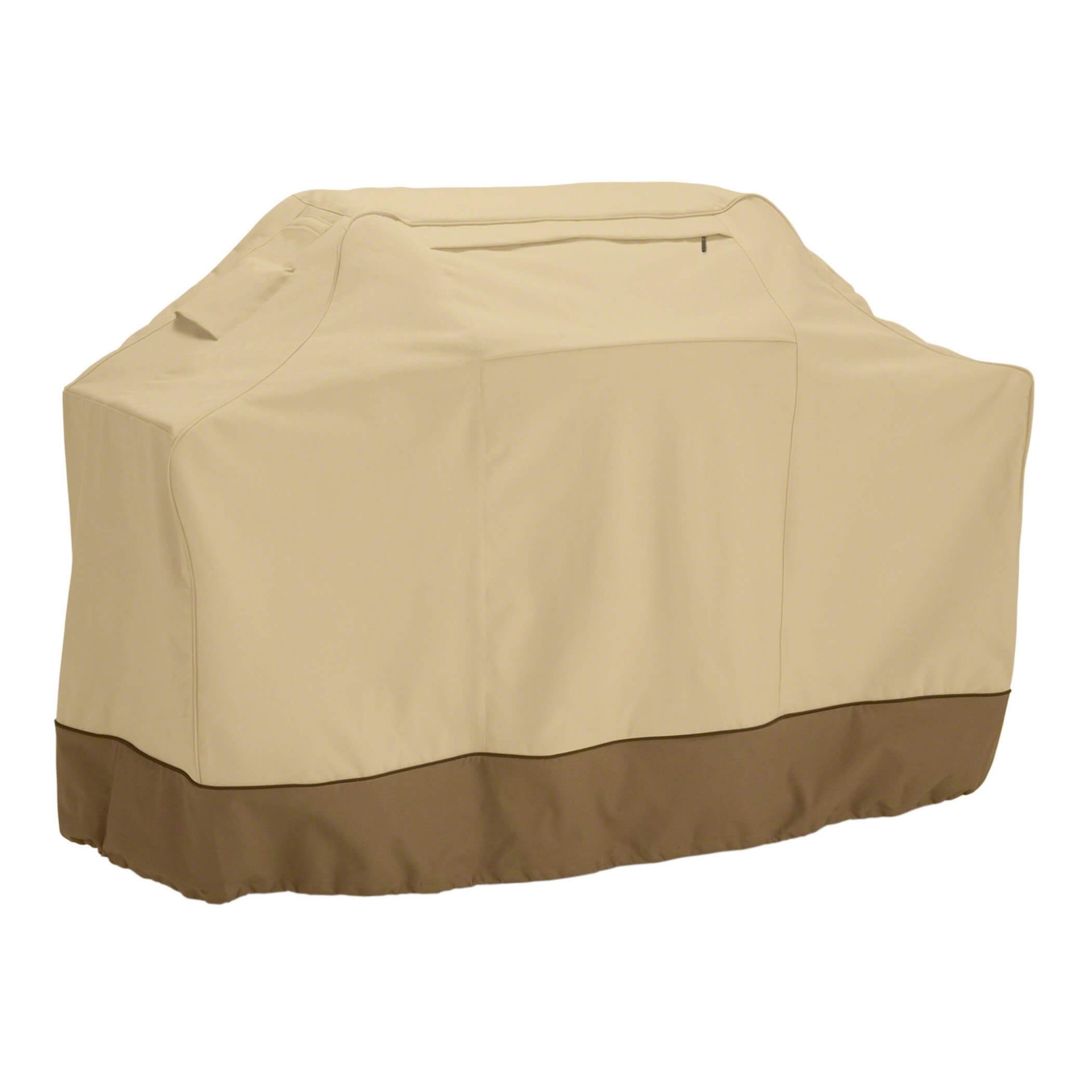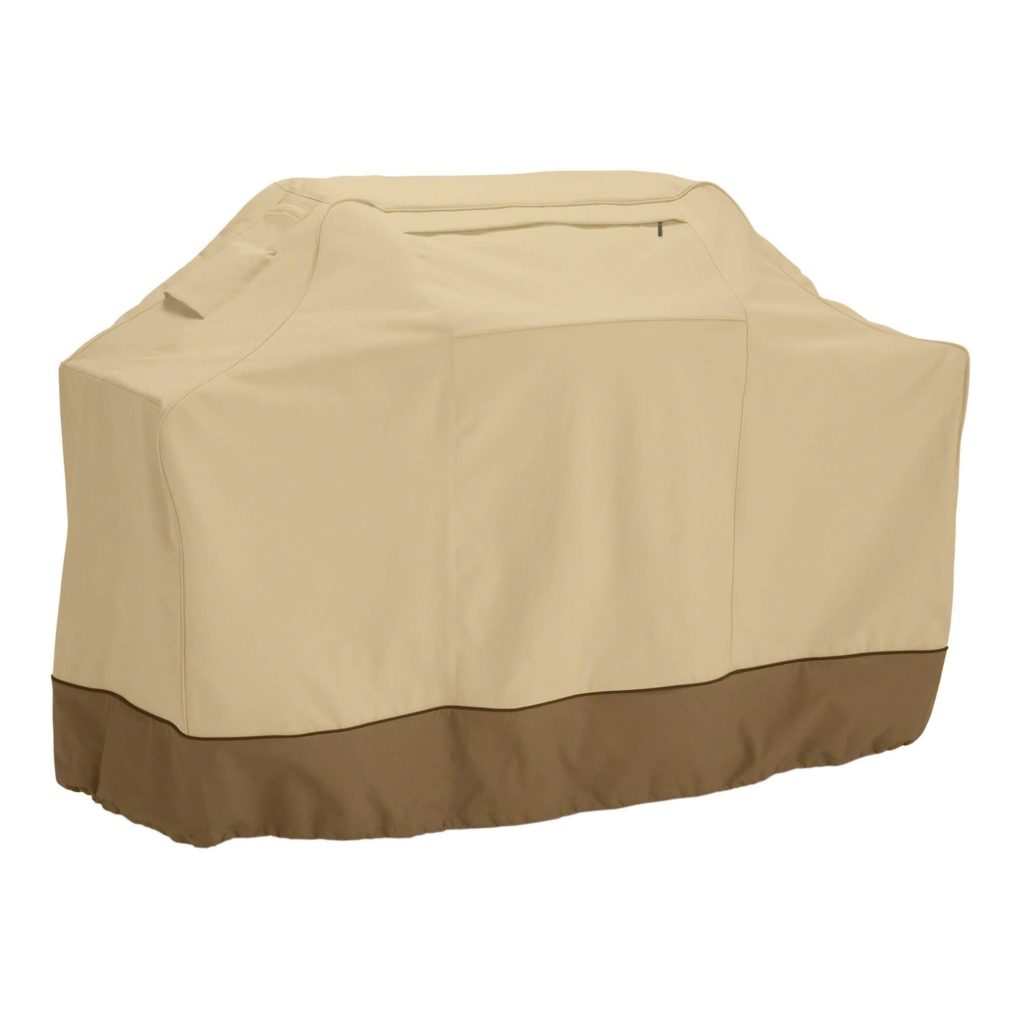 This 58 Inch BBQ grill cover is another top-rated grill cover which is reputed to provide an astonishing look and finishing as a grill cover.
These Veranda covers got interior seams and high-density seams for additional strength and the longevity of the cover. In addition, the padded handles are designed to bring comfortableness to the hands of the user and enhance the feasibility of removing and fitting the covers as well.
There are different sizes available from the cover as X-Small, Small, Medium, Large, X-Large, XX-Large, 3x Large and fits BBQ grills up to 58 "L x 24" D x 48 "H. Which means you must pre-calculate your burner size before you purchase the cover. 
Further, 
Elastic cord with toggles facilitates you to adjust for a tight appearance.
Most suited for grills like Weber Genesis II Gas Grill model E-310, E-320, SP-310, SP-320 and Weber Genesis Silver B models, Spirit Gas Grill models E-310 and most other famous brands like Char-Boil, Jenn Air, Brinkmann, etc…
Besides, we thought it's our responsibility to aware you that this grill cover doesn't cover whole legs and wheels of the BBQ grills under $500 and though they capable enough to cover many brands as stated above. So be mindful when buying one. 
Weber Spirit II 300 Series Grill Cover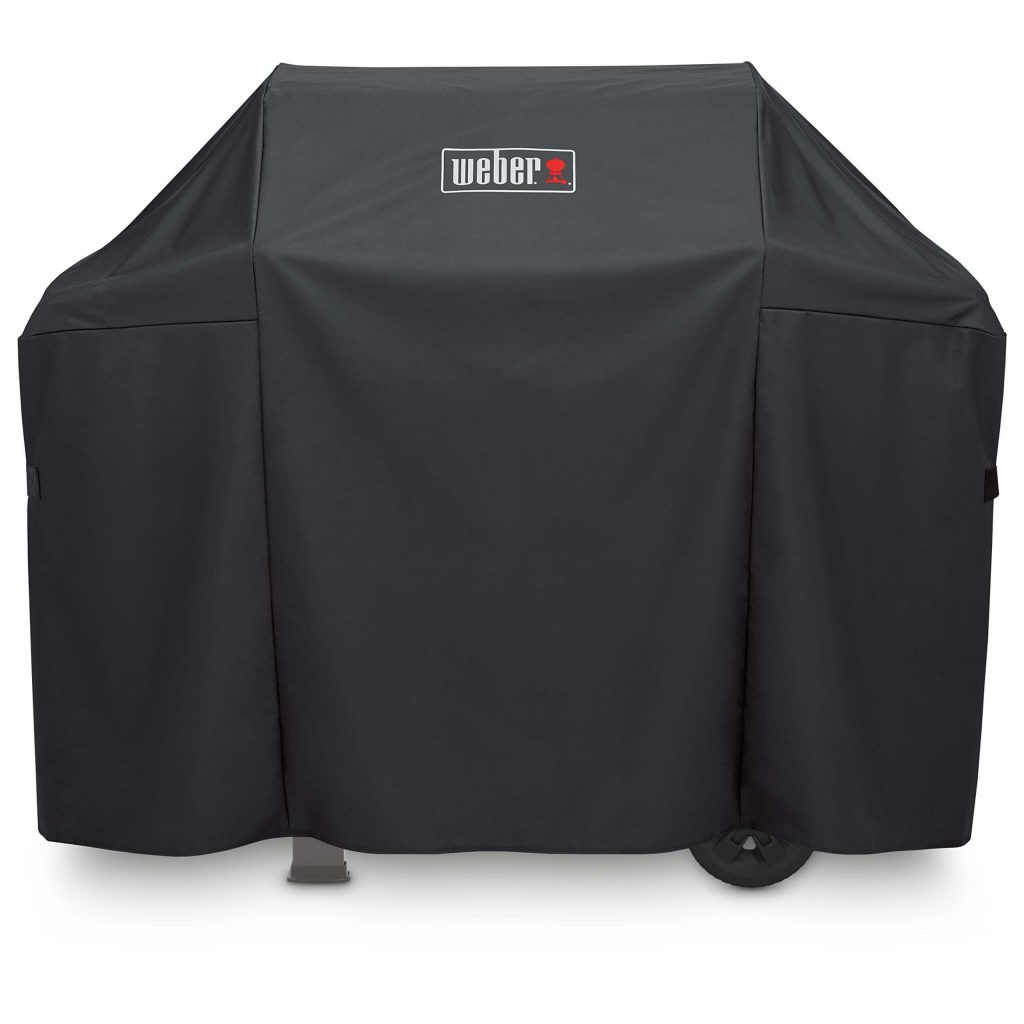 Are you suffering from rain, snow, or scorching sun? Not you but your BBQ grill can stay safe if you buy a Weber Spirit II 300 Series Grill Cover.
Similarly, as most of the other Weber covers, this particular cover also come to you as a light-weighted accessory and guaranteed for its durability. The deterioration would take a long time regardless of your state's weather conditions. The Velcro straps ensure that you can place your Grill wherever you want with utter ease and it won't let blow the Grill away to the close neighbourhoods.
The water-resistant materials of this Weber grill cover help to upkeep the cover quite easily and maintain a sleek surface. 
Read below details in addition to the aforementioned ones, 
Dimensions – 42 Inches in Height and 51 Inches in length. 
This one fits most of the Weber products such as Spirit II 300 series, Spirit 200 series and Spirit 300 series. 
The black cover will last for a long time without fading under the hot sun. 
The breathable but waterproof cover helps deny rust and other elements on the grills.
So, if you are on the verge of replacing your old Weber grill covers, we recommend this particular one as one of the best Grill covers out there in the current market.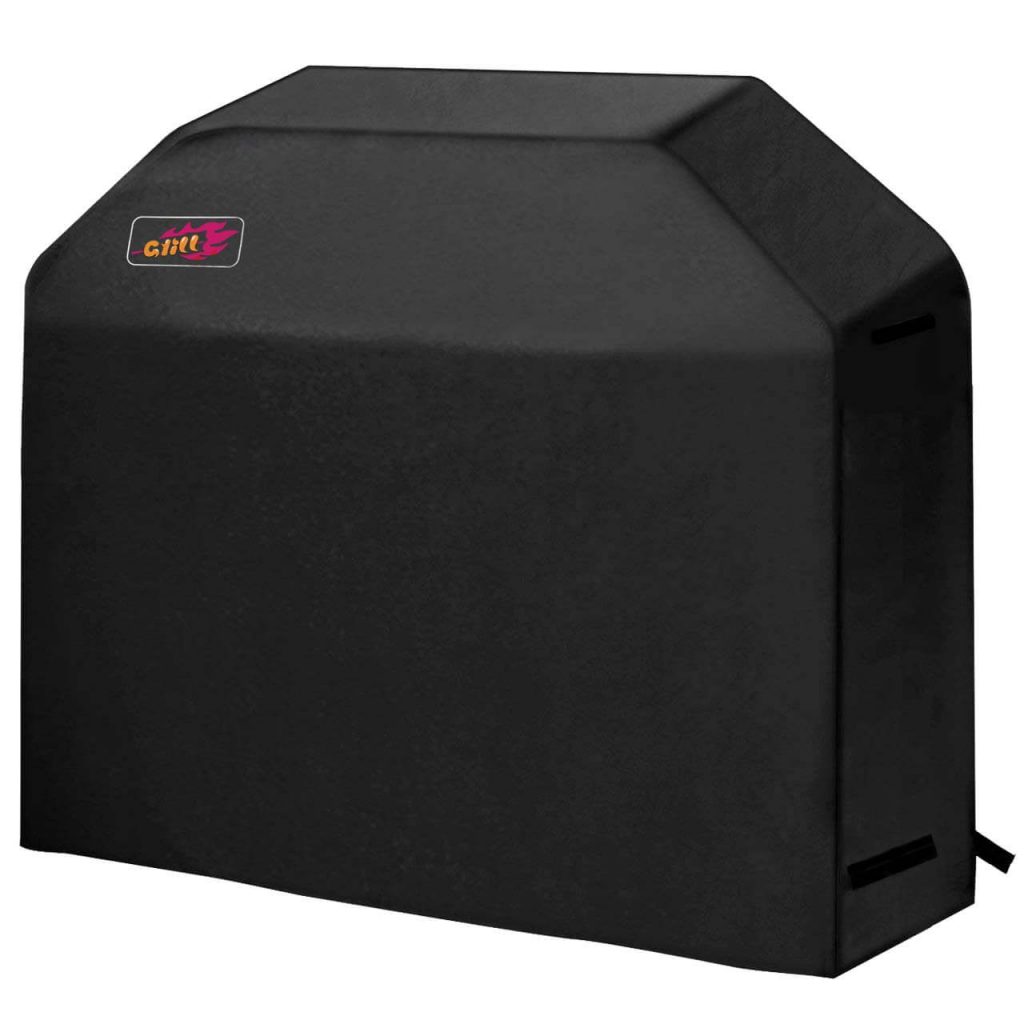 This dust, water and weather-resistant grill cover is another fantastic choice you can come up with for your BBQ Grill.
Made by 600D Polyester fabrics, this grill cover is renowned for its longevity because of the exterior seams and high-density stitching. In addition to the solid resistance nature of the product, the sun-resistant design blends an exceptional sturdiness to this VicTsing Grill cover.
You can use the padded handles to move and remove the cover with a significant amount of ease, and the straps can be used to keep your machine in a place you wish apart from the help it gives you in windy conditions. 
This is another product highly praised by the consumers, and we are no different. Go through below points with the above benefits and see whether this one suits your requirement. 
Dimensions – 58 Inch x 24 Inch x 44 Inch
Compatible with brands like Kenmore, Nexgrill, Char-Broil, Brinkmann, Jenn Air and so on.
Easy to maintain and clean. You just have to hose water so that all the litter will move away from the cover quite easily and dry under the sun before you use it again. 
Nylon sticker right at the bottom part will prevent your Grill moving from the stored place, beside the strap helps it has.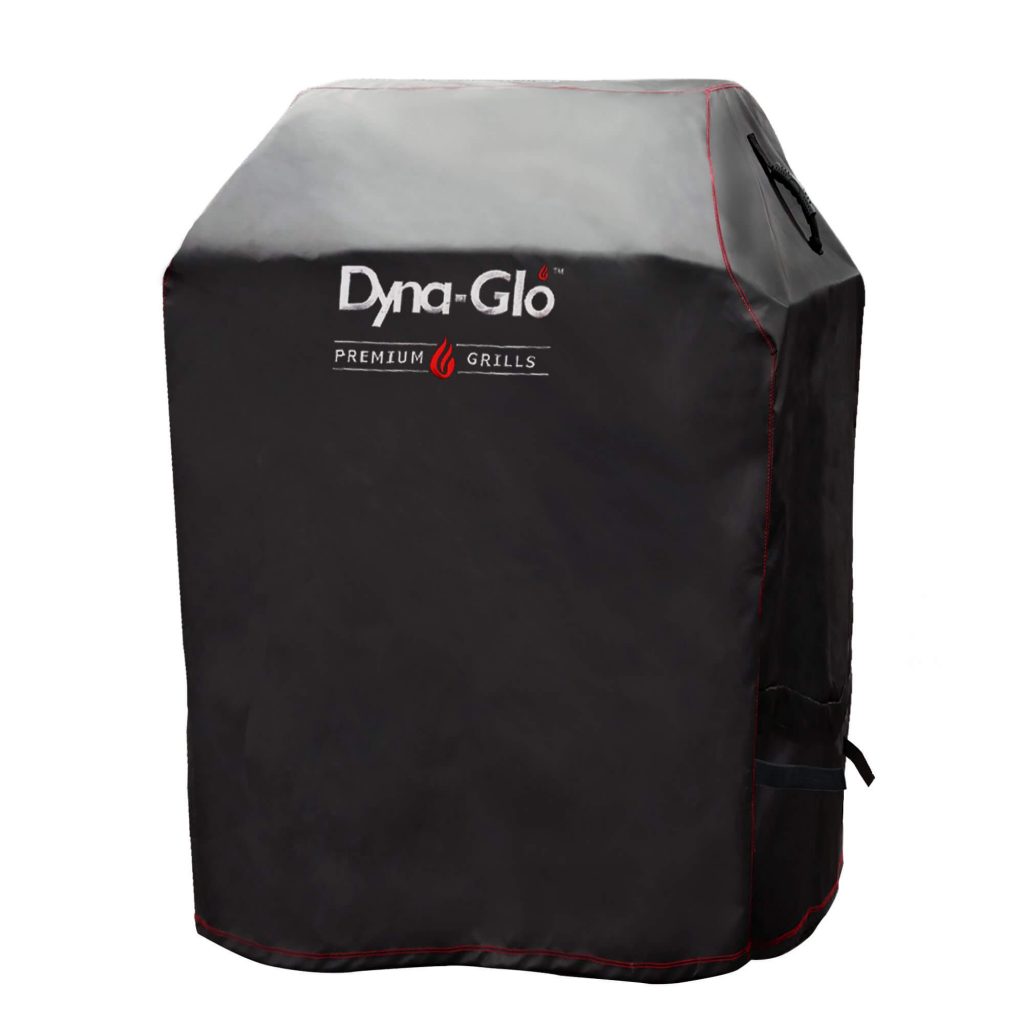 This small grill cover is specifically designed for the small LP gas burners. This handy-looking little grill cover is one of the best grill covers you can ever imagine, and it is ideal if you plan to take your Grills from one place to another on a constant basis.
The big Velcro straps would mean that you can secure at a place you intend quite efficiently and either side handles would make the movements so convenient. The cover is sturdy and a bit heavy, so it helps mostly in winter conditions and works perfectly well in most weather conditions as well. 
If you are a rookie to the BBQ subject and have a small size LP BBQ grill with you, then this would be your go-to grill cover. Don't take our words blindly just research by yourself counting below additional details too. 
Compatible with all Dyna-Glo 2 grills, and all three burner small-sized LP gas grills.
Standard dimensions 29 Inches in Width x 45 inches in height.
Made with 900D Polyester fabrics; heavy-duty and water-resistant materials for long-lasting usage.
Sufficient vents to assist airflow from outside to the grills to prevent rust and moisture.
If you are truly a Dyna Glo lover, read this Dyna-Glo DGO1176BDC-D Offset Smoker Review.
Kingkong Gas Grill Cover 7553 / 710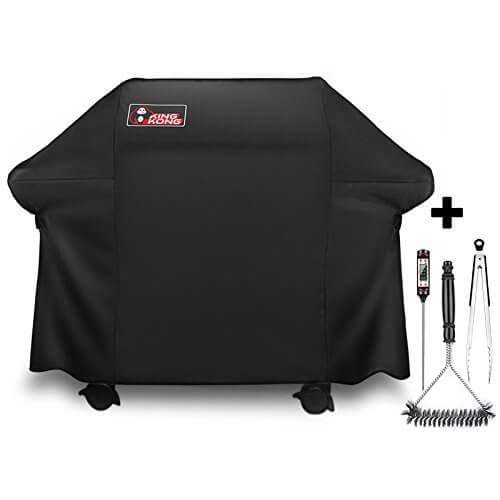 This is a versatile grill cover that is compatible with several BBQ grill brands and includes few extra instruments like Thermometers, Tongs and Grill brush.
This is an ideal pick if you have a relatively large BBQ grill and an excellent match for burners expanding from 53 inches and 58 inches in width. It is said that this protector has been made with newly-developed Polyesters and capable of handling water, hot sunlight, and any other weather conditions.
This rock-solid material will help you in avoiding tear and wear for a substantial time and is one of the best BBQ Grill covers you can see in the modern era. 
Most probably you would know by now, we recommend only the best products to you, and this cover is no different from others we mentioned thus far. Below are a few other benefits it has.
This KIngkong grill covers ideal for brands like Char-Broil 4 Burner, Weber Genesis 300 series (E-330, EP-310, EP-330, S-310, and S-330), Genesis II E-310. 
Dimensions – 60 inch W x 24 inch D x 44 inch H 
Two Velcro straps available in either side to keep your BBQ grill nice and secure.
Blackstone 1528 Heavy Duty Grill Covers, 36″ Griddle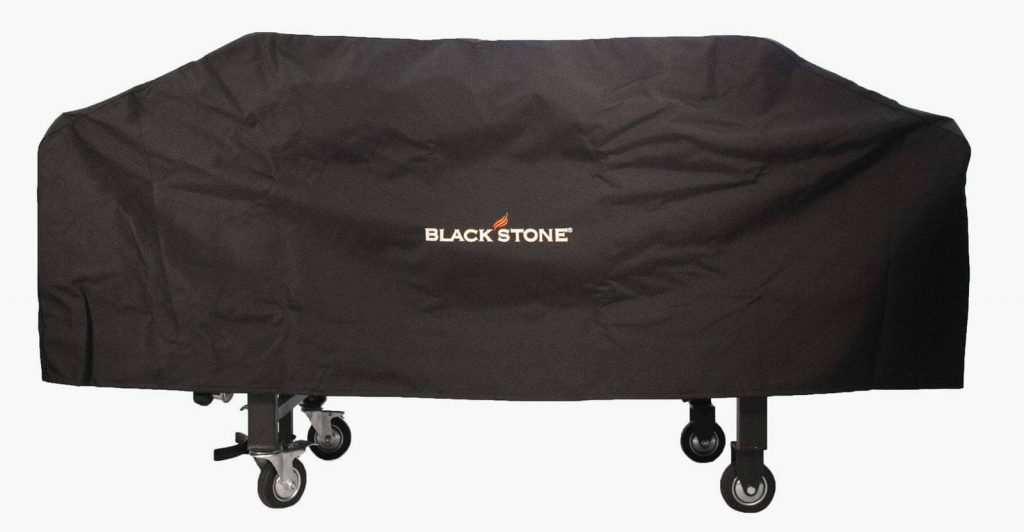 As you can figure out by going through the name of the product, this cover specifically designed to cover the Blackstone 36 Inch griddle and do not include the Grill.
This one is ideal for the sunny weather conditions as it made with 600D Polyester materials. This Griddle cover is more of a heavy-duty cover and guaranteed to protect your Grill from dust, critters, and most of the weather conditions in general. 
Though this is made for the Blackstone 36″ Griddle, works fine with most of the other grills with same dimensions. Check your grill size before you buy.
600D polyester material helps the longevity of the product.
Double-layer canvas means high UV protection and less sun damage.
Overall, this Blackstone grill cover equipped with similarities of other best grill covers appeared in the list and we do recommend to you with a high amount of confidence. 
Char Broil All-Season Grill Cover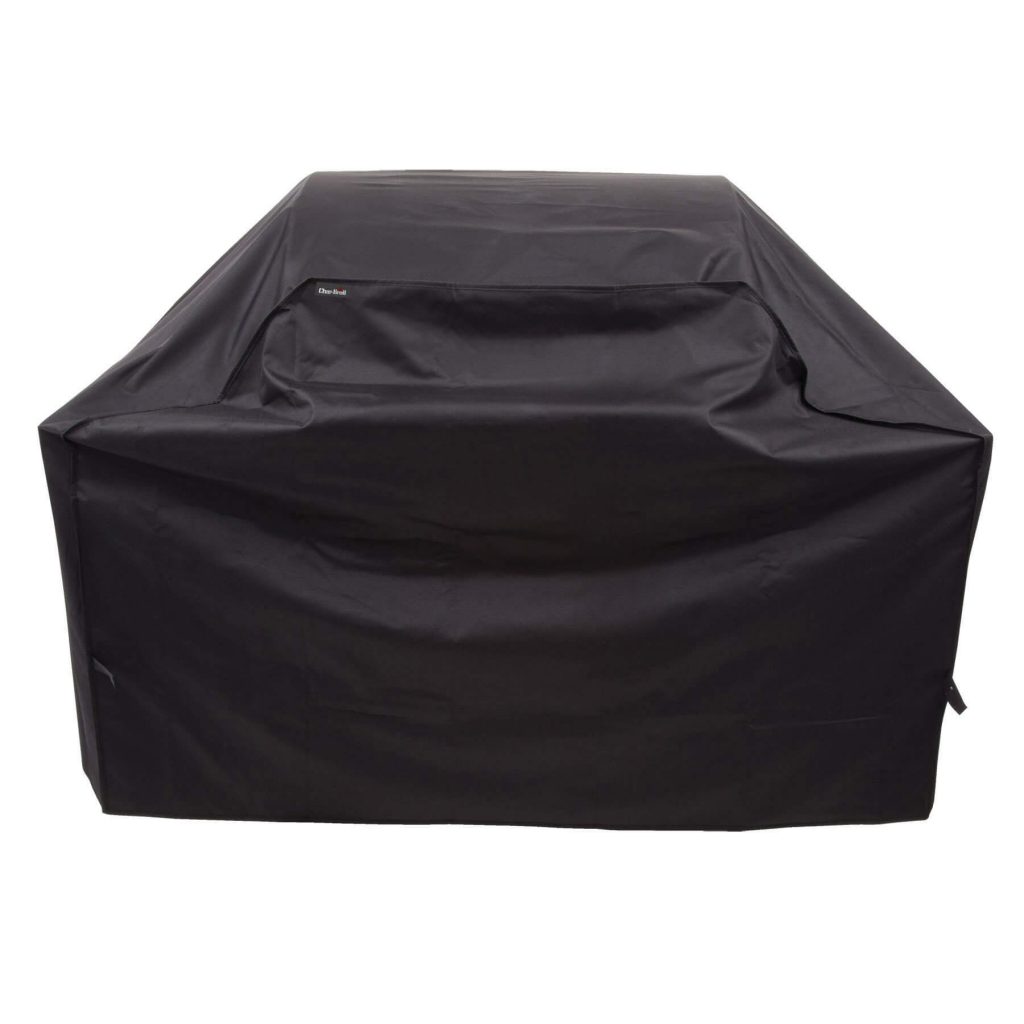 This particular product is a lot similar to the Char Broil Performance Grill Cover, but more ideal for the medium-sized 2 burner gas grills or smaller ones.
This is a universal type of cwrapper which is capable of covering brands like Char-Broil, Weber, Char-Griller, Broil King, Nexgrill, Kitchenaid, Expert Grill and other highly rated brands which are up to maximum width of 52″. This grill cover contains Vinyl (PVC) liner and made from 300D Polyester fabrics in addition to its sealed seam.
This is another product from Char-Broil which is a renowned company in the trade and one of the premier Char Broil grill covers, this is another valid reason to mention this as one of the best grill covers, also a strong case to recommend to you as well. 
Few highlights for you to consider,
Dimensions are 40 inches in height and 52 inches in width.
The Vinyl liner and sealed seams help to protect the Grill from rainwater. 
Adjustable side straps are available to cope with any type of brand with ease and security. 
Most suited for small and medium-sized charcoal grills.
Char Broil grill cover can use in all seasons without a problem.
Char-Griller 8080 Dual Fuel Grill Cover, Black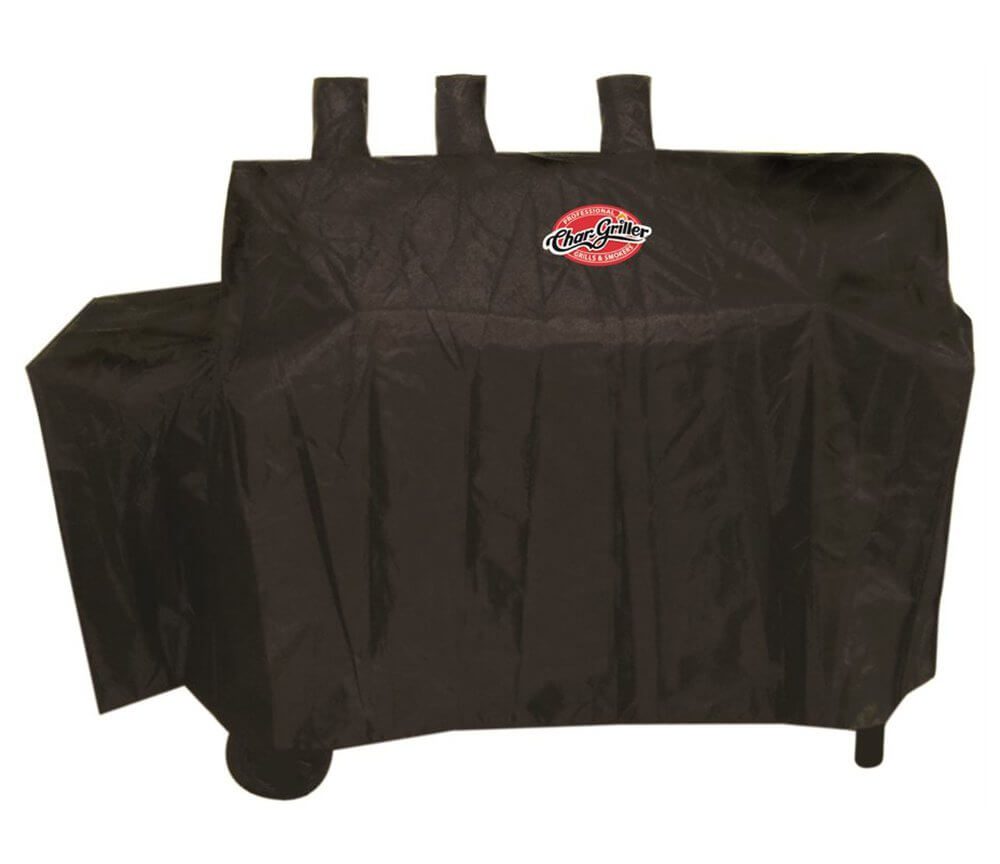 This one is specifically made for the Char-Griller model no 5050 with two side burners, and it comes black in colour. It fits the Grill like a glove and capable of enduring well in all weather conditions, mainly winds and heats.
The solid and sturdiness of the material make sure that your Grill is protected from outside elements and free from moisture which helps you preserve your Grill for a prolonged time. If you have inevitable reasons to move from one state to another, you will be going to find difficult to bear the change of the weather conditions, but it's not the case with this cover, and it is pretty much guaranteed. 
Dimensions – 62"L x 25"D x 50"H
Produced from weather-resistant and heavy-duty Polyesters and guaranteed to extend the lifetime of your Grill.
Fits brilliantly with your Char-Griller 5050 model and looks awesome. 
Benefits and Drawbacks of the Grill covers
Most of the time, gas grill and charcoal smokers owners suffer from the threat of rats and other animals. Therefore covers essential to keep rats away from the grills. With keeping it mind, Let's focus on the Benefits first,
Benefits
Grill covers are made to protect the BBQ grills from natural phenomena.
Avoids the Grill contacting with animals, insects and dust.
Protects the Grill with rust and keeps it dry.
Helps you store in the desired place with straps and avoids unexpected movements.
If you use the bottom of the Grill as a storage place for charcoal or wood, it helps keep them contacting with moisture.
To be fair, there are not many cons attached to using a grill cover. Still, there can be a few you might need to pay your attention. Let's see what these are.
Drawbacks 
There are low-quality covers which last only for one year or two.
If the covers exposed to rain, the moisture on the covers can encourage the rust.
Some covers are incapable of covering the whole Grill which helps weather, critters and moisture creep inside. 
Some covers are not strong enough to protect the grills from neither the hot sunlight nor the rain as they claim, which can damage the Grill gradually if not treated timely.
Wrapping Up..
As a Barbecue lover, it is your responsibility to look after your BBQ grills, and we think having an excellent grill cover is one of the main things you should consider to enhance the lifetime of your Grills. There are loads of brands and products available when you type in "grill covers amazon" out there to confuse you, but if you read the whole piece, by now you would probably know how to pick the ideal cover and what the best Grill covers available in the market. If you have good or bad experiences with the products we mentioned or have more useful products to suggest, let people know them as a review.